Ecopreneur Eli Shepherd is the founder Foliage Skateboards, "an environmentally friendly, community-focused skateboard start-up." Joe and I met Eli when he was volunteering for Iowa City Summer of Solutions and conducted an energy audit on our home. Eli recently contacted us because Foliage Skateboards is currently competing for a $5,000 business grant for start-up companies in Johnson County, Iowa. Like many young start-up business owners, Eli has a big dream but small resources. Winning the Dream Big, Grow Here contest would enable Eli to build the organization he describes below. He is asking for BPGL readers' support. 
If Eli's company mission and vision resonate with you, we invite you to vote for Foliage Skateboards. Simply click on the Foliage Skateboard link in the Dream Big, Grow Here contest. Then click "Log in with Facebook," confirm the app, and click "Vote!" You can vote once per day until the polls close at midnight on November 9. Eli also asks supporters to spread the word about the competition on Facebook and Twitter.
So, why should you vote for Foliage Skateboards? And what will the start-up company do if they are awarded the grant? Fair questions. Here is what Eli has to say. ~Julia Wasson, Publisher
---
Environmental stewardship, skateboarding, and social change are rarely mentioned in the same sentence. However, when these three are combined, they create a four-wheeled solutionary vessel that can appeal to an incredibly broad spectrum of the population.
Sustainable Skateboards
Foliage Skateboards is a sustainable skateboard company based in Iowa City, Iowa. Our combined mission is to use local resources to create environmentally friendly and sustainable skateboard products and to support worthy organizations and promote social change in the process. The mission may sound like a list of lofty goals, but on the contrary, our vision is put into play wherever and whenever Foliage Skateboards is involved.
If we win the grant, we will be sourcing the wood for our skateboards from Sustainable Forestry Initiative-certified suppliers. The one I have been looking at is in Vermont, but we will source as locally as possible for maple — what most skateboards are made from. We'll hand press them with a self-made hydraulic press or manual wood press and use non-toxic glues and resins as much as possible. I'm vegan, so we'll try to avoid animal products if at all possible as well.
Friends of Foliage
We're a for-profit entity, selling products at local, non-chain vendors. That is how we make money. Yet, that is not the only thing we do. Within Foliage Skateboards is a philanthropic program called Friends of Foliage. This program goes beyond the standard realm of producing product for profit, by promoting and supporting non-profits, local businesses, and other organizations and causes. Most recently, we supported Iowa City Summer of Solutions, an environmental community non-profit. In fact, with growth, we aim to have this program become a non-profit itself.
Seeking Unity
We achieve social change through unity. Skateboarding today continues to bring together people of all classes, ethnicities, and races, breaking down social barriers everywhere its four wheels roll. Foliage Skateboards adds people who are not a part of the skateboard community through its environmental and local focus and support. We bring together skateboarders, community members, local business owners — everyone we can — and unite them under the mission for environmental and social progress through community support.
Generating Funds
The company is currently in the beginning stages of becoming something truly unique, not only to the business world but to the skateboard industry, the green industry, local economies and communities, and people's expectations alike. Based on a need for funding in a local non-profit, I decided to use some of my own savings to have product produced through the Friends of Foliage program in order to help them out.
So far, we have worked with local printers to produce sustainably farmed, organic cotton t-shirts that promote the environment and skateboarding. We are currently distributing this apparel to local vendors and generating interest in the company at a local level. That's where we are right now.
Our tees are currently available at The Full Kit skate shop in downtown Iowa City on E Gilbert St., right across from City Hall. In the future, they will also be available at both New Pioneer Food Co-op locations, as well as at EduSkate skate shop in Cedar Rapids, Iowa.
Please Vote for Us!
Now, here's where you come in. Please vote for Foliage Skateboard on the MyEntreNet website. As far as start-ups go, funding is certainly not abundant, to say the least. We need your help in making our mission a success. With your support, we aim to start locally, building customer demand and brand recognition. Right now our needs are laid out for us. For example, $300 can buy us materials to build a hydraulic press for skateboard deck production, fund the production of approximately 30 one color t-shirts, or pay for the purchase and maintenance of foliageskateboards.com for a year.
As part of our community betterment vision, a portion of the grant would be put toward building an addition to the Iowa City Skatepark in a collaboration with Spohn Ranch Skateparks. Community members would submit addition proposals; a committee would decide; and Spohn Ranch would do the construction, attempting to minimize the environmental impact in the process.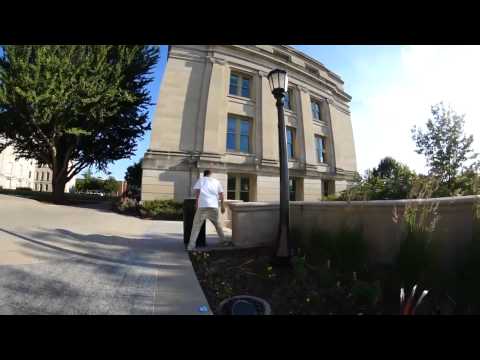 Our dream is to one day expand nationally, supporting local causes and businesses everywhere, all the while promoting environmental sustainability and social progress. It's positive change on all fronts, on four wheels, that, like a skateboard, is powered by you.
Eli Shepherd
Guest Writer
Blue Planet Green Living (Home Page)
October 22, 2010 by Brigette Fanning
Filed under 2010, Blog, Ecology, Erosion, Front Page, Government, Iowa, Recreation, Slideshow, Soil, Vote!, Water, Wetlands
If you're an Iowa voter who hasn't yet cast your ballot, please vote in favor of the Iowa Water and Land Legacy referendum. You'll find it on the back of the ballot (along with several other important issues). Voting "Yes" for this amendment will add a tiny fraction of any future sales tax increase to a trust fund. The monies raised will help support clean water and improve recreation for everyone in the state. To find out why this referendum is so important to Iowans and those who will visit here, read Brigette Fanning's interview with IWLL campaign manager, Mark Langgin. — Julia Wasson, Publisher

---
Iowans have a crucial choice to make that will impact future generations: the choice between clean water and dirty water.
On November 2, Iowa voters will see a referendum on a constitutional amendment called Iowa's Water and Land Legacy (IWLL) on the back of their ballot. If it passes, it goes into effect for the next sales tax increase. Three-eighths of a percent of all Iowa sales will go into the trust fund, which will be used for soil conservation programs, to improve water quality, and to promote outdoor recreation.
"This is a way to not have chocolate milk running down our rivers," says Mark Langgin, campaign manager for Iowa's Water and Land Legacy.
Two-thirds of the fund will be used for water quality and soil conservation programs. The remaining third will be used for outdoor recreation programs, parks, trails, and fish and wildlife habitats.
Langgin says this amendment is so essential because of the sheer volume of polluted waters within the state: 500 impaired waters — at least one in each of the 99 counties.
"Soil and sediment are the top pollutants in the water," Langgin says. "And Iowa farms lose five tons of soil per acre per year."
He puts the issue of soil erosion and runoff into perspective: Iowa alone has 120 million acres of cropland. Ninety percent of the state's land is used for some type of agricultural endeavor.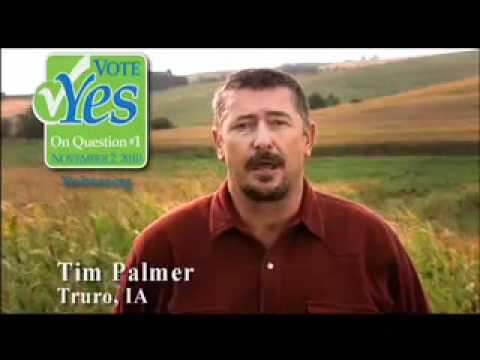 A Record of Success in Other States
But Langgin sees the referendum as a way to start solving these problems. Currently, Iowa is ranked 47th out of 50 states for per capita spending on conservation and 49th out of 50 for outdoor recreation spending.
"This is an opportunity to move out of the bottom five percent," he says.
Other states have passed similar referendums, and Langgin says they are extremely successful. Minnesota, Missouri, and Arkansas all have similar programs in place.
Arkansas passed their referendum in the late 1990s, and Minnesota recently passed theirs in 2008. Missouri started their efforts more than 30 years ago.
"It's been extremely successful," Langgin says. "Any tourist can see the difference. They have gorgeous outdoor facilities."
Langgin believes this amendment would be an excellent opportunity to invest in tourism, as  Missouri does. Local recreation areas like Okoboji and Clear Lake are already dependent on tourism. He sees it as an opportunity to create other popular destinations within the state.
For more information about the amendment, Langgin recommends contacting local county conservation boards. He's "cautiously optimistic" about the referendum passing, because voters don't have enough information about the issue.
Get Involved
To get involved directly in helping to pass this referendum, Iowans are invited to participate in phone banks. Iowa Rivers Revival (IRR) is co-hosting a phone bank with Iowa Environmental Club and the Sierra Club on Monday, Oct. 25 from 6:00 PM to 8:00 PM at the Iowa Environmental Council, 521 E. Locust St. in Des Moines.
Additional phone banks are scheduled in Des Moines on Oct. 26 at the Iowa Natural Heritage Foundation and Oct. 28 at The Nature Conservancy. Volunteers may also make calls from their homes by working with IRR. Contact Executive Director Roz Lehman at rlehman@iowarivers.org to volunteer.
Blue Planet Green Living (Home Page)
Related Links
Comments Off on Making History
Joe and I were out canvassing for our candidate tonight. We thought this last-minute door knocking would be a waste of time, that surely everyone was sick to death of hearing about the election by now. Still, we're passionate about the issues. We believe that each vote will count as much tomorrow as it ever has. And even though Obama is ahead in the polls, there's no certainty that he will win. So, we trudged out with our clipboard and knocked on doors in our neighborhood.
We live in a historic part of our city not far from a major university campus. We're surrounded by students, some of them barely 18. Many are excited about the chance they have to make a difference. One young man said he hadn't voted early because this is his very first time. He doesn't want to miss a thing. He wants to be a part of the action tomorrow, part of making history.
Two young women said they weren't sure they would vote. They were a bit confused. Could they vote if they had moved in the past year? (Yes, bring a photo ID and proof of your address; you can change your registration on the spot.) Could we tell them where they should vote? (Yes, we could, and handed them directions.) Did it really matter if they didn't vote? (YES. Ten thousand times YES!) Will they take time to vote tomorrow? They said they would, but will they?
Why should they? Why should you, or I, or any of us bother to vote in this election?
Because together we can roust out the party of the politicians who used scare tactics to strip away our liberties. We have the power to elect a leader with a calm, reasoned approach to government. One who believes in and supports the Constitution. One, in fact, who is a Constitutional lawyer.
We also have the power to elect a president who cares more about the future of our nation's land, waters, and wildlife than the future profits of the oil companies, the Wall Street CEOs, and the millionaires who don't carry their share of the tax burden. I won't go so far as to call him a banner-waving environmentalist, but he's a lot closer to it than his rival.
But let's face it, there's another reason we should vote. This is an unprecedented contest. We have a Black man (mixed race, if you want to get technical) leading in the polls. He's leading not because he preaches divisiveness, not because he brandishes stories of weapons of mass destruction to manipulate us through fear. He doesn't do any of those. He's leading because he is intelligent, insightful, well educated, and calm. He unites the many diverse ethnic, religious, and social groups into one America. He gives us hope, just as his yard signs and banners have claimed for over a year.
Obama may not yet know everything he needs to know to run the nation, but he's brilliant. He will learn quickly from his trusted advisers. And those advisers are one more reason to support him. My candidate — and soon, I believe, our president — relies on people with experience in the areas where he is lacking. He has been accused of being a lightweight on foreign affairs, so he chose a vice presidential candidate with a laudable record in that area.
There's history in the making, all right, for on the other side is a woman running for vice president. Sadly, she is not a candidate I respect. Her views are too extreme for most Americans and far too right wing for me. I will never understand, for example, how anyone could require rape victims (including children and teens) to pay for their own rape investigation kits. Unthinkable nastiness, that. She appears to be trying to take us back into the 19th century, where rape victims were guilty and their perpetrators walked away scot free. Some folks are ahead of their time, Ms. Palin is moving in the wrong direction.
Still, it's notable that our country has finally managed to seriously consider the candidacy of two women in this presidential race. Yet Palin is no Hillary. She's wearing lipstick and stilettos, but that doesn't make her a candidate who represents the best for women — or the best of women. And this is one serious flaw I see in John McCain. He did not use careful judgment when he chose his second in command. Was he turned on by her looks, like the men who want to vote for her "because she's hot!"? Or did he give Americans so little credit that he believed we'd fall for her wink and down-home talk?
For those who claim that Sarah Palin should be elected because she is "just like me," please consider whether you are ready to lead the nation. Are you? Do you have the presence of mind to talk with foreign leaders in a crisis? Do you even know their names? You don't have to. But our vice president does. And if McCain is elected and does not survive his full term, Palin will become our president. "That," as Matt Damon said, "scares me." And it should scare you, too. Unless, like I said, you're ready to lead the nation. If you are, maybe that woman who's "just like you" is ready, too. D'ya think so? (Wink-Wink!)
Joe and I have already voted. We wanted to know that our votes were safely logged well before election day. Because you never know. I hope Obama's beloved Toot was able to vote before she died. If she did, she helped make the history that she will never see. All of us, regardless of which side of the divide we're on, will make history tomorrow. A Black man for president? A woman for vice president? I'm not shy about saying I support Obama and Biden. In my opinion, McCain is wrong headed, and Palin is just not up to the task. And that saddens me, because I'd love to see a woman in the White House.
You don't have to agree with me. That's the beauty of our democracy. Our nation is divided in two by this election. It's too close to call. Yet we're civil to each other even as we disagree. There's no coup, no uprising from one side or the other. When it's over, we'll band together not as Democrats or Republicans or Independents, but as Americans. And together we'll stand in awe at this remarkable election.
So, regardless of your political leanings, if you haven't yet voted, go make history tomorrow. Don't let it happen around you, help shape it. Go on, vote like it matters. Because it does. It really does.