In a society where many teens and young adults spend their free time in front of the television, playing video games, grabbing fast food, or hanging out with friends at the mall, the three sisters lead exceptional lives. They're talented musicians, who together comprise the band Truth On Earth (T.O.E.).
So what else is unique about Serena (20), Kiley (19), and Tess (16)?  They're lifelong vegans, have always been home schooled, and have spent the last two years traveling the country in an RV with their parents. Much of their traveling has been to perform at gigs across the United States.
The sisters' love of music and performing began early, when their dad, Greg, taught each of them to play piano, and their mom, Stella, worked with them on choreography. For the most part, the sisters have taught themselves the instruments they play and have put together their own musical act.
"Our dad taught us how to play piano by ear when we were all toddlers," Kiley says. "So, it's always been a comfortable format just learning to play every instrument by ear. As we got more serious about it, our parents got us lessons if we needed them. But they never pushed us. A lot of times, that might push kids away from wanting to learn a specific instrument, because it may be challenging. We play music because we love to play."
"We all started with the piano," Serena adds. "When I was about 12, I got really into the guitar, and around that same time the violin and saxophone and the drums. Now in the band I play the lead and rhythm guitar, and the piano."
Kiley, the middle sister, plays piano, bass, guitar, and flute — in "the rock-flute style" of Ian Anderson from Jethro Tull, she tells Blue Planet Green Living.
Not to be left out, Tess, 16, has played piano since she was a tot and is learning bass guitar.
The Music

The sisters also sing — with exquisite harmony — their voices blending and complementing each other as if they were one person singing three parts. When asked who sings lead, Serena says, "We all switch off on all the songs. On most of our new songs, we all sing certain lines. By doing so, the songs are much more interesting, and it inspires us to create better and better parts as we grow as artists."
"Kiley usually sings the highest parts, for angelic voices. When we do harmonies, I usually sing the lowest part because I have a deeper voice. Tess does the middle part. She has the purest sounding voice. We all have character voices and really enjoy doing different accents and vibes to our songs," she adds.
Their talent comes naturally, as their parents are lifelong music lovers. Their mother loves to sing, and their father is also in a band (Dim Side of Mars). "He turned us on to all the '60s and '70s music. Our Mom turned us on to the '80s music. And our grandparents turned us on to the '30s and '40s music," Kiley says. "So, we've been exposed to a very wide range of musicians and artists. The '60s and '70s rock style really clicked with us. We want to bring it back for all of the young people who never got to experience that. We think it's just an amazing sound."
But the sound is only part of what's important to Truth on Earth. And this is another way the three are different from most of their peers: Their songs aren't about the issues many young women are thinking about — boys, flirtations, or the angst of being a teen. "We picked a musical style that had a message and meant something," Kiley says.
She tells us, "There are 186 world problems that our family has identified and a lot of other, smaller problems that branch off from all of those." The sisters are writing songs to address issues that particularly resonate with them.
"We've already written about child abuse, starvation, the environment, factory farming, animal abuse, substance abuse, depression, free thinking, women's empowerment, homelessness, sexual assault, domestic violence — the list goes on and on. We really care about all of the subjects as well as bringing solutions that could help people overcome them," she adds. But each member of Truth on Earth has her favorite cause — and her favorite song.
Cyber Bullying
Tess, who was cyber bullied on a social networking site, says, "One of the songs that I can really relate to is called 'Shot with a Bulletless Gun.' The song is written from the viewpoint of the cyber-bullied victim. You feel helpless, because it's through the Internet, and you feel like there's nothing you can do about it. There's some coward hiding behind their computer, trying to bully you, and there's no reason. They're just trying to scare you, and you feel powerless. The person is acting in a way they would never act in normal life because they can remain anonymous behind their computer screen."
Truth on Earth doesn't just sing about problems, however; the band also offers solutions on the Take Action page of their website. Regarding cyber bullying, Tess says, "There's a lot of things people can do." And, indeed, the Take Action page has a long list of tips for handling cyber bullying and other problems on the Internet. But perhaps the best advice Tess gives is, "If you are being cyber bullied, tell someone about it. Whether it be your Mom, Dad, friend, counselor, teacher, etc. — tell them what is going on. Also, if you don't focus on it, and if you don't keep reading [the bullying message], it can help you to not think about it so much."
Issues that Matter
"I really enjoy 'Calling the Nation,' " Serena says. "It's about the environment. Climate change is happening, and the largest single cause is the greenhouse gas effect from factory farming and slaughterhouses.
"Even if people just stopped eating meat one night a week, it would save so many animals. It would save something like 5,000 gallons of water — some huge number — just to feed one cow on one acre of food. On that same acre, you could grow grain and feed 50 people. Slaughterhouses and factory farms are an enormous contributor to this problem, and they need to be shut down."
The girls have been vegan from birth, an issue they're passionate about.
Serena says, "If anyone is wondering how they can make a difference and how we can stop global warming, or how they can help make the world a better place, go vegan. Like I said, factory farming and slaughterhouses have the most significant effect on climate change and pollution. Everyone needs to know that they can make a difference, no matter how small."
A Call to Action

We ask the trio if the anti-war music of the '70s influenced their writing.
"Definitely," Kiley says. "All of those songs were a call to action. That's what we're affiliating ourselves with. 'Every Bad Thing You Do,' which is one of our songs from our first album, "Achieving Peace through Nonviolent Protest," is dedicated to our service men and women and effects of war.
"The focus is not just on the environment or war; we're covering all these topics. One that really hits home for me is 'Where Will You Sleep Tonight?' which is about homelessness. We see it on the road [while the band is on tour]. Just because someone is out on the road without a place to sleep at night, a roof over their head, it doesn't mean that they're alcoholics or junkies. Many have just lost their way. That's one [issue] that I really care about," Kiley says.
"What are you most trying to tell people with your music?" we ask.
Serena responds, "We want to say that everyone can make a difference. For example, right now, we're working on a women's empowerment song. There are so many powerful women in history. I think people need to be reminded that there were amazing women — and there still are women who are making a huge difference.
"We're also writing a song about gay rights, because people shouldn't be prevented from pursuing the same constitutional rights available to all. The Bill of Rights, for example, says that we all have the right to pursue liberty and happiness. It doesn't say, 'except certain types of people who others don't particularly like.'
"Our new song, called 'Help, Help Me Now (Chelsea's song)' is dedicated to Chelsea King and all of the young women whose lives were cut short by violence," Kiley says. "We hope people will check it out and let us know what they think."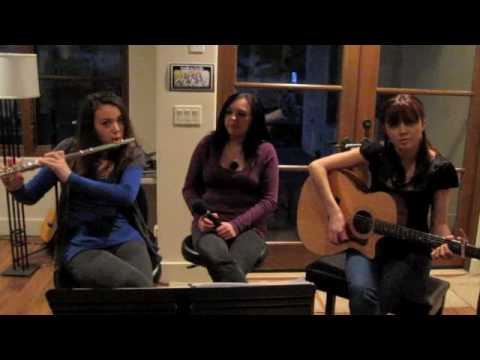 The Home School Advantage

"Our parents started home schooling us ever since we were old enough to be schooled," Kiley says. "We never went to public school."
Tess, who just graduated high school, says, "It's been a very big advantage. For one, it's helped us with our music. It gives us a lot of freedom to do all the fundraisers and perform at benefit concerts, and do all the volunteer work we've done. We can do school at our own speed. By going to school, we'd have to deal with all the teachers and all the other kids and worry about all the homework. This allowed us to go at our own pace and get it done a lot faster."
"We did soccer, basketball, baton," Serena says. "We took a ton of different classes at park districts, and we're pretty social and friendly kids, so we met kids in our neighborhood. And we did home-school groups. All of our friends were from private schools, home schools, and public school.
"Our parents always say, 'One of the best things about being home schooled is that we weren't socialized,' because there are so many unnecessary things that go on at school, like bullying or kids making fun of each other for no reason, and getting picked on. When kids are socialized at school, they come home, and the parents have to try to de-socialize them. We didn't have that being home schooled. Our parents thought us social skills. We had the freedom to focus and learn extracurricular things. For example, we took sign language for a long time, and Hebrew, and we had private dance lessons at our house for a while, and drama classes, comedy teachers. We're pretty socialized, I think." [She laughs.]
"We've been performing and dancing since Tess was two," Serena says. "We've always been volunteering at retirement homes. We put on a variety show to raise money after 9/11. But the first performance we had with the band was about five or six years ago. Our dad got together a bunch of studio musicians, and we put on a concert to try to raise money for causes."
Kiley adds, "We started traveling right after our parents retired from industry, about two years ago. After we got on the road, we traveled through 28 states. Before that, when we lived in Chicago, we had never been anywhere. So it was a real treat, going all over the US. We learned so much about the country, and we saw so many amazing museums and places. We met so many amazing people. We saw a lot about the problems we sing about. For example, we saw a lot of homelessness on the road, which inspired us to write 'Where Will You Sleep Tonight?' It was a fantastic experience, and we love traveling in our RV."
Aiming High
Truth on Earth is on an upswing. And, although their next big goal is to gain recognition as the Best New Band in the Social Action category (should there be one) at the Grammys, they understand that it's a rare band that lasts forever. As Kiley says, "The band is not interested in fame for its own sake, but rather as a vehicle to inspire positive change on the planet so future generations will have a planet worth inheriting."
When the young women decide one day to end their band — or to scale back — they each have plans for other ventures that interest them. Kiley wants to open a vegan café and have her own line of vegan gourmet food products. "We've been vegan our entire lives. So one thing that I really love to do is to bake and cook. And I'd love to share that with the world."
For their part, Tess and Serena are more interested in creating a line of vegan cosmetics.
"When I was younger — actually, when I was seven — I started my own business making all-natural soap," Tess tells us. "I made lotion and lip balm. I love creating things like that. And I always talked about wanting to go to cosmetology school and make a vegan line [of cosmetics]. Serena and I just got talking about it, and we thought it would be a great idea, because there needs to be a really great vegan line for everything — all beauty products, not just makeup.
"We want to make a really good product line that is not tested on animals. It has to be 100% vegan. It has to smell really good. It has to have really cute packages. And it can't be overly priced. You know, that's one of the problems with all the vegan product lines, they're so over priced, no normal family can afford them," Tess says.
Getting the Message Out

But that's all far in the future. "Right now, the band is our main focus. We want to get our message out so we can really make a difference in the world," Serena says.
Kiley tells us, "We have a Take Action page on our website. If anyone is wondering what they can do, they can go there and find out. We're not just singing songs about the problems, we're offering solutions to the problems.
"It's not about us. It's about the causes we sing about, and it's about creating peace and nonviolent protest on the planet — making a planet that will offer goodness for everyone."
Tess adds, "We really do want people to get up and start doing something to make a difference."
Impressed with the maturity, talent, and intellectual curiosity of the three sisters, we ask about the influence of their parents on their activities.
Kiley responds, "All five of us practice meditation every single day. And everything that we're doing now is divinely inspired from God. Our songs. Our mission. Our whole life is. That's what I'd say about our parents, too. Everything that they've done is for the good of this planet and people."
Truth on Earth music is available for sale and download from Amazon, iTunes, and most everywhere you can buy music on line. "You can find everything on our website at TruthOnEarth.com," Kiley says.
When asked how the group decided on their name, Tess gives what has become their standard answer: "We sing about the truth. And we love our earth. And on is just the middle man."
Blue Planet Green Living (Home Page)