In the first part of our discussion with Linda and Rick Clayton, Linda talked about being "able to go where the wind goes." Despite the tight quarters on a sailboat, there are loads of personal advantages to this lifestyle, as she and Rick point out.
This is part two of our two-part conversation with the Claytons. Get ready to relax, put on your deck shoes, and take a virtual sail on Sojourner. —Julia Wasson and Joe Hennager

---
BPGL: Where is your favorite place to drop anchor and just stay awhile?
LINDA: I like the beaches in the Bahamas, but every time we get to a new anchorage, we say, "Wow! This is so beautiful!" And it has so many wonderful features that maybe the other ones don't have. It's hard to say there's any one place; each place is a wonderful place because of its uniqueness.

BPGL: Between weather problems, no wind, running out of fuel, pirates, and things like that — do you feel there's risk to your lives?
LINDA: Oh, yes. There's risk. But I think you take more risk than we do hopping on the freeway. Unless we're leaving the boat for days at a time, we never lock it. We never lock our dinghy onto the boat. We've never lost anything off the boat. And a lot of that is because, when you get to an anchorage, you're anchoring with other cruisers. Everyone watches everyone else's boats. It's a very safe community.
There's safety in numbers, and for that same reason, when we make a big crossing, like sailing across the Gulf Stream from Florida to the Bahamas, we more than likely will go with a number of other boats. If there's any kind of a problem, we all help each other.
BPGL: So you don't feel alone.
LINDA: We're never alone. We kind of travel together in groups. We may go to Point A, and someone else may go to Point B, and then we leave and all go to Point C. So we wind up meeting other people who have very similar goals and aspirations. We all sit in the same anchorage, and we all enjoy the same sunset. And we all enjoy the same happy hour together in the cockpit of a boat, whether it's a $20,000 boat or a $2 million boat.
BPGL: I remember seeing a boating ad that said boaters are a much friendlier group than you would find on a highway.
LINDA: That's true. For instance, we were up in Long Island Sound. The people are not known to be particularly friendly up there, especially to Texans, and we have Texas as our hailing port on the back of our boat. A lobsterman came by one morning and said, "Hey. Youse guys really from Texas?"
I said, "You bet your bootiestompers."
He said, "I'm gonna bring youse guys some lobsta." And he brought us fresh lobster and gave it to us. Boaters are very friendly to other boaters most of the time.
Another time, we were in our little, tiny dinghy going up to a dinghy dock. Usually, if you are coming in a big boat or a small boat, whoever happens to be walking by catches your line to make sure you get there safely. And a guy from a mega-boat was walking past. He took our line and hooked us up. He had probably a $5 million boat. By golly, we were coming up in our little dinghy, and he was walking past, and he was the one who tied us off.
This is the way people are. It doesn't matter to them whether you're a retired trash collector or a retired GM executive. Everybody looks at everyone else the exact same.
Safety Concerns
BPGL: What do you do when you have an illness or an injury?
LINDA: Actually, because we're out in the fresh air all the time, the only time we ever get sick is when we go on land and visit people. I'm just getting over a cold from visiting our daughter. She was graduating in Cleveland, and it was minus five degrees. We're used to somewhere between 60 and 85 degrees.
We go to the out islands in the Bahamas, but there are doctors there. On the out islands, there are mostly beaches — and grocery stores if we're lucky.
There is a divers' alert network that a family can join for something like $50 a year. It's not just for divers; it's for anyone who has a medical emergency and needs to be transported to the nearest hospital. And if anything were to happen to us while we were out in the Bahamas or halfway across, they would transport us by whatever means necessary, via helicopter or whatever, to the nearest hospital. It's a very good thing to have.
BPGL: If you had an emergency, let's say a mast broke, or you're out on the seas, and it gets rough, and something happens, are you in touch with the Coast Guard? Or, what if you are too far away from the U.S. Coast Guard, what do you do?
RICK: We have been enjoying our time in the Bahamas in the winter, and then we go up the East Coast to New England in the summers. We aren't world travelers like some people. We have what's called an EPIRB, which is an Emergency Position Indicating Radiobeacon. An EPIRB sends an immediate satellite message to the Coast Guard, and Coast Guard immediately responds to the latitude and longitude of that distress call. Most sailboats have an EPIRB on them, and you activate it if you feel like you're in danger or you're sinking.
The EPIRB is a small, hand-held device no bigger than one of those old-fashioned "brick" telephones, when they first came out with cellular telephones. We keep our EPIRB in our ditch bag in case we have to ditch the boat at sea. If we have to get in the dinghy, we grab the ditch bag, throw it in, and then jump in. The ditch bag has an emergency food supply, water for a couple days, the EPRIB, cold-weather gear, sunglasses, hats, and things like that. A ditch bag is an essential for cruising. Most cruisers have that.
And, so we can see at night or in the fog, we have a radar that picks targets out for us. Then we can avoid running into things.
Sleep 2, Eat 4, Drink 6
BPGL: Tell us about your boat.
RICK: It's a Catalina, model 387. On deck, it's 38.7 feet. The length overall, including the stem and everything, is about 39 feet 10 inches, so we're real close to 40 feet.
BPGL: How many people does Sojourner sleep?
RICK: We like to say, "We sleep 2, eat 4, and drink 6." But if we want to cram people on, it can sleep seven. We have a stateroom in back, which is like the master bedroom. We have a V berth in front, which sleeps two more; it's like a forward cabin up in the bow. In the salon area, the table drops down and makes a double bed. And on the other side of the salon area, the cabin is like a sofa that you can sleep one person on.
We've had six overnight on the boat. Four is okay. If one of the kids comes with their husband or fiancé or whatever, we can very comfortably enjoy four on the boat. But we've had as many at dinner as 8 or 10 people in the cockpit.
And just for drinks, cocktails, or sundowners, we've had as many as 14 people up in the cockpit. We have one of the roomier cockpits, and that's why, for purposes of gathering in the evening, our boat tends to be the party boat. It's not because we are party animals, but because our boat has a very large cockpit. We got it that way because we knew we would be traveling in temperate climates, living mostly outdoors.
Electronic Communications
BPGL: Do you pretty much have email access all the time?
LINDA: We don't really. There are some WiFi spots in the Bahamas, but sometimes they're far and few between. We're not in Nassau or some of the most populous areas. A lot of the islands we go to, there are only like 100 people or fewer that live on the island. There aren't many WiFi spots available, but there are beautiful beaches! And the people are delightful.
BPGL: How do you locate reefs? Are you concerned about grounding?
RICK: That's what we call the draft. We have about a 5 1/2 foot draft on this boat. That's the depth of the keel. In the Bahamian waters, you're sailing in anywhere between 8 and 20 feet of water when you're up on the Bahama banks. We have nautical charts downloaded to our laptop, and we have all of the NOAA (National Oceanic and Atmospheric Administration) charts that any seaman would have on his boat, all on computer.
Up at the helm station on the sailboat, where the wheel is, we also have a chart plotter that gives us graphic detail of where the boat is in relationship to other islands. It shows the nautical marks, your aids to navigation, the red buoy or the green buoy that allows you to safely enter a harbor. All of these things are charted and plotted very well on a chart plotter, and it shows the GPS satellite where our boat is. The underlying clutter on a chart always has depth.
BPGL: Do you let someone know if you go off on your own — like a flight plan for a pilot?
RICK: Yes. That's called a float plan for a boat. We have something called a SPOT. It's not an EPIRB, but it does work with satellites. It sets up an account with us. We pay an annual fee, something like $100, and it allows us to establish an account that we can load up to 10 emails into. So, when we either up anchor or go anywhere, or when we get to a place and we drop the anchor, we send a SPOT signal out and it lets everybody know where we are, and lets people know our progress on a trip.
Let's say, for instance, we can hit the SPOT satellite messenger system every 12 hours when we're on a three-day passing from the Bahamas to South Carolina. We've left the Bahamas and landed in Charleston, South Carolina. It's about a three-day offshore trip. Every 12 hours or so, we'll hit the SPOT messenger service, and it will send a satellite signal to the company, and they send a message to all 10 of the emails that we've preselected. Those are family.
They get an email which also has a Google link that shows exactly on Google Earth where we are in relationship to the islands or out in the ocean or whatever. That's one of the ways we keep in touch. Of course, before we leave anywhere more than a 6 or 8 hour day journey, we always email our friends and family and let them know, "We're in route here. This is where we are going." Everybody kind of keeps up with everybody else. Especially our family does. They know what to expect and when to expect to hear from us again.
BPGL: What kind of cell phones do you use?
RICK: We just have the normal cell phones. We have good coverage along the coastline. And we buy and use an air card in our laptop computer. So it gives us Internet basically anywhere on the boat wherever we have cell phone coverage. Our company lets us suspend service up to three months a year. So we don't pay a communication bill while we're in the Bahamas. However, we will hit a WiFi spot every day or two at least, so we can keep in touch with our family and get online. We've been as long as a week between WiFi spots in the Bahamas.
Severe Weather

BPGL: What do you do when the weather turns bad, like a hurricane? Where do you go?
LINDA: Our insurance prevents us from doing stupid things. We have to be north during the hurricane season. However, we are still exposed. For instance, in Cape May, New Jersey, this last September, there was an unexpected storm that came up. We were at anchor, fortunately right off the Coast Guard station.
They had six inches of blowing rain and 80 mile per hour wind. The expected winds were supposed to be 20 to 35 miles per hour. We clocked 80. Once the wind reached a certain speed, we turned on the brake on the wind generator.
And we had a lightning strike that knocked out all of our electronics. We had those replaced, which the insurance paid for. There are times that we're exposed. The good news is, we're exposed, and the bad news is, we're exposed. We say, "Hey, we made it through that. What's next?"
Trash and Recycling

BPGL: How do you get rid of your trash on the boat?
RICK: You go to the store and they ask you, "Paper or plastic?" and you get one of these plastic bags. We fill a little less than one a day. When we're in the ocean or doing a crossing, Coast Guard regulations prohibit dumping trash and certain kinds of trash unless you are a certain distance offshore.
When we go across the Bahamas and are 20 to 25 miles offshore, we can pretty much dump anything we want in the ocean, but we don't do it. A lot of things are just flat prohibited. Anything metal or glass, you can throw over at 25 miles out because it sinks to the bottom. We break our glass up and dump it over. When you get rid of your cans and bottles, that's a big space that we save on the boat. And that's what cruisers do. Everything else, we carry back to land and put in trash receptacles. We have a minimum amount of trash.
BPGL: Why can you dump metal and glass? Is that because they will decay?
RICK: You might say there's all kinds of trash on the bottom of the ocean. Probably more metal on the bottom of the ocean from sunken ships than anything else. The Titanic has taken 100 years to deteriorate. Metal rusts at a given rate, depending on what kind it is. The bottom of the ocean is five, six, seven miles deep.
LINDA: Glass that goes overboard eventually washes up on the beach, and the sea glass is real pretty. When we hit the beaches over in the Bahamas, cruisers — especially the women — are always looking for sea glass. We find quite a bit. When people are breaking glass, sometimes they are creating [art] for 100 years from now. We have a light for our cockpit that looks like a mosaic. It's made of sea glass. There are a lot of people who have pretty jewelry made from sea glass.
BPGL: Are there recycling places where you dock?
RICK: Some marinas have recycling bins. They'll be real adamant. They'll say, 'We don't mind you dumping your trash, but we want you to use our recycling bins.
Volunteering

LINDA: Here's one thing that I didn't mention. Most of the cruisers are retired. They find volunteer opportunities in the Bahamas. Quite a few of them got together last year and built a school for the Bahamian children.
All along the way in the Bahamas as well as in the Chesapeake Bay, we have cruisers getting together and organizing cleanups along the waterways and the beaches. These are just a couple of examples. There are many ways that they volunteer.
We have some people who are traveling with us right now are gathering supplies. They've gone to Costco and Sam's and Wal-Mart. They're going to islands where they know that the school children and the teachers need supplies. And they're taking supplies to drop off. That's what cruisers do when they go further south in the Bahamas. The cruisers are doing a lot of volunteer work not only along the East Coast but down in the Bahamas as well as some of the other Caribbean Islands.
The Vegan and the Carnivore
BPGL: Do you fish?
RICK: I'm going to let Linda answer that one, because we have a difference of opinion on this.
LINDA: Many cruisers do fish. We don't. Number one, we have an oversized bimini, or sun shade. You can probably see that in the photos. It's hard to fish from this boat. But I'm not crazy about fish, and Rick doesn't really care about it. So we don't fish. But a lot of cruisers do. During the lobster and conch seasons, they will supply themselves with fresh conch and lobster and fish. They don't eat meat, they eat that.
I have a good friend who is a cruiser. I hadn't seen her in many months, and when I saw her, she looked very healthy. I said, "Wow! You look great! What are you doing?" She said, "Well, we quit drinking, and we became vegans."
She passed a book along to me called Eat to Live by Dr. Joel Fuhrman. It is a compilation of a lot of different studies that support the reason for becoming a vegan. I had been attempting to lower my cholesterol and began to eat that way just for that purpose. And I feel a whole lot better. It did accomplish that purpose for me. But Rick, is a big-time carnivore.
BPGL: Is it hard to keep enough fresh produce on board in a small refrigerator?
LINDA: Not really. A lot of cruisers do go into parts of the Bahamas and the Caribbean where there are no grocery stores at all. They, of course, cannot eat fresh produce. They eat a lot of canned food. We hang out in places where there are grocery stores, so I can get fresh produce just about every two or three days.
BPGL: In one of your photos, I saw Rick on a bicycle. Do you have bikes for your time on land?
RICK: We don't have bikes on this boat. But when we go on land, there are always people who offer us bikes. Our boat isn't large, and we don't have the space for it. But if you want to Google something called the folding bicycle, you're going to pop up with all kinds of products that sailors use. A bicycle can fold down no bigger than a suitcase and people will store it in their boat and pull it out.
A folding bicycle would be a better option for us if we went into marinas where we could actually take the bicycle and set it right on the dock. But since we anchor so much, we would wind up being in a position of having to unload the bicycle into the dinghy, dinghy ashore with two bicycles, and then unload the bicycles on a beach. The juice ain't worth the squeeze.
"We're Home"

BPGL: Have you considered sailing anywhere else?
LINDA: We've considered that. But we're so happy with what we're doing. And it's the people that we know that we see on the way — it's like we have our neighbors with us at all times. We may not see them for a week or even a half a year, or maybe even a year, but they're on this same path that we are between the Bahamas and the Long Island Sound.
It's not so much the seeing new things. We're seeing the same things over and over and over, but we're very familiar with lots of places and lots of people. And we enjoy the people that we see. It's like we're home. The whole East Coast and the Bahamas is our home.
End of part two.
Blue Planet Green Living (Home Page)
Part 1: Small Footprints – Cruising with the Claytons
Part 2: Small Footprints – At Home on the Sea (Top of Page)
When Rick and Linda Lacy Clayton decided four years ago to retire on a sailboat, they didn't do it with the intention of becoming environmentalists. But what they've learned since is that their very survival — and their finances — depend on their ability to sustain themselves with minimal fuel, power, and water.
Blue Planet Green Living (BPGL) spoke with the Claytons to learn how the experience of living on their sailboat, Sojourner, has changed their daily habits and taught them to keep a small (wet) footprint. The Claytons hail from Dallas, Texas, where Rick retired as a policeman, then spent eight years as a truck driver, and Linda retired from a career in marketing. This is part one of a two-part conversation. — Julia Wasson and Joe Hennager
---
BPGL: What a life you have! How did you decide to live on a sailboat?
RICK: We both had some experience sailing. The first vacation after we got married, we chartered a sailboat down in the British Virgin Islands for a week — the two of us on a 35-foot boat. Of course, I knew I was going to love it. On the way back, Linda said, "How soon can we sell everything, buy a boat, and take off?"
That was music to my ears. We were both in our 50s, and love doesn't always come that great that late in life. So we sold our house and sold our cars and had a big garage sale. We just took off from Galveston where we had the boat and began cruising in December of that year. We live on the boat full time and anchor in various places just about every night.
BPGL: Did you think about trying to reduce your carbon footprint by selling your house and cars and living on a sailboat?
RICK: We did this just to enjoy life and have fun. Leaving a small footprint is kind of the result or the by-product of our lives; it wasn't really the motivation for what we're doing. But we know that cruisers out here make a much smaller footprint on the environment than people who have homes and cars and jobs.

Putting the Sun and Wind to Work

BPGL: How do you power your lights, your laptop, and so on when you're at sea?
RICK: We have both a solar panel and a wind generator to charge our batteries. The boat is a 12-volt system, like the current in a car, so we have to constantly keep our batteries filled. If we can do that by wind and solar, we don't have to run our engine to produce the electricity.
If there is no wind, or we have real cloudy skies, and we're dead in the water for a couple days, we have a small, gasoline-powered Honda generator, which uses about a quart of gasoline an hour. While that's running for a few hours, we can heat our water and recharge our batteries. We use the bare minimum of fuel. We actually use less fuel than the average person who is just riding to work and back. We try to use as little fossil fuel as we can, just because it costs money.
BPGL: What kind of wind generator do you use?
RICK: The brand name of our wind generator is AirX Marine. Three years ago, when we did some research and bought the unit, that seemed to have one of the highest outputs. With 15 knots of steady wind, we get 3 amps per hour in our batteries. The wind blows quite a bit in the Bahamas. As the Trade Winds pick up late in the season, they keep our batteries at a level that we don't have to run our engine.
BPGL: What about your solar panels?
RICK: Our solar panel is called a Sunsei. It's a 100-Watt solar panel. On a sunny day, we get about 3 amps per hour. When we have no clouds and 20 knots of wind blowing, we have a nice input of amps into the battery, and it compensates for what we use on the boat on a daily basis.
BPGL: How do you store fresh foods on Sojourner?
RICK: We have what's called an Adler Barber refrigeration system, which is our refrigerator freezer. And while it's fairly small, in comparison to a standard household refrigerator-freezer, we can store a couple of weeks' worth of meat in the freezer and a week full of fresh vegetables and milk and things in the refrigerator. The nice thing is it runs on a 12-volt system.
Some sailboats have a refrigeration system that runs on a household current — 110 volts. And that type of a refrigeration system would need a generator, which would mean you're running a generator to cool your food; you're using more fossil fuel than a 12-volt system that can cool your refrigeration needs with the battery.
The whole concept of this is just keeping the batteries charged. We have about 500 amp hours in the three batteries we have, and we use probably anywhere between 70 and 90 amps per day.
BPGL: So you have to keep regenerating.
RICK: Yes. It's a continual process, and of course the refrigeration runs about 5 amps per hour. It cycles on and off, about half the time. It's running about 12 hours a day. You're looking at 60 amps just in keeping our food fresh and cold. And we need to keep our water frozen for those ice cubes for the sundowners. [He laughs.]
BPGL: Do you also have a TV and other electrical draws?
RICK: Yes. As far as a TV and VCR, we have a 12-volt TV that has a built-in DVD player. The entire unit is 12 volts. We can turn the TV on and watch a DVD, and it will only use a little over 1 amp per hour.
And we have an inverter, which converts battery power to 110-volt household current. But the only time we run the inverter is to charge our small appliances. We have everything hooked up in the boat's electrical system and plugged in. I charge my electric shaver. We have a little rechargeable dust buster. We have a laptop computer. They all stay plugged in, so anytime we turn the inverter on, everything gets charged at once.
We run the inverter for maybe an hour or two every day. It might draw a few amps out of the batteries, but it keeps all of our 110-volt necessities charged. Those sorts of things take very little amp draw. Lights and fans take very little amp draw. And, when we're done using a light, we turn it off.
The only real draw we have overnight is that we have an anchor light that's required by Coast Guard regulations. Our anchor light is at the top of the mast, and it uses about 8 hours overnight at about 1 amp per hour. We run it in the dark 8 or 10 hours.
BPGL: So no big boat runs over you.
RICK: Yeah. We want to be seen out there! If we're in a crowded anchorage, everyone has an anchor light on, so we feel a little safer. But if we're out there by ourselves, we want to make sure that somebody sees us.
BPGL: You're using renewable energy, like everybody should be doing here on dry land.
RICK: If people went to wind and solar, even personally, it would help the environment and reduce the use of fossil fuel. But it's still an industry that's in an expensive stage. There's a company, Ferris, that makes wind and solar products for boats and homes. You look at our wind generator. It was over $1,000 for that unit. The solar panels were about $900. And that's just to put a few amps in. So, if you were going to power a full-size house, with full-size needs, with wind and solar, buying the small product that I bought for the boat would not be cost-effective.
Fueling Up

RICK: We do also have a small Honda generator on the boat. It's portable and has a one-gallon fuel tank. You can run it for five hours. It takes about a fifth of a gallon per hour in gasoline. That is one thing that supplements us. When we do that, we don't have to run our boat's main engine to produce power. The main engine does consume about three-quarters of a gallon per hour. It's a diesel engine.
Even though we have sails, all sailboats have a small auxiliary engine to supplement their speed or to propel them when there's no wind. In fact, we're very careful about running that, and we don't run it unless we're moving. We don't run that just to charge our batteries, because it is more costly. If I'm going to wear an engine out by running it, I'm going to wear out an $800 engine rather than a $50,000 engine.
LINDA: Are you interested in how much fuel consumption we've used?
BPGL: Definitely.
LINDA: I always keep a running tally so I know from one year to the next what we're doing and keep up with our budget. From December '08 to November '09, for gas (the only thing we use gas for is our Honda generator and our dinghy), diesel (the engine on our big boat is a diesel), and propane (we cook with propane on our stove and oven, and we also have a propane grill) — all of those items, all of our gas, diesel, and propane use — averaged out $28 per week.
BPGL: What is the price of diesel at a dock?
RICK: Actually, the diesel costs are more expensive in Florida, because Florida has a state sales tax of an additional 7 cents per gallon on diesel. But even with that, we have a 36-gallon fuel tank in our sailboat, which is about the size of an SUV, a large Expedition or a large Escalade. We're going to spend probably $3 per gallon for diesel most places.
We'll spend $120 to fill the tank, but when you think about it, somebody will burn through a tank of diesel going to work in less than a week. A tank of diesel lasts us a month to sometimes two months, because we sail, and we may come into anchorage and sit for two or three days.
The cost per diesel might be a little more, because the marinas will charge you more than you pay on the highway. A marina is considered a resort facility, and you always pay more in a resort. But we probably use $1 a day for fuel, where most people would probably use several dollars a day for fuel in their lifestyle.
Of course, that doesn't even count the money that they're spending on their electric bill, their water bill, their gas bill. We spend well less than $2,000 a year for our entire energy costs and transportation and everything. That's where the advantage comes in environmentally for a sailing lifestyle versus having a home, two cars, maybe even jobs you've got to transport yourself to everyday. We're fortunate that we're able to go where the wind goes.
Precious Water

BPGL: What do you do for a toilet and shower on the boat? Do you use fresh water?
LINDA: Our particular toilet system operates with seawater. We have a holding tank, and there are places to pump out the waste. Our shower is about 2 foot by 2 foot. It's a gymnastics endeavor just to take a shower. [She laughs.]
RICK: We have solar shower bags, like campers have. We can fill them with three to four gallons of fresh water, seal it up, and the sun heats it. A shower bag is clear plastic on one side and black on the other side. You lay it clear side up, and it'll heat your water to gosh-darn hot.
We take the bag and hang it up on the boom and run the nozzle down into the head — the bathroom — and gravity feeds us the hot water. After we get wet, we stop the water supply and lather up. Then we turn the water back on and rinse off.
On a sailboat, you never really stand under running water, because running water is such a precious commodity. It's like your lights: You turn them off when you're done using them. We use about a gallon and a half, maybe two gallons at the most when we shower.
BPGL: Do you capture rainwater?
RICK: After we've had an inch or so of rain, when the decks are all clean, and the salt film has been washed off, we'll open the scuppers, which are the fill holes for our water tanks. We lay a clean towel across the deck like a little dam, so water will run down in the water tanks, but won't run past the towel. We collect rainwater for fresh water every chance we get.
BPGL: Do you use the same water for drinking water?
LINDA: We have a PUR water filter. And we filter all the water through that before we drink with it or cook with it. We've always felt like the water's safe. Also, because we do have these tanks, we will put a tiny bit of chlorine every once in a while, in each one of our three water tanks, to kill whatever's in there.
RICK: Everything that is pumped out of our tanks is pumped through a water pressure pump from the sink. Our boat capacity for water is about 100 gallons. And we have about a 20-gallon water heater on the boat. We also have four 5-gallon jerry cans that we keep lashed down on deck. If the boat runs out of water, I can put the jerry cans in the dinghy, then dinghy ashore and get 20 gallons of water. Our water consumption averages about 7 gallons a day, and that's fairly consistent. That includes showers, cleaning, cooking, everything — just 6 to 7 gallons per day for the two of us.
BPGL: How much can you use seawater? Can you capture and filter out the salt?
LINDA: Once we get to the Bahamas, primarily what they have there is a reverse osmosis system. Typically, when we get hot water in the Bahamas, that's what we're using. Many cruisers do have a saline conversion system on their boats. The larger ones, those that are 40 feet and up, have what's called Water Makers. We do not. It takes up quite a bit of space, and we're a smaller boat compared to the ones that typically have it.

A Real Sense of Community

BPGL: I'm amazed at your boldness in completely changing your lifestyle and leaving everything and everybody behind.
RICK: One thing we learned after we began was the real sense of community with other cruisers. There's a whole community of people out here that are doing the same thing because they enjoy sailing and traveling. This is a level of travel we would not be able to afford if we lived on land and had to buy plane tickets and rent cars. We would definitely be back in Texas.
BPGL: Don't take this wrong, but you probably don't want a lot of people to learn how inexpensive it is to do this, or everybody will be doing it.
RICK: Quite the contrary. We always enjoy the company. Besides, there are some drawbacks to this that would keep a lot of people who want to save money from doing it. The lifestyle is more primitive than all the modern conveniences of the 21st century.
I've often likened it to living in a home in the 1950s in Middle America. You don't have a dishwasher. You don't have a garbage disposal. You don't have a washer and drier. Sometimes you don't have cellular telephone service. There are $20,000 boats, and there are $2 million boats with all the conveniences of the 21st century. Everybody manages to find a lifestyle and a level of convenience that they can live with within their budget.
End of part one.
Blue Planet Green Living (Home Page)
Part 1: Small Footprints – Cruising with the Claytons (Top of Page)
Part 2: Small Footprints – At Home on the Sea
Amanda Rooker is a freelance writer and editor based in Yorktown, Virginia. She also serves as a spiritual director and teacher at LivingStone Monastery, a Protestant community and retreat house in Newport News, Virginia. She received her bachelor's degree in English from the College of William and Mary and her Master of Divinity from Duke University.
She loves her husband Ben, her two crazy-active sons Sam and Elias, pathless woods, simple abundance, poet Pablo Neruda, Trader Joe's, and most of all, the school bus.
Amanda Rooker
Blue Planet Green Living (Home Page)
Amanda's Posts:
Spiritual Sustainability: Save the Earth Without Killing Yourself
My 5: Amanda Rooker, Freelance Writer and Spiritual Teacher
For much of my life, I have zealously pursued the ideal of sustainable living. A deep love for the natural world, coupled with an equally deep perfectionist streak, made me alternately — depending on the flavor of the times — an object of curiosity or subject to ridicule. However, over the past five years, I have had to admit that this ultra-determined sort of sustainability has not produced the eco-perfect life that I expected.
For example: I currently live in York County, Virginia — a.k.a. Suburbia, U.S.A. My community is organized into neat lines of strip malls alternating with freshly bulldozed lots zoned for new construction. Not only do I drive an SUV to cart my kids around a zero-elevation town, but I drive a black SUV — not exactly a sustainable choice for the sweltering South. Last week I bought my groceries at Wal-Mart. The only obviously sustainable practice I have going for me is that my son takes the school bus. How did I get here? And how can I, in any conceivable worldview, still believe that I am committed to sustainable living?
When I was fifteen, ecology was still a fringe concept in my part of the world. But as I learned more and more about how particular human practices harmed the earth as a whole, it didn't take long for me to become radically devoted to all things green. And with every new piece of information, I added a new required practice to my life. I became a vegetarian to minimize my food-energy footprint. I insisted my mother replace paper napkins with cloth napkins (which she, and I, have used daily ever since). My first job was working in a third-world import store, where I developed a taste for brightly colored Guatemalan clothing and handmade African jewelry. Instead of Christmas gifts, I asked family and friends to donate to the Heifer Project.
After I was married, I grew my own organic garden of vegetables and herbs; made all of my own household cleaners under the expert guidance of Clean House Clean Planet
; bought handmade soap from a friend's local business; frequented the farmer's markets; and bought or received almost every other product in our home secondhand. The more I learned, the more practices I heaped upon myself. At the time I had high energy, low expenses, and no dependents, so I was able to maintain my ever-expanding list of practices.
When I became pregnant with my first child, my imagination had molded my long list of practices into a detailed ideal of sustainable living, and I could define it down to the color of the hand-woven place mats on my sustainably harvested hardwood kitchen table. I would have all of my children (and there would be many) without drugs and in harmony with my body's natural processes. Not a crumb of processed food would touch our lips. I was going to put aside career to be Earth Mother.
I quickly learned that intentions do not equal reality. Undaunted by the fact that my idealized natural childbirth turned into an emergency C-section, I poured all my energy into using cloth diapers, searching out affordable organic food (by this time I had let my garden go), and making homemade baby food and natural cleaners. But what was painfully absent was joy — joy in my son and joy as a mother. Nothing was natural about this.
After I had my second son, I found that keeping two children under two years old alive took all my time and effort. Not only was I unable to keep up all of the sustainable practices I believed were so important, I could no longer prioritize which were most important and which were actually contradictory. If I was constantly assessing whether our activity or snack was the best possible choice, I had no time to linger and play with my kids. My ideal of sustaining the earth was now directly competing with my responsibility of sustaining my children's lives — not just physically, but emotionally and spiritually.
The death blow to my sustainable-living ideal finally came when our household income was suddenly slashed by two-thirds. Whatever spare time or energy I had was now devoted to simply keeping our bills paid on time and trying to figure out how to keep food — any kind of food — in our refrigerator. Our options were limited to the easiest and the cheapest, and I had no choice but to accept it. I laid down my ideal as simply impossible. Living sustainably was only for the wealthy and/or childless. I made my peace with Wal-Mart, my SUV, and my preservative-laden, pesticide-laden, cheaper food. And I spent a year simply surviving, no longer worrying about whether each action was the most "sustainable" or not.
I may have thought I was just too poor and too busy to live sustainably, but in reality, it was my product-based, practice-based ideal of sustainable living that was not sustainable. My zealous, determined perfectionism fundamentally contradicted the natural, cyclical growing processes that govern not only the natural world I claimed to love and preserve, but us as human beings, too.
Trying to create a perfect external ideal of sustainability, as opposed to allowing our lives to grow naturally from our internal values, is like trying to build a tree (even from sustainably harvested wood) instead of planting a seed. We might get visible results faster, but it will be impossible to maintain over time. To live sustainably long term, I had to learn to honor the spiritual process that brings the renewable patterns of natural growth deep within ourselves.
Life has a way of showing us that its principles will prevail, and seeks — perhaps even in a kind way — to relieve us of the impossible burden of building a living thing. Even when I didn't recognize what was happening, the new priorities of motherhood and our limited budget pruned my overgrown ideal of sustainability down to a stump. I thought that part of me was gone forever. But what is true physically is also true spiritually: destruction yields new life. Pruning creates vibrant growth not possible otherwise.
Another physical principle that has a spiritual parallel, I learned from my naturopath: Even if the body is deficient in many areas, it will only take in what will address the primary deficiency. Pouring supplements into your body (or in this case, adding sustainable practices) to address visible symptoms is a waste of time, money, and energy. Only when the core deficiency is met will the body be capable of absorbing what it needs to address the next core need. That's exactly what was happening to me spiritually: Establishing new habits is very much a spiritual process. It not only takes time, but takes everything in turn: First the seed, then the shoot, then the leaves, then the fruit.
In the absence of those heavy, burdensome expectations, I was able to discern the living value beneath all of those practices, which was my love of the natural world. That love never died, it was just hidden and weakened by the crazy overgrowth of too many practices. So, for a while, I simply enjoyed the world around me with my children, unburdened by obligatory practices. And that was when I really started to grow: not outwardly, but inwardly. To my surprise, specific corollary values began to branch out naturally from that primary value: pursuing health naturally and investing in local, seasonal, whole food sources. Just two corollary values – not even practices or habits yet.
But from simply naming and nurturing these values, I am beginning to see the fruit of a few new practices that are enlivening rather than burdensome. For example, I have switched from traditional primary care to a gifted, local naturopathic doctor for health maintenance. As part of the pruning, I gave up running (which according to my ideal was the most "sustainable" exercise). But in its place has grown the habit of weekly dance and yoga classes at the YMCA — for the first time in my life, exercise enlivens me. I cook simply and from scratch as much as I'm able, even though our budget still limits how much local, seasonal food I can afford. And for now, that's enough.
But here the fruit of allowing practices to grow naturally from within really pays off: I now know how to prioritize practices within limited means. For example, I know that my practice of buying local whenever possible is rooted in my value of fresh, nutrient-rich food and pursuing health naturally. Therefore, my first and best options are our local farms and the bulk natural foods catalog. When I can't afford those options, I'm free to shop at the cheapest, most convenient place because evaluated on the basis of natural health, they're pretty much equal.
But evaluating my food options based on, for example, economic justice for small, local businesses who pay a living wage, would yield completely different results. The local farm wouldn't be the first and best choice if it used migrant workers, nor would all remaining options be equal. That's how I can freely shop at, say, Wal-Mart, while someone else might not. Or how I can drive an SUV guilt-free — the carbon footprint branch hasn't begun growing yet.
True vision provides a decision-making matrix that goes beyond simple monetary cost or objective right-and-wrong, helping us to discern which practice to prioritize and which to simply let go. If we trust that we are indeed living things to be grown and not built, we will trust that priorities and practices will grow in their own time. I certainly have plenty to do in the meantime to nurture what has already begun growing.
So I am grateful for the pruning process of the last five years, because I've finally learned that true sustainability is not evaluated based on an objective list of practices and products, but on how well we yield to a spiritual process — the same cyclical growing process that governs the earth we love. If we nurture our love of the natural world, it will naturally produce the fruit of practices over time. And this approach is certainly no adolescent "do-what-you-feel-like" philosophy.
Most of us determined perfectionists (and virtually all mothers) resist this equally deadly extreme for good reason: Sometimes we simply must do what is required, whether we want to or not. Certain (ideally, codified) minimal practices should be required of all of us, no matter what we define as burdensome. But the key here is to learn the difference between building and growing. Growing certainly requires work that we must do, whether we feel like it or not. Yet our responsibility is not to produce the living thing itself, but merely to enable it to grow the way it was designed.
This kind of spiritual sustainability is tremendously freeing, because we are operating according to design. It costs nothing and produces much. On the other hand, it is not cheap. Just as in the natural world, new life comes at great cost: It requires the seed, or the ideal, to die. It requires us to accept the pruning and to appear to be an ugly, dead stump to undiscerning eyes, even when everyone else has birds flocking to their branches.
If we truly love the natural world and are students of its ways, we will know that pruning burdensome branches increases growth in the long term. This growth will not only be physical, through the addition of visible practices, but spiritual: The process also yields within us the sustaining virtues of humility, perseverance, and faith. In other words, honoring the growth process with patience is how our sustainable practices will be well-rooted enough to sustain us as well — with any budget and in any context. Even while driving our SUV to Wal-Mart.
Blue Planet Green Living (Home Page)
BPGL: What are the five most important things we can do to save the planet?
Amanda Rooker:
Apprentice yourself to the processes in nature. We grow and thrive much like other living things do: slowly, deliberately, determinedly, thriving best in manageable adversity — but we can only compensate for so much before we begin to weaken and die.
Take it slow. We can't love the world and the people in it unless we learn to savor everyday experiences.
Know the difference between building and growing. Don't water buildings and expect them to grow; don't hammer seedlings and expect them to live. Hint: Human beings are living things, not buildings.
Blue Planet Green Living (Home Page)
Related Posts:
Spiritual Sustainability: Save the Earth Without Killing Yourself
When Jessica Klein gets hungry for organic produce, she doesn't have very far to go. "I have my own little sustainable garden," she says. That's a bit of an understatement, as Klein raises a wide variety of fruits, vegetables, and herbs on a bit less than acre of land. She lives with her husband on the southern exposure of Tiger Mountain, near Issaquah, Washington.
Klein has what she calls "quite a green thumb." But from what we can see in the photos she sent us, she has ten green fingers and probably a few green toes. The photos alone are enough to start us yearning for fresh, juicy, red tomatoes, crisp green cucumbers, and crunchy orange — and red — carrots. By the time the interview is finished, we're both ready to get out seed catalogs and start planning for the spring.
We interviewed Klein by phone from her home. We wanted to learn more about how she manages to get such lush growth and robust produce in a place where, she says, "It rains about a gazillion days a year."
---
BPGL: Tell us about getting started with the greenhouse.
Klein: When I decided to get a greenhouse, first I did some research to determine what kind to buy. Then I watched the sun pattern in our backyard to figure out just where it should go. We have a lot of 150-foot trees on the property, so there's not much sun. Location was critical.
I chose a brand called the Sunshine GardenHouse. The model is the Mt. Rainier series, which means it's a local product — made and manufactured on Washington's Olympic Peninsula. (In fact, they drove it up and delivered it to my door.) It's made of redwood, with polycarbonate walls and automatic solar vents.
BPGL: What did you have to do to get the property ready and then set up the greenhouse?
Klein: Our backyard was full of brambles, so we had to clear a space for the foundation. After we dug down about 4 or 5 inches, we laid a foundation of cinder blocks around the perimeter and put gravel around the outside. On the inside, we spread a permeable weed cloth to control the weeds, and unrolled chicken wire on top of that to keep the vermin from digging in from the bottom. We placed a flexible drainage pipe around the inside perimeter with an exit hole out one side.
Next, we covered the wire and most of the pipe with a layer of gravel up to the top of the cinder blocks and more around the outside of the greenhouse. That was our base.
On top of that, we built the framework and covered it with the polycarbonate walls that came with the kit. The greenhouse itself is 8 feet by 12 feet. We put it up in two days, but I think we could have done it in one. It probably took us longer than it might take someone in an area where it doesn't rain so much. We spent a lot of time having to deal with the inevitable water runoff.
BPGL: Did you run any electrical or water lines to the greenhouse?
Klein: No. We decided not to put electricity in, because it's a long way from the house. And in addition to costing a lot, we just didn't want to have a long electrical line running through the property. Besides, the solar vents work automatically to let out excess heat. We didn't need to put water in, because of all the rain. When the plants get dry (which hardly ever happens), I just pull a garden hose over and give them a soak.
BPGL: Considering the cost of the building against the cost of the food you've grown, what do think the return is on your investment, your ROI?
Klein: Well, we didn't purchase the cheapest model of greenhouse, or the most expensive one, either. I think we spent about $3,000 on the kit, then maybe another $200 for the raised beds inside. We used some recycled planter disks outside the shed — they look like big saucers. Then we bought trays, buckets, tools, and hoses. We spent about $125 on the worm bin.
And I joined the Seed Savers Exchange. I bought organic and heirloom varieties of seeds from the Seed Savers in Decorah, Iowa. They have varieties you can't get most places. They grow their own and replenish the seed stock. So that was $35 for the annual fee, plus the cost of seeds.
The total cost of everything probably came to about $3,500.
What have I gotten in return? I've saved probably 4 or 5 bags of garbage from going to the landfill. So, from that I saved maybe $10.00 in landfill costs. I fed all of our food waste to the worms. They gave me about $10-$15 worth of the richest fertilizer in the world, worm tea. And I probably got about $10.00 worth of rich soil from the compost. So, how much is that? About $30 or $35.
BPGL: What did you save in produce by growing it yourself?
Klein: Let's see. In our area, tomatoes in stores have to be flown in, so they cost about $3.99 a pound. I can't tell you how many pounds I grew! And I can grow them four, five, six months of the year.
When we moved here five years ago, we started planning for the future, by planting fruit trees and such. We've been sowing the seeds (no pun intended) to get more production as time goes by. In my whole garden, I have three types of lettuce, zucchini, green beans, kale, peppers, eggplant, carrots, Brussels sprouts, jalapeños, cabbages, edible borage flowers, and all of my herbs, basil, oregano, parsley and more.
We also have fruit trees — an Italian plum tree, a three-graft cherry tree, an apricot tree, a peach tree, a five-graft Asian pear tree. And then we have grapevines, and wild blackberries and huckleberries, too.
I only buy organic produce, so the cost of that is even higher than in a regular grocery store. Without my garden, I probably spend about $15 or $20 a week for produce at the grocery store. But I certainly wouldn't have consumed $3,500 [the cost of setting up the greenhouse] in vegetables. This year, I probably saved $400. That doesn't seem like much, but this is just my first year.
BPGL: Do you see other benefits to growing your own produce?
Klein: Yes. The most important thing here is not the money. You have to remember that all of this food was grown organically. That means I know there are no poisons in them, no fertilizers or herbicides. There's huge psychological ROI in knowing where our food came from, who handled the produce, how the plants were cared for. And I didn't have to drive to the store to buy any of this.
I get a ton of exercise working in my yard. I get to plant seeds and watch them grow. I get to pick a ripe, red tomato from the vine and eat it. How much is that worth?
I do this for my family. I get to give my dad bags full of fresh tomatoes, which he loves. My mom loves the zucchini. And my sister loves the green beans. There is no price tag on that.
I don't consider myself an earth-shattering change-maker. I just try to do my part. I support the locavore movement, which means eating food grown in a certain radius near your home. The point is to get to know your local farmer. Farmers' markets are huge out here in the Northwest.
BPGL: Isn't raising your own produce a lot of work?
Klein: Getting it all started was a lot of work. And at planting time, yes, it's hard work. After that, it only takes about an hour a day. And during the long winter, when I'm stuck inside, I'll be thinking about what I'm going to plant, just waiting to get outside and put in those long days again.
It's such a labor of love, pure joy.
BPGL: Tell us about your worms. How did you get into that part of the gardening?
Klein: I read a couple of books. Amy Stewart's From the Ground Up, which tells about how she grew her first garden when she knew nothing at all about gardening; and The Earth Moved, which is about vermiculture.
At the time, I thought, This sounds like something I could spend a lot of money and time doing, and I know I'm the type to jump into a project and then let it slide. But then I thought, What the heck? I want to do it. So, 15 minutes after I finished The Earth Moved, I was on the phone buying a worm bin.
The worm bin sat in the entry to my home for the winter. We fed them all our food trash and it didn't smell at all. It was so easy to maintain, I couldn't believe it. Then when summer came, I got the message from my husband, and I moved it out to the deck. A neighbor helped me take the bin apart. We scooped out the compost, drained out the worm tea.
Our worms are red wigglers. They're quick movers, those little guys. They really do compost everything right down to black gold. There's not much discernable that's left when they're done. I found one avocado peeling, but when I touched it, it disintegrated.
I'm so glad I did this. I've always been into recycling, and this kind of recycling is easy enough. Well, maybe I think it's easy and for others it's hard, but it's what I can do.
BPGL: What about eggshells? Can you feed the worms eggshells?
Klein: They love eggshells. They compost them down to nothing. In fact eggshells are good for their tummies. And coffee grounds, too.  They're just crazy little munchers! It really is very easy to take care of them.
BPGL: Do you ever find that you run out of food for the worms?
Klein: No, right now, I find that my worms keep up with my food and my food keeps up with my worms. They just turn all my food scraps and garden scraps into beautiful compost. It's great! If we ever run out, we have loads of leaves and yard waste we could feed them; but, so far, we haven't had to do that.
BPGL: With organic gardening, where you don't use any herbicides or pesticides, what are your biggest problems?
Klein: My nemesis is the slugs. The greenhouse tends to take care of the plants inside [because the slugs can't get in], and they can't crawl up into my round planters, but they're everywhere else. I tried to put out dishes of beer. I heard that would work, but my dog drank them all. [She laughs.] So, I can't do that anymore. And, I planted marigolds to attract the ladybugs to eat the aphids.
BPGL: Any other pests?
Klein: Oh, yeah, the deer. The dogs keep them way most of the time. And I had a bear walk through my yard last spring. Then there are all of the possum, raccoons, and coyotes. We also have occasional bobcats, and puma.
And, of course, with so much rain, we have mold. In fact, besides slugs, my biggest issues are with the climate. There's not enough sun and too much water.
BPGL: What's next for you?
Klein: It's my hope that as I learn more, I'll be able to teach other people.
BPGL: What advice would you give people about starting their own organic garden at home?
Klein: Start small, say with an herb garden on your deck. Or grow even just one vegetable to begin with. Just do what you can do. The hardest part is to make the decision to do something. Once you take the first step, everything else is reward.
Blue Planet Green Living (Home)
Related Posts
Ranching Underground Livestock
Pursuing the Dream of a Sustainable Life
A Time for Gathering and Harvesting
On March 28 and 29, 2009, the Natural Living Expo will take place in Des Moines, Iowa, at the Polk County Convention Complex. For the first time in its three-year history, the NLE will be held for two days, due to the overwhelmingly positive response to past expos. Admission is free for attendees.
If you are a consumer who cares about health, wellness, natural living, or sustainability issues, this conference will provide you with a wealth of useful information. You'll have the opportunity to hear speakers on a variety of relevant topics and meet with vendors to learn about their organic, green, or natural products or services. Last year's conference strands were "Living Healthy," "Living Balanced," and "Living Together."
If you're a vendor, sign up now for a spot at NLE. Two early bird discounts are offered for registration by November 15 or January 15. Space is limited, so be sure to secure your spot early.
Event hours are from 10 a.m. to 6 p.m. Saturday, and 12 p.m. to 5 p.m. Sunday. Watch the NLE website for more information, as speakers and vendors are announced. As the conference site promises, you'll "Discover resources in Iowa to help you be kind to your body and your planet."
Use the word "downsize" with most folks, and they might picture moving from a two-story house to a bungalow or apartment. But Gregory Johnson, co-founder of the Small House Society, gives downsizing an entirely new meaning.
Johnson's Iowa City, Iowa, home is only 140 sq. ft. That's less than one-tenth the size of his previous dwelling. Those accustomed to a full-size house might find it a bit cramped, but, for Johnson, it's a perfect fit. Take two steps through the front door (the only door), and you'll find yourself standing in the center of Johnson's entire domain. This is where the University of Iowa computer technician spends his waking hours — when he's home, that is. At night, he unfolds a collapsible ladder and climbs to the loft bedroom that spans the full length of the house.
When he moved from his 2,000 sq. ft. home to this tiny house, which cost only $15,000 in 2003, Johnson gave up his washer and dryer, his living room sofa, his television, and his workout room. In fact, he gave up all of his furniture but a mattress and a folding chair. "I'm a much more sociable person now," he says. "When I need to do laundry, I go to a laundromat. When I want to exercise, I go to the gym. I see people and have conversations with friends. If I had all these things in my own home, I wouldn't need to go out. I'd live a much more solitary life."
"And there are financial benefits, as well," he adds. "I don't have to purchase or maintain any of the equipment. That's a huge savings all by itself." The savings in small house utility bills are tremendous, too. Heating a tiny house like Johnson's costs only a few dollars a week, even in the coldest weather.
But there's just one catch. Unlike most homes, this tiny house has no bathroom or shower. Johnson uses the facilities at his parent's house, on whose property his house sits. For a shower, he often goes to the gym. And, as someone who rarely cooks, he says he doesn't use his kitchen much, either. Admittedly, this lifestyle isn't for everyone, but there's been enough interest since 1997 to sustain the Tumbleweed Tiny House Company, owned by Small House Society co-founder, Jay Shafer, who built Johnson's small house.
Because Johnson's house is too small to meet city housing codes, he had it built on wheels. Rather than pay real estate taxes, he purchases a trailer license plate every year. And when the day comes that he decides to move, he can just hitch it up to a truck (running partly on biofuels, of course) and roll on down the road.
Not surprisingly, after Hurricane Katrina, the small house movement garnered a lot of interest. With so many homes destroyed all around them, some Gulf Coast residents began considering the merits of portable homes — homes they could move out of the path of an approaching storm. After the storm, Julie Martin, who had owned a full-sized home in Bay St. Louis, Mississippi when Katrina hit, purchased one of Shafer's Tumbleweed Tiny Houses. She later opened a franchise, which she named House to Go™. Martin specializes in homes for Gulf Coast residents.
As the founder of Resources for Life, Johnson strives to help others achieve a balanced, sustainable lifestyle. He is the author of Put Your Life on a Diet: Lessons Learned from Living in 140 Square Feet. Johnson's interview on WQPB Public Television appears in the YouTube video below.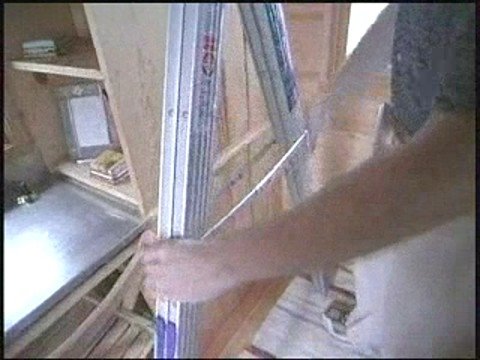 Julia Wasson
Blue Planet Green Living (Home Page)