Just how do superheroes manage to hold down day jobs and save the world?
Frankly, I haven't a clue (other than the obvious one: It's fiction). If you're a full-time working person, a full-time parental unit, a full-time student, or a full-time-searching-for-a-job person, you may be experiencing what I am: fatigue.
There's so much to do to try to right the wrongs of the world. So many environmental causes to defend. So many social justice battles to fight. And there's just so little time.
If you've been following Blue Planet Green Living, you may have noticed a lack of posts in the past month. I haven't been off sunning myself on a tropical island (though Iowa has felt pretty equatorial these past few weeks). I haven't been sitting on my deck enjoying a book. And I haven't been out fighting those battles I mentioned.
No, like many of you, I've been Working. Long. Hours.
Not that I'm complaining. As a native-born workaholic, it suits me just fine. But as a wannabe Protector of the Planet, well… it's problematic.
One of my favorite crusades comes in the form of this blog. I enjoy sharing stories of people and their small businesses doing good for the world. I enjoy telling you about products and books that you might like for their quality as well as for their mission.
This isn't the first time I've become a temporary slacker. Fortunately, a fair number of volunteers have stepped forward over the years and have generously donated their talents by providing posts for BPGL. They've come through when I just couldn't muster up a post to save my hide. And I'm grateful.
For the past month, I've been more-than-usually immersed in my own world of work. And BPGL has been the neglected stepchild. My apologies to those of you who have patiently waited to see if there is still life in this project.
There is. Please hang in there with me a little longer as I finish work that will not wait. I know you understand, because you have to make choices, too. And sometimes your own cape has to hang in the closet while you do the mundane chores of daily life or even the exciting work that pays your bills.
None of us can save the world alone. We need each other. Thanks for all you do. And thanks for understanding as I take a little more time off to do what I need to do—for my day job.
Julia Wasson
Publisher
Blue Planet Green Living (Home Page)
This past February, Blue Planet Green Living published a post by Dipak Singh, a writer from India who advocates for safer conditions for the people of his country. His post, Notes from India: We Are Poisoning Our Planet, described the horrific effects of spraying the chemical Endosulfan on crops in India and other nations. He wrote, in part:
The grapes you and I eat could be from a vine that was sprayed 30 times in a single year with pesticides such as Endosulfan. That makes 300 sprayings in a decade. This chemical has nowhere to go, so it just gets washed into the groundwater.
Endosulfan has a half-life of up to 20 days in water and 60 to 800 days in soil. So, think of the accumulation of this pesticide in crop-growing villages. In the Indian state of Kerala, Endosulphan has been linked to the birth of malformed children. . . .
Three months after we posted his editorial, Dipak sent me a Facebook message with the following comment:
Hello, this is just to tell you that yesterday the Indian Supreme Court put an interim ban on Endosulfan, despite the lobbyist asking for an eleven year time frame. This is one of the sentences from the judgement:  "When a certain something affected right to life, then every other right, even the fundamental right to business, took a backseat."
Dipak followed by thanking me for making a difference in the fight against Endosulfan. Me? All I had done was post his editorial. How could I accept any credit?
I wrote to this man I greatly respect, expressing my appreciation but declining any thanks. He was the one who had been fighting the environmental injustices in his country—he and thousands of nameless others. I had done nothing, really.
Dipak wrote back, "How do you know your website did not affect the judgement… [Here's] a little thank you from me and maybe a billion Indians. How do you know ?"
I pondered his statement for a while, then mentally set it aside, still convinced I had done nothing at all to deserve his kind remarks.
Later in the summer, a friend who is a professor at the University of Iowa startled me at a neighborhood street party. "You started something," Barbara Eckstein said. "Because of what you wrote, a group of professors and scientists are now working with a small Iowa town to remediate their sewage treatment problems." (That's the gist of what she said though it was months ago, and my memory is not exact. So, please consider this entire reconstructed conversation to be correct in spirit, if not in absolute fact.)
I was startled—and none too certain anything I did could have resulted in a team of professors helping a small community.
"A man from the town contacted the University of Iowa," Barbara explained. "Their  waste treatment plant is inadequate to handle their residents' needs, and they're faced with steep fines if they don't fix it. Yet, just outside of town, a factory farm is permitted to spread untreated waste on top of fields, where it runs into the same river where the town's waste runs. The situation is infuriating and frustrating the residents."
"I can see why they're upset," I said. "But what does that have to do with me? I've never even heard of this town."
"You wrote about Craig Just's experiments at the Iowa City water treatment plant in your blog. The man read your post and contacted Craig. Several of us from the University drove to Northwest Iowa to see what we could do to help. Every one of the 61 residents attended that meeting. And now we're helping them solve their sewage treatment problems. It started with your blog."
What my friend didn't say—and probably didn't realize—is that it actually started with her. Barbara had organized the tour that Craig Just gave at the sewage treatment plant, the one I wrote about. And before Barbara, it started with Craig and his students, who are experimenting with alternative methods of treating sewage in ways that attracted Barbara's attention. And before them were others, who had the foresight to relocate the Iowa City sewage treatment plant in an area where they have the space to innovate. And before them . . .
So, what I have learned from these two kind friends' comments is this: None of us ever really knows what effects our actions have on others (positive or negative). Sometimes environmental and social  problems seem overwhelming, far too much for anyone to solve alone. But when we each do what we can—no matter how small—our efforts are added to those of others doing their part, too. And, together with people we will never meet, we can—and do—change the world.
Publisher
Blue Planet Green Living (Home Page)
Related Posts
Notes from India: We Are Poisoning Our Planet,
Do You Know Where Your Flushes Go?
If you're like pretty much everyone else I know, you want to do "something" to help causes that are important to you. But your time is limited, and your demands are already huge. How do you find out what organizations support the issues that concern you and where you should expend your limited energy? Action Now + Network is a resource that will help you sort through the options available and choose one (or more) that is right for you.
Launched just two months ago, Action Now + Network is a new website that focuses on organizations that are doing real good for the world. Here's how founder Sheila Wasserman described Action Now + Network to Blue Planet Green Living (BPGL) in an interview from her California office. — Julia Wasson, Publisher
---
WASSERMAN:
In this age of  Facebook, Twitter, and instant RSS feeds, it's really impossible to claim ignorance of the world around us. We are all constantly bombarded at warp speed with information on the life-threatening issues we face every day — perilous geopolitical tensions,
global warming
, and the destruction of our
environment
, flagrant and egregious acts of cruelty inflicted by humans upon both humans and animals, not to mention
hunger
,
poverty
,
homelessness
, absent or woefully inadequate
health care
— it's hard to know where to stop. For most of us, it is mind-numbing to think of what needs to be done to make even a small impact, let alone to solve the overwhelming problems of the world.
BPGL: How do you envision Action Now + Network as a tool in combating the overwhelming problems we're faced with in the world today?
WASSERMAN: The technology of instant information also works in our favor: It gives us access to people and technology we never had before. It allows us to reach out and make a difference in ways we could never have imagined.
Whether we are talking about femicide in Congo, homeless children on the streets of Los Angeles, or the destruction of fragile ecosystems as a result of man-made or natural disasters, we now have recourse that is made possible in real time. We can see clearly that we are all citizens of a global community. We are all connected not only through our DNA, but as stewards of this planet that we all share. There are so many great organizations; there is really no excuse not to be involved in some constructive way.
Action Now + Network provides a single portal for people who care to find out about the issues and the opportunities available to make a real difference.
BPGL: What are some of the site's features and capabilities?
WASSERMAN: Action Now + Network was designed as an information and education portal to do three things: to educate the public on the issues, to profile the great organizations out there that are working hard to resolve these issues, and to inspire and motivate the public to get involved in some way.
To this end, vetted organizations are invited to post a Profile in the Take Action Now Index that describes their programs, with links to their own site.  Each  organization in the Profile Index will also be featured on the home page of the site.
Individuals are invited to peruse the features on the site, learn about the issues and to connect with the organizations that offer collaborative solutions.
Features include spotlight articles on people and organizations that have made a difference. For example, we currently are featuring a story about two young men, Joey Katona and Omar Dreidi. Through their participation in Seeds of Peace camps, Joey, who is Jewish, and Omar, who is Palestinian, became friends. In the years since they met, Joey has raised more than $90,000 to provide Omar with a scholarship to study in the U.S. It's an inspiring story of what one person can do when motivated by a spirit of fairness and generosity of spirit.
We also bring urgent issues to readers' attention through our Urgent Issues section on the Home page. Currently, we are featuring peace-building in the Middle East and conflict minerals in the Congo. The issues we highlight change as others come to the forefront.
We also host a full Research Library where students and others can learn in depth about specific issues. This is a tremendous resource for anyone who is concerned about the issues on a local, national, or international level. And it's growing all the time.
Finally, we have a Featured Organization on our Home page that offers an in depth look at one of the organizations in the Profile Index. This feature changes every couple of weeks. The focus at the moment is on the Los Angeles Youth Network, which provides "emergency, temporary, and permanent housing" for homeless kids living on the streets of Los Angeles. Amazingly, there are 10,000 homeless children under the age of 18, living on the streets of Los Angeles. You can watch a video that features recording artist Slash and his wife, Perla Hudson, who describe their involvement as Board Members for this organization. It's a compelling video.
BPGL: On your site, you list reasons why people should become involved in a cause they believe in, to volunteer. Would you mind listing those for our readers?
WASSERMAN: Sure. They can read the full text on our Home page, but here's the quick list:
Volunteering is good for your health (Really!).
Volunteering makes you feel good.
Volunteering is free!
Students can earn service learning credit or community service credit for middle school, high school, or college graduation, and it's a great opportunity for them to make future business contacts and build their resumes.
It may sound hackneyed, but you really can and will make a difference if you make an effort.
It's a great opportunity to discover a new passion or to reinforce an old one.
The world really does need your help.
BPGL: Is there a fee for using the network?
WASSERMAN: Action Now+Network is a free site for all users. It was founded on the principle that every one of us has the ability to make to make an impact, to make a real difference in the world. It is just a matter of getting inspired and taking action.
Learn More
Facebook: Action Now + Network
Twitter: ACTIONNOWNETWRK
Survival sex-workers, drug addicts, and homeless women rarely have an opportunity to feel that someone truly cares about them or to experience human touch in a healthy way. But the volunteers at Beauty Night Society in Vancouver, British Columbia (BC) are striving to change that.
Why Are You Helping Them?
Caroline MacGillivray is the National Executive Director and Founder of Beauty Night Society. A 1995 graduate of Gastown Actors Studio in Vancouver, her interest in helping marginalized women arose while volunteering at WISH (Women's Information Safe House) to conduct research for an upcoming role.
She explains, "My best friend from theatre school married a gentleman who was going to school to become a preacher. They were 'house parents' at a transition home for sex workers who were trying to get off the street.
"When she would tell what she did, people sometimes seemed judgmental. She'd get questions like, 'Why are you helping sex workers?' 'Why are you helping people with addiction issues? They have no discipline; they have no control,' and those types of things.
"So she wrote a script about a girl who wakes up on her 19th birthday after overdosing on crack. She called and asked me if I'd play this young lady from the ages of 14 to 19, where she goes from a middle-class suburban girl to a Downtown Eastside sex worker and drug user. And for those people who are not familiar with the Downtown Eastside, according to the media, it's the poorest neighborhood in North America.
"In British Columbia, the average age of entry into entrenched street life — and the sex trade — is only 12 years old," adds MacGillivray, referring to the results of a study from the University of Victoria. "When I was 12, I was still playing with my Barbie dolls."
The Impacts of Touch
Around the same time that MacGillivray started volunteering at WISH, she says, "My acting teacher, Michael David Sims, mentioned that in Romania, orphaned babies who weren't touched for a long time died.
"And if you look on the other end of the spectrum, when seniors have contact with another human, it makes a huge difference in their life; it can actually lower their blood pressure and provide other health benefits.
"Then you look at women who have dealt with violence at an early age; I believe it's 1 in 5 women, internationally, that have dealt with sexual violence before the age of 18. I mean, what does that do to our society?
"According to the Elizabeth Fry Society, which helps women who are released from prison, 90 percent of women who end up in correctional facilities have dealt with sexual violence before the age of 18. And then you look at the girls on the streets and you wonder, How did they get there? Negative touch has a profound effect on self esteem. I didn't learn that right away, I just wanted to make the girls feel good."
Volunteering at WISH
During a volunteer shift at WISH, MacGillivray noticed one of the clients was having a bad day. She saw the girl struggling with a curling iron, almost in tears.
"I said, 'You know, I'm not a hairdresser, but I'd be more than willing to try.' And she said to me 'Really?' She just looked at me a little suspiciously at the beginning, then finally said, 'OK.'
"So the next thing I knew, this poor young lady and I ended up curling her hair one way, then the other, because I'm really not that good at hair. [She laughs.] Then I ended up doing her makeup and her nails.
"Afterwards, she gave me this huge hug, which got me thinking, If I can do this, what happens when you actually get people who know what they are doing? It could be something really sensational."
At the women's request, MacGillivray began doing several other clients' hair and makeup.
Soon, she decided to speak with Mary Wreglesworth, the volunteer coordinator at WISH, about the value of these personal interactions for clients.
She told Wreglesworth, "I'm not doing what I'm here to do," because I was supposed to be helping out in the soup kitchen. But I felt that what I was doing would really have some value as well.
"And even though I knew that the women needed food and shelter and all that stuff, which is very important, I just wanted to make them smile."
"I could tell that by the way their eyes were lighting up, it was like seeing little kids when they get to see Santa Claus, it was that feeling. And I knew there was value to it, I just didn't know what it was at the time.
"I told her I wanted to do a beauty night because that's what my girlfriends and I called it when we did each other's hair and makeup before going out for a night on the town. It took them a little bit to say yes, just because sometimes space is a really valued commodity there. We decided to do the first one December 15, 2000."
Dignity Is Beautiful
She began emailing and phoning all of her friends. "I needed them to talk to their hairdressers, makeup artists, massage therapist, aestheticians. And we needed donations, contributions of money, baked goods, all of the supplies to provide these makeovers.
"The community came through; people put the announcement in their church bulletins. People would talk to their offices. The next thing I knew I had strangers calling me. Thank God for my dad, because my dad let me store everything in my old room and had people constantly dropping stuff off on the back porch.
"We did our very first Beauty Night at WISH, for survival sex workers, even though our demographic has evolved over time to women who have experienced violence and who deal with poverty as well.
"At our very first event, we ended up with over 73 women. "It was pretty crazy," MacGillivray adds. "We had 14 volunteers. People were being run off their feet.
"We had stations set up for hair, for makeup, for nails — and it was really lovely for massage. It was interesting, because the women didn't really want to be touched.
"But when I thought about it, it made sense. With some of the violence that happens, they're grabbed from behind and dragged into the bushes.
"So the concept of somebody touching your neck and shoulders from behind, that's kind of scary if you look at it from that perspective.
"Afterwards, when we asked the women, 'What did you like?' I had people telling me things like 'They're touching me, but they're not afraid to touch me.' Or, 'They're touching me, and they don't want anything from me.' For a lot of these women, this was a really, really, really big step."
Providing Health and Wellness
The word spread about Beauty Night after the first event, inspiring a growing number of people to get involved. "It kept growing, and within a year and a half, we had evolved where we are doing Beauty Night once a week.
"Of course, if you're doing it for the same demographic of women every week, you don't always need hairdressers every time because there's only so often you can cut hair. So we started adding things like foot care.
"Nursing students give the women pedicures, while they're actually checking for abscesses at the bottoms of their feet. That's usually a symptom of Diabetes 2. In Vancouver, aboriginal women are more at risk of developing that. For women who do have Diabetes 2, it's good as well in terms of doing the manicures, because we're actually cleaning their nails.
"So not only is it a way to reintroduce touch to victims of violence, it's also a very healthy way of taking care of them. And, it's an opportunity for them to come out and forget about their lives sometimes."
Since Beauty Night began, MacGillivray and her countrywide team of volunteers have given over 11,000 makeovers. They continue to offer new programs to fit the needs of the women they serve, such as a one-on-one personal training program, a nutritional education program for mothers, and "Kid Care." The latter involves children in physical activity to boost self-esteem, while offering mothers the free time to enjoy Beauty Night's services.
Healing and Empowering
In Beauty Night's nine and a half years of operation, the participant base has broadened from solely serving survival sex workers, to mothers, and seniors. Between the three cities that currently host Beauty Night — Vancouver, Toronto, and Prince George — an average of 150–200 women are served per week.
There's also cause for optimism. "Twenty percent of our volunteers are actually previous participants," MacGillivray says. Beauty Night provides training programs for participants who want to get involved and "become part of the solution."
"I believe there is a lot of research about the positive results when people embrace healthy lifestyle choices," MacGillivray says.
"But beauty itself is body, mind, and spirit. And so we are touching on all those things by empowering people. We provide the tools to make positive lifestyle changes — and we help these women feel beautiful."
Beauty Night Society is a registered charity in Canada, though MacGillivray says, "I like the word social-profit, as opposed to non-profit, because non-profit means there's no value, in my mind. But, in social-profit, people are actually investing in society."
For more information, or to contribute to Beauty Night, please email Caroline MacGillivray.
Blue Planet Green Living (Home Page)
Related Posts
Jen's Kitchen – Serving Up Sandwiches and Humanity to Survival Sex Workers
In a society where many teens and young adults spend their free time in front of the television, playing video games, grabbing fast food, or hanging out with friends at the mall, the three sisters lead exceptional lives. They're talented musicians, who together comprise the band Truth On Earth (T.O.E.).
So what else is unique about Serena (20), Kiley (19), and Tess (16)?  They're lifelong vegans, have always been home schooled, and have spent the last two years traveling the country in an RV with their parents. Much of their traveling has been to perform at gigs across the United States.
The sisters' love of music and performing began early, when their dad, Greg, taught each of them to play piano, and their mom, Stella, worked with them on choreography. For the most part, the sisters have taught themselves the instruments they play and have put together their own musical act.
"Our dad taught us how to play piano by ear when we were all toddlers," Kiley says. "So, it's always been a comfortable format just learning to play every instrument by ear. As we got more serious about it, our parents got us lessons if we needed them. But they never pushed us. A lot of times, that might push kids away from wanting to learn a specific instrument, because it may be challenging. We play music because we love to play."
"We all started with the piano," Serena adds. "When I was about 12, I got really into the guitar, and around that same time the violin and saxophone and the drums. Now in the band I play the lead and rhythm guitar, and the piano."
Kiley, the middle sister, plays piano, bass, guitar, and flute — in "the rock-flute style" of Ian Anderson from Jethro Tull, she tells Blue Planet Green Living.
Not to be left out, Tess, 16, has played piano since she was a tot and is learning bass guitar.
The Music

The sisters also sing — with exquisite harmony — their voices blending and complementing each other as if they were one person singing three parts. When asked who sings lead, Serena says, "We all switch off on all the songs. On most of our new songs, we all sing certain lines. By doing so, the songs are much more interesting, and it inspires us to create better and better parts as we grow as artists."
"Kiley usually sings the highest parts, for angelic voices. When we do harmonies, I usually sing the lowest part because I have a deeper voice. Tess does the middle part. She has the purest sounding voice. We all have character voices and really enjoy doing different accents and vibes to our songs," she adds.
Their talent comes naturally, as their parents are lifelong music lovers. Their mother loves to sing, and their father is also in a band (Dim Side of Mars). "He turned us on to all the '60s and '70s music. Our Mom turned us on to the '80s music. And our grandparents turned us on to the '30s and '40s music," Kiley says. "So, we've been exposed to a very wide range of musicians and artists. The '60s and '70s rock style really clicked with us. We want to bring it back for all of the young people who never got to experience that. We think it's just an amazing sound."
But the sound is only part of what's important to Truth on Earth. And this is another way the three are different from most of their peers: Their songs aren't about the issues many young women are thinking about — boys, flirtations, or the angst of being a teen. "We picked a musical style that had a message and meant something," Kiley says.
She tells us, "There are 186 world problems that our family has identified and a lot of other, smaller problems that branch off from all of those." The sisters are writing songs to address issues that particularly resonate with them.
"We've already written about child abuse, starvation, the environment, factory farming, animal abuse, substance abuse, depression, free thinking, women's empowerment, homelessness, sexual assault, domestic violence — the list goes on and on. We really care about all of the subjects as well as bringing solutions that could help people overcome them," she adds. But each member of Truth on Earth has her favorite cause — and her favorite song.
Cyber Bullying
Tess, who was cyber bullied on a social networking site, says, "One of the songs that I can really relate to is called 'Shot with a Bulletless Gun.' The song is written from the viewpoint of the cyber-bullied victim. You feel helpless, because it's through the Internet, and you feel like there's nothing you can do about it. There's some coward hiding behind their computer, trying to bully you, and there's no reason. They're just trying to scare you, and you feel powerless. The person is acting in a way they would never act in normal life because they can remain anonymous behind their computer screen."
Truth on Earth doesn't just sing about problems, however; the band also offers solutions on the Take Action page of their website. Regarding cyber bullying, Tess says, "There's a lot of things people can do." And, indeed, the Take Action page has a long list of tips for handling cyber bullying and other problems on the Internet. But perhaps the best advice Tess gives is, "If you are being cyber bullied, tell someone about it. Whether it be your Mom, Dad, friend, counselor, teacher, etc. — tell them what is going on. Also, if you don't focus on it, and if you don't keep reading [the bullying message], it can help you to not think about it so much."
Issues that Matter
"I really enjoy 'Calling the Nation,' " Serena says. "It's about the environment. Climate change is happening, and the largest single cause is the greenhouse gas effect from factory farming and slaughterhouses.
"Even if people just stopped eating meat one night a week, it would save so many animals. It would save something like 5,000 gallons of water — some huge number — just to feed one cow on one acre of food. On that same acre, you could grow grain and feed 50 people. Slaughterhouses and factory farms are an enormous contributor to this problem, and they need to be shut down."
The girls have been vegan from birth, an issue they're passionate about.
Serena says, "If anyone is wondering how they can make a difference and how we can stop global warming, or how they can help make the world a better place, go vegan. Like I said, factory farming and slaughterhouses have the most significant effect on climate change and pollution. Everyone needs to know that they can make a difference, no matter how small."
A Call to Action

We ask the trio if the anti-war music of the '70s influenced their writing.
"Definitely," Kiley says. "All of those songs were a call to action. That's what we're affiliating ourselves with. 'Every Bad Thing You Do,' which is one of our songs from our first album, "Achieving Peace through Nonviolent Protest," is dedicated to our service men and women and effects of war.
"The focus is not just on the environment or war; we're covering all these topics. One that really hits home for me is 'Where Will You Sleep Tonight?' which is about homelessness. We see it on the road [while the band is on tour]. Just because someone is out on the road without a place to sleep at night, a roof over their head, it doesn't mean that they're alcoholics or junkies. Many have just lost their way. That's one [issue] that I really care about," Kiley says.
"What are you most trying to tell people with your music?" we ask.
Serena responds, "We want to say that everyone can make a difference. For example, right now, we're working on a women's empowerment song. There are so many powerful women in history. I think people need to be reminded that there were amazing women — and there still are women who are making a huge difference.
"We're also writing a song about gay rights, because people shouldn't be prevented from pursuing the same constitutional rights available to all. The Bill of Rights, for example, says that we all have the right to pursue liberty and happiness. It doesn't say, 'except certain types of people who others don't particularly like.'
"Our new song, called 'Help, Help Me Now (Chelsea's song)' is dedicated to Chelsea King and all of the young women whose lives were cut short by violence," Kiley says. "We hope people will check it out and let us know what they think."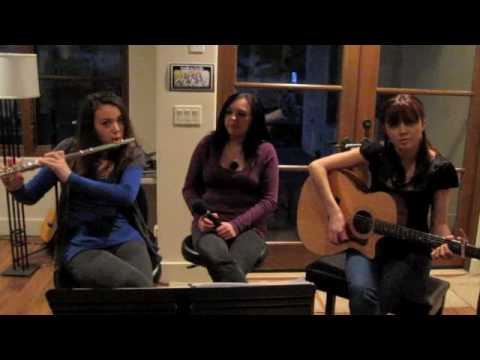 The Home School Advantage

"Our parents started home schooling us ever since we were old enough to be schooled," Kiley says. "We never went to public school."
Tess, who just graduated high school, says, "It's been a very big advantage. For one, it's helped us with our music. It gives us a lot of freedom to do all the fundraisers and perform at benefit concerts, and do all the volunteer work we've done. We can do school at our own speed. By going to school, we'd have to deal with all the teachers and all the other kids and worry about all the homework. This allowed us to go at our own pace and get it done a lot faster."
"We did soccer, basketball, baton," Serena says. "We took a ton of different classes at park districts, and we're pretty social and friendly kids, so we met kids in our neighborhood. And we did home-school groups. All of our friends were from private schools, home schools, and public school.
"Our parents always say, 'One of the best things about being home schooled is that we weren't socialized,' because there are so many unnecessary things that go on at school, like bullying or kids making fun of each other for no reason, and getting picked on. When kids are socialized at school, they come home, and the parents have to try to de-socialize them. We didn't have that being home schooled. Our parents thought us social skills. We had the freedom to focus and learn extracurricular things. For example, we took sign language for a long time, and Hebrew, and we had private dance lessons at our house for a while, and drama classes, comedy teachers. We're pretty socialized, I think." [She laughs.]
"We've been performing and dancing since Tess was two," Serena says. "We've always been volunteering at retirement homes. We put on a variety show to raise money after 9/11. But the first performance we had with the band was about five or six years ago. Our dad got together a bunch of studio musicians, and we put on a concert to try to raise money for causes."
Kiley adds, "We started traveling right after our parents retired from industry, about two years ago. After we got on the road, we traveled through 28 states. Before that, when we lived in Chicago, we had never been anywhere. So it was a real treat, going all over the US. We learned so much about the country, and we saw so many amazing museums and places. We met so many amazing people. We saw a lot about the problems we sing about. For example, we saw a lot of homelessness on the road, which inspired us to write 'Where Will You Sleep Tonight?' It was a fantastic experience, and we love traveling in our RV."
Aiming High
Truth on Earth is on an upswing. And, although their next big goal is to gain recognition as the Best New Band in the Social Action category (should there be one) at the Grammys, they understand that it's a rare band that lasts forever. As Kiley says, "The band is not interested in fame for its own sake, but rather as a vehicle to inspire positive change on the planet so future generations will have a planet worth inheriting."
When the young women decide one day to end their band — or to scale back — they each have plans for other ventures that interest them. Kiley wants to open a vegan café and have her own line of vegan gourmet food products. "We've been vegan our entire lives. So one thing that I really love to do is to bake and cook. And I'd love to share that with the world."
For their part, Tess and Serena are more interested in creating a line of vegan cosmetics.
"When I was younger — actually, when I was seven — I started my own business making all-natural soap," Tess tells us. "I made lotion and lip balm. I love creating things like that. And I always talked about wanting to go to cosmetology school and make a vegan line [of cosmetics]. Serena and I just got talking about it, and we thought it would be a great idea, because there needs to be a really great vegan line for everything — all beauty products, not just makeup.
"We want to make a really good product line that is not tested on animals. It has to be 100% vegan. It has to smell really good. It has to have really cute packages. And it can't be overly priced. You know, that's one of the problems with all the vegan product lines, they're so over priced, no normal family can afford them," Tess says.
Getting the Message Out

But that's all far in the future. "Right now, the band is our main focus. We want to get our message out so we can really make a difference in the world," Serena says.
Kiley tells us, "We have a Take Action page on our website. If anyone is wondering what they can do, they can go there and find out. We're not just singing songs about the problems, we're offering solutions to the problems.
"It's not about us. It's about the causes we sing about, and it's about creating peace and nonviolent protest on the planet — making a planet that will offer goodness for everyone."
Tess adds, "We really do want people to get up and start doing something to make a difference."
Impressed with the maturity, talent, and intellectual curiosity of the three sisters, we ask about the influence of their parents on their activities.
Kiley responds, "All five of us practice meditation every single day. And everything that we're doing now is divinely inspired from God. Our songs. Our mission. Our whole life is. That's what I'd say about our parents, too. Everything that they've done is for the good of this planet and people."
Truth on Earth music is available for sale and download from Amazon, iTunes, and most everywhere you can buy music on line. "You can find everything on our website at TruthOnEarth.com," Kiley says.
When asked how the group decided on their name, Tess gives what has become their standard answer: "We sing about the truth. And we love our earth. And on is just the middle man."
Blue Planet Green Living (Home Page)
When Stella and Greg Halpern say, "We're on a mission to build a better world," they have the credentials to prove it. As the founders of So Act, a new social action network that's connecting people around the globe, the Halperns are putting their goals into action.
We wanted to know what motivated the couple to create this ambitious network. So Blue Planet Green Living (BPGL) spoke with the Halperns while they were traveling in California with their daughters, three talented musicians who go by the name Truth on Earth. — Julia Wasson, Publisher
---
GREG HALPERN: We want to make sure future generations have a planet worth inheriting. Our first effort to do that was Improve Our World, otherwise known as People for the Ultimate Kindness towards All Living Creatures on Earth.
The idea was to try to identify the primary problems on this planet, and then try to get people to tell us if they have ideas for solutions. We started that in the early 2000s. We got a list of 186 primary problems, though there may be 4- or 5,000 littler ones as subcategories.
We invited the world to contribute ideas that might help. A lot of people had ideas, but they were fragmented, scattered, and not working together. Each of their efforts and initiatives were driven by special interests, whether it is religion or industry or government or some other group.
They weren't really working together. They may have had a common goal to improve the world regarding biological attacks, or better airline safety, or better water filtration, or cleaner air, or less starvation, or whatever. But each group was working on their own, funded mostly by philanthropy, and we learned that philanthropy doesn't work very well.
BPGL: Why do you think philanthropy doesn't work?
GREG HALPERN: By design it often enables problems, supporting or feeding an industry or a special interest that has an economic interest in seeing to it that the status quo is preserved. If you look back 40, 50 or maybe even 60 years, you won't see many major improvements in the world with all the problems that have been worked on during that time.
Over the last couple years, we've looked at about $3 trillion of philanthropy. The core of philanthropy is do-gooders, people who have the right idea but don't have a plan that will really solve the problem. You see a lot of well-meaning activities but no major change.
STELLA HALPERN: They want to do good, and in their heart, their intention is to help.
GREG HALPERN: But where can you document any major change? My belief, from what we have discovered through Improve Our World, is that the special interests that run all these organizations exist to support their own paid infrastructure through donations of millions of dollars to support an industry that's billions of dollars strong. There's really no incentive to change the status quo because, by keeping things the same and just having the appearance of working on problems, there's a lot of good will that is generated.
BPGL: Do you have any examples where you think philanthropy works?
GREG HALPERN: The guy I like to point to is Mohammed Yunus. His Grameen Bank is the proof of concept for what we had come to understand after years of following problems and solutions globally at Improve Our World. That is, for there to be sustainable change that really helps people, you need to have an economy of scale built into it.
In this very poor place on earth, Bangladesh, he funded women with $100 or $200 microloans. They paid the loans back with less than 1% default rate, which is far better than any bank. He proved that if you feed people who are starving, it doesn't help them. You're really just enabling them, and you may be actually increasing the longevity of a problem.
But if you give them an economy of scale, and if it's logical, and it's practical, and there's a way for them to uplift themselves with it, to create economics, you can actually help them. And that was the proof of concept and the reason that we felt it was time to launch So Act.
We always knew there was going to be a So Act, but we didn't know what shape it would take. The idea that So Act is trying to sell is, if you build an economy of scale around a problem, you'll have something that funnels the change.
BPGL: How does the So Act network fit into your vision?
STELLA HALPERN: Our vision for a long time has been to connect people all over the world who are working on similar issues. Let's say somebody in Australia is working on solving a problem to do with vision, and you're working on this, too. And somebody across the world in another country has been working on the same thing. They may have the missing piece to the puzzle that you're looking for.
So we wanted to have a network where people all over can go to say, "Hey, this is what I'm working on. Is anybody else doing this? Let's collaborate and finally get the finished product." That's where So Act came into being.
GREG HALPERN: In other words, there are three goals. One is that we need to build that better planet. And we need to build it now so that future generations will: A) still be here, and B) have a planet worth inheriting. That was our mission statement.
That being said, we needed a network where you can bring the world to your backyard, as Stella was saying. The idea is when you're trying to fix problems, the cost in time, money, and resources makes change prohibitive, because you don't know what you don't know. If we could eliminate the "you don't know" part by bringing the world to your backyard through a technology that completely changes the paradigm, then you've got something. So that was why I built So Act.
If you have any mission, cause, product, service, cure, or solution, we wanted to give you the ability to seriously and quickly expand your sphere of influence and crystallize your ideal world vision into a positive action on a larger scale. In other words, the early adopters of this technology are going to be thought leaders, change agents, and fellow spiritual travelers.
What we built was a unique platform that has several features that are not found anywhere else on the Internet today. For example, the conversational platform is built to cross-pollinate people's efforts and interests. People are talking in one group, then they all of a sudden find out about something else, and it triggers something. And the next thing you know, they're talking about something in that group.
STELLA HALPERN: Our family believes we're here for a reason. And we're on a mission to do whatever we can — our three daughters and Greg and I. We need to do something right now, because there's not a lot of time to wait to help the planet and all of its inhabitants. Of course that goes to the girls having their mission with the band, Truth on Earth, and us having So Act. We've felt this for a long time, and we've done stuff on smaller scales, but now we've taken it up a notch to this.
BPGL: When you talk about doing stuff on smaller scales, what is your background? What kind of work have you done? Greg, are you a software expert?
GREG HALPERN: In the '90s, I did the first ever, end-to-end fund-raising over the Internet. It was a Securities Exchange-approved deal. I raised several million dollars to build technology that was used to essentially analyze search-engine algorithms. It built better, smarter Web pages, so people could launch themselves to the top of the search engines. Of course, that technology has changed. So, I have a lot of experience in that.
I also have a lot of experience working with small public companies. The page that you want to see to get an overall vision of my background is Pink Floyd Is My Hero.
I've commercialized technology for small companies in the area of defense, developed by the Department of Energy, that detects and destroys biological and chemical toxins from terrorist weapons and biological hazards. And I've commercialized grain technologies. Those are a couple of my recent ones.
One of the things we're doing here is to give people a real-time communication model that allows them to provide a harmonious bridge between economic goals and socially conscious mindsets. A lot of people think that making money doesn't go with helping people; the exact opposite is true.
STELLA HALPERN: The point is that there are all of these new products and amazing things that are better for the environment at so many levels, and no one knows about them. So Act is the tool, the way that people from all over the world can connect. They can go there, click on a group for whatever they're interested in and see what is going on all over the world.
It's not just about connecting. You can share solutions, build a business, sell your product. This is about action.
BPGL: How do people of like minds find each other on So Act?
GREG HALPERN: On So Act, people are directly and indirectly paired up based on their interests. Why would somebody join your group on So Act? Only because they are already interested in what you are working on.
So the power in that is significant. Now, we're getting real-time interest of people who are like minded. Then, you can call them to action. As we grow and develop, the fastest way to grow your network into something gigantic is to simply click "Connect" with every single person who joins.
By connecting, you expand your time that you spend talking about things. And it makes you more proactive on what you want to work on. And it mobilizes people to give thought and improvement on the ideas you're already working on.
GREG HALPERN: Jon Hansen wrote a book called, What Are You Waiting For? (So Act Already!). He's called So Act the "60 Minutes of Social Networks," where you engage, mobilize, and empower people into action. To me, that's a fitting description.
We're starting to meet with some success. There's a So Act group called Alpha Hybrid that I started. There are two links to the car that runs on human power. It's a car that will go 60 mph and have four people in there pedaling. It has a handling frame. You can find it in Groups in SoAct.
Another is a solar powered car that's coming out in the next year or so. There's no vehicle to make these people more efficient in terms of bringing their technology to market. So we're all going to have to wait a lot longer.
BPGL: How does So Act help people to develop new products?
GREG HALPERN: We built a network where we could get the solution makers and the problem solvers to join together and to build that better world now, rather than later. To get to that better world, all the people who are working, all the right-minded thinkers, need to be joined together fairly quickly.
Maybe one guy is in Asia, and he has manufacturing capacity. Another guy is in the US. He needs somebody to test his product, but he can't get the right requirements met here to test it. So he's going to test it in South America, because there's someone there working on that also. And there's someone in UK that wants to market it, because they feel that their audience is ready for it today, and so on.
The point is, since I don't know those things, I will be financially wiped out on my way to finding them.
BPGL: How does So Act's search engine differ from the major search engines, such as Google?
GREG HALPERN: Google gives you 50 million pages of results. The problem is, I only need 10. They say 72 percent of the searches don't yield immediately useful information. If I'm searching for a Best Buy store, it knows right away where that is.
But if I say, "Hodgkin's lymphoma," it gives me a Wikipedia definition — which is probably not what I need — and 50 studies at universities. I need to know things that are related to why I'm making that inquiry in the first place.
So we built a search engine that tries to look at it in that way. It just gives you 10 results that will really mean something to you rather than 50 million that don't.
STELLA HALPERN: You can see more if you want, but I've found, by comparing it to other major search engines it gives me exactly what I'm looking for. There's no spam. There are no ads. And I haven't ever had to go to even get the next ten.
GREG HALPERN: I found the ads and the spam to be a giant distraction. I spend 80 percent of my time on SoAct now. Since we went live in early September, I've gone from 10 percent of my time while testing over the summer to 80 percent. That means I'm starting to tell people, don't email me. Half the time, I don't get their email because there's an attachment or it's in my spam filter or it's rejected by my server. This is a waste of time. There is no way to cure spam. It can't be cured unless you eliminate getting all your email. The filters just don't work.
BPGL: How does So Act solve those problems with email?
GREG HALPERN: In So Act, I designed a communication platform where I could transfer files back and forth and communicate in real time and not have to deal with email. I don't want to see another commercial where I'm looking at a video, and I'm force fed before I can watch the video I'm trying to watch. These things take a lot of time, so we've attempted to eliminate them.
BPGL: Without ads, how will So Act generate income to support itself?
GREG HALPERN: We have a paid model, a member, fee-based model, so that when people get to usage that's very high, we're going to have $1, $2, and $5 charges.
BPGL: Those are very small fees. But with so much that's free on the Internet, why would a So Act user pay even a small fee?
GREG HALPERN: There's another thing about our technology that is very novel — and it's a huge cost savings for businesses and people who want home networks. If you use SoAct, it's already a private, internal network. You can upload all the files you want to share. You not only can share them, you can preview them. You can watch the video, look at the pictures, listen to the music, listen to the audio files. You can't see the docs yet, but you can see that they are docs. You can share them.
You can go to one computer, and put all your files on your media drive. Then, you can go to another computer and open your same account on So Act at the same time and get those files. It beats a memory chip. It beats a network. It's fast. You can do it from all over the world. And it's secure.
This is a major paradigm shift. There's $4 billion a year of network routers and hubs being sold to do this. I found about half the people that I surveyed haven't even been able to successfully make their networks work.
An office can spend thousands — and big law firms and other big offices spend millions — building their private networks. So Act eliminates the need for it. Not only can I see the files that I have there, I can preview most of them and use them.
I can transfer files into a conversation while I'm having a conversation. And I can transfer them from conversation to conversation.
BPGL: What is the advantage of transferring files between conversations on So Act?
GREG HALPERN: What if I have three different conversations going? One with a lawyer who is going to review a contract. One with an expert who is going to review a PowerPoint. And one with the person I'm going to be doing business with. I can transfer those files into separate conversations and at the same time get reviews and give feedback all at once.
There are some very powerful things we've done that are turning out to be more powerful than what we originally intended.
BPGL: How many people are on So Act?
GREG HALPERN: We have more than 1,000 people since launching in September. But I'm not worried about having 50 million people. I'm worried about having a couple million early adopters, change agents, thought leaders, fellow spiritual travelers who want to improve the world. They, themselves, provide all the leadership for the entire planet. So that's what I'm looking for — not sheer numbers.
But for a person with a business, it's a numbers game. Try to connect with every single person, and within a year, if you've clicked 100,000 times, you've gotten 10,000 people to join whatever you're working on.
BPGL: How do people sell things on So Act?
GREG HALPERN: On the other social networks, I can't promote myself per se without being called a spammer. On So Act, anything that's being sold anywhere could be a link right to your group page.
You just tell people, "We have a booklet on X. We charge $2.00 for it. We think it's got value of Y much greater than that. This is the link to it, if you're interested."
BPGL: Let's say someone has a fundraising idea that will require a lot of programming. How can So Act help?
GREG HALPERN: This is why they want to have a group for that on SoAct. The group might be called Fund-Raising Programming or Fund-Raising Solutions. Then put in the objective: We want to find programming that's been done, or an economical way, to program our fund-raising solution, which would be of benefit to everybody."
A lot of it has probably already been developed. And over the next year, you'll be able to find that on So Act. There may not be something exactly like what you want, but there may be components that equal it that are already done.
It's a zero-cost solution to your problem. Again, we're trying to save you time, money, and resources on the way to building that better world that you envision.
BPGL: What are some of the other features?
STELLA HALPERN: The alert tool is one of my favorites. It takes the keywords you use when you fill out your profile, along with any words from the groups that you've started or joined. And it pulls news articles from around the world that are connected to your keywords. It brings you the top ten every hour just on the things that you really care about.
You can change your keywords anytime you want. When you go into other news places like YAHOO!, it's just whatever they want to feed you. You have no choice in that. But with SoAct, you actually have a choice on what news you get every hour.
BPGL: So Act has a press service. Why would people choose the SoAct service over another one they can find on the Internet?
STELLA HALPERN: People can put out a press release on whatever project they're working on. It goes out to all the members of So Act, to Yahoo!, MSN, UPI, and Google. That is for free, right now.
What is so neat about that is, as a startup, we put out a press release that cost us $800. Startups really have a hard time affording to put out press releases like that. This makes it available to the person who starts a group on So Act, has a great idea, and is trying to do something really newsworthy but can't afford a press release. They can put it out through So Act.
BPGL: Right now, it's free. But what's the cost going to be when you do charge?
STELLA HALPERN: In the future, it will be $2 a month to be in that service and $5 for a press release. We're waiting to charge until we have a larger group. Once we have a larger membership, we'll initiate our e-commerce platform. Early adopters who are on there now will get some benefit for free.
GREG HALPERN: When you do a press release, you have to remember that almost nobody cares anymore. There are a million media outlets, and most of them are failing now. Whatever the most recent news is — the top ten items — that's all they want to pick.
That being said, there's a greater reason for us putting up a press service. We want to get that news page indexed on the web — and to get all the people who are following you on So Act updated on what you're talking about. Every time you update people about what you're talking about, it's of interest to them. That's why they joined your group.
GREG HALPERN: So Act is a collaboration tool. You'll be able to invite people based on permission to collaborate with you on your group. So if you're developing some aspect of your product or group or services, you'll be able to invite people.
Most of the big corporations who are now developing new products, new ideas, new services have a wiki. It's a very expensive tool they've developed, but we have it for free. It allows you to add a web page to your group. That web page is developed in real time every single day with contributions, and every time it is, it makes a new page every time it's re-saved. If you want to see what was done a week ago, or even a month ago, or a year ago, you'll be able to go to an archive of all the everyday developments.
That page will be indexed in the search engines, so it will track people that are searching to find that page. That's another way to create relevance.
The biggest challenge anyone is going to have is that this looks unusual, and people may not be comfortable there at first.
BPGL: How can people sign up for So Act?
STELLA HALPERN: Go to www.SoAct.net and join. It's easy.
GREG HALPERN: As I say to everyone, "What are you waiting for? So Act, already!"
Blue Planet Green Living (Home Page)