When you work at a busy Mexican restaurant with a broken air conditioning system in the middle of summer, you worry about sweat and body odor.
So I was really nervous when I tested Naturally Fresh Deodorant Crystal in Tropical Breeze before a hectic weekend shift. I normally return from work covered in my own blood, sweat, and tears, and other people's chili con queso. I need a deodorant that works.
I had my doubts about the product because, though I've eco-tized most of my toiletries, I haven't been able to give up my tough Sure brand deodorant/antiperspirant that I buy from the drugstore. I'm so paranoid about sweat and bad odor that I ignore the warnings about aluminum, the active ingredient in traditional deodorant/antiperspirant.
But I was really surprised by Naturally Fresh. It's 100% natural, hypoallergenic, paraben- and PG Free, and doesn't contain aluminum chlorohydrate. It naturally protects against bacteria, which causes odor. It doesn't protect against sweat — but sweat is harmless and the body's natural way of cooling itself down.
I returned from work feeling really clean. Now, I'm rethinking my aluminum-laden antiperspirant deodorant choice because of its possible link to breast cancer and Alzheimer's disease.
I also tested the Tropical Breeze Spray Mist. You spray it under your arms or on your feet for 24 hour protection against odor, provided by natural mineral salts.
After a long shift at work, my feet don't smell great after I peel them out of my black socks and rubber-soled shoes. But the spray mist changed that. After an 8 hour day, my feet smelled fresh when I took my shoes off that night. I love this product because I like to meet up with my friends at a bar or restaurant after work, but I'm embarrassed about how foul my feet must smell after being cooped up in heavy shoes for hours. Now I don't have to worry about that. I definitely plan to continue using the Naturally Fresh Spray Mist in Tropical Breeze every day.
At $3.99 for the spray mist and deodorant as well, there's no reason for me to return to dangerous aluminum antiperspirant.
Look What's NOT Inside
If you're curious about what these deodorants are made of — and what they're not made of — here's what Naturally Fresh says about the ingredients:
Naturally Fresh Deodorant Crystal products are 100% pure and natural, non-staining, and provide up to 24 hour, hypoallergenic protection against body and foot odor. Our products are also paraben free, propylene glycol free, phthalate free, and contain no harmful aluminums (aluminum chlorohydrate, aluminum zirconium). They function as natural deodorants, which kill odor-causing bacteria while permitting the pores to excrete toxins naturally. This is vital to maintain healthy, axillary lymph nodes located in the underarm area.
For those who prefer a scented deodorant, we now offer Tropical Breeze as an Allergen Free fragrance to our formula. Our fragrances are 100% Phthalate and Allergen Free, and 100% pure and natural. The fragrances are a blend of natural oils, resins and extracts. They follow INCI regulations for fragrances and labeling, and are IFRA Certified.
Tropical Breeze Spray Mist contents: Aqua (Purified Water), Natural Mineral Salts (Potassium Alum), Fragrance (Parfum)
Fragrance-Free Roll-on: Aqua (Purified Water), Natural Mineral Salts (Potassium Alum), Zinc Ricinoleate, Xanthan Gum, Chamomile Extract (Anthemis Nobilis Flower), Phenoxyethanol
Even more comforting than the list of ingredients is the fact that Environmental Working Group's Skin Deep Cosmetic Safety Database ranks all the Naturally Fresh products that they examined as a ZERO on their hazard rating. That's impressive, especially for a product that lives up to its claims of effectiveness.
Want to try them for yourself? Naturally Fresh products are available for purchase from the company's website or at a number of retail stores nationwide.
The Small Print
Blue Planet Green Living received free samples of several Naturally Fresh products, including those described in this post. No other compensation or incentive was provided.
Blue Planet Green Living's review policy is to only review those products we feel merit overall positive comments. If we do not like a product, we do not review it. We are not influenced by complimentary products and provide our honest opinions. For more information, please visit the Policies tab on the top navigation bar.
Blue Planet Green Living has an affiliate relationship with Amazon.com. If you purchase this product or any other products through Amazon by clicking on our affiliate link, Blue Planet Green Living will receive a small financial compensation from Amazon, which we use to sustain this website.
Blue Planet Green Living (Home Page)
In our house over the past two years or so, we've been carefully examining every personal care product we buy. If you're a long-time reader of Blue Planet Green Living (BPGL), you already know that we are huge fans of the Environmental Working Group (EWG) and their Skin Deep Cosmetics Safety Database. Today, we received a bulletin from EWG's Action Fund president, Ken Cook, asking for support in telling the US Congress that it's essential to support the Safe Cosmetics Act of 2010.
Why should you care? Because, like most Americans, EWG suggests, you probably use "about 10" personal care products each day (e.g., soap, shaving cream, after-shave, shampoo, cream rinse, toothpaste, lotion, deodorant, styling gel, acne creams, sunscreen, base makeup, powder, lipstick, eyeshadow, mascara, eye liner, lip liner, blush…). Of course, that number varies widely, but we all use some products each day.
"And," Cook writes, "those products aren't required to be tested for safety before going onto shelves. That's almost 126 unique ingredients you use everyday that the government can't guarantee are safe."
If you've seen Annie Leonard's latest animated film, The Story of Cosmetics, you know that these ingredients can be highly dangerous to us.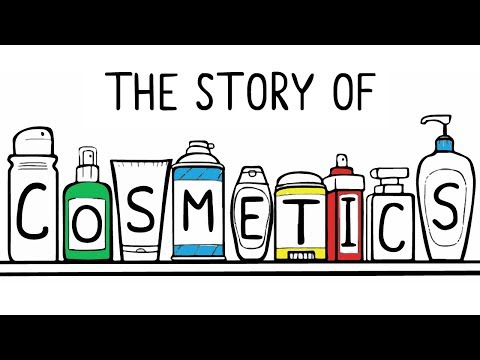 Perhaps you're as concerned as we are at BPGL. We don't want the burden of choosing safe products to be on the shoulders of the consumer. There are far too many factors for any of us to keep track of when purchasing from the vast selection of products on our store shelves. Let's put the burden on the manufacturers, where it belongs. Make them give us safe products from the beginning.
But how?
Cook goes on to write:
Congress introduced a bill last week, The Safe Cosmetics Act of 2010 (H.R. 5786)… It would expand the regulation of ingredients in cosmetics and personal care products, like allowing the Food and Drug Administration (FDA) to prohibit the use of dangerous ingredients.
Congress needs to know that you think this legislation is important. EWG is the leader in researching personal care product safety. Will you stand with us and pledge your support today?
Click here to pledge your support for the Safe Cosmetics Act of 2010.
I hope you sign the petition. But we all know that Congress won't pay attention to a petition unless they believe their own constituents back it.
Is personal care safety important to you? Is it important enough to take a few minutes to call your Senators and Representative? Each phone call makes far more of an impact than signing a petition (though please take a few seconds to do that, too?) And if you really want to make a point, write a letter (the old-fashioned kind or an email) telling why this issue matters to you.
If you decide to put in the effort to write to your Congresspersons — about this issue or any other — make sure that you do it effectively. Ask.com has a helpful article with tips that can make your letter get noticed in the way you'd like it to be.
Still wondering whether you need to spend the time to weigh your opinion? Here's more from Ken Cook:
Manufacturers may use almost any ingredient or raw material in your soap, shampoo or makeup without government review or approval. According to EWG's research, 22 percent of all personal care products, including children's products, may contain a cancer-causing ingredient, 1,4-Dioxane, and 60 percent of sunscreens contain oxybenzone, a potential hormone disruptor. Other studies have raised alarms about lead in lipstick, secret chemicals in fragrance and preservatives in personal care products.
It's time that the FDA has the authority to regulate ingredients in cosmetics and personal care products. From prohibiting the use of certain ingredients, including carcinogens and reproductive and developmental toxins, to recalling products that fail to meet safety standards and requiring product labels to name each ingredient, the FDA will be better able to ensure that what you're buying is safe for you and your family.
You have the right to know what you are putting on your face, hair, and skin. And you should feel safe buying any product allowed on store shelves. Tell Congress we need action on the Safe Cosmetics Act of 2010.
Click here to let Congress know that you want reform. Pledge your support for the Safe Cosmetics Act of 2010 today!
Will you know what products are safe for you and your family to use the next time you go to the store or order on line? Right now, the only way is to check each, individual product using EWG's Skin Deep Cosmetics Safety Database. But if Congress passes the Safe Cosmetics Act of 2010, eventually all of the choices available to you will be safer choices.
Please. Take action today. Let's get the Safe Cosmetics Act of 2010 passed for our safety and the safety of future generations. Thank you.
Blue Planet Green Living (Home Page)
Today's post is a review of three products for body, face, and hair that I've come to love. When we review products on Blue Planet Green Living, we look at them with the following criteria in mind:
High quality product and/or performance — based on our own, subjective criteria.
Not tested on animals.
Contains organic ingredients (if applicable).
Rates Low Hazard (0–2) or Moderate Hazard (3–6) on Environmental Working Group's Skin Deep Cosmetic Database.
Uses minimal packaging that can be recycled and/or is made of recyclable materials.
Average or below-average price compared with similar goods.
Just to be clear, we won't review a product if we don't like it enough to say positive things. (Has that happened? You bet it has. But those products shall remain nameless; there's already too much negativity in the world.) If we get a product as a free sample, we'll tell you so. Otherwise, you can be confident that we paid for them, just like any other consumer would. And that's the case with all three products today: We bought them.
1. Avalon Organics Hand & Body Lotion
Joe loves this product as much as I do. We generally buy the Olive & Grape Seed Fragrance-Free variety in a 12 fl. oz. bottle (currently $11.45 plus tax & shipping). But, because we like to buy in larger quantities, we have also purchased a bottle of the Aloe – Unscented (currently $19.95 plus tax & shipping) to try.
Both products score a 2 on the Skin Deep Cosmetic Safety Datbase, which is at the top end of the Low Hazard range. Cool.
Another great thing about these lotions, besides the all-important lack of added scent (a lot of fragrances cause me to have asthma), is that they don't dry out our skin. They feel creamy going on and last all day.
Joe has some particularly raw patches that develop on the backs of his hands in winter. We haven't used much of the Aloe variety yet, so I can't say much about it. But the Olive & Grape Seed variety is one of only two products he's found that heal his skin and make it feel better. The other product — from another company — recently added a particularly strong scent, so he was thrilled to find this lotion. We're eager to see if the Aloe lotion is as good as the Olive & Grape Seed. If so, in the future, we'll opt for the Aloe's larger, more economical, bottle.
We also like that Avalon products are not tested on animals. They're hypoallergenic and vegetarian. They "do not contain parabens or other harsh preservatives, mineral oil, artificial colors, or synthetic fragrances…." The company also claims to support "sustainable agriculture and relentlessly seek out organic ingredients," though if there's an explanation of exactly what they mean, I haven't found it on their website. And the price is reasonable. What's not to like?
2. Sweet Wheat Sweet Skin Botanical Moisturizing Cream
Until I bought this cream and started using it about a month and a half ago, the skin on my cheeks was a bit dry and flaky. Now it's smoother, softer, with no flakes. I still see wrinkles, but I think my skin is healthier.
The product information on the Sweet Wheat website lists these ingredients:
Pro vitamin B5 (to nourish the skin)
Marine algae (for its mineral content
Carrot oil for vitamin A (promotes the healing of skin)
Calcium (to nourish and enhance elasticity)
Calendula Oil, zinc and lavender (for their healing properties)
Green Tea (a powerful antioxidant)
When I opened the package (just a small, thin cardboard box), I found both a 1.5 oz plastic jar of a white cream and a small plastic vial of dark green liquid that contained the sweet wheat serum. The directions said to cut the top off the vial and squeeze the serum into the cream. I've got to say that wasn't the most pleasant-looking concoction when I finished. I mixed the cream and the serum to make a gooey paste that's a light tan speckled with green. Oh, and it's pretty sticky on my face.
I tried looking this product up on the Skin Deep Cosmetic Database, but it wasn't rated. Apparently, it has not yet been reviewed. But, since it's made from "a pure vegetable base" and "organic wheat grass juice powder," I feel pretty confident that it's safe to use.
Besides the stickiness, the only real drawback for me was the price, at $39.95. That's not out of range compared to many cosmetic products, but it's not exactly a bargain-hunter's dream, either.
3. Moroccan Oil
At the salon where I get my hair colored and cut, a very attractive woman named Cheryl works at the front desk. Her hair is straight and glossy, perfect every single day. I finally asked her what on earth she uses on her hair to get it so gorgeous. She walked me over to the product display and showed me: Moroccanoil. I bought it on sight, and I'm now a devoted fan. My hair is straighter, more manageable, and glossier than it ever was before. This stuff ROCKS!
The online catalog says, "We include our signature argan oil in all our products… [I]t is a powerful antioxidant, UV protector, and free radical neutralizer, rich in vitamins…" But is it safe? I checked out the Skin Deep and couldn't find a product titled Moroccan Oil. But I did find argan oil, and it scores a perfect 0. There were other "moroccan oils," but they were either chamomile or rose, and both got good ratings
The website also states that the products are not tested on animals and contain no animal ingredients. In addition, it says, "Whenever possible, we use recycled packaging materials."
You can purchase Moroccanoil at many fine salons. I looked for a way to buy it off the website, but couldn't do so. The price I paid was $39 for 3.4 fl. oz.
The Small Print
DISCLOSURE: Blue Planet Green Living purchased all of these products and received no compensation in any form for this review.
Blue Planet Green Living's policy is to only review those books we feel merit an overall positive review. If we do not like a product more than we dislike it, we do not review it. We are not influenced by any free samples and provide our honest opinions, both positive and negative.
Blue Planet Green Living has an affiliate relationship with Amazon.com. If you purchase any products through Amazon by clicking on our affiliate link, Blue Planet Green Living will receive financial compensation from Amazon.
Blue Planet Green Living is a Shop to Earn/Shop to Earth member. Avalon Organics and Sweet Wheat products are featured on Shop to Earth. If you purchase Avalon Organics or Sweet Wheat products through Blue Planet Green Living's Shop to Earn/Shop to Earth affiliate link, Blue Planet Green Living will receive a 15 percent cash reimbursement.

Blue Planet Green Living (Home Page)
Any number of nonprofit groups are doing good work for the environment, but, to me, one of the most impressive is the Environmental Working Group (EWG). We've written in the past about their Skin Deep Cosmetic Safety Database and posted (twice) the ever-sobering EWG video 10 Americans. But those are just two of the many projects this group has sponsored.
In today's email, I found a letter from EWG president, Ken Cook, listing several other group activities and projects that are making a real difference to the planet and to the health of the people who live here. Cook wrote to supporters to publicize the group's activities.
Over the last several months, EWG has drawn a lot of attention to the topics you and I care about. They've provided critically important information to consumers and influenced the passage of legislation on issues that affect our well-being. It's a lengthy list. The following excerpts from Cook's letter give just a few of the highlights. To learn more, please visit the EWG website.
Here's some of what Cook had to say:
"We've told decision makers what you want. . . and they're listening.
We caught food industry giants plotting to mislead mothers and minority parents about the hazards of bisphenol-A (BPA) and spurred grassroots pressure to find a safe alternative…
The California State Senate passed the Toxics-Free Babies & Toddlers Act, which we sponsored, to ban BPA in children's food products. If the State Assembly approves the bill, the largest market in the country will join Connecticut and Minnesota whose state legislatures enacted partial BPA Bans earlier this year…
Five environmental justice leaders joined us for an extensive two-year study that tested them for 75 chemical contaminants. They took their results directly to Congress as a compelling argument for reform of the failed federal toxics law…
"We researched, reported and testified for better public policies.
We released our third annual sunscreen report to help consumers identify safe, effective products and better understand the ingredients in sunscreen. We found that sunscreen companies are reformulating many products to be safer and more effective as a result of our three-year campaign…
"We created and shared important, useful information.
If you're able to contribute charitable dollars this year, please consider donating to the Environmental Working Group. Your support of EWG will help make the world safer and healthier for the ones you love. And that's the best return on investment you could ask for.
Blue Planet Green Living (Home Page)