A few weeks ago, Blue Planet Green Living (BPGL) interviewed troubadour and social activist Larry Long about some of the many significant projects he's engaged in during his adult life. He was the founder of the Mississippi River Revival, a group that worked tirelessly to clean up the river and celebrate the culture of the people who lived there. Long helped the city of Okemah, Oklahoma to "bring Woody Guthrie home" by spearheading an event that celebrated both Woody's music and the community's contribution to his life and work.
In this part of our conversation, we talked with Long about Community Celebration of Place, which includes Elders' Wisdom, Children's Song. Long is the founder and executive director. We asked him to begin by describing the program, which has been implemented in schools across the U.S. and in several countries around the world. This is the final installment of our conversation, but watch for Long's "My 5" responses, coming soon. — Julia Wasson, Publisher
---
LONG:
Community Celebration of Place
works with communities to use music, performance, art, and oral history to bring together children and
elders
, and people of different backgrounds — economic, faith, racial, and cultural — to honor and celebrate our commonalities and differences through a program entitled Elders' Wisdom, Children's Song.
Through Elders' Wisdom, Children's Song, stories of different cultures emerge. This helps create an understanding of others and the possibility of more civil engagement and the ability to work with one another.
I also do teacher and artist institutes around the world and throughout the country, to train people into the methodology of the work. I personally do 12 school residencies a year. And we've written over 1,000 songs honoring over 1,000 elders — long established or newly arrived from every continent of the world — who now call America home. It's exciting work.
Our work is presently featured on the U.S. State Department's website as an international model for teaching tolerance. There's also a nice article about Elder's Wisdom, Children's Song in our local newspaper, the Longfellow Nokomis Messenger (see page 5).
BPGL: What prompted you to start this organization?
LONG: Honoring the life stories of others has been a thread throughout my life. One of the slogans for the Mississippi River Revival was, "A river for all people." Water is life. Since water doesn't discriminate, why should we?
Through river organizing, I discovered that people wanted to reach out beyond their immediate community of comfort, but simply didn't know how to, or were simply afraid to do so. Community Celebration of Place helps to give people the tools to do so.
BPGL: As I look at the list of projects involved in Community Celebration of Place, I'm awed by their breadth and depth. What do you see as the unifying thread of the organization?
LONG: Empathy.


BPGL: Who chooses the elders to be honored during Elders' Wisdom, Children's Song?
LONG: This varies from community to community, but generally speaking, the elders are selected by a committee of teachers, community members, administrators, and students.
Often the elders are family or extended family members of students in the classroom. Often they are the people who have never been honored before, but are known throughout their community for doing good for others. At one school they wanted an environmental focus, so besides honoring three humans, we also selected an elder of the natural world, an eagle, to honor. The process was obviously a little different, but the lessons learned were of equal value.
Elder selection crosses lines of class, complexion, culture, and gender. Teachers, administrators, and community members are asked to look at the demographics of their student population and reach out to those individual communities for elders who reflect the best of their intentions. It's important to note that for the new immigrant communities, their elders are often much younger than those of us whose people have been here for many generations.
For example, if I'm working with fourth-grade students, I tell them that they are elders for students younger than them, if they choose to make the right decisions and learn from their mistakes.
BPGL: How are the children's songs and the elders' stories incorporated together?
LONG: After three to five elders are selected, they individually share their life story with students for roughly 30 minutes. Students are asked to write down from 5–10 questions based upon what they've heard the elder say, but are only allowed to ask one of them.
The student interview process roughly takes an additional 60 minutes.
All interviews are digitally recorded and then transcribed. Each interview session is roughly 8 to 12 pages, single spaced, in length. Every student receives a copy of the transcripts. From each transcript we create a one page narrative and song. I would urge your readers to visit the Community Celebration of Place website. We have several free downloadable songbooks with one-page narratives and songs.
The students then perform their works at a large community celebration attended by their parents, teachers, members of the community and honored Elders. At the celebration, each one-page narrative is spoken by the children prior to each respective song sung. It's important to note that at the end of every interview the elder is asked to share words of advice or wisdom with the students. These words of wisdom conclude each spoken one-page narrative and are often used as the chorus to their song.
It's quite amazing, really.
BPGL: Why do you include interviews with elders in your work?
LONG: The question is at the core of all good learning experiences. And before you can ask a good question, you must first listen. Before there is reconciliation, one must first know the story of the 'other.'
BPGL: What do you see as the most direct benefit to the children?
LONG: After observing the interview process, a school psychologist, Dr. Richard Erickson, discovered that children's questions are often directly connected to struggles they are going through. He noted:
A student whose family struggles with poverty asked, "How did you have enough money if you only made two cents each selling magazines?"
A student who lost his father in Iraq asked, "How did you feel when your friends died?"
A student whose family struggles with prejudice and racism asked, "Did you ever like the Japanese after the war?"
A student whose parents are divorced and fighting asked, "How did you handle the hard times in your life?"
A student whose parents have been fighting all of his life asked, "Do you really love your wife after sixty-one years of being married?"
A student with autism asked, "Did anyone ever make fun of you because you were different?"
Elders, therefore, become surrogates for resolving conflicts students feel internally, at home, or in the larger world.
BPGL: Is there a cost to schools for this program?
LONG: Yes, though we do receive some foundation support.
BPGL: What are the greatest impacts of the program after you leave?
LONG: I have received emails and phone calls from students many years later, who say the Elders' Wisdom project was the highlight of their educational experience. Family members reach out to us to get their grandparents' life stories for their archives. Teachers are beginning to incorporate our many narratives and songbooks into their yearly curriculum.
As Dr. Erickson noted, "Elders' Wisdom, Children's Song encourages students to become active, compassionate, and lifelong learners who understand that other people, with their different lives and perspectives, can also be right. The program aims to develop inquiring, knowledgeable and caring young people, who help to create a better and more peaceful world through intercultural and intracultural understanding and respect.
The chosen elders, through their own personal stories, teach all of us about the beauty and the purposeful life found in the midst of difficulty, hard work, and perseverance.
Each and every one of us searches for meaning and purpose in our lives. All too often we are so busy with our own fast-paced daily existence that we fail to see the beautiful journey we are actually on. It is through these stories that we can understand and put into perspective our shortcomings, our detours and our frustrations. It is through these stories that we can see more clearly our own developing stories of accomplishment, survival and hope.
The Elders' Wisdom, Children's Song program has resurrected a culturally lost art. Our elders have always taught us important lessons about life and our purpose in this world. Somehow modern society has forgotten how to take the time to listen.
In the first paragraph of The Road Less Traveled, Scott Peck wrote, "Life is difficult; it always has been and always will be." The Elders' Wisdom, Children's Song program helps us to learn more about our life by discovering how the elders handled their lives.
BPGL: As far as you know, do the communities make this an annual event that they replicate on their own?
LONG: Yes. Not always in its entirety, but elements continue to be incorporated into the yearly curriculum of particular schools. There's one school in Minnesota that's been doing Elders' Wisdom, Children's Song for close to 15 years without me. This was the 5th year in Custer, South Dakota and the 10th year in Spearfish, South Dakota, free from my direct help, as well.
It's important to note that each step of the Elders' Wisdom, Children's Song process is built upon a win-win model. Through elder selection you reach out to communities of difference and give them a place at the table. Through listening to the life story of another, you develop respect. Through honoring the life story of another you develop empathy and respect. Through organizing cross-cultural and intergenerational community celebrations, you are building community.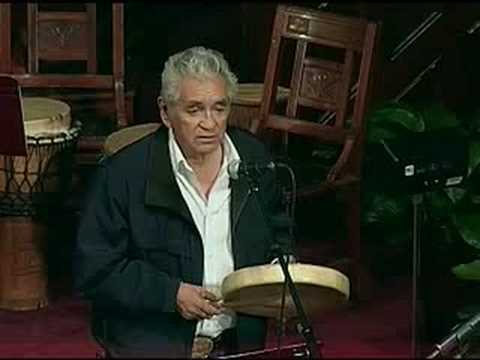 On a personal level, the success of our work comes directly through the comments of young people, adults, and elders themselves. A child's self esteem is lifted. Once the door has been opened, an elder keeps returning to the classroom to mentor the children. Families and organizations donate resources to the school following EWCS celebrations to continue multi-generational work. Bond issues are passed for public education. A resource pool of elders is developed to assist in school instruction and mentorship for children in need.
BPGL: Do any of the elders' stories stand out for you?
LONG: Honestly, they all do, but there is one elder story that is quite personal.
My father passed away when I was thirteen years of age. One of the best memories I have of my father was when I played Little League baseball. He never missed a game I played.
When my dad passed away, my coach, Mr. Mayeda, wrote the most beautiful letter of comfort to me. When I turned 40, now with kids of my own, I found that letter and decided to track down Mr. Mayeda, who had moved to California some years back. I called him to thank him for that letter and to tell him how much it meant to me. Mr. Mayeda was dying of cancer and he asked me if I would write a song about Japanese American internment camps — camps that he and his family were sent to during WWII. Shortly thereafter he passed away, before I learned his story.
I traveled to several sites of Japanese-American internment camps and read several books in search of inspiration to fulfill my promise to Mr. Mayeda, but nothing came.
Ten years later I was in Northfield, Minnesota, working with Elders' Wisdom, Children's Song at the Prairie Wind Community School. After the celebration, a Buddhist scholar from Carleton College came up to me and asked if I would be willing to write songs about Japanese American Internment survivors. I said I would be honored to!
Soon after, I received a call from the Eden Prairie School District outside of Minneapolis. They wanted me to develop the Elders' Wisdom, Children's Song program in all of their elementary schools.
I agreed and then called the Buddhist scholar to ask if she knew of any internment survivors living in Eden Prairie. She told me about Helen Tsuchiya, the grandmother of an Eden Prairie student and a survivor of the camps. We brought her in and soon learned that she was not only a survivor, but also the camp photographer and had brought these photos with her to teach the children.
I also learned that her husband coached baseball with Mr. Mayeda and that they were very good friends of the Mayedas. Through Helen Tsuchiya, a promise was fulfilled and a history lesson was shared with the children.
In the recent edition of Teaching Tolerance magazine (Number 37: Spring 2010), I was able to feature Helen's life story, titled "Beyond the Barbed Wire."
BPGL: Are the stories and songs archived so that readers can see and hear them?
LONG: Yes they are. We are presently trying to put all of them up on our website. We are reaching out to friends and graduate students in the library sciences to help us organize the collection. You can also download our songbooks online.
BPGL: Is there anything else you'd like to say?
LONG: Keep doing what you're doing! The world depends on it!
Blue Planet Green Living (Home Page)

Donations to Community Celebration of Place help the group's mission "to use Oral History, Music and Art to strengthen communities and foster reconciliation." To find out how your school can participate in Elders' Wisdom, Children's Song, fill out the contact form for Community Celebration of Place or call 612-722-9775.
Related Posts

Part One: A Conversation with Larry Long, Lifelong Activist and Folksinger
Part Two: Larry Long on Bringing Woody Home
Part Three: Folksinger Larry Long on Elders' Wisdom, Children's Song (Top of Page)