July 27, 2010 by Julia Wasson
Filed under Audio, Blog, CDs, England, Environment, Front Page, Music, Slideshow, Social Action, U.S.
In many ways, Fox Elipsus reminds me of a wandering minstrel from the days of yore. He travels alone from town to town, singing and playing his music to delight the local folk. He is also a messenger, sharing serious thoughts about the environment, peace, education, and so much more, mixed in with light-hearted fun, engaging banter, and an awesome musical performance. And he does it all for free.
Joe and I were privileged Monday night to attend one of Fox's 250 concerts on his 2010 Momentum tour — his third annual tour, with many more to come. His shows are all held in coffeehouses, bookstores (we saw him at Borders in Davenport, Iowa), and other congenial meeting places that allow him to set up and play without charging him for the space.
Born and raised in Oxford, England, 29-year-old Fox Elipsus (born Fox Salehi [SAL-uh-hee]) was caught by two fevers as a very young boy — music and the state of the planet.
"When I was about three or four," he told me in a phone interview on his way to his next gig today, "I was extremely concerned with what is going on in the world. And I was crazy about a musician who concentrated on environmental themes. So I started writing my little four-year-old songs about the environment. I was also really into the Live Aid Concert for Africa.
"Throughout my education, I was motivated to try to fix the world. I found so much that was depressing, and I wanted to do something about it. As long as I can remember, it has been an innate need. And, now, I want to inspire other people to help, too, through my music."
Several of Elipsus's songs have serious themes, and he weaves these skillfully in with comedy ("Anderson Brown,"), love songs ("I Could Go with You"), impersonations ("Avril vs. Brittany"), and storytelling that includes members of the audience by name. And it's a strategy that works.
We walked in as the singer was setting up. About 25 people were in the Borders Café, some with the obvious intention to watch the show, others reading or working on their laptops. The woman sitting in front of me turned her computer on while Fox connected his Casio to his speakers. I asked her if she was looking forward to the concert. "I didn't even know there was one till this guy came in," she said. She pulled up Farmville and started playing, apparently not yet convinced that the show would be entertaining enough to hold her attention.
Across the room to my left, an octogenarian ambled over to an easy chair, led by a Borders employee. He sat intently and silently watched the young man prepare. (As far as I could tell, his expression never changed the entire evening — yet he didn't get up once.) Nearby, young people in their 20s sat with their parents, and a mom with a 10-year-old boy sat down in front. Three teenage girls huddled together off to my right. Another woman in hot pink tennis shoes; a flared, white, knee-length skirt; and a black T-shirt that read "This is what a feminist looks like," sat in the second row of chairs. She was at least in her 70s, but as interested as (and in some ways more lively than) the teens.
The room looked comfortably full, but I wondered if some of the people who had come for other reasons would leave once the music started.
Exactly the opposite happened. Fox opened with what he claimed was his "least favorite" song, the delightfully zany "Anderson Brown." This song, he said, was prompted by neighborhood preteens who told him, "You'll never sell a CD if you don't have at least one rap song on it!" His rap, as it turned out, was about his cat. And it included some pretty realistic meowing. We were all in guffaws by the time he had finished. The woman playing Farmville turned off her laptop before the song was over.
Though we were laughing, too, Joe and I had been lured to the show — through brilliant social marketing — by the promise of an environmental message. Charming as it was, "Anderson Brown" wasn't quite what we'd come for.
Then Fox asked if anyone in the audience liked polar bears. Several audience members raised their hands. Fox began talking about the inspiration behind "Head for the Horizon," a song about two polar bears that had been in the news. They were swimming out to sea, apparently expecting to encounter an iceberg. But the ice had all melted. And the polar bears would surely become exhausted and drown. An aerial camera followed them on their journey out into the vastness of the ocean. I didn't hear what happened to them in the end. But Fox's song implied that they must have died.
"The water is getting colder, and there's no shore in sight, as we swim to the Aurora," Fox sang. "We used to see glaciers in the northern lights, now I can't see anything out there. … We could die here, but we won't be alone; if you go, then I go."
To my ears, the message wasn't just about the polar bears, but a very clear warning that the extinction of the polar bear could portend the extinction of mankind. "If you go, then I go," he had sung. The idea was as chilling as the ocean.
But just as the heaviness of a message song would begin to sink in, Fox would switch to a light-hearted lyric or a plaintive love song. By weaving the names of audience members into his love songs, even the sad songs became an opportunity for laughter. (It's a smart marketing technique as well as a chance for everyone to play along and connect with each other. Only one of his many "victims" actually left before the two-hour concert had finished.)
The crowd continued to swell until we counted more than 60 people sitting at tables and standing in the store aisles, listening and laughing and pondering along with Fox and the rest of us.
One of his serious messages came in a song about mass media. Mass media has "no substance," he said. "I want my music to be like Dylan, Marley, Lennon, and Hendryx. It's a shame those messages have been replaced by people singing about Gucci and so on. Some kids might get the impression that the be all and end all of life is about how much stuff you can have."
Fox lives what he preaches. Though he gladly accepts $10 per CD — CD sales and tips are his only source of income, he says — he is anything but driven by money. When I asked if I might quote a line or two of his lyrics, he said, "Whenever I sell a CD or give a CD away, then whatever is on that CD is yours, and you can do anything you want with it. You can copy the songs, you can sing the songs, you can quote the lyrics, you can promote them, you can even perform them as your own and not credit me. I am completely free and open with my music. The only thing I would object to is if a company that I didn't approve of was using my music to market their product without asking me."
Wow. You don't get that kind of gift from many song writers.
CD sales were brisk at the show, and roughly half the number of attendees walked out carrying one or more. At $10 per double CD, that's a bargain for fans. And Fox signed each CD, stopping to pay attention to every customer, even when the purchase took place between songs.
His fans feel the love, and the love certainly feels genuine — from both directions. After a two-hour show, the room was still packed with more than 40 people, most of whom had been there since the opening song. As soon as he finished his last one, a line formed at the CD sales table. The store manager finally had to ask everyone to leave so the employees could close up. Undaunted, Fox met outside with eight more of us, who hadn't yet purchased our CDs.
While waiting, I had a chance to ask a few people what they thought of the show. Shannon Heaton, a sports reporter from Moline, Illinois, said, "I was pleasantly surprised at how much fun I had. At the same time, he made me think." That seemed to be representative of the general audience response.
Perhaps the greatest compliment he got was the number of other musicians who came to Fox's show. In fact, his first CD sale that night was to a 20-something, tatooed musician in a metal band. Not exactly the kind of audience member I might have expected to enjoy a song about a cat. So much for stereotypes.
After the show, Joe and I met another musician from Muscatine, 40-ish Jimmy Hoover, who is in a metal band called Blind Alley. He and his fiancée hung around afterward to meet Fox and buy a CD.
We were joined in our waiting by Dr. Sharon Hesse, a chiropractor. I asked her later if she had purchased a CD. "Are you kidding?" she said. "I bought all three! I can't remember the last time I spent such a nice two hours."
The diversity of the folks at his shows is a plus for Fox. "I like to be able to appeal to lots and lots of different people. That's one of my main goals, not to be the kind of coffee shop singer with a guitar who sings about the environment, not to be a pop singer on American Idol, and not to be a Weird Al Yankovich guy, but to be some kind of combination that appeals to all crowds that like different sorts of things.
"And in the end, the very center of it all is the message. And it's very, very undiluted and very serious. But it's surrounded by all these fun jokes and love songs that draw in all kinds of people from all political and social backgrounds that might not otherwise ever listen to music with serious messages like that, just because they want to hear the meowing or they want to hear the sappy love songs.
"I think it's working to some degree, because I do get a very interestingly diverse crowd. I get soldiers and lawyers and people from the inner cities with hardly any money. And I get lots of suburbanites. I get right wing, left wing."
With more than 80,000 Facebook fans, you might think Fox Elipsis also would be getting some attention from the music industry, but not yet. "I haven't had much interest from labels and commercial people yet," he told me. "But it might be to my advantage in a way, because first of all it means I'm not having my head turned by anyone who wants to tell me to change the things I'm doing. Secondly, I've heard a lot from fans who have made it that, if you get signed when you're not well known, they have a lot of control over how they market you.
"Instead of them saying, 'Okay, we're gonna make you famous,' I would much rather have them say, 'You're doing great, so we're just going to market you.' I wouldn't need to change what I'm doing, which, honestly, I don't think I would change for anyone. If the biggest label came along and said, "We're going to give you the biggest advertising ever, but you have to turn down the political, turn down the environmental, and play up the love songs and the jokes a little bit, I would say, "Sorry, but no. It doesn't matter how much money you offer me, the balance is right where I want it to be at the moment." I wouldn't give up the serious side. that was the reason I got into it. And one of the things I protest against is the lack of serious and important stuff on the radio."
Check out Fox Elipsus's tour schedule for 2010. Then, if you get a chance — even if you have to drive an hour, like we did — please go. Hear his message. Laugh at his jokes. Play along with the banter. Dig his music. Then spread the word about the things that matter: equality, peace, the environment, love…
Blue Planet Green Living (Home Page)
Follow Fox Elipsus
Facebook: Fox Elipsus
In a society where many teens and young adults spend their free time in front of the television, playing video games, grabbing fast food, or hanging out with friends at the mall, the three sisters lead exceptional lives. They're talented musicians, who together comprise the band Truth On Earth (T.O.E.).
So what else is unique about Serena (20), Kiley (19), and Tess (16)?  They're lifelong vegans, have always been home schooled, and have spent the last two years traveling the country in an RV with their parents. Much of their traveling has been to perform at gigs across the United States.
The sisters' love of music and performing began early, when their dad, Greg, taught each of them to play piano, and their mom, Stella, worked with them on choreography. For the most part, the sisters have taught themselves the instruments they play and have put together their own musical act.
"Our dad taught us how to play piano by ear when we were all toddlers," Kiley says. "So, it's always been a comfortable format just learning to play every instrument by ear. As we got more serious about it, our parents got us lessons if we needed them. But they never pushed us. A lot of times, that might push kids away from wanting to learn a specific instrument, because it may be challenging. We play music because we love to play."
"We all started with the piano," Serena adds. "When I was about 12, I got really into the guitar, and around that same time the violin and saxophone and the drums. Now in the band I play the lead and rhythm guitar, and the piano."
Kiley, the middle sister, plays piano, bass, guitar, and flute — in "the rock-flute style" of Ian Anderson from Jethro Tull, she tells Blue Planet Green Living.
Not to be left out, Tess, 16, has played piano since she was a tot and is learning bass guitar.
The Music

The sisters also sing — with exquisite harmony — their voices blending and complementing each other as if they were one person singing three parts. When asked who sings lead, Serena says, "We all switch off on all the songs. On most of our new songs, we all sing certain lines. By doing so, the songs are much more interesting, and it inspires us to create better and better parts as we grow as artists."
"Kiley usually sings the highest parts, for angelic voices. When we do harmonies, I usually sing the lowest part because I have a deeper voice. Tess does the middle part. She has the purest sounding voice. We all have character voices and really enjoy doing different accents and vibes to our songs," she adds.
Their talent comes naturally, as their parents are lifelong music lovers. Their mother loves to sing, and their father is also in a band (Dim Side of Mars). "He turned us on to all the '60s and '70s music. Our Mom turned us on to the '80s music. And our grandparents turned us on to the '30s and '40s music," Kiley says. "So, we've been exposed to a very wide range of musicians and artists. The '60s and '70s rock style really clicked with us. We want to bring it back for all of the young people who never got to experience that. We think it's just an amazing sound."
But the sound is only part of what's important to Truth on Earth. And this is another way the three are different from most of their peers: Their songs aren't about the issues many young women are thinking about — boys, flirtations, or the angst of being a teen. "We picked a musical style that had a message and meant something," Kiley says.
She tells us, "There are 186 world problems that our family has identified and a lot of other, smaller problems that branch off from all of those." The sisters are writing songs to address issues that particularly resonate with them.
"We've already written about child abuse, starvation, the environment, factory farming, animal abuse, substance abuse, depression, free thinking, women's empowerment, homelessness, sexual assault, domestic violence — the list goes on and on. We really care about all of the subjects as well as bringing solutions that could help people overcome them," she adds. But each member of Truth on Earth has her favorite cause — and her favorite song.
Cyber Bullying
Tess, who was cyber bullied on a social networking site, says, "One of the songs that I can really relate to is called 'Shot with a Bulletless Gun.' The song is written from the viewpoint of the cyber-bullied victim. You feel helpless, because it's through the Internet, and you feel like there's nothing you can do about it. There's some coward hiding behind their computer, trying to bully you, and there's no reason. They're just trying to scare you, and you feel powerless. The person is acting in a way they would never act in normal life because they can remain anonymous behind their computer screen."
Truth on Earth doesn't just sing about problems, however; the band also offers solutions on the Take Action page of their website. Regarding cyber bullying, Tess says, "There's a lot of things people can do." And, indeed, the Take Action page has a long list of tips for handling cyber bullying and other problems on the Internet. But perhaps the best advice Tess gives is, "If you are being cyber bullied, tell someone about it. Whether it be your Mom, Dad, friend, counselor, teacher, etc. — tell them what is going on. Also, if you don't focus on it, and if you don't keep reading [the bullying message], it can help you to not think about it so much."
Issues that Matter
"I really enjoy 'Calling the Nation,' " Serena says. "It's about the environment. Climate change is happening, and the largest single cause is the greenhouse gas effect from factory farming and slaughterhouses.
"Even if people just stopped eating meat one night a week, it would save so many animals. It would save something like 5,000 gallons of water — some huge number — just to feed one cow on one acre of food. On that same acre, you could grow grain and feed 50 people. Slaughterhouses and factory farms are an enormous contributor to this problem, and they need to be shut down."
The girls have been vegan from birth, an issue they're passionate about.
Serena says, "If anyone is wondering how they can make a difference and how we can stop global warming, or how they can help make the world a better place, go vegan. Like I said, factory farming and slaughterhouses have the most significant effect on climate change and pollution. Everyone needs to know that they can make a difference, no matter how small."
A Call to Action

We ask the trio if the anti-war music of the '70s influenced their writing.
"Definitely," Kiley says. "All of those songs were a call to action. That's what we're affiliating ourselves with. 'Every Bad Thing You Do,' which is one of our songs from our first album, "Achieving Peace through Nonviolent Protest," is dedicated to our service men and women and effects of war.
"The focus is not just on the environment or war; we're covering all these topics. One that really hits home for me is 'Where Will You Sleep Tonight?' which is about homelessness. We see it on the road [while the band is on tour]. Just because someone is out on the road without a place to sleep at night, a roof over their head, it doesn't mean that they're alcoholics or junkies. Many have just lost their way. That's one [issue] that I really care about," Kiley says.
"What are you most trying to tell people with your music?" we ask.
Serena responds, "We want to say that everyone can make a difference. For example, right now, we're working on a women's empowerment song. There are so many powerful women in history. I think people need to be reminded that there were amazing women — and there still are women who are making a huge difference.
"We're also writing a song about gay rights, because people shouldn't be prevented from pursuing the same constitutional rights available to all. The Bill of Rights, for example, says that we all have the right to pursue liberty and happiness. It doesn't say, 'except certain types of people who others don't particularly like.'
"Our new song, called 'Help, Help Me Now (Chelsea's song)' is dedicated to Chelsea King and all of the young women whose lives were cut short by violence," Kiley says. "We hope people will check it out and let us know what they think."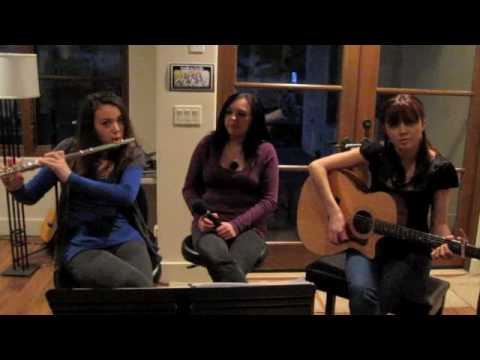 The Home School Advantage

"Our parents started home schooling us ever since we were old enough to be schooled," Kiley says. "We never went to public school."
Tess, who just graduated high school, says, "It's been a very big advantage. For one, it's helped us with our music. It gives us a lot of freedom to do all the fundraisers and perform at benefit concerts, and do all the volunteer work we've done. We can do school at our own speed. By going to school, we'd have to deal with all the teachers and all the other kids and worry about all the homework. This allowed us to go at our own pace and get it done a lot faster."
"We did soccer, basketball, baton," Serena says. "We took a ton of different classes at park districts, and we're pretty social and friendly kids, so we met kids in our neighborhood. And we did home-school groups. All of our friends were from private schools, home schools, and public school.
"Our parents always say, 'One of the best things about being home schooled is that we weren't socialized,' because there are so many unnecessary things that go on at school, like bullying or kids making fun of each other for no reason, and getting picked on. When kids are socialized at school, they come home, and the parents have to try to de-socialize them. We didn't have that being home schooled. Our parents thought us social skills. We had the freedom to focus and learn extracurricular things. For example, we took sign language for a long time, and Hebrew, and we had private dance lessons at our house for a while, and drama classes, comedy teachers. We're pretty socialized, I think." [She laughs.]
"We've been performing and dancing since Tess was two," Serena says. "We've always been volunteering at retirement homes. We put on a variety show to raise money after 9/11. But the first performance we had with the band was about five or six years ago. Our dad got together a bunch of studio musicians, and we put on a concert to try to raise money for causes."
Kiley adds, "We started traveling right after our parents retired from industry, about two years ago. After we got on the road, we traveled through 28 states. Before that, when we lived in Chicago, we had never been anywhere. So it was a real treat, going all over the US. We learned so much about the country, and we saw so many amazing museums and places. We met so many amazing people. We saw a lot about the problems we sing about. For example, we saw a lot of homelessness on the road, which inspired us to write 'Where Will You Sleep Tonight?' It was a fantastic experience, and we love traveling in our RV."
Aiming High
Truth on Earth is on an upswing. And, although their next big goal is to gain recognition as the Best New Band in the Social Action category (should there be one) at the Grammys, they understand that it's a rare band that lasts forever. As Kiley says, "The band is not interested in fame for its own sake, but rather as a vehicle to inspire positive change on the planet so future generations will have a planet worth inheriting."
When the young women decide one day to end their band — or to scale back — they each have plans for other ventures that interest them. Kiley wants to open a vegan café and have her own line of vegan gourmet food products. "We've been vegan our entire lives. So one thing that I really love to do is to bake and cook. And I'd love to share that with the world."
For their part, Tess and Serena are more interested in creating a line of vegan cosmetics.
"When I was younger — actually, when I was seven — I started my own business making all-natural soap," Tess tells us. "I made lotion and lip balm. I love creating things like that. And I always talked about wanting to go to cosmetology school and make a vegan line [of cosmetics]. Serena and I just got talking about it, and we thought it would be a great idea, because there needs to be a really great vegan line for everything — all beauty products, not just makeup.
"We want to make a really good product line that is not tested on animals. It has to be 100% vegan. It has to smell really good. It has to have really cute packages. And it can't be overly priced. You know, that's one of the problems with all the vegan product lines, they're so over priced, no normal family can afford them," Tess says.
Getting the Message Out

But that's all far in the future. "Right now, the band is our main focus. We want to get our message out so we can really make a difference in the world," Serena says.
Kiley tells us, "We have a Take Action page on our website. If anyone is wondering what they can do, they can go there and find out. We're not just singing songs about the problems, we're offering solutions to the problems.
"It's not about us. It's about the causes we sing about, and it's about creating peace and nonviolent protest on the planet — making a planet that will offer goodness for everyone."
Tess adds, "We really do want people to get up and start doing something to make a difference."
Impressed with the maturity, talent, and intellectual curiosity of the three sisters, we ask about the influence of their parents on their activities.
Kiley responds, "All five of us practice meditation every single day. And everything that we're doing now is divinely inspired from God. Our songs. Our mission. Our whole life is. That's what I'd say about our parents, too. Everything that they've done is for the good of this planet and people."
Truth on Earth music is available for sale and download from Amazon, iTunes, and most everywhere you can buy music on line. "You can find everything on our website at TruthOnEarth.com," Kiley says.
When asked how the group decided on their name, Tess gives what has become their standard answer: "We sing about the truth. And we love our earth. And on is just the middle man."
Blue Planet Green Living (Home Page)