In our house over the past two years or so, we've been carefully examining every personal care product we buy. If you're a long-time reader of Blue Planet Green Living (BPGL), you already know that we are huge fans of the Environmental Working Group (EWG) and their Skin Deep Cosmetics Safety Database. Today, we received a bulletin from EWG's Action Fund president, Ken Cook, asking for support in telling the US Congress that it's essential to support the Safe Cosmetics Act of 2010.
Why should you care? Because, like most Americans, EWG suggests, you probably use "about 10" personal care products each day (e.g., soap, shaving cream, after-shave, shampoo, cream rinse, toothpaste, lotion, deodorant, styling gel, acne creams, sunscreen, base makeup, powder, lipstick, eyeshadow, mascara, eye liner, lip liner, blush…). Of course, that number varies widely, but we all use some products each day.
"And," Cook writes, "those products aren't required to be tested for safety before going onto shelves. That's almost 126 unique ingredients you use everyday that the government can't guarantee are safe."
If you've seen Annie Leonard's latest animated film, The Story of Cosmetics, you know that these ingredients can be highly dangerous to us.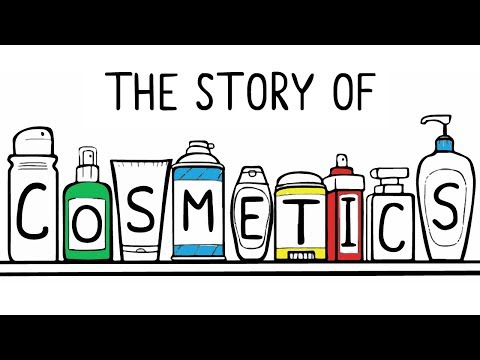 Perhaps you're as concerned as we are at BPGL. We don't want the burden of choosing safe products to be on the shoulders of the consumer. There are far too many factors for any of us to keep track of when purchasing from the vast selection of products on our store shelves. Let's put the burden on the manufacturers, where it belongs. Make them give us safe products from the beginning.
But how?
Cook goes on to write:
Congress introduced a bill last week, The Safe Cosmetics Act of 2010 (H.R. 5786)… It would expand the regulation of ingredients in cosmetics and personal care products, like allowing the Food and Drug Administration (FDA) to prohibit the use of dangerous ingredients.
Congress needs to know that you think this legislation is important. EWG is the leader in researching personal care product safety. Will you stand with us and pledge your support today?
Click here to pledge your support for the Safe Cosmetics Act of 2010.
I hope you sign the petition. But we all know that Congress won't pay attention to a petition unless they believe their own constituents back it.
Is personal care safety important to you? Is it important enough to take a few minutes to call your Senators and Representative? Each phone call makes far more of an impact than signing a petition (though please take a few seconds to do that, too?) And if you really want to make a point, write a letter (the old-fashioned kind or an email) telling why this issue matters to you.
If you decide to put in the effort to write to your Congresspersons — about this issue or any other — make sure that you do it effectively. Ask.com has a helpful article with tips that can make your letter get noticed in the way you'd like it to be.
Still wondering whether you need to spend the time to weigh your opinion? Here's more from Ken Cook:
Manufacturers may use almost any ingredient or raw material in your soap, shampoo or makeup without government review or approval. According to EWG's research, 22 percent of all personal care products, including children's products, may contain a cancer-causing ingredient, 1,4-Dioxane, and 60 percent of sunscreens contain oxybenzone, a potential hormone disruptor. Other studies have raised alarms about lead in lipstick, secret chemicals in fragrance and preservatives in personal care products.
It's time that the FDA has the authority to regulate ingredients in cosmetics and personal care products. From prohibiting the use of certain ingredients, including carcinogens and reproductive and developmental toxins, to recalling products that fail to meet safety standards and requiring product labels to name each ingredient, the FDA will be better able to ensure that what you're buying is safe for you and your family.
You have the right to know what you are putting on your face, hair, and skin. And you should feel safe buying any product allowed on store shelves. Tell Congress we need action on the Safe Cosmetics Act of 2010.
Click here to let Congress know that you want reform. Pledge your support for the Safe Cosmetics Act of 2010 today!
Will you know what products are safe for you and your family to use the next time you go to the store or order on line? Right now, the only way is to check each, individual product using EWG's Skin Deep Cosmetics Safety Database. But if Congress passes the Safe Cosmetics Act of 2010, eventually all of the choices available to you will be safer choices.
Please. Take action today. Let's get the Safe Cosmetics Act of 2010 passed for our safety and the safety of future generations. Thank you.
Blue Planet Green Living (Home Page)
Blue Planet Green Living (BPGL) asked Ken Cook, president and founder of the Environmental Working Group, two questions we like to ask all our interviewees. Following are our questions and his responses. — Julia Wasson, Publisher
5 Ways to Save the Planet

BPGL: What are the five most important things we can do to save the planet? (You can answer as the head of Environmental Working Group or as a parent, if you prefer.)
COOK: Those two things — my job as a parent and my job as the head of Environmental Working Group — have come together in lots of things. It's a blessing to be able to do this work now, and have both of those sets of objectives in mind, because they do merge pretty well.
One of the first things we need to do, obviously, is deal with climate change. We need to reduce our carbon footprint — and our environmental footprint, generally. That means in our everyday life as well as at the government level.
Second, we think one of the most important environmental campaigns in history is to protect our health from toxic chemicals. So, again, we need to take steps in our everyday life. We can do a lot of things as individuals to protect ourselves and our families from toxic chemical exposures, but we also need laws at the state level and at the federal level, the reform of the Toxic Substances Control Act, the enactment of something that looks like the Kid-Safe Chemicals Act. That would be number two for me.
Third, I think we really do need to focus strongly on diet and nutrition in this country. We have an embarrassment of riches when it comes to the food that's available to us and the price it's available. We need to do a better job of paying attention to which foods, individually, we can eat and which foods we have available, not just for those of us who can live in a big city and can afford to shop anywhere, but for the disadvantaged in this country and around the world. We need to be smarter about providing adequate nutrition, healthy nutrition that leads to a nice, productive life.
Fourth, I would say, we need to take care of the creatures in the world. We really do need to focus on the incredible threat that we are posing, as a species, to all the other species on the planet. We need to protect biological diversity, including the rainforest, with the native people living there and the incredible resources that still remain. We need to conserve those, as well as our ocean resources.
Then, the final thing I think is really important is, generally speaking, we need to have high expectations and engagement with our government. I don't care what end of the political spectrum you're on, this is not a time, and there never will be a time again, to step back and assume that we can let the government run along by its own power, influenced by the various special interests that come to influence it, and expect we're going to have a good outcome.As a citizen, you need to be engaged with your government at the federal level, the state level, the local level. It doesn't mean a full-time job; but it does mean, pay attention, get involved, get engaged, find organizations that you can work with, and, if you need it, organizations that can provide some access to information, ideas, and actions you might take. The EWG wants to believe it is, and tries to be, an organization that provides that for citizens. But being a citizen is one of the most important challenges all of us face, rather than just retreating into our own lives, our own homes, without paying attention to the bigger world around us.
2 Minutes with the President

BPGL: If you had two minutes with President Obama, what would you say to him?
COOK: I would say, "Hang in there. You're trying to do a lot of the right things, and you're trying to lead the country from a broad base; that hasn't always worked out, but we salute you for trying." I would say, in particular, "These environmental issues can really unite people. We have seen, in the case of our work on toxic chemicals, that across the spectrum — whether it's the spectrum of religious beliefs or from conservative to liberal [politics] — people want to take care of the next generation and its health. And if, by providing additional protection for toxic chemicals, we can do that, that's something we ought to do. I'd encourage you to do that." And I'd say, "Thank you, Mr. President. "
Ken Cook, President and Founder
Environmental Working Group
Blue Planet Green Living (Home Page)
Related Posts
Environmental Working Group Gets "Feisty" about Chemical Pollution
Environmental Working Group – A Nonprofit with Great ROI
Are Those Personal Care Products Safe to Use?
Recently, Blue Planet Green Living (BPGL) wrote in praise of the Environmental Working Group (EWG), and encouraged readers to consider supporting the important work of this nonprofit organization. Yesterday, I had the privilege of speaking with Ken Cook, who heads EWG. We wanted to know about EWG's history, its major areas of focus, and what he sees as the most critical issue on the group's docket today. — Julia Wasson, Publisher
---
COOK: I started the Environmental Working Group in the early 1990s, with my colleague Richard Wiles, whom I consider to be a co-founder of the organization. He brought to us a lot of talent — in particular, a great deal of information, knowledge, and experience on toxic chemicals, specifically pesticides.
BPGL: You publish an impressive amount of research at EWG. Who are your researchers?
COOK: They're all on the staff. We have chemists, engineers, a lot of public health experts and so forth. Over the years, we have built up a program that is heavy on original research and computer analysis. We were one of the first groups in the public interest community, and certainly in Washington, to have a full-time database programmer (who is still with us, by the way).
We started churning out major studies based on government data that hardly anyone had ever seen except the government bureaucrats who were paid to collect it and store it. We started using that information to help make the case for all kinds of policy reforms within the areas of toxic chemicals and pesticides, but also agricultural subsidies.
We've done research on the use and destruction of public lands out west by oil and gas exploration and hard-rock mining. The damage that's been done out there has been tremendous.
And, we've put the names of all farm subsidy recipients in the country on line. That has gotten us some notoriety, but it has also had a big influence on the farm subsidy debate.
BPGL: What is the most pressing issue you are working on at EWG today?
COOK: The issue that's coming to a boil in Washington right now is a debate over reform of the decades-old law, the Toxic Substances Control Act (TSCA), which covers industrial chemicals in this country. This is the group of chemicals that is used in consumer products and automobiles, building materials, and so forth. Not pesticides, but just about every other category of chemical.
This is central to the Environmental Working Group today. We've been mounting this campaign, hoping that we'd get momentum for a reform of this federal law for almost ten years. And now we're right on the cusp of it.
Just today [Tuesday], in fact, there was a big step forward by the American Chemistry Council, which is the trade association of the chemical industry here in Washington. They have announced a set of ten principles to modernize the 1976 law. And we're encouraged.
I'm sure we'll probably disagree on more of the fine points than we agree on, but they have stepped up and said, "We need a standard that protects human health. We don't have that now. We need much more data on chemicals than we have now, in terms of their health and environmental effects, and so forth." The debate is really starting to unfold, and we're smack in the middle of it.
BPGL: What actions would you recommend for the average consumer? How can we help support a change in this legislation — besides the obvious action of contacting our legislators?
COOK: First of all, we're in favor of people getting informed and getting engaged with the debate. The best thing to do, in our opinion, is to go to our website, find the page marked "Kid-Safe Chemicals," and learn about the legislation.
We feel that this is going to be the basis for the conversation, just like the Cap and Trade concept is in the climate change debate. The Kid-Safe Chemicals Act is going to be the foundation around which the debate is built over the next couple of years.
It's our opinion that consumers can do two things. You can protect your family and take smart, sensible steps to substantially reduce your exposure to toxic chemicals, such as reducing your exposure to pesticides by shopping from our list (Shoppers Guide to Pesticides) on fruits and vegetables. If you can find them organically grown, you should shop that way. But if you can't, there are other fruits and vegetables that are pretty low in pesticides, and our list shows you which ones they are. And, you can take steps to reduce exposures in personal care products and furniture items. All those tips are on our website.
But we also know at this stage that we can't just shop our way out of this. We're going to have to require some change in government policy that can provide some smarter, more up-to-date rules of the road, if you will, about what kinds of chemicals can be used in what products. And the thing that's driven the message home for us is the research we conducted looking at chemicals in people, because, if you're finding chemicals showing up in the blood of people, there's no question that exposure has happened. So then, the question is, Is the exposure serious enough to be concerned about? How do we cut down on it? Is that something we can, or should, be expected to do as a consumer? Or is that something we should expect companies to do by reformulation, shifting to chemicals that don't get in people, aren't as hazardous, and so forth?
And, of course, the ultimate concern is raised when you find chemicals in umbilical cord blood — which we did in a study a few years ago, where, for the first time, we looked at a wide range of toxic chemicals in umbilical cord blood. In just ten babies, we found 280+ chemicals — and that's when we spent $10,000 in chemical labs for the analysis. If we'd spent $15-, or $20-, or $30,000, for example, who knows how many chemicals we might have found? Maybe 600 or 800 or 1,000 or more. We have another study forthcoming.
BPGL: What will be the difference in the new study? Or will it be a repeat of the original?
COOK: We'll be screening for some new chemicals and some that we've already looked at. And we'll have an unusual group of babies. I don't want to reveal who they are just yet. We'll be releasing that in September. But we did look at some new chemicals that we hadn't looked for in the previous study.
Most of the chemicals we studied are in everyday consumer products. And we did detect those chemicals in most or all of the ten babies in the second set that we tested.
BPGL: Are these results also from prenatal tests?
COOK: Yes. These are prenatal, umbilical cord blood tests.
We've already documented that babies are born with chemicals that were banned in this country 30 years ago. It's shocking to people, but the umbilical cords of babies born in 2004 — the babies we tested through the American Red Cross research program — contained PCBs and DDT and other chemicals that were banned in the 1970s.
The lesson there is that you don't want to wait too long. If you know a chemical is dangerous, and it lasts, you definitely want to take steps to ban it, because it will be around for a long time.
BPGL: Did you test for BPA in the second study?
COOK: I'd rather not say yet, but we're looking for a wide range of chemicals.
BPGL: Your wife gave birth not long after the results of the first study came out. How did the results of the study change your life and your wife's?
COOK: It had a big effect. The whole point of what we experienced, my wife and I, was that we realized that, as much as we would be careful in what we bought, what we put in the baby's room, what we fed the baby, all those steps — we were just as careful as we could possibly be — we know that that's not enough.
I came to resent having to go to my own website [for product safety information], because I came to the conclusion — as she did, and I think a lot of other parents do — that with all the things on the mind of an expectant family, the last thing you feel like you really ought to have to do is what the government ought to be doing, which is standing behind the safety of everyday products, and making sure that, if babies are exposed to them, they're going to be okay.
When I give our "10 Americans" talk, one of the first things I look for in the audience ahead of time, if I can, is any pregnant women. I want to tell them a little bit about the talk in advance, and say, "Just stick with me. We've all been through this. Instead of getting angry, let's get even. Instead of getting paralyzed, let's get feisty here."
BPGL: I've wondered about the diversity of topics that you focus on at EWG. How did you get started working in the different major areas you address?
COOK: We started off working mostly on agricultural subsidies. After that, we got involved in pesticides when Richard Wiles came on board, and we developed that area into the broader issues of toxic chemicals.
In the case of public lands, we had a number of prospective supporters come to us and basically say, "Look, we saw what you did on a range of other topics, can you take on the damage being done to our public lands by oil and gas exploration and hard-rock mining?" So, in some ways, the ability to do this kind of research has attracted support.
And now we've added a new dimension, which we're very excited about. It's very relevant to your work [at Blue Planet Green Living], which is, our online presence has just sort of exploded. We are developing a very large list, approaching 600,000 people who are online supporters. It's a very active group, and we get suggestions from them, all the time, on topics to look into.
We can't always look into all of them, or even most of them, but they say things like, "Tell us about toxic chemicals under the sink. We'd like to know what's in those products." We get that question all the time. We're doing research in California now that should begin to shed some light on it, and begin to get us working more in that area. We get questions about nutrition, as another dimension of food safety. We're starting to do some research on that.
[Our work] has evolved from the basic skill set we put together in forming the Environmental Working Group — the ability to analyze large sets of data; commission original laboratory work; do good, smart writing; and, at the same time, do quantitative analysis — that, in combination, has really helped us make the case to supporters to take on this range of issues.
BPGL: Who are EWG's major supporters?
COOK: Almost all of our support comes from major donors and foundations, with a growing list of online supporters — we're very encouraged that we're able to add more and more of those every day. We've been fortunate to put together the kind of content that people want, and more of them are writing and giving us even a small contribution. As you know, on the worldwide web, you can reach a lot of people very quickly and, if they value what you're doing — as many people do our Skin Deep Cosmetic Safety Database website and our food news website — even small amounts of money make a big difference.
EWG TOOLS FOR CONSUMERS

Environmental Working Group has a long list of helpful guides to protect your family and pets from environmental toxins. A few of the resource links are included here. For a full list, go to the "Health Tips" section of the EWG website.
Blue Planet Green Living (Home Page)
Any number of nonprofit groups are doing good work for the environment, but, to me, one of the most impressive is the Environmental Working Group (EWG). We've written in the past about their Skin Deep Cosmetic Safety Database and posted (twice) the ever-sobering EWG video 10 Americans. But those are just two of the many projects this group has sponsored.
In today's email, I found a letter from EWG president, Ken Cook, listing several other group activities and projects that are making a real difference to the planet and to the health of the people who live here. Cook wrote to supporters to publicize the group's activities.
Over the last several months, EWG has drawn a lot of attention to the topics you and I care about. They've provided critically important information to consumers and influenced the passage of legislation on issues that affect our well-being. It's a lengthy list. The following excerpts from Cook's letter give just a few of the highlights. To learn more, please visit the EWG website.
Here's some of what Cook had to say:
"We've told decision makers what you want. . . and they're listening.
We caught food industry giants plotting to mislead mothers and minority parents about the hazards of bisphenol-A (BPA) and spurred grassroots pressure to find a safe alternative…
The California State Senate passed the Toxics-Free Babies & Toddlers Act, which we sponsored, to ban BPA in children's food products. If the State Assembly approves the bill, the largest market in the country will join Connecticut and Minnesota whose state legislatures enacted partial BPA Bans earlier this year…
Five environmental justice leaders joined us for an extensive two-year study that tested them for 75 chemical contaminants. They took their results directly to Congress as a compelling argument for reform of the failed federal toxics law…
"We researched, reported and testified for better public policies.
We released our third annual sunscreen report to help consumers identify safe, effective products and better understand the ingredients in sunscreen. We found that sunscreen companies are reformulating many products to be safer and more effective as a result of our three-year campaign…
"We created and shared important, useful information.
If you're able to contribute charitable dollars this year, please consider donating to the Environmental Working Group. Your support of EWG will help make the world safer and healthier for the ones you love. And that's the best return on investment you could ask for.
Blue Planet Green Living (Home Page)