Although Woofables, The Gourmet Dog Bakery in Coralville, Iowa, sells dog food, it has the light scent of a real bakery. Owner Laura Taylor, who used to work in marketing, now spends her days crafting handmade treats for canines out of all-natural, all-human-grade ingredients.
While frosting a cake, Taylor explains that everything made in the store can be eaten by people; they'll just think it tastes bland. Salt is unhealthy for dogs, so items are flavored with pumpkin, peanut butter, and cinnamon. Frosting is made with carob and yogurt and tastes like white chocolate.
"My kids like to come in the kitchen area and eat the carob chips whole because they taste so good," Taylor laughs.
She also mentions that customers tell her the doggy truffles taste like Reese's Peanut Butter Cups. Most treats look like small gingerbread cookies and are sold in bulk from a long table in the center of the shop, resembling the produce aisle at a grocery store. They retail for $9.49 per pound, and Taylor says they're the store's best-seller.
Taylor bought the six-and-a-half-year-old store two months ago. She previously considered baking a hobby, but now makes her living creating and selling bakery treats for dogs.
Former owner Lara Moore, who still works at the store part time, calls the goodies "extra special treats," because even though they're all natural, they should be given to dogs in moderation. The carob in the frosting contains sugar, so dogs shouldn't eat them every day.
Taylor says that dogs benefit from an all natural diet because they'll have more energy, a healthier coat, and improved health. A lot of canines suffer from digestive problems, which can be aided by a better diet.
"They're just like us," she said. "The better we eat, the better we feel."
The Food and Drug Administration doesn't have as strict guidelines concerning grade and cleanliness for traditional dog food compared to human food, Taylor also explains. Woofables is licensed by the Iowa Department of Agriculture. Twice a year, the store's process and ingredients are inspected.
One of her goals for the already established business is to expand the wholesale and online sales. Taylor is launching a new website within a few weeks that will allow users to buy online.
Currently, the wholesale side of the business sells to four stores. One of those outlets, Brown Dog Bakery in Des Moines, previously purchased items from as far away as Indiana and Colorado.
"There are not a lot of places like ours around here," Taylor says. "No other places around here make handmade items."
Another goal for the business is to streamline and improve efficiency with baking because, currently, the process is entirely manual. Taylor — and a few helpers — bake the items by hand, but that process will be hard to maintain with Taylor's expansion goals in mind.
Safe Toys for Doggy Playtime
Woofables also offers dog toys, some of which are from earth-friendly companies. Simply Fido stuffed animals, ranging from $15.99 to $21.99, are made from all-organic fabrics and all-natural dyes.
Moore says the company sends all the toys through a UV filter before they're sold, in order to kill bacteria caused by the handling process. They're also sent through a metal detector to catch any sewing needles that might have been left behind.
Flat Katz stuffed animals, which use organic cotton and soybean fabrics, retail for $10.99. Biodegradable doggie deposit bags are also offered.
Taylor says dogs are welcome to shop with their owners and mostly visit on the weekends, though a few stopped in on a Wednesday afternoon. She anticipates that business will pick up significantly for the holiday season.
"I'm expecting the Christmas rush to last right up until Christmas, since people usually shop for their pets last," she says.
Order from Woofables
Woofables is located at 1801 2nd St Suite 270 Coralville IA 52241. Customers may place orders over the phone by calling the store at 319.351.9663 or by sending an email to the store.
Blue Planet Green Living (Home Page)
"Hand someone a jar of Karmic B.S.™ sanitized bovine excrement, and their first reaction is likely to be confusion," says ecopreneur Joe Hennager. "They see the bull and the yin-yang in our logo — and the pile of bull poop — and they usually look up with a question in their eyes.
"But the second they tip the jar to read the punch line on top, they burst out laughing. They get it. The person giving them the jar is saying, 'This is full of B.S. & so are you!'
"The idea of karma is that you get what you give," says Hennager, who also happens to be my husband and the co-owner of Blue Planet Green Living. "The yin-yang symbol in our logo represents the idea of 'what goes around comes around,' which is another of the punch lines we use. After all, this is real, sanitized B.S. (and you know what that means). When someone gives you B.S., you can give it back — literally — with our adult novelty gift."
Joe and I are the principal owners of this, um, somewhat unorthodox, ecopreneurial venture that turns poop into product. When we began talking about his unique idea, we both had a passion for rivers and for Iowa's rivers in particular, but not a whole lot of expertise in how to go about implementing it. Today, thanks to Joe's ingenuity and some heavy-duty research by scientists, what I thought was a "crazy idea" has become a full-fledged business called ReDeMa, LLC (short for Research, Development, and Manufacturing).
Prevent Pollution
"One of the definitions of the word redeem means to improve something," Joe will tell you. "We're working to improve the environment by using animal waste to make useful products.
"When I was a child growing up in Iowa," he adds, "it was safe to swim and fish in the creeks and streams that meandered through our farms and neighborhoods. But today, many of these waterways contain such high levels of bacteria, it's not safe to even touch the water, let alone eat the fish. Much of that bacteria comes from the runoff of manure from the nearly 118 million farm animals raised in the state."
So that's the first goal of ReDeMa products: to prevent pollution by reducing the amount of farm animal fecal matter that gets washed into Iowa's waterways. Not an easy task, considering Iowa has more farm animals than any other governmental body in the world except China. And that means we have a whole lot of poop. You can read statistics about just how much poop Iowa produces at KarmicBS.com.
Get a Laugh
The second, and most obvious, goal of this new kind of greeting card — a "greeting jar," as Joe calls it — is this: to get a laugh. And, boy, do we all need a good belly laugh in these tough economic times. Giving a gift of Karmic B.S.™ or Karmic Bull Shit™ (our "adult" version) or any of our other sanitized bovine excrement products causes almost everyone to burst out laughing.
As a gift to a friend or family member who tends to exaggerate, tells lame jokes, or talks you under the table, the passing of a jar of actual bovine excrement is a friendly way of saying, "Gotcha! I'm onto your B.S." That's all in good fun, and it's a great stocking stuffer. Joe adds. "Hey, it's better than a piece of coal."
Call Out the Liars
Our third purpose is more pointed: to call out the corporate liars who put profits before people and then try to trick us into thinking they're doing us a favor, the bloviating windbags in the media who foment hatred and anger among the populace, and the politicians who forget their promises the minute they're elected. Now we can give them back the B.S. they're spouting.
"We have a trio of political products that voters can send to their elected officials with a personalized message, telling them exactly why their votes or their campaign promises are B.S.," Joe says. "It doesn't matter which party you support, or whether you're in the middle. There's always someone who deserves to be called on their B.S..
"This will be good for elections for the rest of eternity. For the 2012 elections, we are printing display boxes that say 'American Politics is B.S.' The punch lines on the bottles announce, 'This is full of B.S. and so are the Democrats,' or 'This is full of B.S. and so are the Republicans,' or 'This is full of B.S. and so is the Tea Party.' You can choose the politician you want to send them to, along with a personalized message that tells the recipient exactly why you sent it. Bullshit is blind to party lines," he adds.
In fact, we've been attending rallies across the political spectrum, handing out samples of Republican B.S., Tea Party B.S., and Democratic B.S. We've talked with Libertarians, Republicans, Democrats, and Tea Partiers, and they've all admitted that even people in their own parties occasionally spout B.S. "It's time for us to speak out," Joe says. "We need to let our politicians know that we're onto their games. We don't want their lies and false promises anymore.
"The Tea Party sent thousands and thousands of tea bags to Washington in protest. But what happened to all those tea bags? Their elected officials get to drink free tea for the rest of their lives. Message lost. Imagine what will happen if we send thousands of jars of sanitized bovine excrement to Washington. That doesn't go so well with their silver tea services," Joe adds.
Cleaner than Broccoli or Spinach
But is it safe to send bull poop (and most of it is, literally, from bulls, by the way) through the mail to your Congresspersons?
It is, if it's a ReDeMa product. Our sanitized bovine excrement products have been evaluated and approved by the U.S. Postal Service.
"If you send raw fecal matter through the mail without proper approval and precautions, you might get arrested as a terrorist," Joe says.
"But not with Karmic B.S.™ sanitized bovine excrement or any of our other products. You can send them through the mail with confidence — or we'll even ship them for you."
Why are ReDeMa products so safe? "We've taken out almost all of the bacteria," Joe says. "It's a trade-secret process that makes this bull poop cleaner than the broccoli or spinach you buy in the grocery store. That's why we can call it 'sanitized bovine excrement.' It really is sanitized."
"So if it has less bacteria than broccoli or spinach, are you saying that people can eat it?" a reporter recently asked Joe.
"Of course not. It's fecal matter," Joe told him. "Achieving food grade levels of bacteria just tells the world that our products are perfectly safe for our workers to handle, safe for stores to sell, and safe for consumers to live with in their homes."
In addition, the jars are sealed shut so that customers can't open them. And the label contains two warnings: "Do not open," and "Not for human consumption." It's a novelty gag gift, after all.
Economic and Environmental Benefits
"We have another goal, too," Joe says. "That is to give farmers a new income source for their bovine manure, so they can sell it to us rather than over-apply it on their fields.
"Today, animal waste is worth $6.40 per ton to a farmer as fertilizer. When the waste fits our criteria, we pay farmers $30.00 a ton. Bovine excrement has many chemical and fibrous qualities that make it the ideal material for the products that we are developing.
"Once we figured out how to remove the bacteria, dozens more environmental and economic benefits became evident. For every ton of animal waste we capture, we're lessening the amount of methane gas released into the atmosphere; this lowers our carbon footprint and slows the depletion of the ozone. We're reducing fecal runoff to our rivers, which is saving fish and waterfowl, and making rivers safer for recreation. We're also reducing contamination of deep-water aquifers, which will improve the quality of drinking water.
"And," Hennager adds, "by providing jobs, we are employing the unemployed. We're helping families put food on the tables, doing our small part to improve the economy, and helping our country get back on its feet."
Good Karma
The concept of karma includes doing good, of course, and ReDeMa takes that idea very seriously. It's not a religion, but a way of life for us. Because we're commited environmentalists, one of our most important goals has been to have as little negative impact as possible in producing our product. One way we do that is to source as locally as possible. "ReDeMa products are entirely made in the USA, from bull to bottle, so to speak," Joe says.
"And both the contents and the jar are completely recyclable. When the novelty loses its appeal, all the owner has to do is to break open the jar and dump the contents onto their garden. Voila! Compost! The jar itself – plastic label and all – can be recycled at a local recycling facility. We want to insult the recipient – not injure the planet," he adds.
Or, if you don't want to do the job yourself, ship the jar back to us. We have a take-back program that gives you a 10 percent discount on a new jar of our product for every jar you return to us for recycling.
"But we don't stop there," Joe says. "When you buy any of our Karmic B.S.™ or Karmic BULL SHIT™ or political B.S. sanitized bovine excrement products, a portion of those sales goes directly to environmental product research, clean water projects, and humanitarian charities worldwide."
Our current charity focus is Tagum City Food Bank, a charity that is close to my own heart, as it is largely funded through the efforts of David Wasson, my cousin, who feeds malnourished children in the Philippines.
The First-Ever B.S. Mechanical Pencil

If a novelty gag gift doesn't get your attention, our latest product should. We've been working with a local woodworker who has developed a process to make mechanical pencils and (coming soon!) pens out of ReDeMa's sanitized bovine excrement.
The first-ever mechanical pencil made from sanitized bovine excrement is for sale on our website. "You won't believe how beautiful it is until you see it," Joe says. "It looks like a fine marble, but it feels like sculpted wood."
So who would ever want to write with a pen or pencil made of bull excrement?
"This is the ideal gift for an attorney, whose clients constantly feel they are signing documents that are B.S. Soon, the attorney will be able to hand them a pen that's befitting of the documents they have to sign. And I just wish I could be there to see the reaction!" Joe says.
Me, too.
Blue Planet Green Living (Home Page)
FOLLOW KARMIC B.S.

On the Web: KarmicBS.com
Facebook: Karmic B.S.
Twitter: KarmiceBS

October 22, 2010 by Brigette Fanning
Filed under 2010, Blog, Ecology, Erosion, Front Page, Government, Iowa, Recreation, Slideshow, Soil, Vote!, Water, Wetlands
If you're an Iowa voter who hasn't yet cast your ballot, please vote in favor of the Iowa Water and Land Legacy referendum. You'll find it on the back of the ballot (along with several other important issues). Voting "Yes" for this amendment will add a tiny fraction of any future sales tax increase to a trust fund. The monies raised will help support clean water and improve recreation for everyone in the state. To find out why this referendum is so important to Iowans and those who will visit here, read Brigette Fanning's interview with IWLL campaign manager, Mark Langgin. — Julia Wasson, Publisher

---
Iowans have a crucial choice to make that will impact future generations: the choice between clean water and dirty water.
On November 2, Iowa voters will see a referendum on a constitutional amendment called Iowa's Water and Land Legacy (IWLL) on the back of their ballot. If it passes, it goes into effect for the next sales tax increase. Three-eighths of a percent of all Iowa sales will go into the trust fund, which will be used for soil conservation programs, to improve water quality, and to promote outdoor recreation.
"This is a way to not have chocolate milk running down our rivers," says Mark Langgin, campaign manager for Iowa's Water and Land Legacy.
Two-thirds of the fund will be used for water quality and soil conservation programs. The remaining third will be used for outdoor recreation programs, parks, trails, and fish and wildlife habitats.
Langgin says this amendment is so essential because of the sheer volume of polluted waters within the state: 500 impaired waters — at least one in each of the 99 counties.
"Soil and sediment are the top pollutants in the water," Langgin says. "And Iowa farms lose five tons of soil per acre per year."
He puts the issue of soil erosion and runoff into perspective: Iowa alone has 120 million acres of cropland. Ninety percent of the state's land is used for some type of agricultural endeavor.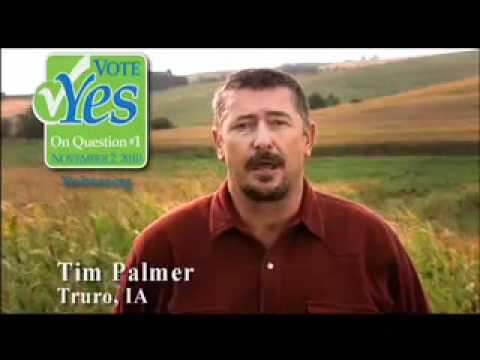 A Record of Success in Other States
But Langgin sees the referendum as a way to start solving these problems. Currently, Iowa is ranked 47th out of 50 states for per capita spending on conservation and 49th out of 50 for outdoor recreation spending.
"This is an opportunity to move out of the bottom five percent," he says.
Other states have passed similar referendums, and Langgin says they are extremely successful. Minnesota, Missouri, and Arkansas all have similar programs in place.
Arkansas passed their referendum in the late 1990s, and Minnesota recently passed theirs in 2008. Missouri started their efforts more than 30 years ago.
"It's been extremely successful," Langgin says. "Any tourist can see the difference. They have gorgeous outdoor facilities."
Langgin believes this amendment would be an excellent opportunity to invest in tourism, as  Missouri does. Local recreation areas like Okoboji and Clear Lake are already dependent on tourism. He sees it as an opportunity to create other popular destinations within the state.
For more information about the amendment, Langgin recommends contacting local county conservation boards. He's "cautiously optimistic" about the referendum passing, because voters don't have enough information about the issue.
Get Involved
To get involved directly in helping to pass this referendum, Iowans are invited to participate in phone banks. Iowa Rivers Revival (IRR) is co-hosting a phone bank with Iowa Environmental Club and the Sierra Club on Monday, Oct. 25 from 6:00 PM to 8:00 PM at the Iowa Environmental Council, 521 E. Locust St. in Des Moines.
Additional phone banks are scheduled in Des Moines on Oct. 26 at the Iowa Natural Heritage Foundation and Oct. 28 at The Nature Conservancy. Volunteers may also make calls from their homes by working with IRR. Contact Executive Director Roz Lehman at rlehman@iowarivers.org to volunteer.
Blue Planet Green Living (Home Page)
Related Links
May 18, 2010 by Julia Wasson
Filed under 2010, Blog, Children, Classes, Conservation, Ecology, Environment, Events, Front Page, Iowa, Natural Resources, River, Schools, Slideshow, Students, Sustainability
How do you teach a child to love a river?
It's not hard to figure out that you can't love something you don't know. Surprisingly, to an awful lot of Iowa kids, a river is just something they cross over in a car. I say, "surprisingly," because Iowa has the image of a pastoral state, where children skip stones into the water from the riverbank, go fishing with their friends, and swim in the creeks that feed the rivers. But the reality is much different for the majority of city kids, like those who live in the Iowa City Community School District.
For the past two days, fourth graders from Hills Elementary (Monday) and third- and fourth-graders from Twain Elementary (Tuesday) participated in a field trip experience designed to help them fall in love with the Iowa River.
You might wonder why falling in love with a river is important. The answer is simple: As Jacques-Yves Cousteau once said, "People protect what they love."
Iowa's rivers have serious problems that need to be remedied, but they're also places of great beauty and economic value. Our rivers serve as a place for recreation: fishing (though be careful which fish you eat and how many), boating, canoeing, and kayaking. We camp along their banks. We photograph their scenery. We enjoy watching the animals that live in and near the water.
There's much to love about a river. And there's no better time to begin than as a child.
So, a small group of committed volunteers, concerned with protecting the health of the Iowa River,  got together to form Iowa RiverCall, a group dedicated to teaching fourth graders about the river nearest their home. Over the past year, we planned a field trip designed to bring youngsters to the Iowa River for a day of education and fun.
The idea for the event originated with the vision of Chris Vinsonhaler, who had volunteered at North Carolina's 20-year-old Haw River Learning Celebration in its infancy.
Modeled largely after the Haw River festival, Iowa River Call included experiences unique to our area in a county park called River Junction Access and nearby Walker Park. 
Each day featured three activity centers near the river, followed by three centers in what remains of the community of River Junction, also called Stump Town.
Under the direction of Mary Skopec, head of the Department of Natural Resources' Water Monitoring program, the children tested water quality, including pH (good), the presence of oxygen (good),  and clarity (poor).
With the help of volunteers Jake Benedict and Kali Feiereisel, from the University of Iowa, the kids observed river animals, including tadpoles, toads, and insects.
Led by professors Barbara Eckstein and Jim Throgmorton, they walked along the river to observe native plants, fossils, tracks, and the action of the water as it swirls and tears at the banks.
And, at a station run by Johnson County Naturalist, Brad Friedhof, and volunteers Erin Gerard and Lois Albrecht, students got to hold the pelts of a variety of mammals found — or once found — in Iowa. They also touched a snake, watched an endangered box turtle pull into its shell, and learned about other reptiles in Iowa.
In Stump Town, students were treated to a visit to the old general store, where they learned more about the history of the peoples who lived in this area. Gene and Connie Zdrazil, who live in the restored building and operate a business there, told students about a settler named Annie, who was both the former proprietor of the store and the town gravedigger.
The kids walked through the cemetery at Stump Town and made rubbings of some of the gravestones of the old settlers. Perhaps the most dramatic lesson there was the young age at which so many of the residents died — and that some of them died of illnesses that are little more than a minor nuisance today.
The kids also released some pent-up energy by playing a non-competitive game called Bats and Bugs.
Following a picnic lunch, professional storyteller and singer Chris Vinsonhaler led the group in lively songs and activities, while Joe Hennager and Gene Zdrazil kept time on the drums.
Other volunteers, including Hills principal, Perry Ross, provided skits and storytelling. Local Stump Town resident Jerry Morgan, dressed in authentic costume, spoke to the crowd as Henry Walker, the man for whom the county park at Stump Town was named.
Teachers, parent volunteers, and principals Perry Ross and Mary Bontrager were essential to the success of the event, providing cheerful guidance and connecting the day's lessons with knowledge the children had already gained at school. Joanne Morgan, Lynette Seigley, and Chinese graduate student, Min, supported the Iowa River Call team and teachers by moving with students from station to station.
Financial support from the Iowa Institute for Hydrological Research and Environmental Advocates of Johnson County made the event free to the participating schools. 

At the end of the day, a giant puppet, Sepanamo, made an appearance to say farewell to the students. Designed by volunteers from the University of Iowa art department, the puppet represented the spirit of Stump Town, which the native Americans had long ago named Sepanamo.
As the children left the site, they waved goodbye to Sepanamo and the many volunteers who had made the experience possible for them. For our part, we were exhausted but gratified.
We each had experienced "magical moments," as Jim Throgmorton had dubbed the times when kids' eyes lit up with wonder. For me, one moment of magic came at the end of the first day, in the voice of a little girl, who whispered, "I love the river!" What more could I ask for?
If you live along the Iowa River watershed, please consider volunteering next year as we expand the number of sites to include other communities in the watershed. It's an experience you won't soon forget, and one that will make a difference in the future of our rivers by teaching children to love them today.
Or, if you live in another part of the world, why not start a river celebration in your own watershed? We'll share our resources to help you get started.
Contact Iowa River Call project leader, Chris Vinsonhaler, or send me an email (Julia Wasson), to request more information.
Blue Planet Green Living (Home Page)
November 24, 2009 by Julia Wasson
Filed under Blog, Community, Donations, Eco-Friendly, Ecopreneurs, Front Page, Iowa, Nonprofits, Sustainability, Tanzania, Tourism, Travel, Youth Programs
Travel for Change's first banda is nearly finished in Njombe, Tanzania. Photo: Stephanie Enloe
Soon after University of Iowa senior Stephanie Enloe graduates in December, she will be on a plane to Tanzania. Enloe, 22, is the director of sustainable projects for Travel for Change International, a small group of committed volunteers who are building an eco-lodge near Njombe, Tanzania. Blue Planet Green Living (BPGL) met with Enloe to find out what makes Travel for Change different from other travel venues serving visitors to Tanzania. — Julia Wasson, Publisher
---
ENLOE: The term for what we're doing at Travel for Change is "fair-trade cultural tourism." In East Africa, quite often, tourist initiatives are foreign-owned — the hotels, resorts, safari companies, and climbing companies. This is the case in a lot of developing countries. Travel venues and services are foreign-owned and really expensive. People go over there thinking that they're getting an "African experience." They pay huge amounts of money, which goes to foreign bank accounts and is not even remotely beneficial to the people in the area.
The first goal of our organization is to create a community-owned travel initiative, where, once the business model is intact and sustaining itself, it passes into community hands.
The second goal of our initiative is to provide a cultural travel experience. When people go on a safari or see a lion, they think they've "been to Africa." But maybe they've only talked to one Tanzanian the whole time, which is not really a cultural experience. Just seeing the animals and not meeting the people is like taking a trip to a glorified zoo. It doesn't give a true experience.
We want to facilitate travelers interacting with Tanzanians. They can make some Tanzanian friends, maybe take a Swahili class, take a cooking class, tour small- and large-scale farms, or visit a traditional healer.
BPGL: Describe the land on which your facility will be built.
ENLOE: We'll have two connected plots of land near Njombe, Tanzania. The first two acres we bought contain a lot of lumber. The second five acres that we'll be buying were farmed in the past; they're more grassy. Our reasoning for buying the second five acres is that we don't want to have to cut down all our lumber in order to build the facility.
BPGL: How were you able to purchase land in Tanzania?
ENLOE: We're working with a Tanzanian woman, Blandina Kaduma Giblin, whom we call Kaduma. She is a Swahili teacher here in Iowa City, married to a professor of Tanzanian history at the University of Iowa. They travel to Tanzania frequently.
The reason we chose to locate our facility in Njombe is because that's where Kaduma is originally from. She purchased our first two acres from a family there who inherited a lot of land, but can't farm it all. They are trying to sell it so they can have some income.
Because we're not Tanzanian nationals, we can't actually own land, though we can lease it for a long time — possibly 99 years. We're in the process of writing up a contract for Travel for Change to lease the land from Kaduma. Then, through her, we'll purchase the next five acres from another family.
BPGL: What will the project look like in terms of the physical facilities?
ENLOE: We'll have five bandas, or guesthouses, and a larger lodge, which will be a bit more hostel-style. The lodge will house several people to a room. We may place bunk beds in a couple of the rooms. The main lodge will be designed to house study-abroad students, backpackers, and budget travelers, while the bandas will be more private.
We will have an outdoor kitchen with a roof and open sides. It will be a good community meeting place for cooking meals and giving cooking lessons. We'll also have a fire pit and, if Kaduma gets her way, we'll have a bar, too. We're planning to hire a cook, once we get to the point where we're employing people.
BPGL: Describe the bandas. What are those like?
ENLOE: The word banda means bungalow. It's a traditional round house made of brick with a thatched roof. Once we're up and running, and at the full capacity that we eventually want to meet, the guesthouses will be private, for singles or couples. Each banda has a choo, or bathroom, right outside.
Is the BPGL: choo an outhouse, or does it have running water?
ENLOE: There's no running water yet; that's something I'll be working on when I get there. There's a nonprofit in Tanzania that helps communities get connected to fresh water. If we build the basic infrastructure on our site, they will let us connect to their pipeline so we have running water. We'll just have to pay a small fee every month. That should happen a couple of months after I arrive.
We'll then become a source of clean, running water for the community, which will not only be good for the community, but also for travelers. We'll become a gathering place.
BPGL: You were the president of the Environmental Coalition at the University of Iowa, and you've been heavily involved with several sustainability projects on campus and off. In fact, we interviewed you early in our first year of publishing. With that kind of background, I'd expect you to be involved in making your new venture as green and sustainable as possible. Is that the case?
ENLOE: Yes, we're trying to be as sustainable as possible. I'm the director of sustainable projects, and I'm in charge of doing all the research for how to make the project ecologically sound. Pretty soon, my title will change to onsite director, because I'll be doing all the things that need to be done over there.
We're buying most of our resources to build the bandas and the lodge from right within the town. For example, the bricks are made in Njombe. We're harvesting lumber in the most sustainable way that we can on land that we own. We're using lots of bamboo, which is fast growing and can be replanted almost immediately.
We're also trying to do some sustainable technology projects, such as building a rocket stove/mass heater in the first banda. A rocket stove has a vertical cylinder and a smaller, horizontal cylinder that feeds into it. Because of the way the air draws, a rocket stove is a lot more efficient than most stoves, so it uses less fuel.
Even burning small twigs, it creates really intense heat that's well contained. There have been a lot of tests done with rocket stoves, especially in third-world countries, because deforestation and smoke are such problems.
You can also use the basic principle of the rocket stove to create a heater. You build a rocket stove and place a lot of thermal mass around it, like bricks and clay. The thermal mass contains the heat and releases it slowly as radiant heat, rather than conduction heat — which is really inefficient.
BPGL: What else do you expect to accomplish in Tanzania in the next year?
ENLOE: By the time I leave, we should have a lot more infrastructure done, and maybe a couple more bandas built. Our first one is already finished.
BPGL: Do you have guests staying in the first banda already?
ENLOE: Volunteers are living there now. They're wiring us for electricity. We just got connected to the grid, which is very exciting. That means I'll have electricity when I get there.
I'll be living in the guesthouse for the next year. And I get to decorate it, which I'm very excited about. I'll purchase some art from around the area, as well as some kangas or kitenges, which are pieces of fabric. Kangas have proverbs on them. Kitenges are just gorgeous cotton cloths that are dyed with incredibly vibrant colors. They often have intricate designs. We'll use those for curtains.
BPLG: Did you hire a local contractor or are the volunteers doing the work?
ENLOE: Our contractor (or fundi in Swahili) is from Njombe District. Ken is a local man who tries to help people out by providing work the best he can. He pays fair wages, which happens sometimes over there, but not always. We're making sure to work with someone we trust, who does a good job, and who cares about his community.
Ken is a great guy. We've been working with him pretty closely, and he's going to be doing all our building projects. He does his best to employ workers who have been having a hard time financially. There are not a lot of jobs in Njombe, even for people who have gone to school.
BPGL: How did you find your contractor?
Allan Kuduma, who is Blandina's brother, is a very influential member of the community in Njombe. He found Ken for us and will be our contact over there. Allan will be really helpful in telling us who to talk to in the community, who to stay away from, and whether we're committing any horrible cultural faux pas. ENLOE:
We're trying to work closely with Ken and Allan to make sure that we're doing the job we want to do. We don't want to be seen as odd Americans who think that they're doing good but are really making mistakes.
BPGL: How will you communicate when you're in Njombe? Do you speak Swahili?
ENLOE: A little bit.
BPGL: Do they speak English?
ENLOE: A little bit.
BPGL: So, you will be able to communicate a little bit. Do you know much about the culture in Njombe?
ENLOE: Yes. Alan speaks English almost fluently, which is very helpful. And there's a woman we're hoping to hire as my interpreter/cultural guide. She speaks English pretty well. I'll help her with her English and she'll help me with my Swahili. That way it's a mutual learning, and it provides employment for her. She's supporting a couple of children and has a job that is pretty exploitive of her time and energy. So we're hoping to be able to employ her in a way that's mutually beneficial.
Because I've been to Tanzania before and to Uganda several times, I have at least some idea of how to operate in this culture. But, obviously, it takes a long time to become fluent in another culture.
What did you do in Uganda? BPGL:
ENLOE: My high school, Ames High School in Ames, Iowa, plans a Uganda trip every summer for about a month. The first year, we built classrooms for a girls' secondary school. The second year, we built dorms for the school. The third year, we built the science lab and library for the school.
We raised all the funds for the buildings. We were on the work site every day, helping make the cement and carrying the bricks, and that kind of thing. It doesn't make that much sense, in some ways, because the workers could probably have used the additional days of work. But, at the same time, it was a really great way to learn from the workers and the girls who were going to school there. It was life-changing.
Ames High has graduated more activists and Africa enthusiasts than any other high school in the nation, I can almost guarantee you. This program has been going on for 7 years, taking between 15 and 30 kids every summer. After going to Uganda, almost every one of them is committed to spending a good portion of their life doing work over there.
I'm an example of one of those kids, and I could name dozens of others who are going to spend their lives doing work over there. $3,000 for a high school kid to spend a month in Uganda seems kind of silly in some ways, because that money could do a lot of good over there. But, at the same time, investing in a kid's world view being completely altered has, over the long term, a lot more effect.
BPGL: You mentioned at the start of the interview that your goal is to hand over operation of the facility to the community once its sustainable. What will that look like?
ENLOE: Once we are sure we have a sustainable model, the people in the community will get to decide how to direct the funds. They will determine what the salaries are for the people who are working at the lodge, what micro-lending projects they will approve, what community development projects they want to do — whatever the community needs. Hopefully Travel for Change will get them some resources to be able to do these projects.
We don't want to step on any toes or be redundant in any way. For example, if there's already a micro-lending institution there that's doing a great job, that saves us the work of setting up our own micro-lending organization.
BPGL: Is Travel for Change a nonprofit organization?
ENLOE: Right now, we are registered as a nonprofit in Iowa. We're working on the final legal touches to our 501(c)3. Once I get over to Tanzania, I'll be negotiating the legalities of getting us registered as a nonprofit there. One of our board members is in contact with a person who has started some nonprofits in Tanzania. He's going to be giving us some direction.
Obviously, we also need to finish getting our nonprofit status cemented in both the U.S. and Tanzania. We want to build a board in Tanzania and network with all the other nonprofits and NGOs in Njombe. That way, if volunteers come over, we'll know who they can volunteer with, exactly what our niche can be, and how we can collaborate with nonprofits in the area.
BPGL: If people want to support Travel for Change, can they make tax-deductible contributions? Or is that not the case yet?
ENLOE: We're not tax-deductible quite yet. Hopefully, we will be very soon. We have a PayPal account set up on our website for people who want to make a goodwill investment. The term "investment" implies a more sustainable use of the money. And that's what we're trying to do, create sustainable incomes for people, rather than be a charity.
We have a catalog on our website, where people can donate a specific amount of money to buy ten bricks, or donate another amount to buy a share of a banda, and so on.
We sell seed bracelets made by Maasai women. You can see those on our website. We also have baskets and kangas and kitenges to sell. We don't sell those through the Internet, because the diversity of what we offer is too much to put on there. But we occasionally have fundraisers where we sell those.
In fact, we're in the process of trying to set up a fundraiser now. If your readers are interested, they can find out more on our Travel for Change Facebook site or the Travel for Change website. All of the handcrafts we have for sale make great gifts!
Julia Wasson
A journey of a thousand miles begins with a single step, usually. Sometimes it begins with a stroke of a pedal. My ambition was not to reach nirvana, so it may be more appropriate to change the adage to something like, "A trip of 65 miles begins with a stroke of a pedal." It was early June, and I had a three-day break from work. This was still the season when the days get longer, the nights are chilly, not cool, and storms are more prevalent than afternoons at the beach. The perfect time for vacation. A much needed one, at that. Work was beginning to wear on me, and my routine wasn't allowing the peaceful thinking that helps me enjoy going to sleep and look forward to waking up.
A vacation doesn't need to be a faraway place. Thoreau and Emerson both thought one should only travel as far as his own means could take him. In this way, he stays connected to himself. With my shoes in the straps of my newly purchased bicycle pedals and my tires on the pavement, I looked forward to a long and adventurous day, one that I had been preparing for by bicycling a few hours every week in the largest hills the region has to offer. The air was clean, the sun was shining, the wind like a scarf wrapped around my neck. We began, my two friends — Joe Scott and Colin Kraemer — and I on a trip from Iowa City to Fairfield.
We couldn't take the busy highway, so we mapped smaller routes that visited small towns, linking our way south, one to the other. The locals helped us with directions, first a group at a bar in Pleasantville, then at a restaurant where we lunched in Washington, and finally at a gas station where we refueled in Brighton. The view was typical: cornfields, soybeans, and bales of hay. But we noticed more details in the scenery than we would have from a car: a butterfly drafting past my helmet, daisies and clovers in the ditches, hawks on fence posts. And we were more attuned to the sun, our compass, keeping it on the right, or west, our shadows pedaling to the east of us.
Water towers, too, became something of importance. A beacon of civilization. Fittingly, a place where we could get more water. We could spot a tower miles before reaching town, something that both tried our patience and pulled us along. The towns themselves were something to see. Antique shops and town squares, pedestrians in overalls and t-shirts.
In this way, spotting the uniqueness of our location, it often felt as if I had traveled a great distance. Although I often felt estranged, perhaps too flashy, too obviously a foreigner, simply by the fact that they had never seen me before, I felt comfortable and was sure that, with a few words, I could prove I came in peace, to share myself as well as to observe.
Fatigue — and trials — are what life is made of. I do not think a vacation should ignore this. A vacation should make the trials personal, something one does for one's own pleasure. So, at times when my legs ached and the wind picked up, or when I felt faint and the white lines on the road seemed more like a flashing pink, I endured, and my spirit benefited from it. My friends and I helped each other, trading places in the front, and slowing when one fell behind. We became dependent on each other — for navigation and encouragement. I thought of us as a team, and our bond was strengthened for each difficulty we overcame.
On the last leg of our journey down, we were behind schedule. The sun was resolved to set, but was patient. We were still sure to make our destination before dark. The road had been closed because of a bridge repair, so for five miles there was no car on the road.
We zigzagged, sang, chanted, shouted, raced, and finally decided to stop and investigate an abandoned barn — an adventurous idea that seemed, to me, fitting for our trip. We walked our bikes through the dry stalks of corn, and I took a pee break on some yellow clover that was blooming outside the decrepit boards of the barn. There was no real door, so we climbed in where some boards where missing. Shafts of light illuminated the dusty planks, and the smell of something forgotten filled my nostrils. I breathed deeply. A beautiful place where one finds himself on accident is worth all those where one intends to be.
We finished the ride with some much-needed encouragement. We had stopped at the top of the hill (there were many in the final stretch). Colin was aching. The sun was getting to be a golden color and almost looked as if it were playing on the rolling landscape. I was anxious to be going, when Joe spotted a group of cyclists heading our direction on Pleasant Plaine. They were a ways off, but by their sleekness, they seemed to be moving quickly. I think it was mostly out of insecurity, not wanting to be passed at a standstill, or perhaps I could say our innate boyish competitiveness, that impelled us to get back on track before the riders overtook us.
Of all unacquainted people, I have found bikers to be the most sympathetic toward one another. Because of this passion of biking — that's it's a movement, and the brotherhood and sisterhood I mentioned — bikers always acknowledge one another on the road. We were soon passed, with a friendly hello, by two riders who were ahead of the group. Later, more talkative riders rode beside us and chattered about where we were from. They seemed impressed with our journey, and happy to be welcoming us en route to their city. They told us about the events that weekend: an Italian arts festival and eco-fair. And they gave us tips on where to buy food.
One of the riders, who was especially talkative, was a guide for us as we entered Fairfield. We transitioned easily from the country road into the city streets. Fairfield was already meeting my expectations of a friendly community. We arrived, and I called our hostess on the telephone. We planned to meet her later that night at a small pub. We replenished our carbohydrate stores at a Thai restaurant.
The town was quiet, a few students were having dinner, a few heavyset men were drinking iced tea, but the town square was empty, and most of the businesses closed. After dinner, I felt compelled to do something to celebrate our arrival. A few beers, á la biking custom, capped off a long day. We chatted at the bar with a few of Anna's (our generous host) friends. Soon we rode to her house. After exploring a neighboring cemetery and perusing through some books that were around, we retired to sleep.
The next morning, Colin and I bought breakfast burritos in the local café. We bought a bolt of tulips to adorn the living room table, and lazed about in the sun until Joe woke up. A Vedic community, a spiritual Indian community based around meditation, was located a few miles from town. It constituted a sightseeing expedition. On the ride over, we crossed two other boys on bicycles, wearing farm clothes. They gave us directions ("Just turn right when you see the sheep"), and I said maybe we could see them at the festival that night. We didn't see them, but luckily the festival was full of dancing and good food. We were disappointed by the sparseness and vapidness of Vedic City, where we spent half an hour pondering over an architecturally ancient observatory.
It seems to me that where there are people to tell stories, there is culture. The stone structures of the observatory, most of them concrete blocks with hemispheres scooped out of them, lines, letters, numbers and shadows, were a mystery, an old tale of knowledge that needed to be interpreted. It almost felt as if I was observing ruins, the playfulness of being on top of something lost was uplifting. I had been reading Rilke that day and his Advice to a Young Poet: If you encounter something you do not understand, you should approach it as if you were a child. In the isolation of ignorance, I discovered a kind of mystery about myself, not one that can be solved, but one that would never be — a kind of inspiration.
These grooves that the shadow crosses
and this string of shadow on our earth
are silent in the night — but now
they speak in ancient tongues
and I, a sleepy traveler, wait
to say my part.
When dusk came, vendors were setting up their stands, and people sat around the bandstand. Unsure of what to see, we explored the shops on main street: a café, an antique shop, a furniture store that sold prints of paintings. There were a lot of girls around. The owner of the furniture store joked that after her son left, he complained that he should have gotten hitched before he moved away. A few enchanted smiles stirred me, but I needed Rilke: One must know solitude before love. Besides, I'm quite shy, even after a few drinks. Despite that, by the time the night was rolling, I had tasted some lasagna (nothing to write home about), the ambiance was lively, and Colin and I danced in the back of the crowd.
Joe was taking pictures, and I was taking a rest, when we spotted the cyclist who had led us into town. He encouraged us to visit the eco-fair the next day. We intended to listen to the presentation on train travel, but as for the part on bicycle tourism, we figured we had it down. Besides that, we planned to leave by noon the next day. He eagerly told us that we should meet the mayor, who was hanging around somewhere. He popped up and we got to introduce ourselves and chat for a while. Joe got our new friend to take a picture for us with his old Canon. It was a great welcome; I never expected to be so warmly embraced by a community.
Perhaps it was because of the effort required to bike 65 miles that our presence was appreciated. It was with our own sweat, blood (external and internal, respectively — no one got injured besides a sore behind) that we were present to partake in the festivities.
Earlier that night, I walked into a fancy jewelry store, for I have a strong affection for beauty (and what finally gets a woman to marry you). I was carrying my biking helmet, and the owner happened to be the captain of the biking group we had met. A spiritual leader, someone put it. He was all the more eager to show me the most expensive diamonds, and explain how they were crafted, and how they could be customized.
Finally, worn out from dancing and with a long day behind us and ahead of us, we took a ride to the park, where we finished the night enjoying a couple cigarettes and watching reflections crinkle on a pond. It was then that I grew homesick, and I felt that my friends shared my thoughts. We had participated in the celebration to the best of our ability. We made an effort to be present, to share our dance moves and conversation. Still, I think humans are sensitive to being outside a group, and there was no avoiding the fact that we were strangers.
Thoreau was a homebody; his thoughts and introspection were, to him, a world in themselves. Traveling is a test of this interior self, to see what accord your being can make with new places — it is a difficult and tiring effort. It is rewarding though, and although I'm not sure a perspective can be widened, it is often deepened, made more profound by the discovery of all we do not know.
We slept well that night. It rained in the morning, and we skipped the eco-fair. I felt somewhat guilty for it, but I don't think we owe it to them. We bought a supply of granola and trail mix for the ride. With an energy burst from our three cups of coffee, we hit the road.
Colin commenced with such vigor that I immediately fell behind, and spent the first few miles trying to catch up. The wind was strong, and although it sometimes caught us crosswise, and once head-on, we rode home on an expedient tail-wind. In only four and a half hours, minus the time it took to get an ice cream and chips in Pleasantville, we wheeled back onto Colin's lawn. I pedaled my last stroke and laid the bike and my body on the ground. I didn't move for half an hour, then I went home and fell asleep.
Home is where you can dream of traveling. Home is where you are when you're not going anywhere. Peaceful, thoughtful, I came home to what I had left — a summer still ahead of me, my last in Iowa City, a recently broken heart, and of course, work. I had traveled on my own energy. Self-reliance, as Emerson wrote, is to trust one's conscience: to find in oneself one's home, both the source and destination of an outpouring spirit. On a bicycle I am free. My movement is my expression, and although I depart, I keep myself in mind, to measure and observe, to return with a greater desire for life, whatever it be.
Blue Planet Green Living (Home Page)
The school year is nearly finished, and many young adults are looking for work in a depressed job market. They're not alone. Unemployment is at a record high across the nation. People who've had the same job for decades are out of work and wondering what to do next. Some are now changing career paths and considering opportunities they would never have imagined if they hadn't been laid off.
Perhaps you, too, are a job seeker. Perhaps you are looking for a challenge unlike any you've tried before. Maybe you're even looking for an adventure and a way to help others.
If you are a U.S. citizen or a "lawful permanent resident above the age of 17,"  love the outdoors, and care about the environment, then consider joining the Americorps or VISTA.
You'll learn new skills, make new friends, and earn a bit for your work. You won't get rich, if money is how you count your riches, but you will be wealthy beyond imagination through the experiences you'll have and the memories you'll make.
As Linda Yanney, a 50+ volunteer told me when she asked me to run the following announcement for jobs in Iowa, "I'm having the time of my life!" You don't have to be from Iowa to apply for the Flood Recovery team, but you do have to hurry. Hiring begins soon.
The following is just a sample of the many jobs available. Check the AmeriCorps website for other opportunities to serve throughout the U.S.  — Publisher
The Americorps/VISTA Corridor Flood Recovery team in Johnson County is currently recruiting 20 people for 8-10 week summer assignments and 12 people for year-long positions. It would be great to have people on the team who are involved in green projects, sustainability, recycling — the whole spectrum, really. Our team will continue to help with flood recovery, as we did last summer, but we'll also be working with a number of local neighborhood projects and agencies who have been helping individuals recover from the flood and other economic factors, like the Food Bank, Shelter House, and the Neighborhood Centers. We're open to other ideas for projects as well.
The hiring window is pretty narrow, so anyone who might be interested should apply as soon as possible.
To apply, go to http://www.AmeriCorps.gov/. In the "Join AmeriCorps!" box, choose "Disaster Relief" from the drop-down menu. Then choose "IA" from the drop-down box, and click "search." Click on "VISTA Flood Recovery." Click on "Apply Now!"  Tech support is available between the hours of 7 a.m.-7 p.m. Monday through Friday at (866) 473-5733.
The VISTA Flood Recovery project includes Iowa's Linn and Johnson Counties, and there are openings on both teams.  Please let our team know if you want to be assigned here, so we can follow your application.  I'll be happy to answer questions about projects in either area.
Linda J. Yanney
VISTA Corridor Flood Recovery
Johnson County Team
Iowa City, IA 52240
Office: (319) 625-2117
iowacity@vistacorridorrecovery.org
Facebook: Americorps VISTA Iowa City
Blue Planet Green Living (Home Page)
It's spring in Iowa, and the smell of the moist, black soil calls out to the gardener in all of us. Ever since the first hint of bulbs peeking through the dirt, I've been itching to get started planting an organic garden. On Friday, the temperature was 60 degrees Fahrenheit. By Saturday, it was 35 degrees and dropping. The Weather Channel showed a big snowstorm coming in a few hours. I decided I'd better hurry.
I checked the garage to find wood to cut into stakes and a shovel to turn over the soil. I got out my skill saw, an extension cord, and a hammer. Then a friend and I jumped into my son's Jeep and headed to the lumberyard.
I purchased two, 15-foot-long by 50-inch-wide, steel-grid fencing sections. These had to be flexible enough that I would be able to bend them into an arch, but sturdy enough not to collapse under the weight of vines and produce I plan to grow on them. The panels cost about $35.00 each, so I was now $70.00 into my experiment, plus gas and time.
"Won't fit," the kid at the lumberyard had said, watching my friend and me lift the grids onto the Jeep. He wasn't prepared for our ingenuity. We tied the panels on the roof, padding it with our coats to protect the paint. (Obviously, we didn't plan very well. If you decide to do this, bring along some old towels or a blanket for padding between your vehicle and the fencing sections.) This was only possible with plenty of rope, another $4.00.
Have you seen the movie Mad Max? That's what the Jeep looked like, with the fencing grid curved down over the hood and tied to the front bumper. We would have been well protected should anyone want to throw a cinder block through our windshield. The whole adventure took about an hour — and the lumberyard is 15 minutes away.
Back at my house, we unloaded the sections onto the lawn. I went to work selecting the best location for the new trellis. My wife and I have a small lot — only 40 feet wide — squeezed between very close neighbors. Most of the backyard already has a perimeter of flowerbeds filled with perennials, so we weren't anxious to disturb them.
We keep the remaining lawn small on purpose, because we both hate to mow. We don't like the pollution of belching fumes, and we hate the noise. We dislike starting a mower and storing a mower and tuning a mower. If I had my way, I'd rather pave my yard than mow it. My theory on saving the environment from the evils of lawn-mowing is to keep adding flowerbeds.
This year, we've decided to plant an organic vegetable garden. (It's a great reason to rip out some more sod.) We're working to become more sustainable, and gardening is a great step in that direction. It's green living at an elemental level.
Because neither of us feels like crawling around on our hands and knees to garden, we decided to build a trellis and see how many vegetables we can grow on vines. We'll try peas, beans, tomatoes, and squash, and any other climbing veggies we can find. (Got a suggestion? We'd love to hear from you.)
Most of our backyard is shady, so we chose to place the trellis in the center, halfway between a neighbor's large garage on one side and our other neighbor's large shade trees. I figure the trellis will get about 6 or 7 hours of sun on a good day.
Constructing the trellis was simple and took no more than half an hour from start to finish (not counting our Mad Max adventure). With the skill saw, I cut 8 wooden stakes out of some scrap 1″ x 2″ lumber. I then drove 2 stakes into the ground about 4 feet apart, parallel to our backyard sidewalk. I took one end of the first panel and butted it up against those stakes, then pushed the prongs on that end into the ground. Then I lifted the other end until the whole panel was standing almost vertical.
Pressing the panel down hard against the first two stakes, I then pulled down on the free end until it touched the ground. This left an arch about 6 feet wide and 6 feet high, giving us plenty of room to walk under and pick the produce yet to come. The prongs on the back end of the fencing held it in place in the sod while I secured it by pounding in two more stakes.
I repeated all this with the second panel, connecting a second arch to the first one. Ta-da! In less than two hours, from start to finish, I had built a 9-foot long, 6 1/2-foot tall, trellis. It was easy enough to do alone, but having an extra person would make the job even easier.
I was going to go ahead and break the sod, but heavy, wet snow began to fall. It was the 28th of March. That's Iowa for you.
Watch for the further adventures of Joe the Gardener (not to be confused with Joe the Plumber), right here on BPGL.
Blue Planet Green Living (Home Page)
Related Posts
Organic Gardening in Your Own Backyard
How to Build a Compost Bin in Your Own Backyard
March 12, 2009 by Julia Wasson
Filed under 2009, Blog, Ecology, Environment, Events, Farms, Front Page, Green Living, Iowa, Organic, Organic Food, Soil, Sustainability, Wisconsin
Are you a farmer who's been thinking about going organic, but you're just not sure if it's for you? Then check out these workshop offerings from Midwest Organic and Sustainable Education Services (MOSES). We heard about MOSES from our friends at the Barr Mansion, and just learned about the following events. (We apologize for the late notice on Friday's workshop, but there's plenty of time to get registered for the April event.) Find out more details at the MOSES field days/training page of their website.
For more information about getting started with organic farming, download the MOSES info card.
THIS FRIDAY!
Organic Farming Workshop with MOSES
March 13, 2009 | Galesville, WI
This workshop is geared to help farmers who want to learn more about organic production systems for producing small grains, forages, corn and beans for the organic market. A panel of experienced organic farmers will end the afternoon, explaining their specific organic production systems. Soil fertility management, use of cover crops, purchasing organic seeds, developing record-keeping systems that are practical and efficient, harvesting and marketing organic crops will all be covered, offering attendees the opportunity to learn about these aspects of successful organic production. Free resources on organic production will be available to all attendees. Organic snacks will be served. Preregistration is not necessary, but highly encouraged!
Call: 715-772-3135
Email: info@mosesorganic.org
Write: MOSES PO Box 339 Spring Valley, WI 54767
Location/Time: Galesville Public Library meeting room from 1-4 PM.
SAVE THE DATE!
Organic Farming Workshop with MOSES
April 22, 2009 | Lansing, IA
This organic field day on the Welsh Family Farm will focus on organic soil management, including soil nutrient balance and use of a variety of green manures. Participants will have the opportunity to see land that has been under active organic management for 30+ years, and land that has been recently converted from CRP land.
The Welsh family farm is located in the hilly driftless area of Northeastern Iowa, and the use of various contour strips, buffer zones and water ways along with cultivation and tillage illustrates how organic management can compete with no-till conventional systems to prevent soil erosion on this highly erodible landscape.
Free resources on organic production will be available to all attendees. Organic refreshments will be served. Preregistration is not necessary, but highly encouraged!
Call: 715-772-3135
Email: info@mosesorganic.org
Write: MOSES PO Box 339 Spring Valley, WI 54767
Time: 1-4 PM. We will be going from field to field starting around 1:30 PM after some introductions and basic history of the farm. If you want to get on the tour wagon, please arrive before 1:30 PM.
Blue Planet Green Living (Home Page)
February 5, 2009 by Julia Wasson
Filed under Blog, Books, Books on Kindle, Climate Change, Deforestation, Easter Island, Environment, Forest, Front Page, Habitat, Haiti, Iowa, Natural Resources, Sustainability
Pulitzer Prize-winning author Jared Diamond addressed a crowd of about a thousand at Coe College in Cedar Rapids, Iowa, on February 3. Dr. Diamond, a professor of history at UCLA, held us in rapt attention while he talked about the subject of his 2005 book, Collapse: How Societies Choose to Fail or Succeed. "That doesn't seem like the most cheerful subject to write about," he wryly pointed out, causing a fair amount of laughter among the crowd.
"The real question," Diamond said, "is, why do some societies collapse, having failed to solve problems that other societies succeeded in solving?" He outlined five factors that negatively impacted the survival of some of the societies he had studied for his book: the Anasazi, the Easter Islanders, the Pitcairn Islanders, the Maya, the Vikings who had once lived in Greenland, and the Haitians of today. These five factors include:
climate change (caused solely by natural forces, until now)
conflict with neighbors
dependence on trade partners
environmental problems
the society's response to those problems
"Today we're struggling with all the same problems of forest, water, fish, topsoil, climate change," he said. Even in Montana, "the most beautiful, pristine, underpopulated, least-stretched state of the lower 48… if you scratch the surface, you find … all the environmental problems with which the rest of the world is struggling." These include toxic waste, climate change ("as a result of which Glacier National Park will be Glacier-less National Park by 2020″), soil erosion, air quality, and population shift.

Deforestation

Not all factors equally affected each society Diamond studied, but every single society that collapsed experienced environmental degradation and destruction. For me, two examples stood out because of the role of deforestation. The first was the island of Hispaniola, which Diamond called "a natural experiment in history." On one side of the island is the Dominican Republic, a lush environment and a stable, if not wealthy, economy. On the other side of the border, over the wall, is Haiti, a nation that has been deforested to the point of barrenness. The citizens are desperately poor and their side of the island is overpopulated. While deforestation alone was not the cause of Haiti's economic and social problems, it was a deciding factor.
Another society whose fate was determined largely by deforestation was the "statue-building society" that once inhabited Easter Island. This remote island, some 2,300 miles west of Chile, in the south Pacific Ocean, is the home of "gigantic stone statues, up to 30 feet tall and weighing up to 9 tons, that were somehow transported up to 12 miles, hitched into a vertical position, and erected by people without draft animals…."  According to Diamond, the first European explorer, who arrived on the island in 1722, described Easter Island as "the most barren island in the Pacific."
When Easter Island was first settled by Polynesians, "roughly 1,000 years ago, the island was not the treeless wasteland that we see today, but it was covered with a lush, sub-tropical forest of dozens of species of trees, including the world's biggest palm tree. The settlers of Easter Island proceeded to chop down trees for the same reason that we and all other people chop down trees: They chopped them for fuel for cooking. Chopped them for firewood to warm themselves. Chopped them down for construction… Chopped them down to make levers to transport and erect the giant statues. They chopped them down to make dugout canoes with which to go out to sea and fish for … tunas and dolphins….
"Roughly around 1680, they chopped down the last tree on the island… Without trees, the landscape of Easter Island was exposed to wind and water erosion. Without trees, they couldn't build canoes to obtain their main protein source from tuna and dolphin. And with a large population and shrinking resources, Easter Island society collapsed in an epidemic of civil war.
"Rival clans on Easter Island fought each other for pieces of this shrinking resource pie. Victorious clans would tear down and wreck the statues of rival clans. And in the absence of what had been the largest source of protein — tuna and dolphins — people turned to a protein [from] the only big animal left on the island… Easter Island society collapsed in an epidemic of cannibalism."
Certainly deforestation wasn't the only problem for Easter Island, but it was a pivotal factor in the society's collapse, according to Diamond. Deforestation also plagues Haiti, leaving the residents without wood to burn for cooking their food or for warmth.

Environment vs. Economy

After describing the societies and the reasons for their collapse, Diamond took the opportunity to help his audience understand the lessons that we can draw from the collapse of other societies. His goal in doing so was not to lead us to despair, but to "guide us in becoming a success story rather than one of the failures. The most obvious lesson," he said, "is to take environmental problems seriously. Environmental problems did destroy some of the most advanced societies of the past. They could well destroy us today. "

He warned against the objection that "we have to balance the environment against the economy.' Just listen to that phrase, 'Balance the environment against the economy.' The tacit assumption is that the environmental measures impose costs that detract from the economy, and that one can afford the luxury of environmental degradation. … If you don't deal with [environmental problems] early on, when they're soluble, they'll become insoluble, or prohibitively expensive to deal with later on."
As an example, he described the refusal of local, state, and federal agencies to spend $200 million to repair the levees in New Orleans. After Hurricane Katrina, the cost of repairs has been "several hundred billion dollars, not to mention a couple thousand dead Americans, all because we had 'balanced the environment against the economy.' "
Diamond further warned, "[W]hen a collapse comes, it happens very quickly," pointing not only to the long-ago societies that failed, but also to the sudden demise of the Soviet Union.
He also warned against the insulation of the wealthy and powerful from the problems of the masses. In his view, gated communities today are similar to the walls of the temples, behind which the powerful Mayans were shielded from the very problems that destroyed their nation and their power. "When the elite of a society insulate themselves from the consequences of their action, that is a recipe for disaster, because then the elite can make decisions that are good for themselves in the short run, but bad for the whole society, including themselves, in the long run."

A Global Risk

The eminent historian explained that we can learn from the past, though we must acknowledge differences. "One obvious difference is, we have far more people in the world. And we have far more potent destructive technology than at any time in the past," he said.
"When the Eastern Islanders, around 1580, were chopping down the last tree, that was roughly 10,000 islanders with stone tools, and it had taken them something like 600 years to deforest their island of 64 square miles. But today, we have 6.7 billion people with chain saws and nuclear power deforesting the whole world far more rapidly than the Easter Islanders with their stone tools deforested Easter Island. That combination of much larger population and much more potent destructive technology than at any time in the past makes our present situation far more dangerous….
"Today in a globalized world, when any society gets in trouble, it affects the rest of the world…. [I]t's no longer possible to have local collapse. Instead, the risk we take is global collapse."
But Jared Diamond did not end his talk with despair. He gave us a message of hope. "The situation is, I think, hopeful, because of another difference between the present and the past, which gives us a big advantage…. [W]e are the first society in world history with the opportunity to learn from societies remote from us both in space and in time."
We have the technology to not only know about, but also to learn from, other societies' tragic mistakes. We don't have to go the way of the Easter Islanders or the Haitians or the Mayans. It's our choice. Let's choose wisely.
Blue Planet Green Living (Home Page)
For 18 years, Miriam Kashia worked as a psychotherapist in private practice. She also has a long history of doing social justice volunteer work. In 2005, Miriam departed Iowa for Namibia, where she served two years in the Peace Corps. While in Namibia, she was a community health worker with orphans and vulnerable children in a rural area.
Throughout her adult life, Miriam's major passion has been various adventures in wilderness and the out-of-doors. She's been on numerous canoe trips into the Boundary Waters Wilderness Canoe Area of Northern Minnesota, including a recent solo trip. (It's rare to see women in the BWCA and rarer still to see anyone alone.) She's been on RAGBRAI (Register's Annual Great Bike Ride Across Iowa), camped and backpacked in many wilderness areas, and kayaked in the ocean. Her lake cabin along the backwaters of the Mississippi River affords her the opportunity to kayak and canoe in the Mark Twain National Wildlife Area.
Though invested in the political process, outdoor adventures, and causes for social justice, Miriam recognizes that saving our planet is the most important work to be done. Unless we reverse the tide of global climate change, all other concerns are moot points.
Miriam recently took on another volunteer position as Blue Planet Green Living's international editor. She is also a contributing writer, when she has time between her extensive volunteer and work activities.
Blue Planet Green Living (Home Page)
Miriam's Posts:
A Missionary for Sustainable Energy
Related Posts:
Saving the Wolves, Saving Ourselves
Peace Corps Volunteer Teaches Green Living in Namibia
Seeking Sustainability in a Harsh and Beautiful Land
My 5: Miriam Kashia, Peace Corps Volunteer
Comments Off on Natural Living Expo
On March 28 and 29, 2009, the Natural Living Expo will take place in Des Moines, Iowa, at the Polk County Convention Complex. For the first time in its three-year history, the NLE will be held for two days, due to the overwhelmingly positive response to past expos. Admission is free for attendees.
If you are a consumer who cares about health, wellness, natural living, or sustainability issues, this conference will provide you with a wealth of useful information. You'll have the opportunity to hear speakers on a variety of relevant topics and meet with vendors to learn about their organic, green, or natural products or services. Last year's conference strands were "Living Healthy," "Living Balanced," and "Living Together."
If you're a vendor, sign up now for a spot at NLE. Two early bird discounts are offered for registration by November 15 or January 15. Space is limited, so be sure to secure your spot early.
Event hours are from 10 a.m. to 6 p.m. Saturday, and 12 p.m. to 5 p.m. Sunday. Watch the NLE website for more information, as speakers and vendors are announced. As the conference site promises, you'll "Discover resources in Iowa to help you be kind to your body and your planet."