Good news for green homeowners everywhere: BrightNest, a free online service that makes it easy to keep your home in great shape, has announced the release of a free iPhone app!
Last fall, I reviewed the ways that BrightNest can help you live a greener life, so I was excited to share that the same great information is now available on mobile.
Just in time for spring, the app is packed full of ways to help you clean your home naturally and safely. This is music to my ears, because when I do my spring cleaning this year, I want to avoid the toxic chemicals in store-bought cleaners at all costs. The app is filled with green tips I never would have considered otherwise, like reusing old tea bags as fertilizer for my indoor garden.
Here's what I like most about the BrightNest app:
There are 1,000s of step-by-step articles including: eco-friendly cleaning recipes, creative ways to upcycle and easy ways to save energy around the house.
You can schedule to-dos around your busy life – next week, next month, whenever. Then, BrightNest sends reminders when it's time to get things done.
All of your favorite home projects or green-cleaning recipes can be saved on your iPhone, which makes it easy to reference the materials list while you're out shopping for supplies.
You can download the app here.
Blue Planet Green Living (Home Page)
About BrightNest
BrightNest is on a mission to make homeowners happy by providing an easier way for them to keep up with their homes. The free site and iPhone app offer customized tips, an easy scheduling system for home-related tasks and a convenient place to store home details and history. http://www.brightnest.com
Take a stroll down the cleaning supply aisle in your local market, and you'll find no shortage of ways to polish and shine your home. You will, however, find a shortage of chemical-free, unscented supplies that promote healthy cleaning and no ill-effects. When it comes to making your home sparkle, most commercially available cleaners will do the trick, but when it comes to your health, homemade cleansers are the best choice for both safety and shine.
Make Your Own Cleaners
The following easy recipes will get you started on green cleaning:
Vinegar & Water
1 part vinegar
 1 part water
Natural and inexpensive, a mixture of one part vinegar, one part water provides a gentle cleaning solution for the hard surfaces of bathrooms and kitchens, including stoves, countertops, tile, and floors. Simply spray the solution on, allow it to sit for a few minutes, and wipe it down with a cloth. For more difficult cleaning jobs, heat the solution until warm or use undiluted vinegar.
TIP: To make sure you're starting out with the cleanest solution, use filtered water in your mixture to avoid spreading chlorine, sediment, and other pollutants found in water around your home.
Vinegar, Water & Alcohol
1 part water
1 part isopropyl alcohol
splash of vinegar
The effective overall surface cleaner of vinegar and water can also be used on mirrors or windows, but will leave behind streaks. For a streak-free clean and shine, use a solution of one part water to one part isopropyl alcohol with just a splash of vinegar. Spray on, wipe clean, and the glass dries clear.
Baking Soda & Water (or Peroxide)
Some cleaning jobs require grit, and that's what baking soda provides. Mix baking soda with a little water and apply to problem spots, like hard soap scum. Or, shake the mixture onto areas that need harder cleaning, like the inside of toilets. A baking soda-peroxide solution is ideal for cleaning the inside of the refrigerator to disinfect and eliminate smells.
Olive Oil & Vinegar
1 teaspoon olive oil
1/2 cup vinegar
Dry-dusting is a poor home-cleaning habit, because it simply redistributes the dust. Dusting with a wet cloth will prevent the issue, but it doesn't create that shine you get with manufactured furniture polishes. Just a small amount of olive oil in vinegar, though, both lifts dusts and leaves behind a shine on wood furniture.
Mold-Killers
Cleaning your home naturally won't be beneficial to the health of you and your family if your cleaning style allows natural threats to grow. When the health threats of mold and mildew appear around bathtubs or windows, you don't need harsh chemicals; there are a few natural remedies for mold that work quite well.
Undiluted white vinegar reportedly kills 82 percent of mold. Vinegar's acidic nature can be hard on grout, though, so go easy on tiled surfaces. For a more pleasant smell, use tea tree oil and water.
Keeping your home clean won't benefit your health if you're filling the space with chemicals in the process. Fortunately, there are natural solutions to almost any cleaning problem that might arise. So, skip the cleaning section at the grocery store and head straight to the inexpensive basics of vinegar, baking soda, rubbing alcohol, and peroxide.
Felicia Savage
Guest Writer
Blue Planet Green Living (Home Page)
Related Posts
Green Cleaning for Every Budget
Tips for "Cleaning Like Mom" from THE MAIDS Home Services
Luckily, there are several ways to ensure that your home stays clean — the green and natural way. It can be difficult to comb through every ingredient on a product label, and it can be expensive to invest in a green-certified vacuum and other cleaning items. Hiring a cleaning service is sometimes the best route to take if pressed for time. Look for a cleaning service that offers an eco-friendly option, which means that they will clean your home with green-certified products and methods.
When choosing a green cleaning service, make sure you hire a service you can trust. Ask for a list of the chemicals and products they use; if the company is not able to provide a comprehensive list, you should look elsewhere. All maids should be trained in green cleaning methods to ensure your house attains a natural clean without any harsh or harmful chemicals.
Do-it-Yourself – With Lemon

If you can't afford a green cleaning service or would simply prefer to clean your home yourself, there are other options available. Many items you already have in your home can be used as natural cleaners. Lemons, for example, are one of the most effective and eco-friendly cleaners you can use.
With a lemon or two on hand, the DIY tips below will help you clean like a pro:
Cut a lemon in half and dip the cut side in table salt. Use the salted side of the lemon to scrub copper pots clean. The acidity of the lemon, combined with the grit of the salt, will remove stains and polish away oxidation.
Lemon juice is a great natural bleach. Dilute lemon juice, soak your clothes in it, and lay them out to dry. Your clothes will be white as new in no time.
If you have stained counters, let lemon juice set on the counter for a few minutes. Then scrub with baking soda, and watch the stain disappear.

Other natural ingredients, such as vinegar, lavender oil, and water can also help you green-clean your home. Look for recipes on line or at the library, and enjoy cleaning your home the natural, healthy way.
Willow Tolbert
Blue Planet Green Living (Home Page)

Cleaning your toilet shouldn't require a Haz-Mat suit. You want your bathroom to be clean and look clean. But, you surely don't want to use a toxic product that is bad for your body, dangerous to wildlife, or pollutes the waterways.
Yet, it's easy to fall for advertising hype that tells consumers the only way to really clean that toilet bowl is with heavy-duty chemicals. Of course, no marketer is going to admit that a product contains toxic substances. The story is always about how "sanitized" or "fresh" your bathroom is once you use Product XYZ.
But there are better ways to achieve a clean bathroom than to pollute yourself with VOCs and pollute your local waterways with bleach or other toxins.
Biokleen Soy Toilet Scrub is a non-toxic, biodegradable product that won't leave your head spinning with fumes or send harsh chemicals down your drain. The main ingredient is soybean oil extract, which is both nontoxic and an excellent base for many cleaners. The primary surfactants are made from coconut and/or corn. And, because the product contains natural volcanic perlite, there's built-in scrubbing power.
We have been using Biokleen Soy Toilet Scrub weekly for more than a month, with great results. Our toilet bowls are shiny-clean and stain-free. And, because my lungs are sensitive to certain fragrances, I'm especially glad that this product has a mild, natural scent, and contains essential oils from mint plants.
The product packaging lists several pluses for the environment (and these are direct quotes):
Environmentally friendly with no negative effects on rivers, streams, plants or wildlife
Kind to those with chemical sensitivities and allergies
No artificial fragrance, colors or preservatives
99% VOC Free & Ozone Safe
Trusted company since 1989
CONTAINS NO: Phosphate, chlorine, ammonia, petroleum solvents, alcohol, butyl, glycol ether, SLS or SLES, EDTA, DEA. No SARA Title III, CA 65, or EPA priority pollutants. No materials listed by the ACGIH as hazardous.
And, of course, as any good, environmentally friendly product should be able to say:
NO ANIMAL TESTING
NO ANIMAL INGREDIENTS

The product itself looks like thick milk, or maybe Milk of Magnesia. It coats the toilet bowl well, and stays there for a long time if undisturbed. The package says, "No need to let sit," though I always tend to squirt it in and leave it while I do other tasks. Running the bowl brush along the inside of the bowl and under the rim a few times has been all that we needed to take away light stains and sediments from our city water system.
A 32 fl. oz. bottle of Biokleen Soy Toilet Scrub sells for $10 on the Green Home website, though purchasing in quantities of 5 or 10 lowers the price to $5.33 per bottle — presumably plus shipping. On Amazon, the same size bottle is only $3.59.
The Biokleen website has a search feature where you can find a store in your state (possibly even in your zip code, though not mine). At the site, you can also look at the wide variety of other products available from Biokleen. If they are anything like the Soy Toilet Scrub, they'll be excellent choices for your home.
The Small Print

Blue Planet Green Living purchased the product described in this post. No compensation or incentive was provided.
Blue Planet Green Living's policy is to only review those products we feel merit overall positive comments. If we do not like a product, we do not review it. We are not influenced by complimentary products and provide our honest opinions. For more information, please visit the Policies tab on the top navigation bar.
Blue Planet Green Living has an affiliate relationship with Amazon.com. If you purchase this product or any other products through Amazon by clicking on our affiliate link, Blue Planet Green Living will receive a small financial compensation from Amazon, which we gratefully use to sustain this website.
Blue Planet Green Living (Home Page)
"Necessity is the mother of invention," so the saying goes. Ask Mark Cunningham about Bayes Cleaners, and you'll find out how the need for a premium, eco-friendly cleaning product launched the company he shares with partner Matt Bays. Blue Planet Green Living (BPGL) spoke with Cunningham about Bayes Cleaners after trying — and liking — several of the company's products. We asked Cunningham to tell us how the company got started.

— Julia Wasson, Publisher
---
CUNNINGHAM: My partner, Matt Bays, and I were talking about how we had just both installed stainless steel kitchens, and we couldn't find any stainless cleaners that worked. I must have tried five or six different kinds of cleaners, and he had tried some as well. We said, "Hey, if anybody ever comes out with a stainless steel cleaner that works, they're going to make a lot of money!"
We met the next day, and decided to get serious about developing a stainless steel cleaner. We both were into recycling at the time. We both had young kids, and using nontoxic products was important to us. We said, "Let's make sure that whatever we come out with as a stainless steel cleaner not only works better than anything on the market, but it's safe."
Overcoming misconceptions about green products was probably the hardest thing that we had to face when we started formulating the product. There are a lot of green cleaners in the market, and the problem is they're perceived as not working as well as the toxic cleaners. That doesn't have to be, and that's one of the things that we wanted to solve. Just because it's green, that doesn't mean you're sacrificing quality.
Stainless Steel Cleaner
CUNNINGHAM: We started with a stainless steel cleaner, and we must have tried 50 to 100 different water-based formulations. We were lucky enough to be associated with a chemist friend of ours. Neither Matt nor I had a chemistry background, but we just knew what worked, and we were able to communicate to him from a homeowner's perspective what truly works. The water-based formulas just weren't working.
BPGL: What were you looking for in a stainless steel cleaner?
CUNNINGHAM: If you know anybody who owns stainless steel, the first thing that they ask is, "How do I get rid of the fingerprints?" That's what we were striving for.
We had heard people talk about using WD40 on the appliances. But WD40 really doesn't clean stainless steel, and obviously it's pretty toxic. But it does leave a nice shine. So we said, "These oil-based products seem to be the way to go. Now here's where the real fun starts: We have to create an oil-based product that's considered non-toxic and biodegradable."
BPGL: What kind of oil did you end up using?
CUNNINGHAM: We started with mineral oil, because mineral oil is used for food preparation and in cleaning cutting boards. We even took it a step further and worked with a 100-percent food-grade, mineral-oil-based product, so it would be safe around food prep.
By using that as a basis and then combining some cleaning agents, we were able to develop our stainless steel formula. The real hard part about the whole thing was getting it to where it kept the shine of an oil product but also was dry to the touch.
We solved that problem and came out with our stainless steel cleaner and protectant.  Then we realized, "Now we have to sell it!"
Launching the Products
BPGL: That's another kind of challenge completely. How did you start?
CUNNINGHAM: We decided to get a booth at the International Housewares Show in 2006 in Chicago. That's where any mass merchant of grocery chains in the United States goes to seek out products.
In the interim before the show, we developed a furniture product, a granite cleaner, and a barbeque cleaner.
So we launched. And it was interesting, because we were on the forefront of when "green" was just becoming popular. We were — and still are — trying to keep our performance and the green side on an even keel. We don't want to just pound the green message 24×7, because we want to show that this stuff works.
If all you want to do is find a cleaner that works, this is still the best cleaner. It's defined in our mission statement: "To formulate and market the finest premium products that clean, shine and protect our most valuable possessions while ensuring minimal impact on the environment without sacrificing quality."
We always say that those last three things are the real importance of every product that we make because, at the end of the day, it has to work. That's our biggest claim to fame, so to speak. If you ever see the reviews on our products, it just makes us feel good: These products work great, and they're also extremely safe for the environment.
We focused early on specialty markets, like the Williams-Sonomas of the world, and some of the higher-end supermarkets. We went through that avenue instead of mass retailers, because we thought that people might go more toward a specialty retailer to find these types of cleaners. We also went to independent kitchen stores.
In October we signed a deal with Ace Hardware on a national basis. We're really excited about that. Starting this year, you're going to be able to find our products in Ace stores around the country. We're also excited to be a part of Shop to Earn.
Formulated for Specific Surfaces
BPGL: Can consumers use your products on a variety of surfaces? For example, does the stainless steel cleaner work on porcelain appliances?
CUNNINGHAM: All of our formulations are what we call "specific surface cleaners." In other words, they're not jacks of all trades. The best stainless steel cleaner is not good for granite; it's not bad for it, but it's not meant for granite countertops. It's specifically for stainless.
Our granite formulation is specifically for natural stone surfaces. People call us up and ask if they can use it on Corian, and we say, "Yes, you can use it on Corian, but you're really not getting any of the best attributes of the product." What the product does is actually rejuvenate your original granite feel. It actually works in conjunction with the seal for natural stone countertops. You can't use our leather cleaner to wipe off your countertops; it's for leather.
But our Stainless Steel BBQ Cleaner is actually the same, exact formula as our stainless cleaner.
BPGL: Do people know it's the same formula?
CUNNINGHAM: We don't try to hide that. When people call us and ask us, "What's the difference between your barbeque cleaner and your stainless cleaner?" We say, "They're the exact same product, they're just marketed to different merchants."
The same is true of the Choppers Motorcycle Wash and the Waterless Car Wash; they're identical. We just know that motorcycle enthusiasts and car drivers are two different markets.
Materials Safety Data Sheets
CUNNINGHAM: We focus on what we call "premium surfaces." We're still working very hard on a tub-and-tile cleaner. We found one that meets the criteria as far as the quality, but we haven't found one that meets the criteria for our environmental concerns.
We thought we had one, but… Do you know what Material Safety Data Sheets are?
BPGL: Sure. Companies that sell chemicals are required to list their ingredients on Material Safety Data Sheets.
CUNNINGHAM: Right. You can call up any company and ask for their Material Safety Data Sheets. They're not required to give them to you, but it's kind of a given that they will. And they will be required to do so after a while.
So, for the tub-and-tile cleaner we were working with, some of the chemicals they had were very clean on the materials safety data sheets. If you were a consumer, you'd think, Wow, this is safe. But when we were using it ourselves, we were kind of iffy on the fumes that were generated from the product.
We're doing a little bit more investigating. It works fantastic, but we still have some concerns that it's not the safest product out there, even though the industry actually points it out as being very safe. Sometimes when you combine chemicals together, you might have some reactivity involved. We put a lot of time into researching our products, as you can tell.
Waterless Car Wash
BPGL: How did you decide to develop the Waterless Car Wash product?
CUNNINGHAM: When we were doing all these green products for the house, every time we started thinking about new products to launch, one of the things we kept going back to is that every house has a car. We had heard about some waterless car washes, and we had tried some. They worked okay, but not up to our expectations. But we thought, What a great idea! — especially here in California with the drought situation we're going through.
We got some ideas on how it could work and what wasn't working and what the problems were. Late one night, our chemist called us up and said, "I've got it figured out!."
We drove down the next day, and we said, "This is unreal!" It worked great and met our safety criteria, too. We still went through a couple of months of making sure that the product was doing everything that we thought it was doing without any negative results.
If something happened that this company went away, I believe in that product so much, I'd still wash my car with it every single day. But we have a tough time getting people to understand what it is.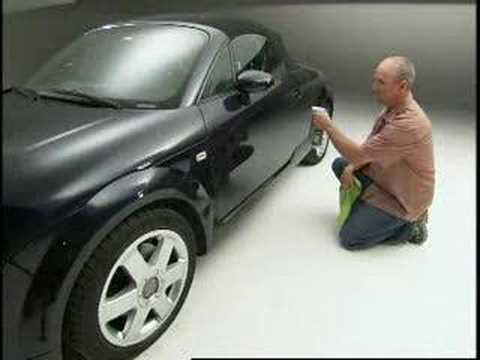 BPGL: What gives the product its protective quality?
CUNNINGHAM: The Waterless Car Wash is actually polymer based. And polymer is a really cool deal. It works similar to wax properties. The polymer itself provides the protection for the surface.
And by the way, if you look at all of our bottles, they all list ingredients. Cleaners do not have to put ingredients on their bottles as of yet. We think that's probably going to change by 2011 or 2012. But we felt it was important that if anyone wants to look up any ingredients or has any concerns, they can go ahead and do it. We decided it was the right thing to do.
BPGL: Joe used the Waterless Car Wash in the fall and had some trouble getting thick aphid poop off of his car. But it worked much better with road grime this winter. We put it to some pretty tough tests — worse than average car dirt.
CUNNINGHAM: This is mainly meant for someone who is washing their car once a week as regular maintenance.
Non-Hazardous, Non-Toxic, and Biodegradable
BPGL: You said that the stainless steel cleaner doesn't show fingerprints. How long does it take for it to dry?
CUNNINGHAM: It's instantaneous. If you put it on, you literally wait about 20 seconds. It's going to look wet; that's the beauty of it. It has that wet look to it, but if you go up and push against it with your hand, it will be dry to the touch. It's such a unique formula.
We're starting to get heavily involved with the restaurant industry. I guess the reason is because one of our large competitors in the restaurant industry has a product that has been associated with being extremely toxic — because it is. You just have to read their Material Safety Data Sheet.
We're getting a lot of contacts from major restaurant supply houses. They're getting a lot of backlash from their own customers who are trying to do a better job of going green.
BPGL: You're saying your products are nontoxic. So, if a little kid touches the refrigerator right after it's cleaned, then puts his fingers in his mouth, the child is absolutely not going to be harmed?
CUNNINGHAM: He could put his tongue on it. Every single thing we sell is nontoxic.
Last year, in front of a group, I actually took a drink of our Waterless Car Wash. Of course, I gagged from the taste. And they said, "I thought you said it wasn't bad for you."
I said, "I drank it. It's not bad for you, but that doesn't mean it tastes good! It's still a cleaner." [He laughs.]
All of our products are classified as non-hazardous, non-toxic, and biodegradable. But we don't want to use that word "nontoxic" loosely. We use the example, if a baby drank a gallon of water, then even water is toxic. We do get concerned that if people think it's nontoxic, and they drink a whole gallon, that could be dangerous. But as far as if a baby puts his mouth up against the car wash bottle, nothing is going to happen to him. It would be identical to him getting his mouth washed out with a bar of soap.
SLS, SLES or SCS?
BPGL: What can you tell us about your hand soaps?
CUNNINGHAM: What's so great about our EuroSpa hand soaps is that it's the first line of scented hand soaps on the market to be approved for the EPA Design for the Environment (DfE) program. We were first on the market to earn the DfE seal on our scented hand soap line.
We work really closely with the EPA. Our stainless steel cleaner is actually EPA approved for their DfE program. We knew that they were going to be reviewing scents and dyes. So we were paying close attention to it, because scents and dyes typically don't biodegrade. There's a new company that is coming up with a line of scents and dyes that actually do biodegrade. So we started working with them. Our soaps have great smells.
BPGL: When I opened the box of complimentary samples I was thrilled to see an unscented hand soap. I would encourage you to make a whole line of unscented products.
CUNNINGHAM: I agree. That's why we took the scent out of our stainless steel cleaner. We had some people who were concerned about that. The cool fact is that it's free of sodium lauryl sulfate (SLS) and sodium lauryl ether sulfate (SLES). If you look those up on Google, almost every soap on the market is either SLS- or SLES-based.
We use sodium coco sulfate (SCS), which is compared to the difference between using tap water and purified water. Sodium cocoa sulfate is an ingredient that is taking out all the harmful chemicals associated with the carcinogens that SLS and SLES have.
For a lot of people whose skin gets irritated by soaps, it's usually 95 percent because they contain SLS or SLES. Those are ingredients our soaps do not have.
BPGL: Joe's daughter reported that the Bayes Hand Soap felt different from other soaps she's used. She said, "I can't really explain it, but it has a texture."
CUNNINGHAM: I wish I could have everybody use it, because it's a real smooth texture versus hand soap with SLES. You don't think about a single ingredient making that huge amount of difference, but it does. And it still lathers really nice, which is great.
People always ask, "Why doesn't everybody just put the sodium coco sulfate in?" But the cost of the raw materials and ingredients is much higher than sodium lauryl sulfate. We work on a little lower margin to do the right thing. We'll make up for it with people who understand that this is high-quality soap.
If you compare our soaps to Dial or something like that, ours will be high priced. But if you compare them to a premium soap, such as soap at Williams-Sonoma, then they're extremely well priced.
Only the Best Will Do
BPGL: What's next?
CUNNINGHAM: We just launched a monitor cleaner. It's almost identical to the stainless steel cleaner story. Kids are putting their hands all over monitors, so we developed a screen cleaner, made specifically for plasma and LCD screens.
I've never seen a better screen cleaner. It's a non-drip formula, so when you spray it on, you don't have to worry about it going into the components.
BPGL: Do you have a glass cleaner?
CUNNINGHAM: We actually don't, because there are a lot of good, nontoxic, nonhazardous window cleaners right now. We wouldn't be able to differentiate ourselves. This goes back to our mission statement. It has to be better than anything else on the market, or we won't make it.
Promo Code
To try Bayes Cleaners products for yourself, visit the Bayes website. You'll save 20 percent off all online purchases from the site by using this PROMO Code: TWBAYES09. The code expires June 2010.
Follow Bayes Cleaners
Twitter: Twitter.com/BAYESCLEANERS
Facebook: Facebook.com/BayesCleaners
The Small Print
DISCLOSURE: Blue Planet Green Living received free product samples of the following Bayes Cleaners:
• Bayes DfE Stainless Steel Cleaner and Protectant
• Bayes Granite Cleaner and Rejuvenator
• Bayes Waterless Car Wash
• Bayes EuroSpa Hand Soap
Blue Planet Green Living is a Shop to Earn/Shop to Earth member. Bayes Cleaners are featured on Shop to Earth. If you purchase Bayes Cleaners through Blue Planet Green Living's Shop to Earn/Shop to Earth affiliate link, Blue Planet Green Living will receive a 15 percent cash reimbursement.
Blue Planet Green Living's policy is to only review those products we feel merit an overall positive review. If we do not like a product more than we dislike it, we do not review it. We are not influenced by any samples or potential reimbursement from Shop to Earn/Shop to Earth and provide our honest opinions, both positive and negative.
Blue Planet Green Living (Home Page)
In an attempt to reduce the burden of chemicals in our bodies, we all need to carefully consider the products we use to clean the spaces we live in. Think you have to sacrifice a sparkling clean appearance to get a safely clean home? Not so, according to THE MAIDS Home Services. The following green-cleaning tips, sent to us by THE MAIDS Home Services will help you safely clean and shine your home with ingredients so pure you can eat them (in appropriate quantities, of course!). — Julia Wasson, Publisher
---
You can undoubtedly find a product for virtually every cleaning need. Sometimes, however, the simplest methods are still best. Dig through your pantry and embrace your inner naturalist with the following solutions from the cleaning experts at
THE MAIDS Home Services
, a residential cleaning service.
Reach for the vinegar instead of the bleach.
A simple yet effective surface cleaner can be concocted by pouring equal parts white vinegar and water into a spray bottle. Not to worry, once dry, the only thing you'll smell is clean.
Remove odors from your home by simmering vinegar on the stove for 30 minutes.
Add ½ a cup of vinegar to your laundry's rinse cycle to help break down laundry detergent – great for family members with skin sensitivities. It also naturally softens your clothes.
Stock up on lemons during your next outing to the grocery store.
Run a cut lemon half over chrome faucets, then buff it for instant shine.
Sprinkle baking soda on the surface of the other half to scrub away stains.
Grind a lemon half through the garbage disposal to freshen.
Baking soda is a wonder cleaner.
Like vinegar, baking soda is non-toxic, multi-purpose and inexpensive. Use baking soda as a safe, natural scrubber rather than bleach-based abrasive cleansers.
Absorb odors from the refrigerator and freezer by placing a box inside.
Avoid clogged drains by pouring ¼ cup of baking soda down the drain and following with one full cup of white vinegar. Do this weekly for the best results.
Courtesy of THE MAIDS Home Services
Blue Planet Green Living (Home Page)

When a friend told Blue Planet Green Living (BPGL) about a line of nontoxic cleaning products made from soybeans, we were intrigued, but skeptical. It seemed counter intuitive to use soybeans, which contain a high percentage of oil, to clean glass, carpet, and laundry. We requested a few sample products to try, and we were impressed by the results.

We were even more impressed to learn that SoyClean products are environmentally friendly, nontoxic alternatives to many harsh chemical cleaners and solvents. We interviewed Kurt Brannian, Director of Marketing, at the SoyClean warehouse and distribution center in Brooklyn, Iowa. When we arrived, he told us, "We've got a variety of different products, everything from Paint Stripper to Grill Cleaner to Penetrant and Lubricant to Cutting Fluid. The overall theme is soy-based, nontoxic, and biodegradable. It's safe for the user, safe for the environment." Then he took the cap off of a bottle and extended it to us to smell.
BRANNIAN: What's the first thing you think about when you think about paint stripper? It's opening the lid, and then stepping back a little bit because you know those fumes are going to come right out at you. If you get in too small of an area, it can about knock a person out. That's one of the neat things about our SoyClean Paint Stripper: There are no toxic fumes.
BPGL: This is paint stripper, but there aren't any fumes. It smells milder than our dish soap!
BRANNIAN: Whenever someone comes by, I'll have them take a sniff of the Paint Stripper," That's something you usually don't tell friends to do. It's kind of amazing that a product with no toxic fumes will remove multiple levels of paint. And that's due to soybeans — something that we pretty much take for granted here in Iowa.
BPGL: I'd assume from the name that soy oil is the base of all of the cleaners. Is that straight soy oil, or do you add something to it?
BRANNIAN: It's actually soy methyl ester. That's the base of the Paint Stripper, the Grill Cleaner, the Penetrant and Lubricant. The Wood Sealer is more of a raw soy oil. For the metal working, we don't have that here on site, but that's going to come from specialized soy beans that have high oleic and low linoleic acid content. You might think it all comes from the same thing, but, really, there are significant differences.
This is an evolution and an ever-improving process. Just straight vegetable oil wouldn't give you that great cutting fluid that they use with the premium properties. It took a lot of tests to find out which soybeans would lead to the best cutting oils and fluids.
BPGL: What's a cutting fluid?
BRANNIAN: Here's a simple explanation: You're cutting or machining metal, where metal is on metal. You have to cool that, or you're going to ruin your tools and the product you're working on, because it will get too hot. For example, GE Jet Engine in Canada is dealing with titanium, the toughest stuff you can find. So they use our soy Cutting Fluid because soy has natural performance characteristics that make it work better to cool the metal than traditional cutting fluids do.
BPGL: Do you sell your Cutting Fluid in 55-gallon drums or in small quantities for home use?
BRANNIAN: Drums and totes and things like that. It's in our industrial product line.
BPGL: Are SoyClean products organic?
BRANNIAN: No. They aren't organic, in that the majority are made using soybeans grown in regular fields. But you have to remember that SoyClean is not intended to be consumed.
BPGL: Yet, you can use SoyClean Grill Cleaner on the grill where you cook your food. I understand the Grill Cleaner has gotten a lot of publicity on both coasts. What's the story?
BRANNIAN: A television station in California did a segment on our Grill Cleaner a number of years back. They gave some out for viewers to use, and the people were really positive. I don't know what a TV commercial costs, but if we'd spent $50,000 or $100,000, we couldn't have come up with anything half as good as having the people who were actually using it show it on their grills.
BPGL: You got some good publicity with the Wall Street Journal, too, we hear.
BRANNIAN: Someone from the newspaper called and said they were going to be running an article on grill cleaners for that grill season. So we sent them a sample, and they tested it out. It wasn't very many days later when they had an article up. It was pretty neat. They ran a comparison of a variety of grill cleaners and we were the only non-toxic grill cleaner. It ended up that they liked ours the best. Their article said, "In a recent test, we found the most natural product [SoyClean BBQ Grill Cleaner] worked the best. This soy-based product cleaned just as well or better than the less-natural ones, and didn't have the noxious odor." That report was in the Wall Street Journal on June 21, 2007.
BPGL: Can you leave your Grill Cleaner on the grill, or should you wash it off prior to cooking?
BRANNIAN: You want to wash it off. Spray it on, then let it set for 5 to 15 minutes. If you're doing normal maintenance, you can take it off right away. But some people never clean their grill except once a season. In that case, you probably want to let it soak, and then just rinse it off. The Wall Street Journal reporter said to me, "You mentioned that you should rinse the Grill Cleaner off. The funny thing is, that's not in the instructions for any of the toxic grill cleaners that we tested." Think about that. That's kind of scary. I hadn't really thought about that before.
BPGL: Have you ever heard about anyone accidentally ingesting any of your products?
BRANNIAN: Not a person, but a dog. A customer has put some SoySeal Wood Sealer and Waterproofer in a bowl to use outside. I don't know if the doorbell rang or the phone rang or what, but she went inside. While she did that, the dog came and lapped it all up. When she came back outside, she was pretty horrified. So she took the dog to the vet. We heard about it few days later, after she went back to the place where she purchased it. She told them that the dog had a little tummy ache for a while, but he was just fine.
We find that our users do things that we tell them not to. For example, we tell them, "Don't use the Paint Stripper on clothing. It might make the colors run." We've had more than a couple people tell us they had clothing with gum or paint on it, and they were "going to throw this shirt away anyway." Then they tell us, "The SoyClean Paint Stripper was the only thing that got [the gum or paint] out."
We had a lady tell us her dog fell into a bucket of paint. I'm not sure if she didn't know about it when it happened, but the paint was dry on the dog by the time we sent some Paint Stripper out to her. It cleaned up the dog, good as new. If we hadn't sent her some, what would she have done?
BPGL: Without the SoyClean, it probably would have been a long time before that dog shed all its paint-covered hair. And that brings up a question. Can consumers buy your products in stores?
BRANNIAN: Traditionally, we haven't done a lot of retail. That's only recent. Our business has been commercial, industrial, educational, universities, cities, factories, and the like. Only recently, we've been able to tell that the attitude of the consumer has become more proactive. You could actually see it change, or hear it change, where people are wanting to do the right thing by using eco-friendly products, more and more.
So, retail wasn't something we've done in the past. But now, because we've had people saying, "Hey, you need to get this out here; we've got to have that product," we've recently started getting into some retail locations. A lot of what we have found is maybe a little bit counter intuitive: You'd think, we're so close to the earth here — the soil and crops are so close to us — that we would be leaders in that. But we find that the East and West Coasts have led the charge. I'm painting that with a broad brush, so that's maybe a little bit unfair, but that's something we have noticed.
BPGL: When Joe was comparing green cleaning products to the toxic competition, in most cases, the toxic cleaners cleaned more easily. It takes a little extra effort when you use the various natural cleaners to get the same level of clean. Even with your SoyClean Bathroom Tub and Tile Cleaner, it took a little more scrubbing than with the toxic cleaners.
But what was so great — amazing, in fact — was that the SoyClean product had an exceptionally gentle smell. None of the other "natural" products were nearly as gentle. The large corporate "natural" cleaners even made me gag. We're firm believers that natural cleaning products are better for people — especially for babies, children, and pregnant mothers — but they obviously aren't all created equal. Still, how do you deal with comments about the extra effort it might take to use your nontoxic product?
BRANNIAN: A lot of times we're working with a big commercial or industrial client, and they have one use as opposed to a multi-use product. We can make the product stronger and more concentrated. Of course, the cost goes up for them, but we can work closely with that client to meet their exact needs. As far as the ready-to-use version, like the retail version, I don't have that conversation that much.
BPGL: One other thing that happened was really odd. When I used the Adhesive and Mastic Remover to take a sticker off a new credit card, it seemed to damage the front of the card. The card's not shiny anymore. What happened?
BRANNIAN: Basically, it's kind of amazing that a product that won't hurt your skin will actually break down plastic. We always recommend that you try a small test area on whatever you're going to use it on. It does break down some plastics and paint and things of that nature.
For example, we use a specific type of bottle that we know will work with our products. Someone sent us some other bottles to try, so we tried one out and filled it with one of our products. We turned around to clean something, then turned back around, and it was already starting to seep through that plastic bottle.
BPGL: In just a few seconds?
BRANNIAN: It was probably more like a few minutes. But it wasn't terribly long.
BPGL: We heard a story from one of your customers about using the Adhesive and Mastic Remover to remove SuperGlue from a desktop.
BRANNIAN: Right. The customer told us that he had tried quite a few things to get some SuperGlue off a desk he had leased. I gave him a bottle of the Adhesive and Mastic Remover and said, "We haven't tested it for that specific use, but check it out." So he took it back and then emailed us right away. He said, "That worked great!"
BPGL: We've both tried several of your products. Joe likes the glass cleaner best. It takes a while as you work it around on the glass, but it's really a beautiful cleaner. Julia liked the rug cleaner really well, too. In fact, of all the samples, the only one we had any problem with was the using the Adhesive and Mastic Remvoer on Julia's credit card. We should have followed your advice and tested it on a small area first.
We obviously haven't tried all your products yet. How many different kinds do you manufacture?
BRANNIAN: We have about 30 household and commercial products. An easy way to categorize the products is: cleaners, sealers, solvents, lubricants, release agents, fluids, and oils.
BPGL: Do you have contracts with various farmers to grow the soybeans just for you?
BRANNIAN: We don't directly. For our beans, we don't have to have that, because it's not going into the high-pressure, high-temperature environment that cutting fluids go through. I don't know the details, but there are special soybeans that are grown for the cutting fluids. They're all grown in the US, by the way.
BPGL: Do you distill the oil from the beans, or does someone else do that for you?
BRANNIAN: There's a process called transesterfication. We don't do that here. We get the oil after it's gone through the whole processing.
BPGL: Say you're making the household products. What else goes into the bottle besides soy methyl ester?
BRANNIAN: It depends on the product. The Diesel Fuel Additive, for example — that is going to be straight soy methyl ester. Basically, what that is, when you think of biodiesel, this is the bio part of it. And then the diesel is separate. We don't produce biodiesel here, we just have the additive.
The Penetrant and Lubricant is going to be another one where there's not a whole lot besides soy methyl ester. In other products, we have some other additives, like preservatives and things of that nature.
The SoySeal Wood Sealer and Waterproofer is kind of a neat product. That one doesn't use the soy methyl ester. It's a raw, soy-oil based product.
The SoyShield Wood Sealer is made with methyl soyate and recycled polystyrene — Styrofoam peanuts and other, similar products. That's a whole other example of being environmentally friendly. We wouldn't have anticipated going into it that you could actually recapture polystyrene and have another added benefit. Disposing of used polystyrene has been a real problem. It sits in landfills for decades without breaking down. Now, in our SoyShield Wood Sealer, the polystyrene combines with the methyl soyate to make a solution that can be used to seal lumber and make it waterproof. The biodegradable methyl soyate helps the polystyrene penetrate the wood. The soyate dissolves in about a week, leaving the polystyrene deep inside the wood to protect it.
BRANNIAN: Whatever you have to clean, just know that now, thanks to advances in the study of soybeans, there are very effective non-toxic alternatives. We don't have to settle for the traditional products that often contain toxic chemicals that are dangerous to children, pregnant women, and pets – to all of us, really. Using soy-based products is a pretty simple way to make our planet a safer, cleaner, and a more sustainable place to live.
Blue Planet Green Living (Home Page)
"Purple Fig is a natural cleaning service in the greater Austin area — all the clean with none of the chemicals," said owner Amanda May. "We make and use only green cleaning products, which we ship nationwide. We provide free recipes for everything we sell, and we'll teach anyone how to make what we sell. Our goal is to create healthy, clean homes."
A green cleaning company that gives away its trade secrets? When we heard about ecopreneur Amanda May and her Purple Fig Cleaning Cooperative, we were intrigued by both her green-cleaning methods and her business model. We wanted to know what drives a businessperson to be so generous with the information most companies would keep to themselves. We spoke with May by phone from her Austin, Texas, home. — Julia Wasson, Publisher
---
MAY:
My training is as an accountant. I worked as an auditor at a public accounting firm for a year, sitting behind a desk all day. I enjoyed it, but it just seemed so unnatural.
There were really two issues that motivated me to start my company. One was that I wanted to clean homes in a healthy way, and the other was that I wanted to treat my workers fairly.
Living in Austin, I see so many cleaning companies that employ illegal aliens. Even my grandmother, who lives in the Austin suburbs, used to employ an illegal alien. (She uses Purple Fig, now, of course!) The woman who owns the cleaning company dropped off the girl to clean at my grandmother's house. We never see the owner. Who knows how much she's paying the cleaning girls? They might only be getting a dollar or two an hour. That's terribly unfair.
That is a huge deal for me. In college I worked for a man whose construction company built wrought iron fences. The construction company employed a lot of illegals, and when the men were given their paychecks, they had to hop in cars and drive very fast to cash those checks before the owner's account ran out of money. They knew the check might not go through. That was a horrible thing. Very often, the checks were bad.
Starting off, I wanted this to be a really great place to work, where people are treated fairly and are provided a living wage for hard work. I'm looking into workers' compensation now. Meanwhile, we have 24-hour health insurance. If an employee is cleaning and slips, the medical insurance will cover it [if they report it within 24 hours]. Because we don't yet have the workers comp policy, we need the 24-hour policy. But whether my workers are at their jobs or at play, they need to be covered. After working at Purple Fig for three months, our company pays a large portion of the employees' medical insurance premiums — and that includes pregnancy coverage, which not all policies have. This is how things should be.
BPGL: How many employees work at Purple Fig?
MAY: We have two full-time and one part-time staff, not counting me. The ladies who clean are compensated as soon as they get to the office and pick up supplies. They're paid while driving to the client's home, for both mileage and time. So often, people in this line of work put in hours they don't get paid for. I won't let that happen.
BPGL: You certainly have the interests of your workers at heart. Did something happen that made you especially conscious of the work/life issues of workers?
MAY: When I was at the accounting firm, my parents were living in Amsterdam. I wanted to go visit them, so I requested two weeks of unpaid vacation. My request was denied — even though I had nothing on my schedule. That was the last straw for me to quit my office job. In order to be productive, healthy, happy, creative, and all the other things we're supposed to be, you have to have adequate down time and enough money to spend. By denying me vacation, that's denying the human aspect of an employee.
BPGL: Are you happier — or more stressed — having your own business?
MAY: I am definitely happier, because I can control my own time. There is a lot of stress. And I must say, in the year or so that we've been around, making payroll every week has sometimes been an issue. It's a struggle, but it's never not happened.
BPGL: Is the economic downturn affecting your business?
MAY: No. I've been expecting it to, but we're going to be hiring another full time cleaning person in a month or so. We've had a few clients cancel. But for every two that cancel, we get another 25 new requests for service, We haven't seen it in terms of the cleaning side of the business.
BPGL: If you get 25 phone calls for new service, can you expand that quickly?
MAY: Yes. Most people want to start service very quickly. My manager also cleans part time, makes the schedules, and talks with clients. She has a quick turnaround time.
My business model, how I see what we do, is that we are a cleaning service. We make and sell green cleaning products and give seminars —we've held two so far. We explain how to use baking soda and vinegar, and how the cleaning products work. The attendees make cleaning products in class. We explain all the tips of the trade. Everyone has a hands-on experience and makes cleaning products in class. Just because a product has a pre-printed product label, that doesn't mean the product is right or good or okay or healthy.
I want the people at our seminars to have a better understanding of how these things work. It's very simple. They leave with the recipes on the bottles they've made, so they can make it themselves. They stop thinking big corporations are the only ones that can fill their needs. It's a small step to self-sufficiency.
BPGL: Are you using your own, unique recipes, or do you use recipes you found elsewhere?
MAY: I did my own Internet research; I didn't have any training in it. But I'm working with someone who has a minor in chemistry and is very interested in how big corporations are poisoning us and making us sick. We've done preliminary testing in Petri dishes, where we swabbed the toilet after using our cleaners.
I'd like to show the university our preliminary tests to see if this sounds like a good project for a student. There hasn't been hard scientific research on the effectiveness of homemade cleaners. If you can show people it's inexpensive to make your own cleaners — and it works — there's nothing holding you back.
I did some reading about the history of cleaners that are intended to kill germs. What the marketers don't tell us is that these cleaners kill the good germs along with the bad. Of course, the companies didn't want to tell us that their chemicals kill good germs, too. Instead, they created a campaign to train us to kill all germs. It's a fear campaign. I think that's why this whole green movement has to be the opposite, though sometimes it, too, takes on the same fear angle. We're told you, "You have to do this for your health," or "You need to do this for the world." But the reason you do this has to be important to you. We talk about creating healthy spaces.
When we're able to get a loan, a large portion of that will go to testing and proving or disproving these products. A lot of small business loans that I've looked at require a business to be around at least two years, so we don't yet qualify for those.
BPGL: When people take your workshops, do you find that they sign up for cleaning?
MAY: They mostly take the cleaners they make and clean their own homes. It's in our business model. The most you can pay us is to clean your home for you. The next step down is for us to sell our cleaning products at farmers' markets or in local stores. Then, the next step is seminars. Finally, we have a small pamphlet that will someday turn into a book. So, we have varying levels of how we can generate revenue.
BPGL: What's the status of your book?
MAY: The book has gotten pushed back; right now, we're getting really nice labels with UPC codes. On the Purple Fig website, we'll have a page with our recipes. Our pamphlet will have other tips, like "Put 10 drops of tea tree oil in your wash to kill mites," and "Don't mix vinegar and hydrogen peroxide." It will be a written version of the seminar. We'll give them the pamphlet at the seminar. We'll also tell them places to dispose of computer equipment and old paint, and give them a frequently asked questions list for recycling. As we go into Spring, we'll help people safely dispose of what's in their garages.
BPGL: Are you creating laundry products as well as green cleaning products for the home?
MAY: We haven't found a great recipe for laundry. It tends to separate out. The top gets watery and the bottom gets sludgy. In cleaning products, what makes them so bad for humans is the emulsifier and preservatives. We haven't found a decent enough emulsifier to make the laundry detergent friendly enough for people to use.
The only current product we use with an emulsifier is the furniture product; it uses soy lecithin to mix the water and oil together without separating. Of all our products, the furniture products will be our most successful. In conventional cleaning, the furniture polish is the most toxic. The shine that it leaves is made from petroleum-based products, and those give off a lot of VOCs. This has been linked to childhood asthma and autism.
BPGL: Were your parents into natural cleaning?
MAY: Not really. But I am the daughter of a petroleum engineer. When I was little, my father would get the essential oil of eucalyptus and spray all around the house to keep the roaches away. He bought natural peanuts and ground peanut butter himself.
BPGL: What's your sales pitch?
MAY: When people call us, we market pretty effectively. When people have seen the flier or heard about us, they find us really desirable. They say, "We want our house to be clean without chemicals." So, we're seducing people to do the right thing.
We charge $32 per hour. We provide our own supplies, except for the toilet brush. We do not use synthetic chemicals; we use only all-natural essential oils, vinegar, and baking soda. We don't work weekends or nights, though we may hire differently for restaurants and businesses as we grow. We service a specific area of Austin. If the house is outside that area, we add a mileage charge at the IRS rate, which is what I pay my employees.
BPGL: When someone wants to be your client, do you have them sign a contract?
MAY: I don't believe in contracts. People will continue to use us if they like us. You shouldn't be forced to pay for someone, if you don't like their services.
We have a client intake form. It gets all the details pertinent to what we need to know: Will someone be there? Will you hide a key? Things like that. We have key procedures. When we arrive, we start in the bath, then the kitchen, then dusting, and floors. That's what we do, in the order we do things. This business is all about process.
BPGL: What training do your house cleaners go through?
MAY: We have our procedure manual and training manual. Our manager, Missy, goes over both of those when people start. We give about 60 to 80 hours of training initially. The person being trained is always with someone else who is training them and going over their work and making sure they're getting a feel for the job. In cleaning, it's all about getting an eye for scanning a bath that's been cleaned to know quickly what is out of place. An important thing I tell our cleaners is that a room has to both appear clean and be clean. This comes from my accounting background. If the tub is clean, but there's a big hair on the floor, it doesn't appear clean, even though it is.
BPGL: Did you start by doing the cleaning yourself?
MAY: Yes. I quit my job and put my fliers up in coffee shops for chemical-free cleaning. It was about three months before I hired my first employee. That was because of demand. I would be cleaning and receiving calls and scheduling future appointments while I was cleaning. I was working 12 to 14 hour days. It was crazy. The demand has been tremendous.
BPGL: Have you thought about franchising?
MAY: Possibly in a year. By then, I'll be comfortable with our process and procedure and be more organized.
BPGL: Will you change the name when you franchise?
MAY: I will keep it the same. Everyone responds so positively to the name Purple Fig. I wanted it to be a fruit and have nothing to do with cleaning. I felt that this service does so much more than that. In terms of what we have to offer, how informed our employees are, how prepared we are at each house. We keep notes. If we cleaned ceiling fans, that's on the notes. We try to keep the same person at the same house. If not, there are notes. Sometimes, in the notes, you might see, "Please wipe the molding really well this time. While I was in school, I was a waitress at a Four Seasons. I learned that customer service is very important.
BPGL: Is it hard to find workers for your business?
MAY: I haven't had any trouble so far. Since we're so small, we have to be very picky. Training is very expensive. The feeling I get is that it's hard to find hard-working people. We try to make sure we have the right person. We do green cleaning, but we also focus on giving good service. There's no job that's below me. I think working is an honorable thing — to have a job and pay your bills.
In this economy, it's the perfect time for people to start their own business. People losing their jobs are being forced out of their comfort zone. We're all going to have to live differently, like it or not.
Blue Planet Green Living (Home Page)
Today, I must boldly go where no cleaner has been for a long, long time — my bathroom.  When guests stay, I am told to keep the door closed, if not locked.
Okay, it's a guy thing. I consider it a good way to build my resistance to all types of bacteria. It keeps me healthy. And it's effective at keeping the cat out of my bathroom. She used to go in there to drink from the toilet. It's a wonder she's alive.
My wife uses many creative expressions to describe my sink, tub and toilet. For months she has asked, begged and now, finally, firmly requested that I clean it.
"Yes, Dear, I will."
"What? Something's up. Why are you agreeing now?"
"I had a plan. I purposely let it get real dirty so I would have a perfect environment to test our natural cleaners."
"Yeah, yeah, whatever."
[Author's note: Before I begin this challenge, I just want to mention my prejudices. I have for a long time been a huge fan of the Sierra Club. Just this last year, Sierra Club made a deal with the Clorox Company to allow their name to be used on their Green Works™ products. This was considered by many as a sellout, since for years Sierra Club was the key combatant against the evils of chlorine — a huge polluter in all paper production — and Clorox produced chlorine. For more on this go to SourceWatch.com; search for Sierra Club and Green Works.
I can be objective in my observations for one reason. Just having a company as large as Clorox even thinking of producing an environmentally safe cleaner is extraordinary. As a marketing specialist, I understand what brand recognition can do to the consumer's thought process. I applaud Clorox for all their efforts to "go green." I will allow the flag of truce to fly while I am testing these products, but may not be able to when I write about the new paper mill just up the road.]
So, here I am, with today's cleaners going head to head. In this corner, "Green Works," by Clorox. And in this corner, "All Purpose Cleaner" by Full Circle.
I purchased both in one-quart-size spray bottles. The bottles are both number 1 recyclable plastic. That's good.
The cost of the Green Works was $3.15, and the price tag on Full Circle says $4.19. Ouch! Both are higher than I am used to paying. My old fave, back before I knew the risks, was Formula 409; it's also produced by Clorox and only costs $2.99 at my local store.
The ingredients listed for the Green Works pale-green fluid include: "Filtered water, coconut-based cleaning agent, (Nonionic surfactant; alkyl polyglucoside), corn-based ethanol, SDA- 3C), glycerin, fragrance with essential oil, biodegradable preservative, blue and yellow colorant."
The ingredients listed for All Purpose Cleaner by Full Circle, which is pale yellow in color, include: "Nature derived cleaning agent, (anionic and/or nonionic surfactants), water, quality control agents, and plant derived fragrances, and/or oils."
On the front of the Green Works bottle, I see the word "Natural," as in "Natural All Purpose Cleaner." Anytime I see the word "natural," I want to know I am not being lied to. There is no real definition, even from the US Consumer Product Safety Commission. "Natural" is a highly overused word. We have been scammed by that one since Bonanza was on TV.
After visiting the Clorox website, I read that they have established a "very stringent standard" for the new Clorox Green Works products. "The ingredients must come from renewable resources, be biodegradable and free of petrochemicals. Green Works™ cleaners are at least 99% natural. In certain cases we had to use synthetic ingredients, like the preservative and green colorant. But we're working hard to develop natural alternatives so the entire line can be 100% natural."
This is good. Not perfect, but very good. I would have dumped the green dye thing because:
1.) Dyes are scary, always were, always will be.
2.) Who are they trying to fool? You don't have to be this obvious. A green label on the bottle would suffice.
3.) And lose the word "Natural." Go with the words "Safe to use around children." Mothers will love it.
4.) Your cleaner uses coconut base as the cleaning agent. Why not use coconut scent instead of another essential oil (lemon) for the smell? 5.) Why have any scent at all? Is there some unwritten rule that a cleaner has to smell?
The ingredients for Full Circle do not include any dyes. Score one there. And on their label they do not say, "Natural," they use "Eco-Friendly." Again, a bit nebulous, but politically correct. Score again.  Their front label says it contains Lemon Grass. Why do you need to add a smell to a cleaner? Is it to cover up the smell of the dirt you are cleaning? If your cleaner works, you shouldn't have anything left that smells bad. I vote for zero scent in all cleaners. My eyes water, my throat swells shut from all perfumes anyway.
Now, to the competition.
I've gathered two of the same bristle brushes, two similar terry cloth rags, and I am wearing rubber gloves.  We step to my suitably dirty fiberglass bathtub. Yuck! Here we go.
First we use the Full Circle All Purpose Cleaner on the 1/3 of the tub with the drain. I spray and notice a light lemon smell. I scrub with the cloth. A little of the grime comes off. Spray again. Let it soak. Scrub with the cloth, and a little more comes off. Spray once again. This time I use the brush with a little muscle. The dirt is coming off. With some more work, it all comes off.
Lesson number 1: Cleaning this tub is not going to be easy.
Lesson number 2: Maybe these new, environmentally friendly cleaners just don't clean as well as the old, toxic ones.
Next, I spray the Green Works on the middle third of the tub. I smell a slight lime scent. Not too strong, not as strong as Formula 409, but still a scent. I scrub with the cloth. I spray again and scrub with the cloth. Very little is coming off. I spray more, I use the bristle brush and some muscle. The surface begins to whiten. I know I'm old and weak, but this is embarrassing. My eyes and lungs feel fine; it's my ego that hurts.
Now, for the sake of scientific control, I finish the last third of the tub with Formula 409. But first, I turn on the bathroom fan. I hold my breath and spray. Most of the dirt comes off with a few swipes of the rag. The rest comes off after the second spray and scrubbing with a cloth. The tub is clean, but I can't breathe. I fall out the bathroom door (dramatically, so my wife will give me sympathy).
What are we sacrificing by using a little muscle? Our lives. Look at the bottles of 409, Tilex and Lysol brands. The warnings begin on the front of the bottles: "KEEP OUT OF REACH OF CHILDREN." Hmmm. That should tell you something. Now, to the back of the Tilex: "WARNING. Causes substantial but temporary eye injury and can irritate skin." Oh, good. My "substantial" eye injury will only be temporary.
Many of the old products are poisons as much as they are cleaners. You can't touch them, breathe them or let the fumes come into contact with your eyes. Yet, we are so comfortable around them. We have been raised with a series of ads that made us clinically paranoid of "germs." Then we bought into the convenience of no-scrub cleaning. We bought the propaganda, and we bought the products.
Now, hopefully, we are smarter. We have a new generation of cleaning products to use that are not full of poisons. We may have to work a little harder, and we may have to pay a little more, but our lungs, our skin and our eyes will be healthier. So will pregnant mothers, babies, pets, and our elderly parents.
So for this round, I'm giving the win to Full Circle. It cleaned a little better and has no dyes. Next time, we'll test two more cleaners that are labeled "safe," "green" or "natural." The winners of that round will go for the championship. Before I'm through with this series, I will make my own natural cleaners from stuff we can eat. Then, we'll test our home-brews against the store-bought champ. Stay tuned.
Blue Planet Green Living (Home Page)
Related Post:
The Green-Clean Challenge Begins
"Choosing to be green is not just about the far-flung corners of the planet or generations that have yet to be born," writes Renée Loux, "it's about immediately improving our lives and the quality of living every day. The brilliant beauty of being green is that it not only serves the planet, it also serves us."
In Easy Green Living: The Ultimate Guide to Simple, Eco-Friendly Choices for You and Your Home, Loux shows the way to make practical and healthy choices that will do just as she says: help the planet and improve your life. When you read what Loux has to say about how to be green, you know you're reading from a reliable source; Loux is the host of Easy Being Green on Fine Living TV. From green cleaners to efficient lighting to healthy products for your bathroom, she walks you through how to make your home a greener — and safer — place to live.
Blue Planet Green Living (Home Page)
Related Posts: