It's Friday, snow is falling again, and I'm in the mood for a little lighthearted entertainment. Since Joe and I don't have a television (by choice, thank you very much), I rarely see the ads that the rest of the world sees. Today, our friend, Gregory Johnson sent us a link to the Audi "Green Police" ads, and I enjoyed them so much that I thought I'd share.
According to Audi's "Green Police" YouTube channel, the commercials are intended as an entertaining way to make several points about how we harm the environment in our daily lives:
As part of the lead up to their third consecutive Super Bowl ad, Audi has created a fictional Green Police unit that are caricatures of todays [sic] green movement. The Green Police are a humorous group of individuals that have joined forces in an effort to collectively help guide consumers to make the right decision when it comes to the environment. They're not here to judge, merely to guide these decisions.
There are several videos, each one cuter (and sillier) than the last. But they also contain some tips to help people make good choices — especially if they're just starting out on the road to being green. For example, here's an interactive quiz from the Green Police that will both entertain and enlighten (but since you're a dedicated greenie, you probably already know all the answers):
Audi's Green Police YouTube site contains another bit of information that I found fascinating: There really are Green Police!
Coincidentally, there are numerous real Green Police units globally that are furthering green practices and environmental issues. For example, Israel's main arm of the Ministry of Environmental Protection in the area of enforcement and deterrence is called; you guessed it, the Green Police. New York has officers within the states Department of Environmental Conservation that are fondly called the Green Police. The Green Police is also the popular name for Vietnams [sic] Environmental Police Department and the UK has a group who dresses in green as part of the Environment Agencys [sic] squad to monitor excessive CO2 emissions.
Of course, Audi didn't create all these cute videos just because the owners are nice guys who want to take care of the environment. Their marketing team had an ulterior motive (and a quite transparent one). You'll see it at the end of the next video:

Surprise! Audi is selling cars! (Pardon me while I remove my tongue from my cheek.) They're selling the Audi A3 TDI, to be exact — the car that Green Car Journal named Green Car of the Year for 2010. The A3 TDI uses something called "clean diesel." I'm not into cars, and I don't really know much about diesel engines except that they're notorious for emitting a dirty cloud of exhaust. So, I have to admit, when I first heard the term, I wondered whether there could be such a thing as clean diesel. Then I saw another entertaining ad that started me thinking there just might be. This one's from VW: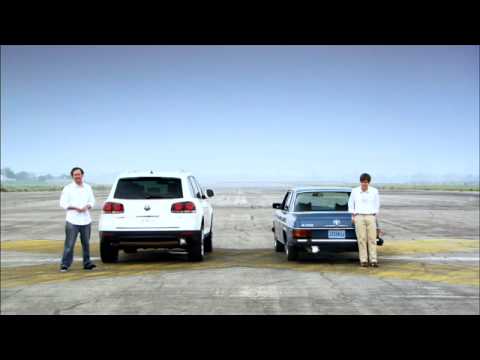 No. I'm not selling cars. And I don't know enough to say whether clean diesel is the best fuel choice for a vehicle. Maybe you do. Feel free to comment. And if you have your own favorite, funny, green commercial, post it below for all to enjoy.
Here's hoping the Green Police don't pull you over.
Blue Planet Green Living (Home Page)