Super Sunday is an American tradition and, football fan or not, the vast majority of us find ourselves in someone's living room or den gathered around the television watching the game (okay, the ads). For enterprising fundraisers, it's also a fantastic opportunity to gather friends together for a good cause.
This evening, Jeff Capps, Executive Director of Cedar Valley Habitat for Humanity, and his wife, Amber, hosted one of 85 house parties that will benefit the local Habitat for Humanity organization. These Home Team Huddles raise money that goes directly to building homes for deserving—and hard-working—families.
My husband, Joe, who just joined Capps' staff as Director of the Cedar Valley ReStore (the home-recycling and revenue-raising arm of Habitat), had to work hard to convince me to join him. Well, not that hard, as food and friends were involved. But I'm a dedicated skeptic when it comes to televised sports; I never intended to plunk myself down in front of the big screen. (Hey, any ads I want to see will be on YouTube by the end of the game.)
Curiously, most of the people at this particular Super Sunday event had the same idea. We gathered in the kitchen, sharing stories, noshing on potluck, and getting to know each other. Despite my reluctance to go to a Super Bowl party, I had a great time. I also had a chance to find out more about the fundraising aspect.
"When I worked for Habitat for Humanity in Memphis," Jeff told me, "my boss at the time, Dwayne Spenceer, said he had long dreamed of combining the Super Bowl with fundraising at home parties. It fit right in with my job at the time, so I took it and ran with it." That first year, Capps enlisted Memphis-area families to host house parties, and Home Team Huddles were an immediate favorite. The event has been running successfully in Memphis for the past eight years.
Capps, who moved to Iowa with Habitat for Humanity three years ago, brought the Home Team Huddle idea with him. "The first year, we had a few families participating—and no sponsor. We run the event on a limited budget, most of which is spent on advertising. This year, our expenses have been covered by sponsors, so everything we raise will go directly to helping build houses."
Habitat for Humanity is widely acclaimed for its work "eliminating sub-standard housing in the community, and creating affordable home-ownership opportunities in partnership with families in need," explains Cedar Valley Habitat for Humanity's website. The Cedar Valley group "has built or renovated more than 100 homes" since 1988:
Partner families make a down payment, invest hundreds of hours of sweat equity into the construction of their homes and other Habitat homes, and make monthly mortgage payments on a zero-interest loan…. Cedar Valley Habitat plans to serve 22 families in 2012 through a combination of projects, including new construction, home rehabilitations and exterior painting/repair projects.  
Hosts who signed up for a Home Team Huddle scored a bag of goodies, including "an official T-shirt; fun promotional items including an event poster, pint glass, football tote and stickers for party guests; collection envelope and ideas for helping to promote the event." Guests, in turn, got to sign in for a chance to win a trip to an NFL city, including flight, hotel stay, and two NFL tickets. "All the prizes were donated," Jeff said.
With an average attendance of 20, the 85 parties tonight should bring in upwards of 1,700 people. In addition, Collins Road Theatres and the Cedar Rapids Titans hosted similar events for the public. Though the donations won't all be tallied for a couple of days, the Super Sunday gatherings promise to provide a significant funding boost for the Cedar Valley organization.
Asked if other Habitat for Humanity groups around the country host Home Team Huddles, Capps said, "If there are, I haven't heard of any."
As I see it, that's an opportunity waiting to be snatched. If you volunteer for Habitat for Humanity in your community, consider starting a Home Team Huddle event next Super Sunday. You can have some fun while raising some funds. And you don't even have to like football.
Publisher
Blue Planet Green Living (Home Page)
April 27, 2010 by Julia Wasson
Filed under 2010, Blog, Donations, Events, Front Page, Fundraising, Nonprofits, Repurposing, Slideshow, Water
One of every seven people in developing countries around the world does not have access to clean water.* It's a shocking statistic for those of us who take daily showers and use flush toilets with no thought at all. Women and girls, in particular, may walk miles to carry water back to their families. Try moving up on the economic scale when so much of your time is consumed with providing the basic necessities to your family. Not likely.
But organizations around the world are doing ambitious projects to change that. Global Greengrants Fund oversees many of these projects, with serious funding support from Aveda — a company best known for creating organic hair and beauty care products that are sourced from around the world. For the past three years in April, Aveda has been raising funds for Global Greengrants water-related projects by selling their Light the Way candles.
In addition to Global Greengrants, Aveda is supporting 21 regional partners through their Earth Month activities. According to the Aveda website, the projects this year include: "training 3,500 people in sustainable and organic agriculture methods [which keeps pesticides and herbicides out of waterways]; helping 20 communities implement local water resource management plans; enabling 100 communities to take action against toxic industrial pollution and hundreds of other projects that have helped protect water rights and water access around the world."
Aveda's Light the Way candle is 3.5 oz. of soy, scented with certified-organic clary sage, lavender, and lavandin. (The soy wax is not certified organic.) The unburned candle aroma was a bit strong for me before I lit it (in fairness, I tend to avoid all scented products). Surprisingly, once lit, the scent of the burning candle was light and unobtrusive.
If you decide to purchase a Light the Way candle, you'll pay $12 and every cent of the purchase price will go to support water projects. In other words, neither Aveda nor the salon where you might buy your candle make any profit at all from the sale of the candles. And, as I understand it, Aveda donates the materials to make the candles. That's a huge win for water projects in developing nations.
The goal for this year's candle sales is $3.5 million. That's a whole lot of $12 candles! (291,666,667 candles to be exact.)
If you buy a Light the Way candle from Aveda, you're essentially getting a free candle for yourself or for a gift while making a $12 donation to support clean water. Talk about a feel-good purchase.
But it gets even better, because the candles and packaging are sustainable in thoughtful ways not every product can claim. The candle glass is repurposed from "100% reclaimed wine cooler bottles." What a great way to reuse these bottles without having to smash the glass and start all over.
The box the candle comes in is "[p]rinted with soy ink on 55% — 70% post-consumer recycled paper, a portion of which is made from reclaimed carton stock." Aveda invites you to have some more fun with the Light the Way candleholder and packaging, as they say inside the box:
What will you use them for next? Friend us on Facebook (www.facebook.com/aveda) and tell us about it.
Since 1990, Aveda has been conducting Earth Month activities that have yielded a total of $14 million for projects around the world.
April's almost over, and that means there's very little time left to purchase this year's limited-edition Light the Way candle. Do you have one yet? If not, better hurry!
Small Print
Blue Planet Green Living purchased this product. No compensation or incentive was provided.
Blue Planet Green Living's review policy is to only review those products we feel merit overall positive comments. If we do not like a product, we do not review it. We are not influenced by complimentary products and provide our honest opinions. For more information, please visit the Policies tab on the top navigation bar.
Blue Planet Green Living has an affiliate relationship with Amazon.com. If you purchase any product through Amazon by clicking on our affiliate link, Blue Planet Green Living will receive a small financial compensation from Amazon, which we use to sustain this website.
Blue Planet Green Living (Home Page)
*"Numbers based on Progress on Drinking Water and Sanitation: Special Focus on Sanitation. (New York: Unicef and Geneva: World Health Organization, 2008)," according to Aveda.
Comments Off on What Kind of World Do You Want?
This week, as we say goodbye to 2009 and greet 2010, Blue Planet Green Living asks you the question posed by Five For Fighting in their song of the same name, "What Kind of World Do You Want?"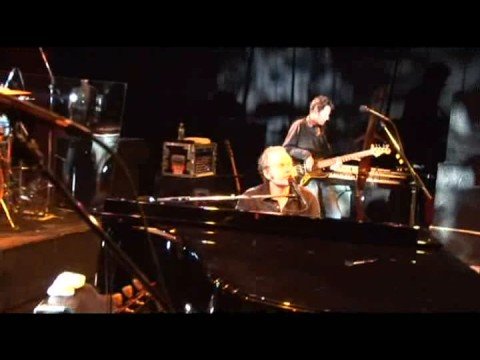 Singer John Ondrasik of Five For Fighting invites all of us to create a video response to the question and post it on his website, whatkindofworld.com. By creating an original video and posting it on the site, you can earn money for one of five charities, selected by Ondrasik: Augie's quest; Autism Speaks, Fisher House Foundation, Save the Children, and Operation Homefront.
Another way you can help is to make a donation to the site. You can designate one of the five charities or make a general donation to support all of them.
How does it work? Every time someone views a video — and there are 362 videos posted as of this writing — the charity they've linked to earns money. In the list of contributions on the home page, many of the donors have specified that their contribution should be doled out at $1 per view. Contributions listed range from as small as $10 and to as much as $50,000.
According to the "How This Works" blurb that follows each video, 90 percent of all funds raised go directly to the charities. "The 10% expense includes Revver.com's .01/view webhosting cost, California Community Foundation's 1.25% administrative expense and site maintenance." Contributors have donated $272,450 to date.
We invite you to go to Ondrasik's website and view some of the videos. Each one of your views will result in a contribution to a worthy cause. In just a few minutes, you can help create the kind of world you want. But, as Ondrasik says, "Be careful what you wish for. History starts now."
Blue Planet Green Living (Home Page)