July 29, 2010 by Julia Wasson
Filed under 2010, Blog, Chemicals, Front Page, Government, Health, Laws, Personal Care, Slideshow, Take Action, U.S.
In our house over the past two years or so, we've been carefully examining every personal care product we buy. If you're a long-time reader of Blue Planet Green Living (BPGL), you already know that we are huge fans of the Environmental Working Group (EWG) and their Skin Deep Cosmetics Safety Database. Today, we received a bulletin from EWG's Action Fund president, Ken Cook, asking for support in telling the US Congress that it's essential to support the Safe Cosmetics Act of 2010.
Why should you care? Because, like most Americans, EWG suggests, you probably use "about 10" personal care products each day (e.g., soap, shaving cream, after-shave, shampoo, cream rinse, toothpaste, lotion, deodorant, styling gel, acne creams, sunscreen, base makeup, powder, lipstick, eyeshadow, mascara, eye liner, lip liner, blush…). Of course, that number varies widely, but we all use some products each day.
"And," Cook writes, "those products aren't required to be tested for safety before going onto shelves. That's almost 126 unique ingredients you use everyday that the government can't guarantee are safe."
If you've seen Annie Leonard's latest animated film, The Story of Cosmetics, you know that these ingredients can be highly dangerous to us.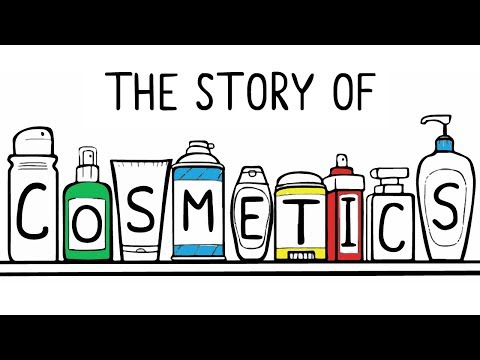 Perhaps you're as concerned as we are at BPGL. We don't want the burden of choosing safe products to be on the shoulders of the consumer. There are far too many factors for any of us to keep track of when purchasing from the vast selection of products on our store shelves. Let's put the burden on the manufacturers, where it belongs. Make them give us safe products from the beginning.
But how?
Cook goes on to write:
Congress introduced a bill last week, The Safe Cosmetics Act of 2010 (H.R. 5786)… It would expand the regulation of ingredients in cosmetics and personal care products, like allowing the Food and Drug Administration (FDA) to prohibit the use of dangerous ingredients.
Congress needs to know that you think this legislation is important. EWG is the leader in researching personal care product safety. Will you stand with us and pledge your support today?
Click here to pledge your support for the Safe Cosmetics Act of 2010.
I hope you sign the petition. But we all know that Congress won't pay attention to a petition unless they believe their own constituents back it.
Is personal care safety important to you? Is it important enough to take a few minutes to call your Senators and Representative? Each phone call makes far more of an impact than signing a petition (though please take a few seconds to do that, too?) And if you really want to make a point, write a letter (the old-fashioned kind or an email) telling why this issue matters to you.
If you decide to put in the effort to write to your Congresspersons — about this issue or any other — make sure that you do it effectively. Ask.com has a helpful article with tips that can make your letter get noticed in the way you'd like it to be.
Still wondering whether you need to spend the time to weigh your opinion? Here's more from Ken Cook:
Manufacturers may use almost any ingredient or raw material in your soap, shampoo or makeup without government review or approval. According to EWG's research, 22 percent of all personal care products, including children's products, may contain a cancer-causing ingredient, 1,4-Dioxane, and 60 percent of sunscreens contain oxybenzone, a potential hormone disruptor. Other studies have raised alarms about lead in lipstick, secret chemicals in fragrance and preservatives in personal care products.
It's time that the FDA has the authority to regulate ingredients in cosmetics and personal care products. From prohibiting the use of certain ingredients, including carcinogens and reproductive and developmental toxins, to recalling products that fail to meet safety standards and requiring product labels to name each ingredient, the FDA will be better able to ensure that what you're buying is safe for you and your family.
You have the right to know what you are putting on your face, hair, and skin. And you should feel safe buying any product allowed on store shelves. Tell Congress we need action on the Safe Cosmetics Act of 2010.
Click here to let Congress know that you want reform. Pledge your support for the Safe Cosmetics Act of 2010 today!
Will you know what products are safe for you and your family to use the next time you go to the store or order on line? Right now, the only way is to check each, individual product using EWG's Skin Deep Cosmetics Safety Database. But if Congress passes the Safe Cosmetics Act of 2010, eventually all of the choices available to you will be safer choices.
Please. Take action today. Let's get the Safe Cosmetics Act of 2010 passed for our safety and the safety of future generations. Thank you.
Blue Planet Green Living (Home Page)
Over the past several months, I've been using Surface Hair Care products as part of my daily routine. With color-treated hair (yes, I'm going gray beneath the blond), my locks sometimes get dry and brittle. The two varieties of Surface products I've tried are gentle on my hair and help keep it feeling soft and healthy.
Initially, a stylist friend Carolyn Clabaugh (owner of Carolyn's Place, Studio 101, Coralville, Iowa) introduced me to the Trinity line of Surface products. She knows that I'm concerned both about the planet and my own health. Carolyn's colleague, Shawn Reed (owner of D'Aversa Salon, also at Studio 101) recently trained as a Surface Team Artist and had gotten Carolyn excited about how environmentally respectful and people-friendly the products are.
Trinity
So I bought some of the products from Carolyn's Place — they're exclusively available at select salons. I've used the Trinity Strengthening Shampoo and Strengthening Conditioner for at least two months. The shampoo comes in a 10 oz. bottle, and the conditioner in a 6 oz. bottle. Not surprisingly, with my slightly longer than shoulder-length hair, the shampoo outlasted the conditioner.
Anyone who knows me well knows that I'm not a fan of scented products. Yet, I found Surface's Trinity products to have a light floral scent that was quite pleasant during my shower. If the scent lingered after my hair was dry, I haven't noticed (but Joe has complimented it).
I especially like the feel of the shampoo and conditioner when I'm using them. And my hair is both manageable and soft when dry.
Baba
A few days ago, Carolyn recommended that I try the Baba line of Surface products. Baba is a hydrating product, as opposed to a strengthening product, like the Trinity line.
The Baba line includes a Hydrating Masque treatment that is more intensive than the Hydrating Conditioner. Per the directions, I've tried the basic method of using it after shampooing and leaving it on for one minute (though I left it a little longer) before rinsing out. The results were on par with simply using the regular Baba Hydrating Conditioner.
The next time, I'll do as the label suggests for the Maximum Treatment: "Massage into damp hair. Dry into the hair with a hot dryer and rinse." That's not very convenient for someone who washes her hair in the shower, but if it makes my hair healthier, it'll be worth the effort.
Certified Organic, Vegan, and More
Today, I called the Surface Hair Care corporate office in Saskatoon, Saskatchewan, Canada to find out more. I learned that Surface Hair Care is a family business, and though its headquarters are in Canada, Surface produces and distributes their products in the U.S.  I spoke with Becca Grund, daughter-in-law of the founder, Wayne Grund. Becca later sent me the following information:
All Surface products are Vegan, formulated with Certified Organic ingredients, and are:
Sulfate FREE                         Paraben FREE
DEA / TEA FREE                   PVP/VA FREE
Wheat (Gluten) FREE            Animal Protein FREE
Mineral Oil FREE                   Phthalate FREE
I'm not sure why, given Becca's email, but the Certified Organic label is not on the packaging that I have — either on the Trinity or Baba lines. But the bottles do show the Gluten Free, Vegan, and Not Tested on Animals (rabbit) logos.
Becca told me that several people with celiac disease have been excited to learn that Surface is a gluten-free product.
"Why is being gluten free important?" I wanted to know. The people I know with celiac disease are concerned about what goes into their digestive system. I haven't heard of anyone being worried about shampooing with a product that contains gluten.
"I was surprised, too," Becca said. "But we've had a surprisingly large number of people with celiac disease tell us that they're so relieved to finally find a shampoo and conditioner that they can use. One woman who works for us has celiac disease. She says she thought she was going to have to give up styling hair because of the reaction she had to other products containing gluten. Now, she uses Surface with no problem."
EWG Skin Deep Cosmetic Database
Whenever I consider trying a new personal-care product, I instantly check with the Environmental Working Group (EWG) Skin Deep Cosmetic Safety Database. The EWG Skin Deep hazard scale ranks products with Low (0-2), Medium (3-6), and High (7-10) risk factors. The lower the score, the safer the product.
Because Surface is so new (they launched in 2008), their products haven't yet been evaluated by EWG scientists. However, most of the main ingredients are found in other products and have been evaluated on the Skin Deep Cosmetics Database. Following are the ratings for the ingredients in Trinity Shampoo. (I know it's anal for me to go to this detail, but aren't you glad I did it so you wouldn't have to?)
Trinity Shampoo
Sodium Lauryl Sulfoacetate: 1
Disodium Laureth Sulfosuccinate: 3
Cocamidopropyl Hydrozysultaine: No rating
Cocamidoproylamine Oxide: 0-1
Sodium Lauroyl Sarcosinate: 4
Hydrolyzed Amaranth Protein: 0
Hydrolyzed Soy Protein: There's nothing with this exact name, but other ingredients containing hydrolyzed soy proteins score 0.
Hydrolyzed Vegetable Protein: 0
Retinyl Palmitate (Vitamin A): 5
Ascorbic Acid (Vitamin C): 1
Tocopheryl Acetate (Vitamin E): 4
Cerimide 3: No rating
Simmondsia Chinesis (Jojoba) Seed Extract: 0
Equisetum Arvense Extract: 0
Rosmarinus Officinalis (Rosemary) (Leaf Extract): 0
Helianthus Annuus (Sunflower) Extract: 0
Arnica Montana Flower Extract
Algae Extract: 0
Orbignya Oleiera (Babassu) Oil: No rating
Cocos Nucifera (Coconut) Oil: 1
Linum Usitatissimum (Flax) Seed Oil: 1
Cinnamidopropyltrimonium Chloride: 0
Guar Hydroxypropyl Trimonium Chloride: 1
Citric Acid: 4
Aminomethyl Propanol: 3
Glyceryl Caprylate/Caprate: 3
Methylchloroisothiazolinone: 6
Methylisothiazolinone: 6
Fragrance (Parfum): As this is unspecified, it could score anywhere from 0 to 10.
Considering that the ingredients are listed in order by quantity, I'm comforted that the majority were low risk, and with the next largest group being moderate risk. Of course, I'd prefer no risk at all, but I haven't yet found a salon product that fits that criteria.
There's one more thing I like about Surface. According to Becca Grund, "Surface Donates 10% Of All Net Profit To Sponsoring Children Through World Vision." My guess is, some of those funds — possibly including 10% of what they earned from my purchases — are working in Haiti right now.
The Small Print
DISCLOSURE: Blue Planet Green Living did not receive any complimentary products or samples of Surface, nor any complimentary services from Carolyn or Carolyn's Place salon. We paid full price for the items discussed in this review.

Blue Planet Green Living's review policy is to only review those products we feel merit an overall positive review. If we do not like a product, we do not review it. We are not influenced by any samples or potential reimbursement and provide our honest opinions.
Blue Planet Green Living (Home Page)