Ecopreneur Eli Shepherd is the founder Foliage Skateboards, "an environmentally friendly, community-focused skateboard start-up." Joe and I met Eli when he was volunteering for Iowa City Summer of Solutions and conducted an energy audit on our home. Eli recently contacted us because Foliage Skateboards is currently competing for a $5,000 business grant for start-up companies in Johnson County, Iowa. Like many young start-up business owners, Eli has a big dream but small resources. Winning the Dream Big, Grow Here contest would enable Eli to build the organization he describes below. He is asking for BPGL readers' support. 
If Eli's company mission and vision resonate with you, we invite you to vote for Foliage Skateboards. Simply click on the Foliage Skateboard link in the Dream Big, Grow Here contest. Then click "Log in with Facebook," confirm the app, and click "Vote!" You can vote once per day until the polls close at midnight on November 9. Eli also asks supporters to spread the word about the competition on Facebook and Twitter.
So, why should you vote for Foliage Skateboards? And what will the start-up company do if they are awarded the grant? Fair questions. Here is what Eli has to say. ~Julia Wasson, Publisher
---
Environmental stewardship, skateboarding, and social change are rarely mentioned in the same sentence. However, when these three are combined, they create a four-wheeled solutionary vessel that can appeal to an incredibly broad spectrum of the population.
Sustainable Skateboards
Foliage Skateboards is a sustainable skateboard company based in Iowa City, Iowa. Our combined mission is to use local resources to create environmentally friendly and sustainable skateboard products and to support worthy organizations and promote social change in the process. The mission may sound like a list of lofty goals, but on the contrary, our vision is put into play wherever and whenever Foliage Skateboards is involved.
If we win the grant, we will be sourcing the wood for our skateboards from Sustainable Forestry Initiative-certified suppliers. The one I have been looking at is in Vermont, but we will source as locally as possible for maple — what most skateboards are made from. We'll hand press them with a self-made hydraulic press or manual wood press and use non-toxic glues and resins as much as possible. I'm vegan, so we'll try to avoid animal products if at all possible as well.
Friends of Foliage
We're a for-profit entity, selling products at local, non-chain vendors. That is how we make money. Yet, that is not the only thing we do. Within Foliage Skateboards is a philanthropic program called Friends of Foliage. This program goes beyond the standard realm of producing product for profit, by promoting and supporting non-profits, local businesses, and other organizations and causes. Most recently, we supported Iowa City Summer of Solutions, an environmental community non-profit. In fact, with growth, we aim to have this program become a non-profit itself.
Seeking Unity
We achieve social change through unity. Skateboarding today continues to bring together people of all classes, ethnicities, and races, breaking down social barriers everywhere its four wheels roll. Foliage Skateboards adds people who are not a part of the skateboard community through its environmental and local focus and support. We bring together skateboarders, community members, local business owners — everyone we can — and unite them under the mission for environmental and social progress through community support.
Generating Funds
The company is currently in the beginning stages of becoming something truly unique, not only to the business world but to the skateboard industry, the green industry, local economies and communities, and people's expectations alike. Based on a need for funding in a local non-profit, I decided to use some of my own savings to have product produced through the Friends of Foliage program in order to help them out.
So far, we have worked with local printers to produce sustainably farmed, organic cotton t-shirts that promote the environment and skateboarding. We are currently distributing this apparel to local vendors and generating interest in the company at a local level. That's where we are right now.
Our tees are currently available at The Full Kit skate shop in downtown Iowa City on E Gilbert St., right across from City Hall. In the future, they will also be available at both New Pioneer Food Co-op locations, as well as at EduSkate skate shop in Cedar Rapids, Iowa.
Please Vote for Us!
Now, here's where you come in. Please vote for Foliage Skateboard on the MyEntreNet website. As far as start-ups go, funding is certainly not abundant, to say the least. We need your help in making our mission a success. With your support, we aim to start locally, building customer demand and brand recognition. Right now our needs are laid out for us. For example, $300 can buy us materials to build a hydraulic press for skateboard deck production, fund the production of approximately 30 one color t-shirts, or pay for the purchase and maintenance of foliageskateboards.com for a year.
As part of our community betterment vision, a portion of the grant would be put toward building an addition to the Iowa City Skatepark in a collaboration with Spohn Ranch Skateparks. Community members would submit addition proposals; a committee would decide; and Spohn Ranch would do the construction, attempting to minimize the environmental impact in the process.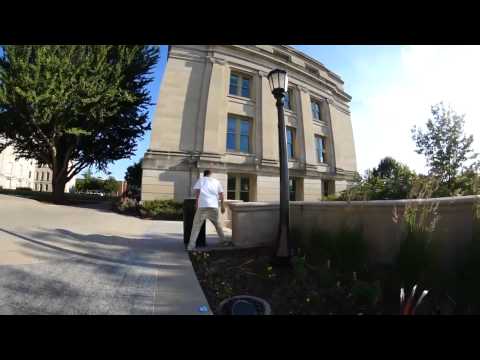 Our dream is to one day expand nationally, supporting local causes and businesses everywhere, all the while promoting environmental sustainability and social progress. It's positive change on all fronts, on four wheels, that, like a skateboard, is powered by you.
Eli Shepherd
Guest Writer
Blue Planet Green Living (Home Page)