February 23, 2011 by Brigette Fanning
Filed under 2011, Activists, Blog, Front Page, HIV/AIDS, Slideshow, Texas, Uganda, Volunteers, Women
In an early celebration of International Women's Day, Blue Planet Green Living is partnering with A GEM of An Idea to host a live and interactive, online forum featuring the subject of this post, Agnes Nyamayarwo, founder of Mulago Positive Women's Network.
We're focusing on Agnes — both here and in the online forum — to celebrate her singular accomplishments as a woman of initiative, courage, and strength.

We invite you to join us February 26, 2011 from 9:00 a.m. to 10:00 a.m. EST (PLEASE NOTE THE CORRECTED TIME: 9:00 a.m. EST) to speak with Agnes Nyamayarwo live from Uganda via the Internet. More information follows at the end of the post. — Julia Wasson, Publisher
---
Agnes Nyamayarwo, founder of the Mulago Positive Women's Network (MPWN), empowers Ugandan women inflicted with HIV/AIDS to create better lives for themselves and their families. Her efforts benefit approximately 70 women, ranging in age from 16 to 50. All of the women have tested positive for the virus. They meet weekly and take care of each other when they fall ill.
An AIDS widow herself, Agnes also lives with the virus. She is a nurse, activist, and counselor with The AIDS Support Organization (TASO) Uganda, one of the first African AIDS organizations. Agnes founded the MPWN in 2004 as a subset of TASO, and the members of MPWN receive their anti-retroviral drugs from TASO today.
Because of Agnes's groundbreaking work, Bono, philanthropist and lead singer from the band U2, chose her as the first African spokesperson for DATA (Debt, AIDS, Trade, Africa) in 2002. DATA became known as the ONE campaign in 2004.
Support and Empowerment for Women
"MPWN functions as a support network, first and foremost," says Debbie Kreuser, an African activist and close friend of Agnes Nyamayarwo. Debbie volunteers for MPWN from her home in Austin, Texas, selling goods made by the women and raising awareness for the program. She is the U.S. spokesperson for Agnes and the MPWN due to the unreliability of communication between the two countries.
The MPWN program is unique, Debbie explains, because it does more than provide the women with medication. MPWN members receive both the drugs necessary for their survival and a means by which to earn money. They use much of their income to protect against other life-threatening issues such as hunger.
"These are women who are living on the edge," says Debbie. "They would have fallen off the cliff economically without the MPWN."
The women are trained in a craft and use their skills  to earn an income for themselves and their families. Some of the handmade items they sell include paper-bead jewelry, baskets, dolls, jewelry boxes, and sun hats. MPWN members' crafts are available for purchase online at www.mpwn-uganda.org.
"Another important aspect of the group is economic empowerment," Debbie adds. "The members of MPWN are trained to be small businesswomen. Some of them also raise a few pigs or chickens," says Debbie. "It won't make them rich, but it gives them something to live on."
Today, a majority of the women in Mulago Positive Women's Network are doing quite well because they have marketable skills, Debbie explains. Some of the younger girls have even finished high school, which is a difficult task for most Ugandan women.
Many women in the MPWN are the sole providers for themselves and their children, making their marketable skills as critical as life and death for those they support financially. Most members are single women, or women whose husbands or boyfriends have passed away, often from HIV/AIDS.
Debbie explains that a majority of Ugandan women who are infected with HIV/AIDS catch it through heterosexual sex. There is a stigma in Uganda against men getting tested for the virus, exacerbating the problem by preventing a woman from knowing if her partner is infected. Currently, 10 to 15 percent of the country's population is afflicted with HIV/AIDS.
"The MPWN gives infected women a support network. It gives them a choice of what kinds of relationships they want to be in," Debbie says.
As Close as Sisters
Asked about her own involvement in MPWN, Debbie explains that her interest in Africa began when she was a teenager; now she's 51.
When Debbie saw that Bono was serious about his efforts on behalf of Africa a decade ago, she decided to join up with DATA. That's where she first met Agnes, on "The Heart of America" speaking tour with Bono in December 2002.
"I met Agnes on her first day in the United States, in Lincoln, Nebraska," Debbie remembers. They met again in March 2007 at a ONE regional training seminar in Houston, Texas, and have "been like sisters ever since."
Agnes asked Debbie to help with the website for the MPWN, which she does as a volunteer. All profits from items sold on the website are returned to the women who made them.
Join the Conversation February 26
In honor of silent women heroes such as Agnes and Debbie, Blue Planet Green Living invites our readers to join the GEM-MPWN online forum and conversation: Saturday, February 26, 2011 from 9:00 a.m. to 10:00 a.m. EST. (An interview with youth leaders around the world will follow from 10:00 to 11:00 a.m. EST.)
MPWN supporters around the world will have the opportunity to interact with Agnes and her fellow MPWN members through a secure multimedia platform hosted by Heart in Action Enterprises. The interactive session will provide a rare look at how Agnes and other African women with HIV/AIDS are empowering themselves for the future.
Agnes and her friends will also demonstrate how they make some of their highly acclaimed African craft items, including their paper-bead jewelry. They will also answer questions regarding their daily lives in Uganda.
Click here to join the International Women's Day celebration of "The Power of Women" and speak with Agnes Nyamayarwo live from Uganda. [Important note: Once you get to A Gem of an Idea, click on "Enter Multicast" at the top of the page.] Although anyone may view the broadcast and participate in the chat via the Internet, you'll need a headset to ask questions aloud and a web camera if you'd like Agnes and her friends to see you. If you decide to participate by video and/or voice, please log in a few minutes before the event starts to receive instructions.
For More Information
Heart in Action Enterprises and several global partners are addressing the Millennium Development Goals (MDG) and Information and Communications Technology (ICT) security innovation for the digital divide. For more information about A GEM of an Idea or Heart in Action, please contact Ashie Hirji. To find out more about the MPWN, contact Debbie Kreuser.
Blue Planet Green Living (Home Page)
In the past few months, I have had the privilege of getting to know two significant people, who have made a profound difference in how I see the world. One of these people is Ashie Hirji, co-founder of Heart in Action Enterprises (HIAE), a subsidiary of Asita Informatica, Inc. Ashie and her team are working to provide a secure media platform for young people to get their voices heard in — and from — nations where human rights are not always a given.
The other person who has educated me in profound ways is a young Palestinian college student in the West Bank. From her letters I have learned of the brutality of Israeli soldiers toward her family, friends, and neighbors. As an American living in the insulated world of the Midwest, I was not very aware of the plight of the people of Gaza until my young friend (whose name I want to protect) told me her stories and sent me photographs. The veil has lifted, and now I see ample evidence of the horrors being inflicted on the people of Gaza.
I've asked some of my beloved Jewish relatives and  friends here in the US what they think of the situation in Gaza. Without exception, they have told me that the Israeli soldiers are terrorists. Yet I was surprised to hear some say their views are unpopular with other American Jews.
I've also learned something about how US government support and military aid has enabled this crisis to continue. I am ashamed to think that my own tax dollars are contributing to the problem.
What follows is an account by Justin Theriault, a Canadian journalist who has seen the destruction in Gaza firsthand. Recently, he has been working with Ashie Hirji at HIAE to spread the word about Ayman Quader, a student in Gaza whose educational future was in doubt until a media blitz raised awareness about his plight.
As you read this post, please consider how all of us are connected. What happens in one part of the world truly does affect those of us in another part. When the Jews were being exterminated in the Holocaust, other nations — including the US — came forward to stop the massacre. Why are we now standing silent while the Israeli government — supported in part by US funds — persecutes the people of Gaza?
—Julia Wasson, Publisher
---
What exactly is injustice? Injustice, put simply, is when a person, or an entire population, is denied their basic human rights — more specifically, the human rights outlined in the Geneva Conventions post World War II.
The Geneva Conventions outline many universal human rights, from the right to education to rules protecting civilians during times of war. An injustice is anything that impedes or denies a person or a population their universal human rights as outlined in the UN Declaration of Human Rights.
In the spirit of the American Constitution, inalienable rights are those rights bestowed upon you by God, or a Divine Creator. They can neither be neglected, nor taken away by any government, authoritative regime, or institution.
If we look around the world today to countries such as Iraq, Afghanistan, the former Yugoslavia, Haiti, Palestine, etc., we can see the result of many injustices over long periods of time: poverty, starvation, genocide, ethnic cleansing. We also tend to see religious and sectarian extremism thriving under such conditions of injustice.
The Siege on Gaza
A very clear and brutal example of injustice today can be seen in the Gaza Strip. There, 1.5 million Palestinians have, quite literally, been held hostage by Israel for 43 years, since the end of the Six Day War in 1967, for nothing more than being the non-Jewish, native inhabitants of the Mediterranean lands of Palestine.
Many of the families in both the Gaza Strip and the West Bank (together comprising the Occupied Palestinian Territories) have lived in these lands for nearly two millennia. In the last three years, since the election of the Hamas Government, the Gaza Strip has been held hostage by Israel through what has come to be popularly termed "the Gaza Siege."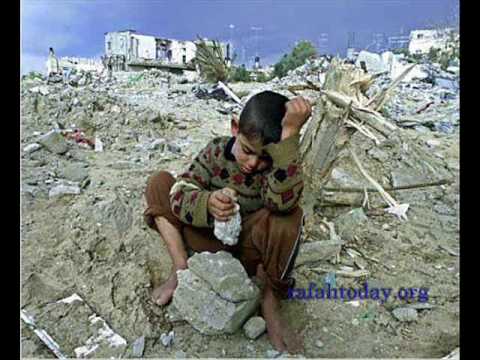 The siege on Gaza, which is made possible by the support of the United States of America, in the last three years has resulted in 95 percent of all factories in Gaza being closed as a result of a lack of supplies. Furthermore, very little of the required humanitarian aid is getting through the borders into Gaza, and Israel is actively blocking — or at least attempting to block — all students from leaving Gaza on academic scholarship.
In the recent "war" on Gaza — more accurately described as a massacre — Israel indiscriminately targeted civilian infrastructure for 23 days straight. Amnesty International reported that, during this invasion, between 21,000 and 22,000 structures were destroyed, including 250 schools, 5,300 homes (an additional 52,000 homes were damaged), 700 stores, 200 factories, 26 primary health care clinics, 8 hospitals, the only functioning flour mill and Gaza's power station. In total, more than 1,400 Palestinians were killed, 80 per cent of them civilians, including 342 children. More than 50 percent of Gaza's 1.5 million population is under 15 years of age.
The report of the UN fact-finding mission on the Gaza conflict, headed by Richard Goldstone — himself a self-proclaimed Zionist with family living in Israel — concluded "[D]eliberate actions of the Israeli forces and the declared policies of the Government of Israel … cumulatively indicate the intention to inflict collective punishment on the people of the Gaza Strip in violation of international humanitarian law."
Ayman's Plight
Fast forward to the case of Ayman Quader: Ayman Quader is a 23-year-old Palestinian from Gaza City, who was recently accepted on academic scholarship to a program at the Universitat Jaume I (UJI) in Castellón, Spain for the International Masters in Peace, Conflict and Development Studies (PEACE Master). Ayman was also granted a Spanish student visa in order to complete his academic program that begins February 2010 and runs through to May 2012.
Because of the total Israeli and Egyptian border closing around Gaza, Ayman has not yet been able to get out of Gaza, though his program started at the beginning of February. This is a very common scenario in the Gaza Strip, as Ayman is one of nearly a thousand students who are in the very same predicament.
Ayman's situation was brought to my attention by two colleagues of mine: Eliahi Priest and Ashie Hirji. Ashie Hirji is the director of a new media social enterprise and goodwill humanitarian organization that has been working on a secured multimedia communications project with Ayman. They are working towards strategies and tactics to give children in Palestine, as well as children in other war-torn countries, a platform to have a voice that can be heard around the world. The organization is called Heart in Action Enterprises (HIAE).
Media Blitz
With the combined knowledge of the team at Heart in Action Enterprises, along with the media connections in Spain that Cristina Valenti brought to the table, we were able to create a nationwide media blitz in Spain. Ayman's picture appeared in nearly every mass media in Spain.
How did we do it? First, we created a manifesto for Ayman that outlined the condition in Gaza, Ayman's personal situation and the human rights and international law that such practices violate.  From there we created an online petition and accompanying Facebook group to spread the word through existing networks on Facebook. We also sent media packages (manifesto, Facebook group and petition, all in four different languages) to various media outlets here in Spain. Once EFE got wind of the story, their correspondent in East Jerusalem was hot on the case. EFE is the equivalent to Reuters for Spain and Latin America, so an article published by EFE means that the article could appear in hundreds of media outlets.
The rotating EU presidency currently resides in Spain, giving the Spanish government additional international sway. As a consequence of the extensive media coverage generated by Ayman's plight, Ayman, along with 13 other students stranded in Gaza, are that much closer to realizing their dreams. The media exposure has directly resulted in political and diplomatic actions that are underway in Spain, Israel and Egypt to ensure that these students will make it to Europe to study.
The latest word on Ayman's case is that he has received official permission from Israel to cross the Erez border into Israel, where he will travel to Jordan via the West Bank and Allenby Bridge, accompanied by a Spanish diplomat. We expect this to occur in the next few days.
This is a very significant success story in the fight for human rights, and it is a clear example that the media can still be used to rally people together in support of human rights and social justice campaigns.
Heart in Action
This initiative is the first of many that will be implemented by Heart in Action Enterprises, a subsidiary of Asita Informatica. HIAE is currently working on a large-scale communications project that will use the groundbreaking technology produced by Asita Informatica and several Fortune 500 technology partners to take the campaign one step further by providing a platform for people like Ayman to speak directly with media.
HIAE will create collaborative projects with NGOs that are already well positioned within the scope of operations in countries such as Palestine, Iraq, Afghanistan, Kenya, Tanzania, Somalia, Bolivia, Costa Rica, Burma, and in any other country that requires outside support from the international community to ensure that human rights are reinforced.
The long-term goal of Heart in Action is to be able to provide an industry-compatible, secured platform for these children to use direct channels for education and communications with important media outlets, so that their voices can be heard all over the world. At Heart in Action, we believe that reinforcing the human rights — including educational rights — of our fellow global citizens is the key to a peaceful future, and the most effective strategy in guaranteeing universal human rights is to allow their voices to be heard.
Justin Theriault, Guest Contributor