Way back in June, I got an email from someone representing Lucky Earth products. She wanted to send me a sample of Lucky Earth's Waterless Car Wash. "Sure," I replied. "I'll give it a try." The sample bottle arrived a few days later, along with a packet of two "Super Cool (TM) Microfiber Towels." By then it was early July. The items sat on a shelf until today. You can probably see where I'm going with this: I'm not a fan of washing my car.
Today is a beautiful day. Not too hot, cold, or windy. Not a rain cloud in sight. With perfect weather at hand and a few spare minutes, I thought I'd give the car wash thing a try before dashing out to meet Joe and some friends for lunch.
Armed with my spray bottle and the two towels, I took a few quick squirts at my car and started wiping with a dry cloth. My initial reaction was lukewarm. I didn't like the thin spray, and I didn't think I was getting enough dirt off. But time was short, so I threw the spray bottle and towels in my Prius and drove away.
After lunch, the weather was still perfect. Finding no good excuse to avoid the inevitable, I decided to try again. In a rare flash of brilliance, it occurred to me that I should probably read the directions. Oops. I had done three things wrong: 1.) I hadn't sprayed the towel first. 2.) I hadn't used the second towel to buff lightly after removing the dirt with the first towel. 3.) And I hadn't tried turning the nozzle to get a wider spray. Lessons learned.
I tried again, wiping down only the left side of my vehicle, so that I could compare it with the unwashed right side.
Wow! In just a few minutes, the left side of my car was glowing like new. The right side was still covered with dirt spots and — worse than dirt — aphid droppings from a tree that shades our driveway. You'd have to experience aphid droppings on your car to know what a mess that can make.
It was the aphids, in fact, that compelled me to wash my car in the first place. Their droppings make sticky spots that act like dirt magnets. I had been concerned that the spots wouldn't come off without scrubbing, but the Waterless Car Wash cut through them with ease.
The bottle promises 7 to 10 washes, which may well be true. I'm not sure whether the amount I sprayed is typical or a little more than usual. My car was pretty dusty, but not nearly as bad as when I lived on a gravel road. My guess is that the kind of mess I used to have on every car I drove in the country would require a lot more of the liquid to clean it off. But I don't want to underestimate this stuff.
Good for the Planet
So, what's environmentally friendly about Lucky Earth Waterless Car Wash?
To begin with, you aren't using water. The Lucky Earth site suggests that a typical garden hose runs at about 10 gallons per minute. Of course, that depends on how wide open you turn your tap. With fresh, clean water being in short supply, using it to wash a car hardly seems the best thing to do.
A car wash company may recapture, recycle, and reuse some of the water that flows onto your car. The end result is a lot less water used, but not all companies do that. If they don't recycle the water, you probably use nearly 40 gallons to wash your car at a car wash.
And let's not forget that we generally use soap products when we wash our vehicles. You may choose a non-toxic, phosphate-free variety for your car; but, unless there's a sign telling you otherwise, you can be confident that the car wash down the street doesn't.
Here's what the label on Lucky Earth Waterless Car Wash says:
Non-Toxic
Environmentally Safe
Hypo-Allergenic
Phosphate Free
Fragrance Free
No Dyes
Paraben Free
Shop Around
One question I had about using a waterless car wash was cost. Though I don't go there often, I generally pay about $5 to have my car washed and waxed at the local car wash. If I'm not feeling quite so rich that day, I'll choose a shorter wash without wax for $3 or $4.
I found a 32 oz. bottle of Lucky Earth Waterless Car Wash on Amazon for $16.99 plus shipping, without the microfiber towels, which are a necessary part of the cleaning process. With Lucky Earth promising at least 7 washes, the cost comes down to about $3 per wash — not counting the cost of the cloths, which are reusable. That's comparable to the low-end car wash that I purchase.
Shop Organic has the bottle of Waterless Car Wash, without towels, for $18.59 plus shipping.
Lucky Earth sells the bottle online for $14.99 and the set of two microfiber towels for $6.99, plus shipping.
At ShopNBC.com, I found the same size bottle plus 8 microfiber towels for $27.99, plus shipping. Having 8 towels at your disposal would be great if you have more than one car to wash at a time. They can get pretty dirty, and I doubt you'd want to use them when wet.
HealthyHome.com offers a Starter Kit that includes a bottle (size not specified, but it looks like it could be a 32 oz. bottle) of the Waterless Car Wash, two microfiber towels, and a bottle of Tire Shine for $29.99 plus shipping.
I was really surprised to see the exact same Starter Kit on Amazon for $39.99 (but, hey, they give you free Super Saver shipping).
The best deal I've found so far is MotherNature.com, where you can get the same Starter Kit for only $9.80 plus $4.99 shipping.
If you try Lucky Earth Waterless Car Wash — or any of other eco-friendly, waterless car wash option, please let us know what you think.
See you later. I'm off to wash Joe's car now.
Julia Wasson
Blue Planet Green Living
These days, it's not difficult to reduce the carbon footprint while on the go. Not only is the global market for hybrid and electric cars expected to grow through at least 2015, but car makers are coming up with all kinds of ways to inspire eco-friendly driving. For example, Chevrolet is equipping all 2013 models with an "Ecologic Label," which lets customers know which environmentally friendly features each vehicle has.
But while the auto industry is doing what it can to encourage green living, we still can do more to make car travel as eco-friendly as possible. And you don't have to buy a hybrid to do so. Here's how you can make the environment a healthier place from behind the wheel, no matter what type of car you drive.
Drive less. Emissions from vehicles have long contributed to smog and air pollution, but the problem is getting worse. Americans are driving 127 percent more miles today than they were in 1970, according to the Environmental Protection Agency (EPA). That means the average driver is causing more damage to the environment than in years past. Every time you leave your car parked, not only are you saving money on gas, but you're doing the environment a favor. There are other benefits to decreasing your mileage:
Save time by combining several errands in one trip.
Catch up on your reading by taking mass transportation.
Give your exercise routine a boost by walking or cycling.
Jump-start your social life by carpooling with co-workers.
Keep your car serviced. Not only will proper maintenance extend the life of your car, but it will cut down on air pollution. Have you ever had to hold your breath because you were stuck at a light behind a motorist with smoke oozing out of his exhaust pipe? A technician can let you know whether your car is running inefficiently and give your car a tune-up if it's not.
Know when to fill up. When the weather's hot, filling your tank in the afternoon during the steamiest time of the day is one of the worst things you can do because the gas vapors can mix with the heat and sunlight, creating smog. Instead, fill your tank in the morning or at the end of the day. If your area declares an Ozone Action Day, try not to fill your tank at all during that period.
Don't top off your tank. You may think you're simply getting as much gas into your car as possible, but in reality you're wasting gas and money when you continue to force gas into your tank once the nozzle automatically shuts off. Even worse, gas spillage that occurs when you over-fill your tank can evaporate and add to air pollution.
Use green cleaning strategies. Thinking about heading over to the car wash? If you really want to have a positive effect on the environment, consider adopting environmentally friendly cleaning practices. The Environmental Services Division in Fort Lauderdale, Fla., recommends that eco-conscious drivers either use waterless car wash solutions that you apply to your car when it's dry and then wipe off, or take your wheels to a car wash that recycles its water.
When it comes to protecting the environment, little actions can go a long way. And whether your efforts yield you more time, more money or simply a chance to feel good about yourself, it's a win for everyone.
Laura Adams
Guest Writer
Blue Planet Green Living (Home Page)
Laura Adams is managing editor of Car Insurance Quotes, a leading online provider of auto insurance quotes and news.
"Necessity is the mother of invention," so the saying goes. Ask Mark Cunningham about Bayes Cleaners, and you'll find out how the need for a premium, eco-friendly cleaning product launched the company he shares with partner Matt Bays. Blue Planet Green Living (BPGL) spoke with Cunningham about Bayes Cleaners after trying — and liking — several of the company's products. We asked Cunningham to tell us how the company got started.

— Julia Wasson, Publisher
---
CUNNINGHAM: My partner, Matt Bays, and I were talking about how we had just both installed stainless steel kitchens, and we couldn't find any stainless cleaners that worked. I must have tried five or six different kinds of cleaners, and he had tried some as well. We said, "Hey, if anybody ever comes out with a stainless steel cleaner that works, they're going to make a lot of money!"
We met the next day, and decided to get serious about developing a stainless steel cleaner. We both were into recycling at the time. We both had young kids, and using nontoxic products was important to us. We said, "Let's make sure that whatever we come out with as a stainless steel cleaner not only works better than anything on the market, but it's safe."
Overcoming misconceptions about green products was probably the hardest thing that we had to face when we started formulating the product. There are a lot of green cleaners in the market, and the problem is they're perceived as not working as well as the toxic cleaners. That doesn't have to be, and that's one of the things that we wanted to solve. Just because it's green, that doesn't mean you're sacrificing quality.
Stainless Steel Cleaner
CUNNINGHAM: We started with a stainless steel cleaner, and we must have tried 50 to 100 different water-based formulations. We were lucky enough to be associated with a chemist friend of ours. Neither Matt nor I had a chemistry background, but we just knew what worked, and we were able to communicate to him from a homeowner's perspective what truly works. The water-based formulas just weren't working.
BPGL: What were you looking for in a stainless steel cleaner?
CUNNINGHAM: If you know anybody who owns stainless steel, the first thing that they ask is, "How do I get rid of the fingerprints?" That's what we were striving for.
We had heard people talk about using WD40 on the appliances. But WD40 really doesn't clean stainless steel, and obviously it's pretty toxic. But it does leave a nice shine. So we said, "These oil-based products seem to be the way to go. Now here's where the real fun starts: We have to create an oil-based product that's considered non-toxic and biodegradable."
BPGL: What kind of oil did you end up using?
CUNNINGHAM: We started with mineral oil, because mineral oil is used for food preparation and in cleaning cutting boards. We even took it a step further and worked with a 100-percent food-grade, mineral-oil-based product, so it would be safe around food prep.
By using that as a basis and then combining some cleaning agents, we were able to develop our stainless steel formula. The real hard part about the whole thing was getting it to where it kept the shine of an oil product but also was dry to the touch.
We solved that problem and came out with our stainless steel cleaner and protectant.  Then we realized, "Now we have to sell it!"
Launching the Products
BPGL: That's another kind of challenge completely. How did you start?
CUNNINGHAM: We decided to get a booth at the International Housewares Show in 2006 in Chicago. That's where any mass merchant of grocery chains in the United States goes to seek out products.
In the interim before the show, we developed a furniture product, a granite cleaner, and a barbeque cleaner.
So we launched. And it was interesting, because we were on the forefront of when "green" was just becoming popular. We were — and still are — trying to keep our performance and the green side on an even keel. We don't want to just pound the green message 24×7, because we want to show that this stuff works.
If all you want to do is find a cleaner that works, this is still the best cleaner. It's defined in our mission statement: "To formulate and market the finest premium products that clean, shine and protect our most valuable possessions while ensuring minimal impact on the environment without sacrificing quality."
We always say that those last three things are the real importance of every product that we make because, at the end of the day, it has to work. That's our biggest claim to fame, so to speak. If you ever see the reviews on our products, it just makes us feel good: These products work great, and they're also extremely safe for the environment.
We focused early on specialty markets, like the Williams-Sonomas of the world, and some of the higher-end supermarkets. We went through that avenue instead of mass retailers, because we thought that people might go more toward a specialty retailer to find these types of cleaners. We also went to independent kitchen stores.
In October we signed a deal with Ace Hardware on a national basis. We're really excited about that. Starting this year, you're going to be able to find our products in Ace stores around the country. We're also excited to be a part of Shop to Earn.
Formulated for Specific Surfaces
BPGL: Can consumers use your products on a variety of surfaces? For example, does the stainless steel cleaner work on porcelain appliances?
CUNNINGHAM: All of our formulations are what we call "specific surface cleaners." In other words, they're not jacks of all trades. The best stainless steel cleaner is not good for granite; it's not bad for it, but it's not meant for granite countertops. It's specifically for stainless.
Our granite formulation is specifically for natural stone surfaces. People call us up and ask if they can use it on Corian, and we say, "Yes, you can use it on Corian, but you're really not getting any of the best attributes of the product." What the product does is actually rejuvenate your original granite feel. It actually works in conjunction with the seal for natural stone countertops. You can't use our leather cleaner to wipe off your countertops; it's for leather.
But our Stainless Steel BBQ Cleaner is actually the same, exact formula as our stainless cleaner.
BPGL: Do people know it's the same formula?
CUNNINGHAM: We don't try to hide that. When people call us and ask us, "What's the difference between your barbeque cleaner and your stainless cleaner?" We say, "They're the exact same product, they're just marketed to different merchants."
The same is true of the Choppers Motorcycle Wash and the Waterless Car Wash; they're identical. We just know that motorcycle enthusiasts and car drivers are two different markets.
Materials Safety Data Sheets
CUNNINGHAM: We focus on what we call "premium surfaces." We're still working very hard on a tub-and-tile cleaner. We found one that meets the criteria as far as the quality, but we haven't found one that meets the criteria for our environmental concerns.
We thought we had one, but… Do you know what Material Safety Data Sheets are?
BPGL: Sure. Companies that sell chemicals are required to list their ingredients on Material Safety Data Sheets.
CUNNINGHAM: Right. You can call up any company and ask for their Material Safety Data Sheets. They're not required to give them to you, but it's kind of a given that they will. And they will be required to do so after a while.
So, for the tub-and-tile cleaner we were working with, some of the chemicals they had were very clean on the materials safety data sheets. If you were a consumer, you'd think, Wow, this is safe. But when we were using it ourselves, we were kind of iffy on the fumes that were generated from the product.
We're doing a little bit more investigating. It works fantastic, but we still have some concerns that it's not the safest product out there, even though the industry actually points it out as being very safe. Sometimes when you combine chemicals together, you might have some reactivity involved. We put a lot of time into researching our products, as you can tell.
Waterless Car Wash
BPGL: How did you decide to develop the Waterless Car Wash product?
CUNNINGHAM: When we were doing all these green products for the house, every time we started thinking about new products to launch, one of the things we kept going back to is that every house has a car. We had heard about some waterless car washes, and we had tried some. They worked okay, but not up to our expectations. But we thought, What a great idea! — especially here in California with the drought situation we're going through.
We got some ideas on how it could work and what wasn't working and what the problems were. Late one night, our chemist called us up and said, "I've got it figured out!."
We drove down the next day, and we said, "This is unreal!" It worked great and met our safety criteria, too. We still went through a couple of months of making sure that the product was doing everything that we thought it was doing without any negative results.
If something happened that this company went away, I believe in that product so much, I'd still wash my car with it every single day. But we have a tough time getting people to understand what it is.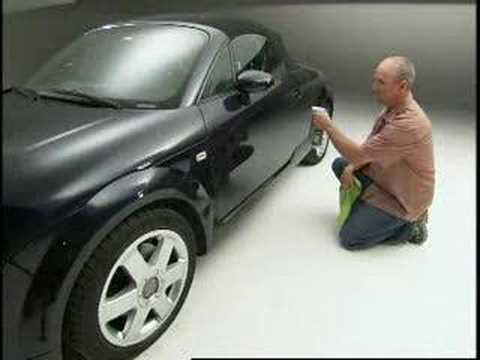 BPGL: What gives the product its protective quality?
CUNNINGHAM: The Waterless Car Wash is actually polymer based. And polymer is a really cool deal. It works similar to wax properties. The polymer itself provides the protection for the surface.
And by the way, if you look at all of our bottles, they all list ingredients. Cleaners do not have to put ingredients on their bottles as of yet. We think that's probably going to change by 2011 or 2012. But we felt it was important that if anyone wants to look up any ingredients or has any concerns, they can go ahead and do it. We decided it was the right thing to do.
BPGL: Joe used the Waterless Car Wash in the fall and had some trouble getting thick aphid poop off of his car. But it worked much better with road grime this winter. We put it to some pretty tough tests — worse than average car dirt.
CUNNINGHAM: This is mainly meant for someone who is washing their car once a week as regular maintenance.
Non-Hazardous, Non-Toxic, and Biodegradable
BPGL: You said that the stainless steel cleaner doesn't show fingerprints. How long does it take for it to dry?
CUNNINGHAM: It's instantaneous. If you put it on, you literally wait about 20 seconds. It's going to look wet; that's the beauty of it. It has that wet look to it, but if you go up and push against it with your hand, it will be dry to the touch. It's such a unique formula.
We're starting to get heavily involved with the restaurant industry. I guess the reason is because one of our large competitors in the restaurant industry has a product that has been associated with being extremely toxic — because it is. You just have to read their Material Safety Data Sheet.
We're getting a lot of contacts from major restaurant supply houses. They're getting a lot of backlash from their own customers who are trying to do a better job of going green.
BPGL: You're saying your products are nontoxic. So, if a little kid touches the refrigerator right after it's cleaned, then puts his fingers in his mouth, the child is absolutely not going to be harmed?
CUNNINGHAM: He could put his tongue on it. Every single thing we sell is nontoxic.
Last year, in front of a group, I actually took a drink of our Waterless Car Wash. Of course, I gagged from the taste. And they said, "I thought you said it wasn't bad for you."
I said, "I drank it. It's not bad for you, but that doesn't mean it tastes good! It's still a cleaner." [He laughs.]
All of our products are classified as non-hazardous, non-toxic, and biodegradable. But we don't want to use that word "nontoxic" loosely. We use the example, if a baby drank a gallon of water, then even water is toxic. We do get concerned that if people think it's nontoxic, and they drink a whole gallon, that could be dangerous. But as far as if a baby puts his mouth up against the car wash bottle, nothing is going to happen to him. It would be identical to him getting his mouth washed out with a bar of soap.
SLS, SLES or SCS?
BPGL: What can you tell us about your hand soaps?
CUNNINGHAM: What's so great about our EuroSpa hand soaps is that it's the first line of scented hand soaps on the market to be approved for the EPA Design for the Environment (DfE) program. We were first on the market to earn the DfE seal on our scented hand soap line.
We work really closely with the EPA. Our stainless steel cleaner is actually EPA approved for their DfE program. We knew that they were going to be reviewing scents and dyes. So we were paying close attention to it, because scents and dyes typically don't biodegrade. There's a new company that is coming up with a line of scents and dyes that actually do biodegrade. So we started working with them. Our soaps have great smells.
BPGL: When I opened the box of complimentary samples I was thrilled to see an unscented hand soap. I would encourage you to make a whole line of unscented products.
CUNNINGHAM: I agree. That's why we took the scent out of our stainless steel cleaner. We had some people who were concerned about that. The cool fact is that it's free of sodium lauryl sulfate (SLS) and sodium lauryl ether sulfate (SLES). If you look those up on Google, almost every soap on the market is either SLS- or SLES-based.
We use sodium coco sulfate (SCS), which is compared to the difference between using tap water and purified water. Sodium cocoa sulfate is an ingredient that is taking out all the harmful chemicals associated with the carcinogens that SLS and SLES have.
For a lot of people whose skin gets irritated by soaps, it's usually 95 percent because they contain SLS or SLES. Those are ingredients our soaps do not have.
BPGL: Joe's daughter reported that the Bayes Hand Soap felt different from other soaps she's used. She said, "I can't really explain it, but it has a texture."
CUNNINGHAM: I wish I could have everybody use it, because it's a real smooth texture versus hand soap with SLES. You don't think about a single ingredient making that huge amount of difference, but it does. And it still lathers really nice, which is great.
People always ask, "Why doesn't everybody just put the sodium coco sulfate in?" But the cost of the raw materials and ingredients is much higher than sodium lauryl sulfate. We work on a little lower margin to do the right thing. We'll make up for it with people who understand that this is high-quality soap.
If you compare our soaps to Dial or something like that, ours will be high priced. But if you compare them to a premium soap, such as soap at Williams-Sonoma, then they're extremely well priced.
Only the Best Will Do
BPGL: What's next?
CUNNINGHAM: We just launched a monitor cleaner. It's almost identical to the stainless steel cleaner story. Kids are putting their hands all over monitors, so we developed a screen cleaner, made specifically for plasma and LCD screens.
I've never seen a better screen cleaner. It's a non-drip formula, so when you spray it on, you don't have to worry about it going into the components.
BPGL: Do you have a glass cleaner?
CUNNINGHAM: We actually don't, because there are a lot of good, nontoxic, nonhazardous window cleaners right now. We wouldn't be able to differentiate ourselves. This goes back to our mission statement. It has to be better than anything else on the market, or we won't make it.
Promo Code
To try Bayes Cleaners products for yourself, visit the Bayes website. You'll save 20 percent off all online purchases from the site by using this PROMO Code: TWBAYES09. The code expires June 2010.
Follow Bayes Cleaners
Twitter: Twitter.com/BAYESCLEANERS
Facebook: Facebook.com/BayesCleaners
The Small Print
DISCLOSURE: Blue Planet Green Living received free product samples of the following Bayes Cleaners:
• Bayes DfE Stainless Steel Cleaner and Protectant
• Bayes Granite Cleaner and Rejuvenator
• Bayes Waterless Car Wash
• Bayes EuroSpa Hand Soap
Blue Planet Green Living is a Shop to Earn/Shop to Earth member. Bayes Cleaners are featured on Shop to Earth. If you purchase Bayes Cleaners through Blue Planet Green Living's Shop to Earn/Shop to Earth affiliate link, Blue Planet Green Living will receive a 15 percent cash reimbursement.
Blue Planet Green Living's policy is to only review those products we feel merit an overall positive review. If we do not like a product more than we dislike it, we do not review it. We are not influenced by any samples or potential reimbursement from Shop to Earn/Shop to Earth and provide our honest opinions, both positive and negative.
Blue Planet Green Living (Home Page)
When Blue Planet Green Living (BPGL) received a complimentary box of sample cleaners from Bayes, we passed out some of the products and kept some to review ourselves. Following are the collected comments from our review team. — Julia Wasson, Publisher

Bayes Stainless Steel Cleaner/Protectant
One of the features that attracted us to the home we purchased a year ago was the kitchen full of stainless steel appliances. Little did we know what fingerprint magnets they are, especially with three young children around.
I also had no idea about how to properly care for the appliance surfaces. I found out the hard way that typical household cleaners are too abrasive or corrosive for the stainless steel finish. Bayes Stainless Steel Cleaner/Protectant was a great find for us.
Cleaning with Bayes is as easy as using other cleaners: Just spray on and wipe. The mild (lemony?) scent is pleasant and not overpowering. It removes smudges and other grime, as you would expect.
But the great thing is that it allows you to clean less. The nontoxic protectant not only restores the shine to the surface and protects the appliance from damage by airborne elements in the environment, it actually resists smudges.
Since I barely have time to pick up all the clutter that having a family brings, much less chase after fingerprints everywhere, this is good news. Our kitchen looks a lot cleaner on a daily basis since we have been using Bayes.
— Karen Nichols, Contributing Writer
Bayes Granite Countertop Rejuvenator
Our new kitchen has another great feature: beautiful stone countertops. The previous owner was a stonemason, and he installed countertops made from native Iowa limestone. To the uneducated eye (mine), these looked indestructible. Not so.
As with the stainless steel appliances, common household cleaners can damage the surface finish of the stone. I had already done quite a bit of damage to the countertops by the time I tried Bayes Granite Countertop Rejuvenator. (Though the word "granite" is in the name, it also works on marble and natural stone surfaces.)
Bayes cleaned the countertops better than I had expected, easily tackling the syrup and yogurt left over from breakfast. Again, the fragrance was mild and pleasant.
But best of all, the biodegradable Polymer Emulsion restored the original shine to the surface of the stone. I no longer had to feel like I had lowered the value of one of the greatest features of our house.
Both Bayes products are nontoxic and biodegradable and carry the EPA's "Design for the Environment (DfE)" seal of approval, meaning that a "scientific review team has screened each ingredient for potential human health and environmental effects and that — based on currently available information, EPA predictive models, and expert judgment — the product contains only those ingredients that pose the least concern among chemicals in their class.
Both the Stainless Steel and the Granite products cost $13.50 for a 16 oz. spray bottle on the Bayes website. While that's high compared to some other cleaners, they are well worth the money because they're so effective and they protect high-end appliances from scratches and scuffs.
But even more important, they're environmentally safe — and that means they're safe for my children and yours.
— Karen Nichols, Contributing Writer
Bayes EuroSpa Naturals Hand Soaps
Although I like having a liquid soap for guests to use (who wants to put their hands on someone else's used bar of soap?), I haven't been a fan till now. Most hand soaps are hard to wash off, contain ingredients I don't really want on my skin, and aren't recommended just prior to handling contact lenses. Besides, most of them have scents are irritating to my asthma.
When our family first tried Bayes Eurospa Naturals Hand Soaps, Joe's daughter, Megan, and her husband, Kyle, remarked that the soap "feels different." They couldn't quite put their finger on what that difference was. And I understand that. This hand soap has an unusual (but very nice) texture. To me it feels like glycerin, though that's not an ingredient. It's a lot different from the soaps we've used in the past — the kind you can buy in large bottles from discount stores. It's different and better.
Megan and Kyle like the grapefruit scent in the bottle they used. "It really smells like grapefruit!" Megan said. Joe and I are quite happy with the unscented formula. (Have you tried finding an unscented hand soap in a grocery store? Good luck with that.) This soap can also be used on the face or the body, though we haven't tried it in the shower.
The soap lathers well and feels great on our hands. And after washing with this soap, I can handle my contacts without getting a film on them — a definite plus. I also think the bottle is attractive on my bathroom countertop.
The cost is a bit higher than some grocery-store varieties ($7.99/12 oz. bottle on the company website), but well worth the money, in my opinion, because it does not contain paraben, EDTA, or phtlalates. In fact, Bayes EuroSpa Naturals Hand Soap earned the Design for the Environment (DfE)seal.
Bayes Waterless Car Wash
Late in the fall, I tried Bayes Waterless Car Wash on my black Prius. My parking spot is under a maple tree behind our house, which has some distinct disadvantages. About a million of them, in fact — a million little aphids pooping on my car. Now that's a challenge to any car cleaner.
I decided to test out Bayes to see if it would cut through the mess the aphids left behind. I was pleased for the most part. I got the majority of the grime off without too much trouble, though some was left behind. (I may have just given up too early, considering the huge problem left behind by the aphids.)
In total fairness, there was just about enough aphid poop on my car to constitute another layer of paint. If only it had looked good, I'd have been happy for the thick protective coating. Not so, though. Aphid poop is sticky and looks like tiny blobs of syrup dropped on the surface.
Bayes Waterless Car Wash tackled the mess pretty well, but not quite perfect. I finally resorted to a soap-and-water bath for my Prius. But to be fair, the challenge I put it to was much harder than your average car crud. Considering the massive amount of sticky stuff covering my car, I'm not sure anything short of hot water and soap could have cleaned it off.
I didn't feel that the aphid test was fair to the product, so I decided to try it again. This time it was winter. (Did I mention I don't wash my car very often?)
Snow has a way of being white when it falls and then turning into an ugly gray, black, brown slurry once it hits a highway. After every snowstorm, all the salt and car exhaust and mud and pollution get mixed into the road stew that splashes up on windshields, hoods, doors, and bumpers. It doesn't take long before my sweet, little, black Prius morphs into a brown-striped mess that looks like something the cat dragged in.
So I pull out the Bayes Waterless Car Wash and a microfiber towel to check its ability to dissolve the mess. Right in my driveway, spray bottle in one hand, a microfiber cloth in the other, and away we go. Or rather, away goes the dirt.
Amazing. Just squirt, squirt, into the rag. Rub lightly on the surface of my car, and it's shiny and clean, with just a few swipes, no water. It's about 35 degrees outside. Yes I'm cold. But, I had to see if this thing works. I am thrilled.
The Bayes Waterless Car Wash sells at 16 oz. for $10 or 32 oz. for $17.  Under normal circumstances (read: not aphid poop) with a car the size of a Prius, you should get several washes out of even the smaller bottle. Considering the $5.00 to $10.00 that you would have spent per drive-through car wash, you'll save a whole lot of money using Bayes. Oh, and you won't need any water, either.
Promo Code
Why not try one or more of these products for yourself? Bayes offers a 20 percent discount on all purchases from their website through June 2010. Enter promo code: TWBAYES09 to get a discount. Plus, purchases of $30 or more get free shipping. All that, and eco-friendly products, too.
The Small Print
DISCLOSURE: Blue Planet Green Living received free product samples of the following Bayes Cleaners:
• Bayes DfE Stainless Steel Cleaner and Protectant
• Bayes Granite Cleaner and Rejuvenator
• Bayes Waterless Car Wash
• Bayes EuroSpa Hand Soap
Blue Planet Green Living is a Shop to Earn/Shop to Earth member. Bayes Cleaners are featured on Shop to Earth. If you purchase Bayes Cleaners through Blue Planet Green Living's Shop to Earn/Shop to Earth affiliate link, Blue Planet Green Living will receive a 15 percent cash reimbursement.
Blue Planet Green Living's policy is to only review those products we feel merit an overall positive review. If we do not like a product more than we dislike it, we do not review it. We are not influenced by any samples or potential reimbursement from Shop to Earn/Shop to Earth and provide our honest opinions, both positive and negative.
Blue Planet Green Living (Home Page)