Stop "Chocolate Milk" from Running in Iowa's Rivers – Vote for Iowa's Water and Land Legacy Referendum
October 22, 2010 by
Filed under 2010, Blog, Ecology, Erosion, Front Page, Government, Iowa, Recreation, Slideshow, Soil, Vote!, Water, Wetlands
If you're an Iowa voter who hasn't yet cast your ballot, please vote in favor of the Iowa Water and Land Legacy referendum. You'll find it on the back of the ballot (along with several other important issues). Voting "Yes" for this amendment will add a tiny fraction of any future sales tax increase to a trust fund. The monies raised will help support clean water and improve recreation for everyone in the state. To find out why this referendum is so important to Iowans and those who will visit here, read Brigette Fanning's interview with IWLL campaign manager, Mark Langgin. — Julia Wasson, Publisher

---
Iowans have a crucial choice to make that will impact future generations: the choice between clean water and dirty water.
On November 2, Iowa voters will see a referendum on a constitutional amendment called Iowa's Water and Land Legacy (IWLL) on the back of their ballot. If it passes, it goes into effect for the next sales tax increase. Three-eighths of a percent of all Iowa sales will go into the trust fund, which will be used for soil conservation programs, to improve water quality, and to promote outdoor recreation.
"This is a way to not have chocolate milk running down our rivers," says Mark Langgin, campaign manager for Iowa's Water and Land Legacy.
Two-thirds of the fund will be used for water quality and soil conservation programs. The remaining third will be used for outdoor recreation programs, parks, trails, and fish and wildlife habitats.
Langgin says this amendment is so essential because of the sheer volume of polluted waters within the state: 500 impaired waters — at least one in each of the 99 counties.
"Soil and sediment are the top pollutants in the water," Langgin says. "And Iowa farms lose five tons of soil per acre per year."
He puts the issue of soil erosion and runoff into perspective: Iowa alone has 120 million acres of cropland. Ninety percent of the state's land is used for some type of agricultural endeavor.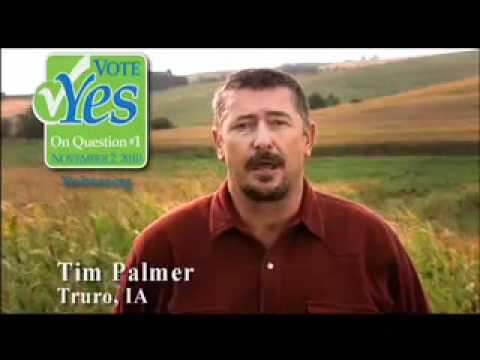 A Record of Success in Other States
But Langgin sees the referendum as a way to start solving these problems. Currently, Iowa is ranked 47th out of 50 states for per capita spending on conservation and 49th out of 50 for outdoor recreation spending.
"This is an opportunity to move out of the bottom five percent," he says.
Other states have passed similar referendums, and Langgin says they are extremely successful. Minnesota, Missouri, and Arkansas all have similar programs in place.
Arkansas passed their referendum in the late 1990s, and Minnesota recently passed theirs in 2008. Missouri started their efforts more than 30 years ago.
"It's been extremely successful," Langgin says. "Any tourist can see the difference. They have gorgeous outdoor facilities."
Langgin believes this amendment would be an excellent opportunity to invest in tourism, as  Missouri does. Local recreation areas like Okoboji and Clear Lake are already dependent on tourism. He sees it as an opportunity to create other popular destinations within the state.
For more information about the amendment, Langgin recommends contacting local county conservation boards. He's "cautiously optimistic" about the referendum passing, because voters don't have enough information about the issue.
Get Involved
To get involved directly in helping to pass this referendum, Iowans are invited to participate in phone banks. Iowa Rivers Revival (IRR) is co-hosting a phone bank with Iowa Environmental Club and the Sierra Club on Monday, Oct. 25 from 6:00 PM to 8:00 PM at the Iowa Environmental Council, 521 E. Locust St. in Des Moines.
Additional phone banks are scheduled in Des Moines on Oct. 26 at the Iowa Natural Heritage Foundation and Oct. 28 at The Nature Conservancy. Volunteers may also make calls from their homes by working with IRR. Contact Executive Director Roz Lehman at rlehman@iowarivers.org to volunteer.
Blue Planet Green Living (Home Page)
Related Links