Cast Your Vote for the "Hardest-Working ___ in America"
August 4, 2010 by
Filed under 2010, Activists, Blog, Business, Contest, Economy, Events, Front Page, Slideshow, U.S.
Mitchum's brand team calls its product the "hardest working anti-perspirant in America." And, as part of their latest advertising strategy, they're running a contest that invites people to submit videos of the "hardest-working ____ in America." Entrants were invited to fill in the blank with a noun, then to post a video about themselves or someone else they nominated. The goal is to convince the rest of us to vote for them.
Ten finalists were announced in mid July, and the public is invited to vote until August 15 by clicking the name of their favorite on the Mitchum contest website. The prizes are impressive, with the Grand Prize at $100,000; the Second Prize at $20,000; and the "Audience Award" at $5,000 plus a "Golden Stick" of Mitchum Deodorant (really?).
While this is obviously another clever marketing strategy similar to a few other companies' efforts  (Pepsi and Intuit come to mind), the stakes are high enough that the prize could do some real good. And that's why I'm weighing in with a suggestion that you take a look at the videos of the ten finalists and choose the one that resonates with you.
Today, I received a link on Facebook to a video about Chad Pregracke, who has been nominated as the "hardest-working do-gooder in America." I've heard about Pregracke's work for a few years now. He is the crusader who has been steadily cleaning up the Mississippi River for a decade, going up and down the Big Muddy with a tugboat and a small crew, pulling all manner of trash from the water and the banks.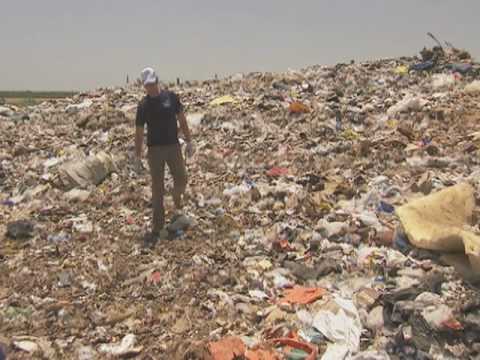 But Pregracke hasn't stopped with the Mississippi River. He's traveled to rivers across the U.S., leading teams of volunteers and inspiring them to get involved in cleaning up their own local waterways. Pregracke follows a long tradition started by Pete Seeger on his schooner Clearwater, and Larry Long, who established the Mississippi River Revival. Pregracke just earned my vote in the Mitchum contest.
You may prefer someone else. But you won't know unless you view the videos. Why not take a few minutes to watch each entry, then vote for the one you think is most deserving? And if you don't want to take the time to view them all, I hope you'll vote for Chad Pregracke. He may just be cleaning up a river in your state soon.
Blue Planet Green Living (Home Page)