Where Not to Take Your Family – A Dolphin Show
July 15, 2010 by
Filed under 2010, Blog, Conservation, Ecology, Events, Front Page, Slideshow, Social Action, Tourism, Wildlife
Recently, I saw a video of a dolphin that had thrown itself out of the water in which it was swimming. This dolphin was trained to do tricks for the pleasure of human visitors. It was held captive, along with several other dolphins, in a small pool.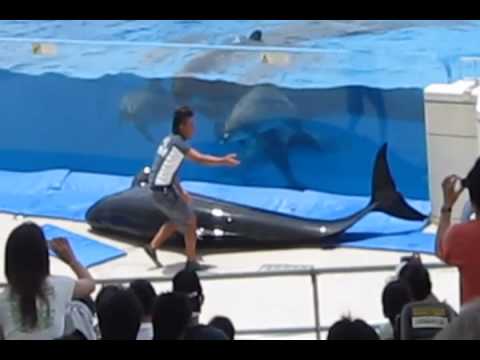 Dolphins are intelligent animals. Why would one deliberately try — twice — to hurl its body out of the water and over a high wall? Was it searching for food? Was it trying to harm the human on the other side of the wall? Or did it simply want to end its captivity, even if that meant death? I have no idea, but the dolphin did. This was no random accident.
In the video, did you notice how several other dolphins gathered around and watched through the glass as the humans tended to their companion? Did they understand that their fellow dolphin was in mortal danger? I think they did.
Since I was a young girl, I've been fascinated by stories of dolphins who have saved humans from certain death. The stories included dolphins protecting swimmers from a shark by forming a barrier between predator and potential prey, rescuing drowning humans by pushing them up to the surface so they could breathe, guiding lost boaters to land, and more. These are intentional acts arising out of what appears to me to be empathy. They are acts of reasoning creatures who understood the dangers awaiting the humans they saved.
So why would a reasoning sea creature deliberately jump out of its tank?
While you ponder this question, read the following facts I received in an email from a Facebook Cause group connected to the film The Cove:
Dolphins have evolved over millions of years, adapting perfectly to life in the ocean. They are intelligent, social and self-aware, exhibiting evidence of a highly developed emotional sense. Here are just a few of the issues with captivity.
Training of dolphins is often deliberately misrepresented by the captive dolphin industry to make it look as if dolphins perform because they like it. This isn't the case. They are performing because they have been deprived of food.
Captures of dolphins are traumatic and stressful and can result in injury and death of dolphins. The number of dolphins that die during capture operations or shortly thereafter are never revealed in dolphinariums or swim-with-dolphins programs. Some facilities even claim their dolphins were "rescued" from the ocean and cannot be released. This claim is almost invariably false.
Most captive dolphins are confined in minuscule tanks containing chemically treated artificial seawater. Dolphins in a tank are severely restricted in using their highly developed sonar, which is one of the most damaging aspects of captivity. It is much like forcing a person to live in a hall of mirrors for the rest of their life their image always bouncing back with no clear direction in sight.
I have no doubt that the vast majority of the trainers who work with dolphins and whales genuinely like the animals and enjoy their work. They may even tell themselves that what they're doing is good, as it's a way to bring attention to these beautiful sea creatures so people will want to protect them. But there's nothing noble or good about slavery, and that's what this amounts to.
If you haven't yet seen The Cove, please consider doing so soon. The film changed forever the way I view dolphin — and whale — shows. It's essential viewing for anyone who purports to care about animals. It will no doubt make you squirm and cringe. But it will also open your eyes to the ugly truths behind this "family entertainment" industry.
The email I received from the The Cove's Facebook Cause group urged me to sign a petition stating that I will not attend any dolphin shows. I did sign. And I won't attend dolphin or whale shows — anywhere. But my personal choice won't make much impact all by myself. Will you join me in pledging not to attend one of these shows? Here's the link: The Petition Site.
Before you pass this off as "just another internet petition" that will make no real difference to anyone, please take a look at this partial list of dolphinariums ("abusement parks") that have been closed following public protests. For the full list, check out the Save Japan Dolphins website:
| | | |
| --- | --- | --- |
| Lerner Marine Lab | Bimini, Bahamas Islands | Closed |
| Marineland | Adelaide, Australia | Closed |
| Waragamba Dam Dolphinarium | Waragamba, Australia | Closed |
| Antwerp Zoo Dolphinarium | Antwerp, Belgium | Closed |
| Hagenbeck Zoo Dolphinarium | Hamburg, Germany | Closed |
| Kinder Zoo Dolphinarium | Rapperswil, Switzerland | Closed |
| Tel Aviv Dolphinarium | Tel Aviv, Israel | Closed |
| Luna Park Dolphinarium | Tel Aviv, Israel | Closed |
| Seaquarium | San Andres, Colombia | Closed |
| Ocean Reef Club Dolphinarium | Key Largo, Florida | Closed |
| Oklahoma City Zoo Dolphinarium | Oklahoma City, Oklahoma | Closed |
| Ocean World | Ft. Lauderdale, Florida | Closed |
| US Navy Dolphin Facility | Key West, Florida | Closed |
| Santos Amusement Park | Santos, Brazil | Closed |
| Dolphin Swim Program | City Swimming Pool, Buenos Aires Argentina | Closed |
| Ocean Expo Dolphinarium | Myrtle Beach, South Carolina | Never Opened |

This list includes less than one-third of the dolphin programs that have been closed due to public pressure. There truly is political power in public protest and economic power in boycotts. So sign the petition. Then boycott "swim-with-dolphins" programs and dolphin and whale shows.
Despite the closures listed above and on the Save Japan Dolphins website, many, many more dolphinariums and dolphin swim programs remain open. And that means large numbers of intelligent, empathetic animals are being held captive in tiny pools around the world. Let's change that — once and for all.
Blue Planet Green Living (Home Page)
Related Post