Fairfield Green Food Guide – A Resource for Local Foods
Fairfield Green Food Guide started out as a service to Fairfield County residents. But people all over the state are now watching the blog's founder, Analiese Paik, on New Channel 8's Good Morning Connecticut. Paik, who is dedicated to offering her services for free just to spread the word about local foods, is becoming a household name and a helpful resource for locavores across the state.
Blue Planet Green Living (BPGL) spoke with Paik about the passion that drives her and what she hopes to accomplish with her website. Paik's 18-hour days take her all over the county, partnering with nonprofit organizations and sharing the news about healthy, organic, and local foods.
But, what if you're not from Connecticut, let alone Fairfield County? If you're a fan of sustainable agriculture, Paik offers resources and ideas that you will surely find intriguing.
Paik says, "Fairfield Green Food Guide is really a resource for consumers who want to eat locally and sustainably. Some people are at the beginning and just trying to discover some of the resources that are available; they're not really sure what's going to work for them or what they're going to like."
So, Paik's blog is filled with posts about the resources available in Fairfield County. "For example," she says, "I'll write about a farm holding events, where you can go and meet the farmer and see what they're doing. I write articles about local stores who are sourcing locally, which is amazing and a really different approach. And, I write about small, independent, family owned food stores; Whole Foods, which dedicates a certain amount of their space to local foods; and even Wal-Mart, which recently got in the game in their Superstores."
It's about Community
What Fairfield Green Food Guide is most about is a community of people who are learning about or dedicated to local foods. "You can't talk about local food without talking about community and community building," Paik says. She travels the county in search of stories that will interest her neighbors.
"There's one article I wrote in my blog last year, called 'Fairfield County's Most Eclectic Farm Stand,' " Paik tells BPGL. "The guy is a local legend! His farm stand is a product of the community. When I wrote that article, I found out it's not just farms that are providing produce.
"It's citizens in Fairfield and the environs, who are growing so much produce on their land that they have too much to consume themselves. So they sell it through this farm stand. The whole community participates in it. So, when I wrote the story, it just took off, because that was already about community."
Paik also writes about farmers' markets, restaurants that participate in Farm to Table, and documentary films about food — all of which have broad appeal to consumers everywhere. A recent story posted by a guest writer talks about community supported agriculture (CSA) groups, which you can find in many communities around the world.
Myth Busting

"I love CSAs, because one of the biggest complaints you hear about local food is that it's expensive," Paik says. "It doesn't have to be. I don't want that to be a reason for anybody not to eat locally. Whether you're growing your own food in your backyard or whether you're looking at a CSA as an option, those are two ways to eat locally and sustainably and economically.
"CSAs are a direct contract with a farmer to buy a share in a season's harvest up front. For example, my organic CSA costs me $22 a week. That's it! And I get probably one and a half bags of organic produce. You have to look at that number and say, 'That makes sense.' And it's working for the farmer. It's a win-win.
"I heard an interview on CBS radio with the author of a book called Green Gone Wrong. The interviewer said something to her about eating locally and organic, and her response was something like, 'The problem with that is that it can cost up to 500 percent more to eat locally and organically.' I had not heard that figure. That is absolutely off the charts! I would really love to see what study she used to back that. This is what I do, day in and day out. And quite honestly, I'm at a loss to find one example of one food I have ever found that cost 500 percent more.
"Even Rachael Ray is on TV talking about how expensive local farmers' markets can be. People just need to stop saying that. Why don't these people, instead, say, 'There's a great option for buying local foods; it's called a CSA. And since there's no middle man, and typically you're picking up your own food, there's no added cost. You're getting it at the lowest possible cost.' "
Paik is passionate about CSAs (can you tell?) and writes about them both in her blog and in the buying guide. She also promotes local CSAs to subscribers in her newsletter. "It's a win-win for the farmer and the consumer. It's a great way to eat locally and economically."
She has also published guides to the seasonal CSAs in the Fairfield County areas. "I think it's really important for people to understand that CSAs are an option. And the reason why is because so many people are out there spreading statistics that may not be true about local foods being so expensive," Paik explains.
Shopping and Events

"There's so much going on right now in documentary food films," she says. "I find that they're a catalyst to change. If people don't know anything about sustainable food and they go to see Food, Inc., they come out thinking, 'I can't eat like that anymore. What should I do?' If they come to my website, they see that there are great choices right in their area."
The site resource that Paik describes as "most popular" is the Buying Guide. It's a searchable database that lists local food suppliers and venues in Fairfield County. Readers can sort by "town, zip code, name of the business and business description (farmers market, farm, farm stand, CSA, grocer, specialty food store, restaurant, wine shop, etc.)."
"We are really fortunate, where we live, that we have great choices," Paik says. "Not everyone has farmers down the road. We do! And we have artisan producers. We have an award-winning cheese maker, Cato Corner Farm.
But Fairfield Green Food Guide isn't all about shopping. Paik also alerts her neighbors to fun events, like Dinners at the Farm. "People don't have to go far away, they can just take a ride and have dinner on the farm with a bunch of other people. They'll get to meet the farmer and some really cool chefs. It's an interesting way for people to get exposed to local foods."
On Thursday of this week, says Paik, "One of our local cheese shops is holding an event where they're pairing their cheeses with wines from a local wine store. That's a really fun way for people to get introduced to local, artisan-made foods. If you buy cheese already, why not try a local cheese?"
And when there's a CSA open house, Paik spotlights it in the events section. She keeps a calendar on the site's home page for people to check out all the local food happenings in the county.

Good Morning, Connecticut

When Paik appears on Good Morning, Connecticut, she introduces viewers to little-known, but delicious, local foods, beverages, and kitchen supplies. On a recent show, she also talked about a book she loves, Sustainably Delicious, by Michel Nischan (who just happens to live Connecticut). You can see Paik's appearances on YouTube, including this one, which she recorded this week for Earth Day.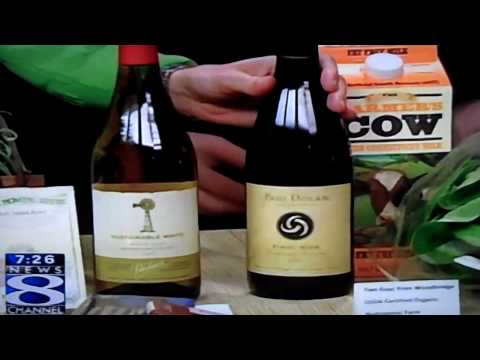 One thing you can't miss when talking with Paik is the passion she has for sharing what she's learned. So check out Paik's website, Fairfield Green Food Guide. You may just catch the fever and start looking for local foods in your own area.
Blue Planet Green Living (Home Page)