Pop Opera ECOLOGIC Competes for Funds in Pepsi Project
April 13, 2010 by
Filed under 2010, Artists, Blog, Community, Contest, Ecology, Environment, Events, Front Page, Grants, Illinois, Kids, Musicians, Slideshow, Students
When I was a kindergartner in an inner city neighborhood of the Chicago Public Schools, my class was bussed downtown to see Rapunzel at one of the grand old theatres. From my nearly front-row seat, the magic of the theatre left a lasting impression on this kid from an economically challenged family.

That kind of magical experience is one Jay Nagle and Dwayne Parks would like to give to thousands of other kids in the Chicago Public Schools. Their goal is to produce free performances of Ecologic, their original musical with an environmental message, in Chicago's Millennium Park. But their vision needs funding.
Parks and Nagle have entered the Pepsi Refresh Project contest to compete for a grant that would bring their project to life. Jay Nagle is a playwright, dance teacher, and director. His partner, Dwayne Parks, is a musician and composer. Together, they own Totally New Theatre and TKATS — Talented Kids, Adults, and TeenS — a nonprofit theatre arts organization that produces original musical performances. Blue Planet Green Living (BPGL) spoke with the team to find out more about their musical and why they think their project merits your votes in Pepsi's Planet category this month. — Julia Wasson, Publisher

---
NAGLE:
Mr. Parks and I started a theatre company in Evansville, Indiana, in August of 1990. Our main purpose was to produce regional theatre – hopefully
relevant
theater — and our main goal was to use young actors in our shows. Together, we wrote 32 original musicals.
Ecologic started out as part of a show we produced called Our Gang — Those Rascals. In that musical, we wanted to show what kids in the past had done to help the environment or help a cause. So our first act was through the eyes of Spanky from Our Gang. It was about how the kids in the show helped recycle tires and collect cans to help the war effort back in the 1940s.
We had a lot of educators come to see the performance. And they said, "You know what? The second half of your show would be ideal for school children. The message is not hitting them over the head, but they're going to get the point by a clever and unique way of learning." So, we made the second half of the show independent from the first piece and started having school-day performances of Ecologic.
BPGL: Where have you performed Ecologic in the past?
NAGLE: We were invited to schools to perform. We were invited to arts festivals and Earth Day celebrations. We were even the opening act for a world-renowned entertainer — Barney — at Roberts Stadium in Evansville, Indiana. The kids said, "It was like being the opening act for the Beatles." [He laughs.]
Through the years, we have been presenting this musical performance every Earth Day. There for a while, it was more like four or five times a year, because different groups would ask us to perform the piece. When we do the piece, when schools come to see it, we send out study guides for them, so they have an idea of some of the terminology that we use in the show.
BPGL: What grade levels tend to come to the performance?
NAGLE: We start with kindergarten through 6th grade and try to get the message out while they're young. Maybe they might not be understanding everything that's happening in the show due to the verbiage; however, there will be something they'll remember about what the piece is about. Some words in the piece — like deforestation and overpopulation — we will be sending out in the study guide.
Through the years that we've performed the show, close to 500,000 kids have seen it in Indiana or Illinois. Every performance, there has always been 1 adult in one of the parts and 30+ children doing all the other parts in the show. They range from 5 years up to high school age. We were a little bit before the time, because we were already saying, reduce, reuse, recycle. Then a couple years later, that slogan became popular.
BPGL: When did you start this?
NAGLE: 1991. The sad thing is, every time we produce the show, we have to change the numbers of things that we quote, as far as the rate of trees being cut down or numbers of pollutants and what's happening in the oceans. So we unfortunately have to change numbers going up higher.
The kids enjoy doing the piece because they love the message. It's fun. But it also is a way to guilt trip people that have messed up their planet.
BPGL: Where do you get the student performers? Are they drawn from the schools where you perform the piece?
NAGLE: When we had our own theatre, we would just hold auditions for anyone in the community. I work for the Chicago Park District now, so a lot of the students that are in my classes will put the show together. What we hope to do with Pepsi is to have a citywide audition and give students throughout the city a chance to be involved.
BPGL: Why is it that the Pepsi funds are needed for this particular performance?
NAGLE: We're hoping the funding will help with the production and multimedia aspects as well. Also, we want to broadcast the program via the Internet to schools and organizations, hopefully worldwide.
BPGL: When you say "multimedia," how will that look in your play?
NAGLE: How we used it in the past, on a smaller scale, was behind a character called Mother Earth. There was a large video screen with actual footage of fish flowing in the ocean — and then devastation. On the sides, we had huge screens so they could see the faces of what has changed on the planet. And with this particular production, we'll be streaming this out to schools and organizations worldwide via the Internet.
BPGL: Describe how that will work. Will schools subscribe? Will there be a charge?
NAGLE: If we get the grant, everything will be free for the kids to see via the Internet as well. They will be allowed to connect to the production during the performance times. Here, locally, the performances will be free of charge. The only thing they'd have to do is arrange for busing to the performance. And also, what we're going to do is make CD copies to send out to all the people that attend the performance.
BPGL: When you say "to all the people," do you mean to the teachers?
NAGLE: Yes, we have a sing-along participation with our song, "Recycle." We will send CDs to the teachers so they can teach the students to sing the song. Then when we get to that song in the show, we will ask everyone to join in.
BPGL: How fun! What schools are you planning to involve if you win the Pepsi grant?
NAGLE: This is for every school in the City of Chicago. We also have a lot of home-school kids. We're offering it to any kids K through 6th grade age. It will be on a first come, first serve basis by reservation.
BPGL: What is your job, besides being co-owner of TKATS?
NAGLE: I'm a theatre instructor for the Chicago Park District. I start with children at 18 months up to 86 years old. I have a "Sing with Mommy and Me" dance class. Then I have a senior dance troupe that does performances throughout the city.
BPGL: So, 86 doesn't happen to be the top limit, that's just the oldest person you have now?
NAGLE: Right. That just happens to be the age of the oldest one. I can go up to 100+!
BPGL: How much money are you asking for in the Pepsi Refresh Project grant?
NAGLE: $250,000. The nice thing about this is, throughout the years, the kids that have done this have gone on to be in the arts. With the grant money, we will bring one of our kids [from an earlier production] back to choreograph the show. We'll also bring in stage managers. Millennium Park has a pretty big stage. The performance involves a lot of kids, and we're going to pay the actors that are in the show; for a kid, that will be amazing! We also do a lot of slide presentations in the performance as well. And we'll hire a sign interpreter.
The budget allows for a staff of more than 50 paid positions as well. These include the artistic and musical directors; a band and director; choreographer; costumer; designers for the set, lights, video, projections and sound; 14 crew members for the performances; sound and light rentals; park rentals, fees and permits; security; insurance; Internet hook-ups and feeds; promotional materials; study guides for schools; printing; costumes; props; sets; actors; and staffing.
When we do this performance on what we call our "grand scale," we want to bring in some local artists to create the headpieces out of recycled materials for a number called "Fish Tree Air" — the subliminal message of that is Find The Answers, F.T.A. What we've done in the past is we've had large cloud hats for the air, huge fish hats that had three eyes, and huge tree stumps made out of raffia paper.
We want to go the next step and do something almost like an art piece made out of recycled materials that the actors would actually wear. The Garbage Man in our show is nothing but recycled material. He comes out to tell the kids, "No, you need to throw stuff down. You need to pollute the earth."
And we have the Judges of Conscience in the show. They say, "No! [The Garbage Man] is wrong."
BPGL: Sounds a bit like a Greek tragedy.
NAGLE: It's a little bit of Greek tragedy thrown in with a rock opera feel.
BPGL: Who composed the music for this?
NAGLE: This is a perfect segue to put Mr. Parks on the phone. We both work on the concept and the idea, but Mr. Parks is the musician and the composer of the piece.
PARKS: Jay and I started working together in 1985, when we met in New York. We left New York to go to Evansville for family reasons. It was a good segue for us to get out of New York, and start doing what we wanted to do, and that was writing and producing our own material. That was kind of an impossible thing to do in New York at that time because of the cost.
It was a great opportunity, and we got a really great space in the old courthouse there. We were there for eight years. During that time, we just kept writing and producing all these shows, and Ecologic was one of those. It was such a cool idea because of what was going on with the environment. I wrote the majority of this piece myself in its original form for Our Gang. Once we developed it into a one act, Jay penned more of a opening dialogue script, and we worked on the lyrics a bit more. And I added some additional music to the piece.
Ever since high school, I remember being so taken back by an environmental group that came in. They did this whole presentation. It was underscored with pop and contemporary music from that time. They used Pink Floyd and all these other great pieces of music, and they showed slides with it about the environment. It just left such an impression.
I guess it was one of those things that carried over into my adulthood. I said, "Somebody should do something — and why not us? And why not write something about the environment that would be also a way to educate at the same time?"
BPGL: That's a great line, "Somebody should do something — and why not us?"
What have been the effects of your play upon the students who participated or the children who have watched it?
PARKS: It's amazing, because we've just recently started a Facebook account. We were back in my hometown for my sister's funeral. While we were there, one of the kids who had worked with us in the theatre and who was in the original production of Our Gang — Those Rascals, his grandmother had passed, and they were having a service for her directly across the lawn from us at the same time.
We finished our service and walked over. We reconnected, and Casey made me promise to get on Facebook. He said, "It's been 12 years since we left Evansville. You'll be blown away at what's happened and what a lot of these kids have gone on to do, including myself."
He's a reporter now with the big Fox network out of Los Angeles. He just came back from Afghanistan. Another one of the kids from the theatre is with the Fox network, and their branch is in New York. So we reconnected those two.
Casey said, "You need to get on there." And since we've done that now, it's amazing. The kids have come back. We've put on there about voting and everything, and every one of these kids has come back saying, "You don't know  how much of an impression that show left in our lives. To this day, we recycle. We don't use these kinds of products. We're very green friendly." It's just different things like that and I'm like, "Wow' That's absolutely amazing that we left a mark like that."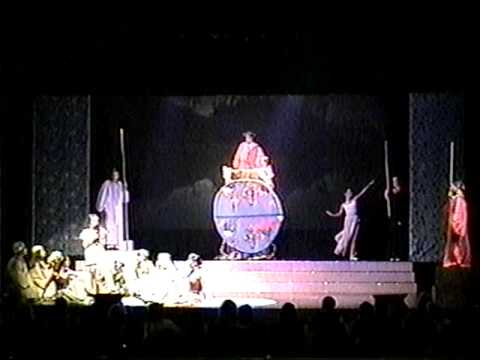 BPGL: That is wonderful! I hope it works for the audience as well.
PARKS: I'm hoping so, too! And it seems like it has, because we have a lot of the parents coming to us and going, "You guys don't know how much you changed my life and my kids' lives." It's just wonderful feedback that we've been getting.
BPGL: Why is it an important project to involve the kids in the Chicago Public Schools?
PARKS: The fact that we are in such a large city now, I just feel that we can get out the message in a much larger, vital area.
BPGL: Why do you say it's vital?
PARKS: I think all areas are vital, but again with Lake Michigan and what's going on here now with the Asian carp, and waste issues. I know there are certain things going on everywhere in the world with the environment — but the kids here, I don't know how much they realize what's happening right here with their own environment. We are the third largest city in the US, and that means a large population of children whose attitudes can be changed for the better.
BPGL: Do you address issues such as invasive species in your play?
PARKS: Yes, we do. The production deals with deforestation, overpopulation, landfills, chemicals, and pollutants, among many other issues — in addition to the effects these have on all species and the planet. What we also hope to do with this is to produce a CD soundtrack of the cast and possibly a companion DVD of the show. We can possibly market this production as well.
BPGL: What would happen with the profits from that?
PARKS: It would be used to help the Talented Kids Adults and Teens (TKATS) program grow here in Chicago. Since we've moved to Chicago, we've put the company on a back burner.  We would like to continue on with the production as well by possibly touring it on a larger scale to other cities in the US.
BPGL: Is there a cost to participate in TKATS?
PARKS: No. It's all free.
Note: If you support the vision behind the production of Ecologic for students in the City of Chicago, go to Pepsi's Refresh Project website and vote for Ecologic in the Planet category during the month of April.