Ecopreneurs Make High Performance, Eco-Friendly Cleaners
"Necessity is the mother of invention," so the saying goes. Ask Mark Cunningham about Bayes Cleaners, and you'll find out how the need for a premium, eco-friendly cleaning product launched the company he shares with partner Matt Bays. Blue Planet Green Living (BPGL) spoke with Cunningham about Bayes Cleaners after trying — and liking — several of the company's products. We asked Cunningham to tell us how the company got started.

— Julia Wasson, Publisher
---
CUNNINGHAM: My partner, Matt Bays, and I were talking about how we had just both installed stainless steel kitchens, and we couldn't find any stainless cleaners that worked. I must have tried five or six different kinds of cleaners, and he had tried some as well. We said, "Hey, if anybody ever comes out with a stainless steel cleaner that works, they're going to make a lot of money!"
We met the next day, and decided to get serious about developing a stainless steel cleaner. We both were into recycling at the time. We both had young kids, and using nontoxic products was important to us. We said, "Let's make sure that whatever we come out with as a stainless steel cleaner not only works better than anything on the market, but it's safe."
Overcoming misconceptions about green products was probably the hardest thing that we had to face when we started formulating the product. There are a lot of green cleaners in the market, and the problem is they're perceived as not working as well as the toxic cleaners. That doesn't have to be, and that's one of the things that we wanted to solve. Just because it's green, that doesn't mean you're sacrificing quality.
Stainless Steel Cleaner
CUNNINGHAM: We started with a stainless steel cleaner, and we must have tried 50 to 100 different water-based formulations. We were lucky enough to be associated with a chemist friend of ours. Neither Matt nor I had a chemistry background, but we just knew what worked, and we were able to communicate to him from a homeowner's perspective what truly works. The water-based formulas just weren't working.
BPGL: What were you looking for in a stainless steel cleaner?
CUNNINGHAM: If you know anybody who owns stainless steel, the first thing that they ask is, "How do I get rid of the fingerprints?" That's what we were striving for.
We had heard people talk about using WD40 on the appliances. But WD40 really doesn't clean stainless steel, and obviously it's pretty toxic. But it does leave a nice shine. So we said, "These oil-based products seem to be the way to go. Now here's where the real fun starts: We have to create an oil-based product that's considered non-toxic and biodegradable."
BPGL: What kind of oil did you end up using?
CUNNINGHAM: We started with mineral oil, because mineral oil is used for food preparation and in cleaning cutting boards. We even took it a step further and worked with a 100-percent food-grade, mineral-oil-based product, so it would be safe around food prep.
By using that as a basis and then combining some cleaning agents, we were able to develop our stainless steel formula. The real hard part about the whole thing was getting it to where it kept the shine of an oil product but also was dry to the touch.
We solved that problem and came out with our stainless steel cleaner and protectant.  Then we realized, "Now we have to sell it!"
Launching the Products
BPGL: That's another kind of challenge completely. How did you start?
CUNNINGHAM: We decided to get a booth at the International Housewares Show in 2006 in Chicago. That's where any mass merchant of grocery chains in the United States goes to seek out products.
In the interim before the show, we developed a furniture product, a granite cleaner, and a barbeque cleaner.
So we launched. And it was interesting, because we were on the forefront of when "green" was just becoming popular. We were — and still are — trying to keep our performance and the green side on an even keel. We don't want to just pound the green message 24×7, because we want to show that this stuff works.
If all you want to do is find a cleaner that works, this is still the best cleaner. It's defined in our mission statement: "To formulate and market the finest premium products that clean, shine and protect our most valuable possessions while ensuring minimal impact on the environment without sacrificing quality."
We always say that those last three things are the real importance of every product that we make because, at the end of the day, it has to work. That's our biggest claim to fame, so to speak. If you ever see the reviews on our products, it just makes us feel good: These products work great, and they're also extremely safe for the environment.
We focused early on specialty markets, like the Williams-Sonomas of the world, and some of the higher-end supermarkets. We went through that avenue instead of mass retailers, because we thought that people might go more toward a specialty retailer to find these types of cleaners. We also went to independent kitchen stores.
In October we signed a deal with Ace Hardware on a national basis. We're really excited about that. Starting this year, you're going to be able to find our products in Ace stores around the country. We're also excited to be a part of Shop to Earn.
Formulated for Specific Surfaces
BPGL: Can consumers use your products on a variety of surfaces? For example, does the stainless steel cleaner work on porcelain appliances?
CUNNINGHAM: All of our formulations are what we call "specific surface cleaners." In other words, they're not jacks of all trades. The best stainless steel cleaner is not good for granite; it's not bad for it, but it's not meant for granite countertops. It's specifically for stainless.
Our granite formulation is specifically for natural stone surfaces. People call us up and ask if they can use it on Corian, and we say, "Yes, you can use it on Corian, but you're really not getting any of the best attributes of the product." What the product does is actually rejuvenate your original granite feel. It actually works in conjunction with the seal for natural stone countertops. You can't use our leather cleaner to wipe off your countertops; it's for leather.
But our Stainless Steel BBQ Cleaner is actually the same, exact formula as our stainless cleaner.
BPGL: Do people know it's the same formula?
CUNNINGHAM: We don't try to hide that. When people call us and ask us, "What's the difference between your barbeque cleaner and your stainless cleaner?" We say, "They're the exact same product, they're just marketed to different merchants."
The same is true of the Choppers Motorcycle Wash and the Waterless Car Wash; they're identical. We just know that motorcycle enthusiasts and car drivers are two different markets.
Materials Safety Data Sheets
CUNNINGHAM: We focus on what we call "premium surfaces." We're still working very hard on a tub-and-tile cleaner. We found one that meets the criteria as far as the quality, but we haven't found one that meets the criteria for our environmental concerns.
We thought we had one, but… Do you know what Material Safety Data Sheets are?
BPGL: Sure. Companies that sell chemicals are required to list their ingredients on Material Safety Data Sheets.
CUNNINGHAM: Right. You can call up any company and ask for their Material Safety Data Sheets. They're not required to give them to you, but it's kind of a given that they will. And they will be required to do so after a while.
So, for the tub-and-tile cleaner we were working with, some of the chemicals they had were very clean on the materials safety data sheets. If you were a consumer, you'd think, Wow, this is safe. But when we were using it ourselves, we were kind of iffy on the fumes that were generated from the product.
We're doing a little bit more investigating. It works fantastic, but we still have some concerns that it's not the safest product out there, even though the industry actually points it out as being very safe. Sometimes when you combine chemicals together, you might have some reactivity involved. We put a lot of time into researching our products, as you can tell.
Waterless Car Wash
BPGL: How did you decide to develop the Waterless Car Wash product?
CUNNINGHAM: When we were doing all these green products for the house, every time we started thinking about new products to launch, one of the things we kept going back to is that every house has a car. We had heard about some waterless car washes, and we had tried some. They worked okay, but not up to our expectations. But we thought, What a great idea! — especially here in California with the drought situation we're going through.
We got some ideas on how it could work and what wasn't working and what the problems were. Late one night, our chemist called us up and said, "I've got it figured out!."
We drove down the next day, and we said, "This is unreal!" It worked great and met our safety criteria, too. We still went through a couple of months of making sure that the product was doing everything that we thought it was doing without any negative results.
If something happened that this company went away, I believe in that product so much, I'd still wash my car with it every single day. But we have a tough time getting people to understand what it is.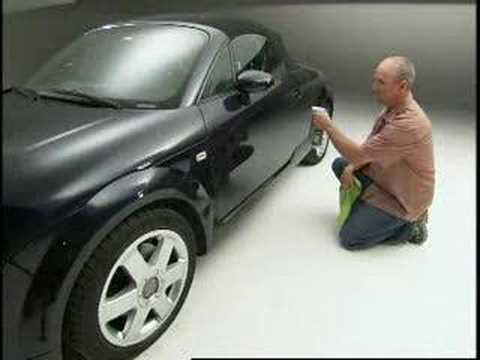 BPGL: What gives the product its protective quality?
CUNNINGHAM: The Waterless Car Wash is actually polymer based. And polymer is a really cool deal. It works similar to wax properties. The polymer itself provides the protection for the surface.
And by the way, if you look at all of our bottles, they all list ingredients. Cleaners do not have to put ingredients on their bottles as of yet. We think that's probably going to change by 2011 or 2012. But we felt it was important that if anyone wants to look up any ingredients or has any concerns, they can go ahead and do it. We decided it was the right thing to do.
BPGL: Joe used the Waterless Car Wash in the fall and had some trouble getting thick aphid poop off of his car. But it worked much better with road grime this winter. We put it to some pretty tough tests — worse than average car dirt.
CUNNINGHAM: This is mainly meant for someone who is washing their car once a week as regular maintenance.
Non-Hazardous, Non-Toxic, and Biodegradable
BPGL: You said that the stainless steel cleaner doesn't show fingerprints. How long does it take for it to dry?
CUNNINGHAM: It's instantaneous. If you put it on, you literally wait about 20 seconds. It's going to look wet; that's the beauty of it. It has that wet look to it, but if you go up and push against it with your hand, it will be dry to the touch. It's such a unique formula.
We're starting to get heavily involved with the restaurant industry. I guess the reason is because one of our large competitors in the restaurant industry has a product that has been associated with being extremely toxic — because it is. You just have to read their Material Safety Data Sheet.
We're getting a lot of contacts from major restaurant supply houses. They're getting a lot of backlash from their own customers who are trying to do a better job of going green.
BPGL: You're saying your products are nontoxic. So, if a little kid touches the refrigerator right after it's cleaned, then puts his fingers in his mouth, the child is absolutely not going to be harmed?
CUNNINGHAM: He could put his tongue on it. Every single thing we sell is nontoxic.
Last year, in front of a group, I actually took a drink of our Waterless Car Wash. Of course, I gagged from the taste. And they said, "I thought you said it wasn't bad for you."
I said, "I drank it. It's not bad for you, but that doesn't mean it tastes good! It's still a cleaner." [He laughs.]
All of our products are classified as non-hazardous, non-toxic, and biodegradable. But we don't want to use that word "nontoxic" loosely. We use the example, if a baby drank a gallon of water, then even water is toxic. We do get concerned that if people think it's nontoxic, and they drink a whole gallon, that could be dangerous. But as far as if a baby puts his mouth up against the car wash bottle, nothing is going to happen to him. It would be identical to him getting his mouth washed out with a bar of soap.
SLS, SLES or SCS?
BPGL: What can you tell us about your hand soaps?
CUNNINGHAM: What's so great about our EuroSpa hand soaps is that it's the first line of scented hand soaps on the market to be approved for the EPA Design for the Environment (DfE) program. We were first on the market to earn the DfE seal on our scented hand soap line.
We work really closely with the EPA. Our stainless steel cleaner is actually EPA approved for their DfE program. We knew that they were going to be reviewing scents and dyes. So we were paying close attention to it, because scents and dyes typically don't biodegrade. There's a new company that is coming up with a line of scents and dyes that actually do biodegrade. So we started working with them. Our soaps have great smells.
BPGL: When I opened the box of complimentary samples I was thrilled to see an unscented hand soap. I would encourage you to make a whole line of unscented products.
CUNNINGHAM: I agree. That's why we took the scent out of our stainless steel cleaner. We had some people who were concerned about that. The cool fact is that it's free of sodium lauryl sulfate (SLS) and sodium lauryl ether sulfate (SLES). If you look those up on Google, almost every soap on the market is either SLS- or SLES-based.
We use sodium coco sulfate (SCS), which is compared to the difference between using tap water and purified water. Sodium cocoa sulfate is an ingredient that is taking out all the harmful chemicals associated with the carcinogens that SLS and SLES have.
For a lot of people whose skin gets irritated by soaps, it's usually 95 percent because they contain SLS or SLES. Those are ingredients our soaps do not have.
BPGL: Joe's daughter reported that the Bayes Hand Soap felt different from other soaps she's used. She said, "I can't really explain it, but it has a texture."
CUNNINGHAM: I wish I could have everybody use it, because it's a real smooth texture versus hand soap with SLES. You don't think about a single ingredient making that huge amount of difference, but it does. And it still lathers really nice, which is great.
People always ask, "Why doesn't everybody just put the sodium coco sulfate in?" But the cost of the raw materials and ingredients is much higher than sodium lauryl sulfate. We work on a little lower margin to do the right thing. We'll make up for it with people who understand that this is high-quality soap.
If you compare our soaps to Dial or something like that, ours will be high priced. But if you compare them to a premium soap, such as soap at Williams-Sonoma, then they're extremely well priced.
Only the Best Will Do
BPGL: What's next?
CUNNINGHAM: We just launched a monitor cleaner. It's almost identical to the stainless steel cleaner story. Kids are putting their hands all over monitors, so we developed a screen cleaner, made specifically for plasma and LCD screens.
I've never seen a better screen cleaner. It's a non-drip formula, so when you spray it on, you don't have to worry about it going into the components.
BPGL: Do you have a glass cleaner?
CUNNINGHAM: We actually don't, because there are a lot of good, nontoxic, nonhazardous window cleaners right now. We wouldn't be able to differentiate ourselves. This goes back to our mission statement. It has to be better than anything else on the market, or we won't make it.
Promo Code
To try Bayes Cleaners products for yourself, visit the Bayes website. You'll save 20 percent off all online purchases from the site by using this PROMO Code: TWBAYES09. The code expires June 2010.
Follow Bayes Cleaners
Twitter: Twitter.com/BAYESCLEANERS
Facebook: Facebook.com/BayesCleaners
The Small Print
DISCLOSURE: Blue Planet Green Living received free product samples of the following Bayes Cleaners:
• Bayes DfE Stainless Steel Cleaner and Protectant
• Bayes Granite Cleaner and Rejuvenator
• Bayes Waterless Car Wash
• Bayes EuroSpa Hand Soap
Blue Planet Green Living is a Shop to Earn/Shop to Earth member. Bayes Cleaners are featured on Shop to Earth. If you purchase Bayes Cleaners through Blue Planet Green Living's Shop to Earn/Shop to Earth affiliate link, Blue Planet Green Living will receive a 15 percent cash reimbursement.
Blue Planet Green Living's policy is to only review those products we feel merit an overall positive review. If we do not like a product more than we dislike it, we do not review it. We are not influenced by any samples or potential reimbursement from Shop to Earn/Shop to Earth and provide our honest opinions, both positive and negative.
Blue Planet Green Living (Home Page)